Myanmar's acrobatic cane-ball game is typically a male pastime, but an increasing number of women are playing chinlone as professional athletes.
By EAINT THET SU | FRONTIER
Photos ABIGAIL UPTON
CHINLONE is everywhere in Myanmar. As the sun sets on the country's villages and towns, groups of men form circles and use their bare feet, thighs and foreheads to keep a cane ball in the air. For the small number of women that play it, however, it's less of a leisure activity than a professional sport.
Chinlone competitions and tournaments, often accompanied by a lively traditional orchestra, are a feature of the pagoda festivals and night markets held after the end of the rainy season, and it is at these events that women players are often seen.
Daw Aye Aye Win, a 55-year-old former chinlone player, believes that society's preoccupation with feminine modesty is one reason why chinlone has traditionally been the preserve of men.
Chinlone requires close eye-body coordination and lightning-quick responses, and clothing should be kept to a minimum to enable the acrobatic flourishes that skilled players are known for. It has conventionally been regarded as inappropriate for women to wear short-sleeved shirts and exercise shorts in public – but attitudes are changing.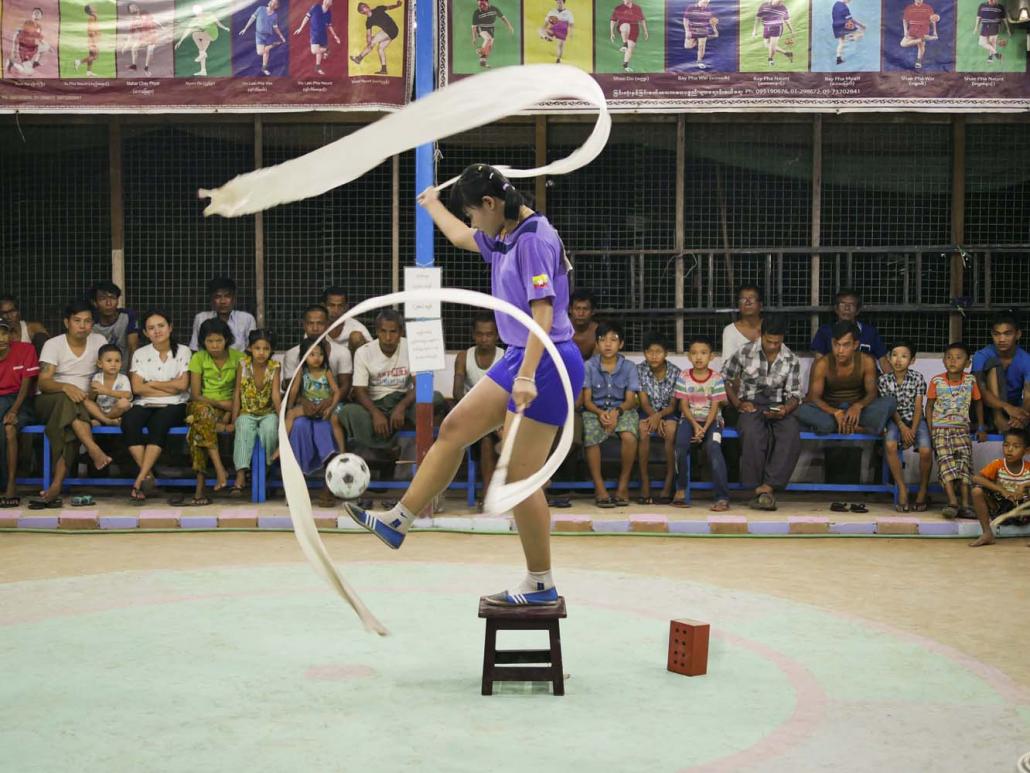 "In my time, girls wore cropped trousers with elastic bands around the thighs because they were shy, but now women athletes dress the same as men," Aye Aye Win told Frontier.
At special performances of the game, the lead player who stands in the middle of a circle of players is called the min thar or min thamee, which means "actor" or "actress", respectively. The lead player is expected to execute the most creative or graceful moves. When men and women play together, it is usually the female athlete in the centre, demonstrating her skills as the ball passes between her and the four or five surrounding players.
Women players also appear in dramatic solo performances called tapindaing, which include circus-like feats of daring and skill. These performances often see them tossing a flaming cane ball with their feet while one hand rotates a flaming hoop.
Two rising young women chinlone stars are Ma Tin Nilar Win, 20, and Ma May Phu Han, 18, from the Yangon townships of Thaketa and North Okkalapa, respectively. They told Frontier they were trained to play chinlone by their mothers, both former "min thamee".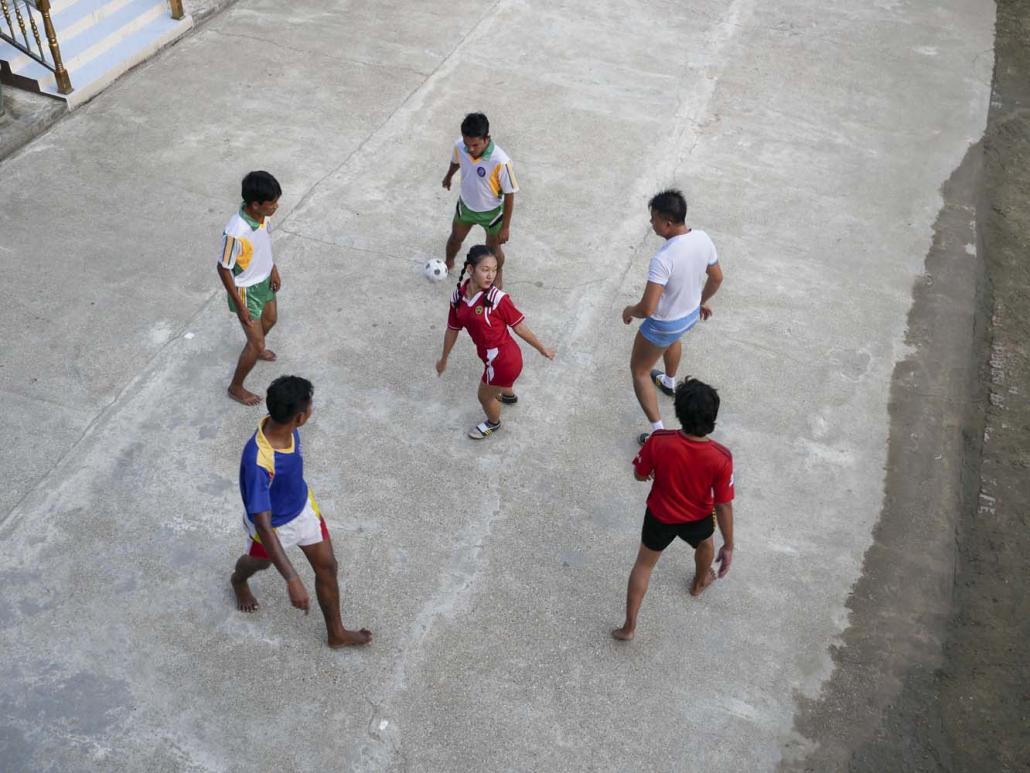 It's common for women players to learn from their parents, though Tin Nilar Win's mother Aye Aye Win was inspired by women chinlone players she saw performing in her neighbourhood as a girl.
However, even when mothers initiate their daughters into chinlone, they also often call on former chinlone stars to help with the training.
Aye Aye Win said the same trainer she had when she was a girl was now training her daughter for free. "The experts who teach interested youngsters pass down their skills in their spare time," she said.
"It is more about [personal] connections and there are only a few good trainers," she said. "The training of novice players begins when they are aged about 12 and it takes two years of training before they are ready to play in tournaments."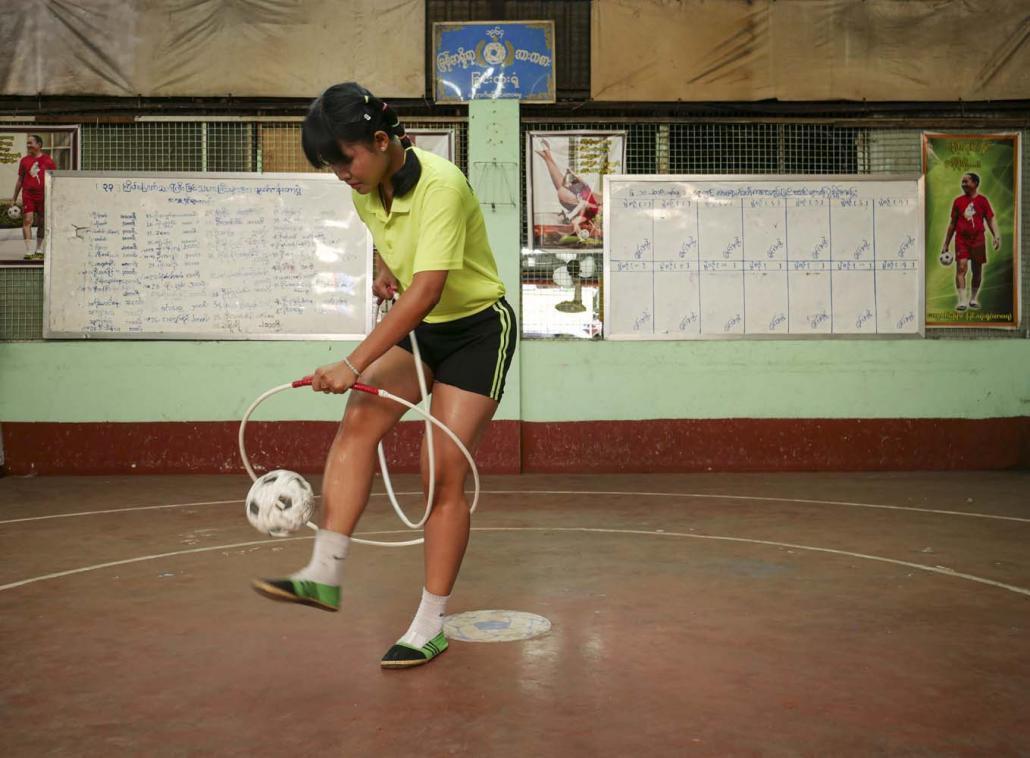 Aye Aye Win said women practice only at home or at stadiums – not in the street, like men. Tin Nilar Win usually practices at the Kyauk Myaung chinlone stadium in Yangon's Tarmwe Township and May Phu Han and her group practice at a monastery near her home in North Okkalapa.
Tin Nilar Win studies at East Yangon University, where she is the only female chinlone player. She is practicing for an Asian inter-varsity event due to be held in Thailand in June 2020.
"[In June this year,] the host was Myanmar; the number of girls was small and we were not able to join the tournament. There was not even six of them in the whole country that were qualified to play as a team," Aye Aye Win said on behalf of her daughter, who wanted to compete.
"But the president of the [Myanmar Chinlone] Federation says he will make sure girls are included [next] year."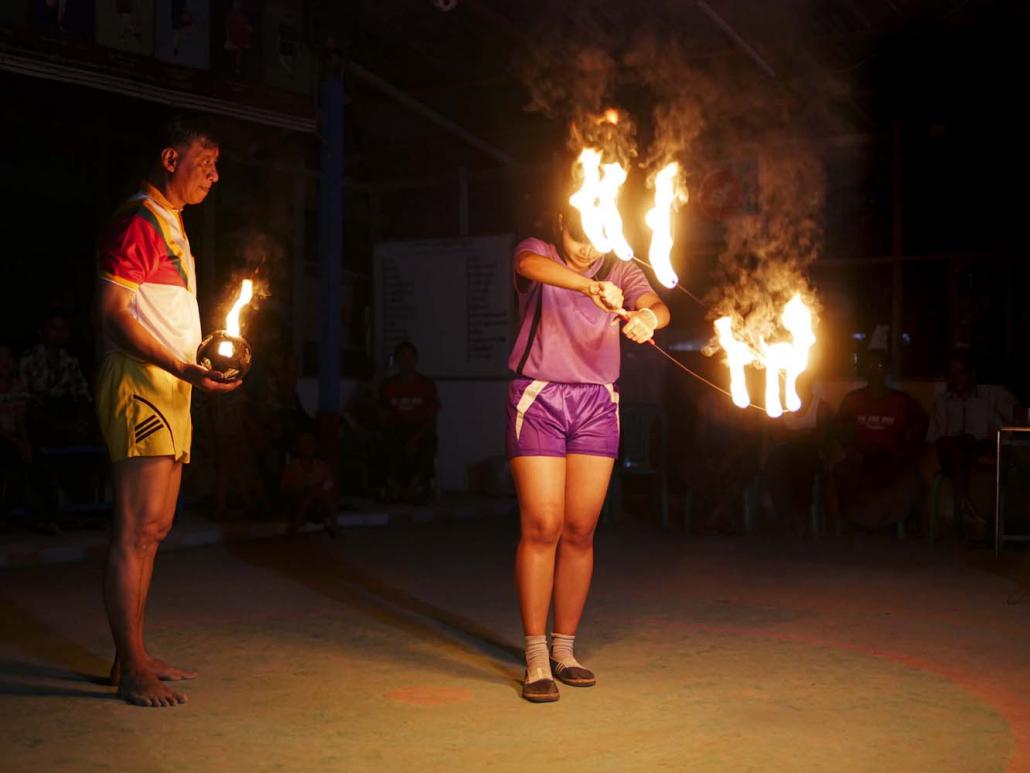 Myanmar Chinlone Federation vice president U Ye Aung said the number of women playing the game had risen steadily over the past decade. "There are more than a hundred women players of all ages throughout the country, whereas there used to be only about 40 or 50 players 10 years ago," he told Frontier.
Aye Aye Win agrees with May Phu Han's father, U Thein Han, that it is important to pass down the tradition of playing chinlone to their daughters, with the hope that they will become skillful players. 
"We trained our daughter because we wanted to pass down this legacy to her," Thein Han said. "I believe this is one way to preserve our national identity."
Aye Aye Win and Thein Han also agreed that the greater international interest chinlone has received in recent years has created new opportunities for players to win recognition and medals.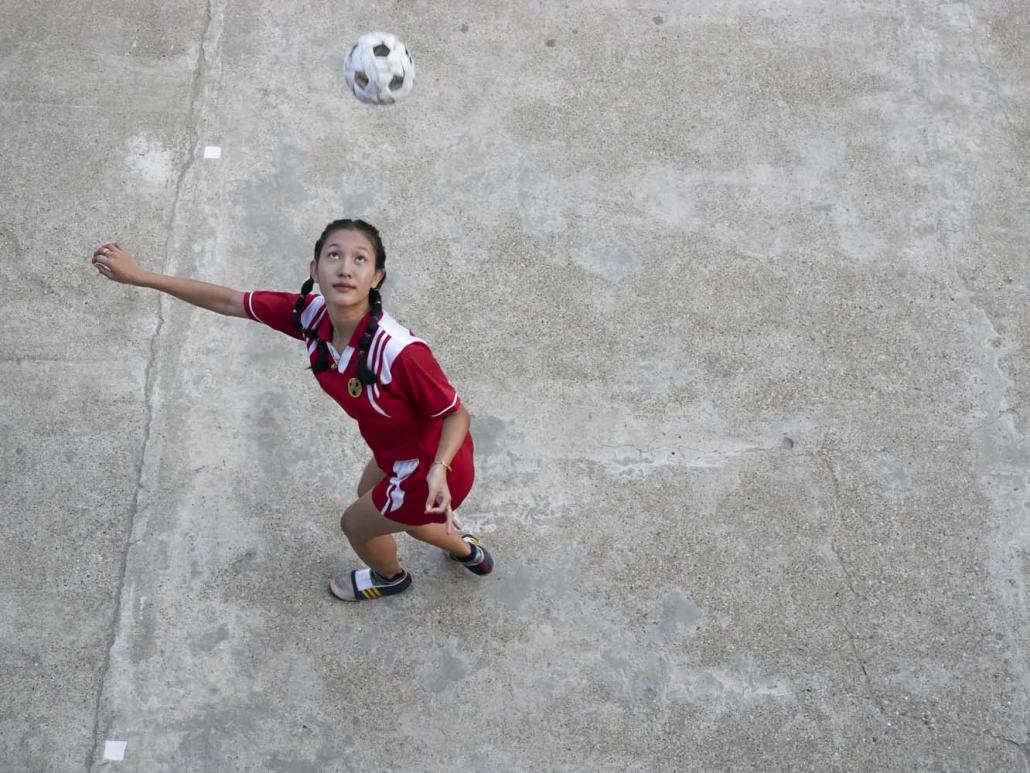 "The current president of the Myanmar Chinlone Federation, U Soe Naing, is doing a great job of showcasing and professionalising the game," said Thein Han, adding that Myanmar had a contingent of 200 chinlone players at the Southeast Asian Games it hosted in 2013.
"It used to be mainly for entertainment but now it has become a professional sport," he said.