Journalists went to Nay Pyi Taw expecting to cover the opening of Myanmar's national parliament following the November election; instead, they experienced an intense and confusing few days grappling with the fallout of a military coup.
By EI EI TOE LWIN
Sunday, January 31: 'Be careful'
January 31 was a day of high tension, with the National League for Democracy government and Tatmadaw locked in behind-the-scenes talks and rumours of a coup swirling. But for my photographer and I, there was a momentary sense of relief as we were released from a week of quarantine. Quarantine is mandatory for those arriving in Nay Pyi Taw, and we'd come up to cover the first session of the new parliament, scheduled for February 1. By this point, another bowl of cold rice and curry seemed like it might kill us. The end of quarantine felt like a prison escape.
We took the opportunity that Sunday evening to get together with journalist friends based in the capital who we hadn't seen in a while due to the COVID-19 restrictions that had been in place for much of the past year. Politics dominated the conversation, punctuated only by jokes about politicians. I was happy for the first time in a week. But a reminder that the good times might not last came not long afterward, via a phone call from a source close to the Tatmadaw.
"The situation will not be good tonight," they said. "Be careful."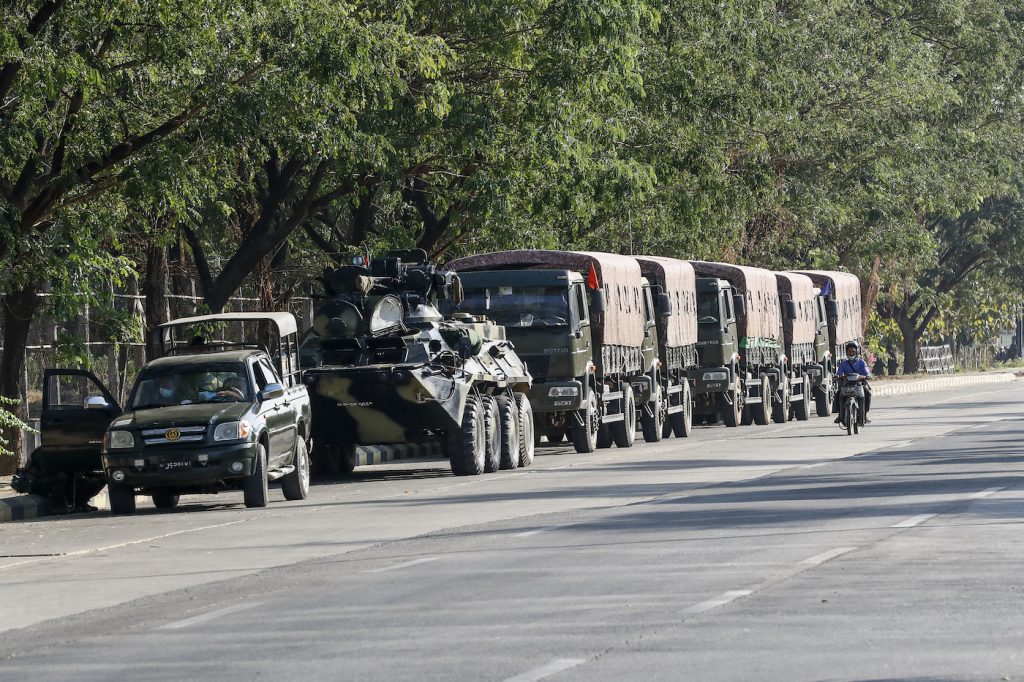 Though cryptic, I understood. I became anxious and depressed, reluctant to tell anyone for fear of spoiling the mood. But of course, I had to. Everyone began making calls and checking in with sources, who all seemed to have bad news too. No one could confirm anything, but their were rumours of some kind of military operation coming. We were all on edge. We decided to go back to our hotel. In the car ride there, no one said a word.
Around 11:30pm my phone beeped with another message. It was a source telling me to expect a busy night. They suggested I turn on the Tatmadaw-run Myawaddy TV news station.
I watched and waited for an announcement, but on Myawaddy there was just a programme about Buddhism on which a monk was sharing metta (loving kindness) with all people around the world. The program ran past midnight. I wanted to sleep but was restless, and at about 2:30am more messages came in about more "indications" of some military operation. On Myawaddy there was still nothing of note, and I couldn't get official confirmation of what was happening, so I finally fell sleep. It must have been just minutes later that soldiers began swooping in on senior members of the National League for Democracy government, including State Counsellor Daw Aung San Suu Kyi.
Monday, February 1: The first casualty
I woke early the next morning and noticed immediately I had no phone or internet connection. I knew right away the coup had begun. Nay Pyi Taw journalists started streaming into our hotel, telling us what they knew: the military had seized power and President U Win Myint and Aung San Suu Kyi had been detained. We decided to split into two groups and chose three rendezvous points at which to meet and exchange information throughout the day, to circumvent the telecommunications shutdown.
At about 8am, journalists from Frontier and other outlets travelled to the NLD office in Ottarathiri Township to interview party patron U Win Htein, who smiled and thanked us for visiting him. He was sure that he was about to be arrested. "Consider yourselves very lucky to be able to meet me now," he said. He was right. On the evening of February 4, Win Htein was detained and charged with sedition for criticising the coup.
Driving around, much of Nay Pyi Taw felt surprisingly normal ­– despite the heavy security at prominent locations and military helicopters flying above the national parliament, the Pyidaungsu Hluttaw. One armoured personnel carrier and six truckloads of soldiers were deployed outside the entrance to the municipal guesthouse, where MPs from the National League for Democracy and ethnic nationality parties were staying. Pyi Gyi Zeyar Road, which leads to the hluttaw, was entirely blocked by troops. We took photos and they did not tell us to stop.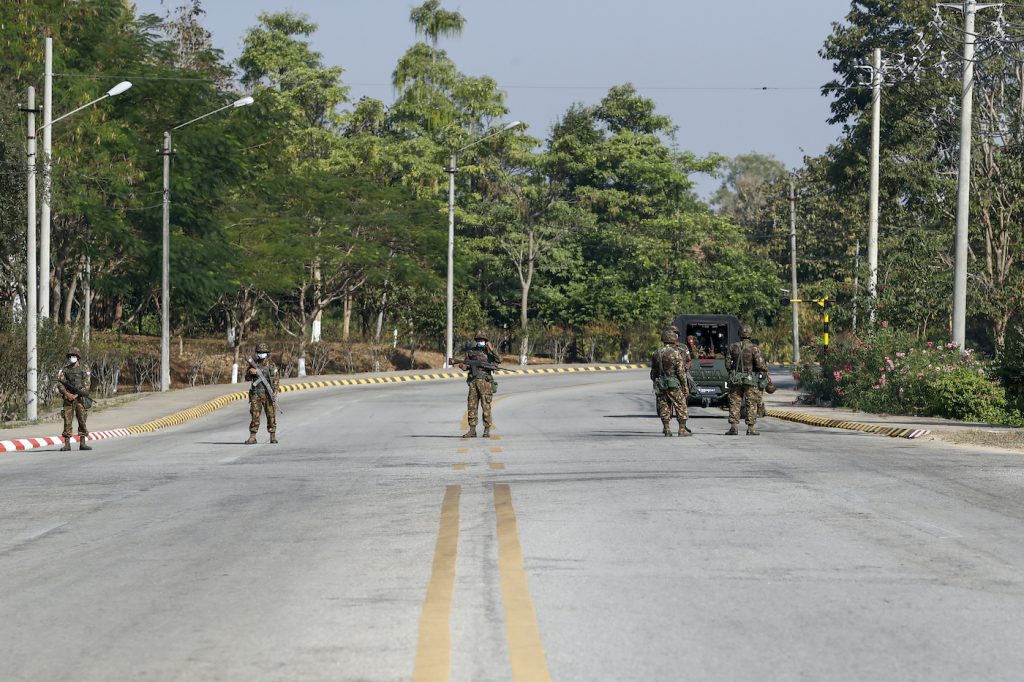 Some hadn't heard that the military had seized power; all they knew was that their phones had stopped working. But after the military declared on the 8:30am newscast that it would rule for a year under a self-declared state of emergency, it didn't take long for word to get around. By 10am, the rice shops at Thapyaygone market were doing a roaring trade. A fish vendor told me her business had survived the COVID-19 pandemic but could not possibly survive the economic ruin that military rule would inevitably bring.
Leaving the market, I came across a group of taxi drivers listening on their phones to a recorded announcement about the coup, and I recorded their recording on my phone. We then bought a radio, which was the only way to access news. The shop owner said that, after rice, radios had been the best-selling item that morning.
We drove around taking photos before heading to one of the rendezvous points, a teashop on Ayeyarwady Road that's popular with journalists and public servants. While we swapped information, phones signals started returning. I called my family, and then my colleagues in Yangon. Some Yangon-based journalists said they were going back to the commercial capital, but my photographer and I decided to stay in Nay Pyi Taw a bit longer.
As the internet came back online, we were inundated with bad news. Union ministers had been detained, along with the chief ministers, ministers and MPs from states and regions. Pyidaungsu Hluttaw lawmakers were under effective house arrest at the municipal guesthouse. I noticed that other customers seemed to be paying suspiciously close attention to us; the old paranoia had already returned.
We continued calling MPs for updates on what they knew, and to check if they were safe. After filing to my editors, we went back to the hotel and noticed a car had followed us there. It stopped outside but left its engine running, then disappeared as we entered the lobby.
At about 9pm a journalist friend called to warn me of rumours that more MPs and journalists might be arrested in Nay Pyi Taw that night. Worried colleagues also called from Yangon. No one knew what to expect, but we were well aware what could happen. By night, we were both exhausted and restless, bracing ourselves for arrest every time the floorboard creaked outside our hotel door.
Tuesday, February 2: Reporters lay low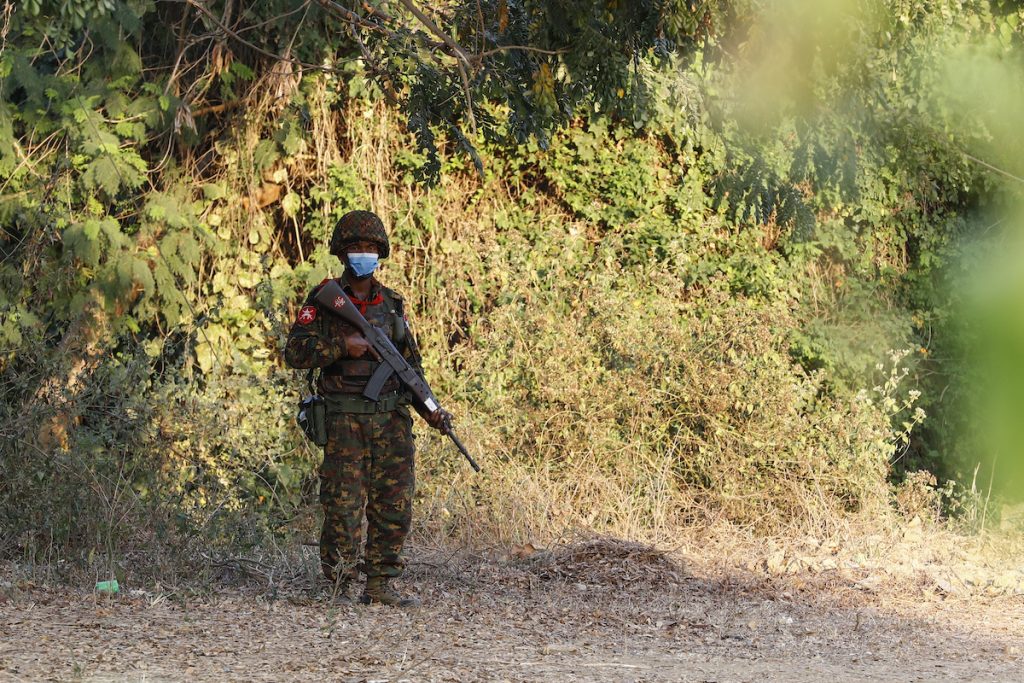 By Tuesday morning, with parliament called off and fear and uncertainty pervading the capital, several reporters prepared to return to Yangon. But a drive around Nay Pyi Taw showed a city little changed from the day prior. We tried to take a photo of an armoured personnel carrier and a deployment of soldiers on Yarzahtarni Road but could not get close enough. We parked near a roundabout and pretended to be taking selfies when, suddenly, a police officer began to watch us closely. We got the photos anyway, and he never approached to tell us to leave.
Around 4pm we rushed to the municipal guesthouse after hearing detained MPs had been told to vacate the premises. NLD MPs thought it would not be safe to leave the compound just yet, and eventually reached an agreement with the military to remain there until February 6. At about 6pm, military officials granted reporters access to the compound to interview and photograph some of the detained MPs, who were generally calm.
That night, more messages came in warning of the impending arrests of journalists. Nay Pyi Taw-based reporters, who were rumoured to be at particularly high risk, seemed to be laying low. Several had skipped the opportunity to speak to lawmakers at the guesthouse. They told me they weren't sleeping at home that night, instead staying at a shifting circuit of safe houses. Some were said to have gone into hiding.
February 3: 'A crumbling of the rule of law'
On Wednesday, MPs' plans to stay at the municipal guesthouse until February 6 had changed. Now, military officials were telling them they had to vacate the premises within 24 hours. As many of them prepared to return home, we decided to do likewise. Just as were set to hit the road I received a call that Win Myint and Aung San Suu Kyi were expected to appear at the Dekkhinathiri District Court on unspecified charges. We rushed over but staff at the court denied the NLD leaders were set to appear. We drove to several police stations in Zabuthiri Township but officers at all denied any knowledge of the cases. Back at the Dekkhinathiri District Court, military vehicles, including an armoured personnel carrier, had been deployed. When we started snapping some photos, an angry officer began shouting at us to leave. Journalists were frantically ping-ponging from source to source trying get confirmation on the charges, but verifying details became impossible.
The charges against Aung San Suu Kyi and Win Myint – the alleged illegal importation of walkie-talkies under the Export and Import Law and an alleged COVID-19 campaign violation for waving at supporters from a distance under the Natural Disaster Management Law, respectively – were confirmed that afternoon. The charges were ridiculous, and NLD members were furious. Win Htein publicly called it "a crumbling of the rule of law in Myanmar", and said he was unsurprised that even the worst actors in the Tatmadaw would try it.
It was too late to return to Yangon, so we headed back to the hotel. Few people were out, and most shops were closed. Since the coup, markets had all started shutting down three hours earlier. In the silence that reigned in the capital that evening my thoughts returned to 2010, another dark and silent moment in the nation's history. That's the year I became a journalist. At the time, everyone lived in fear, and many – especially government officials – looked at reporters as troublemakers. They were reluctant to give interviews, and the government censorship board was likely to reject anything at all revealing for publication. Remarkably, just five short years later I was covering Myanmar's first free and fair election for the Myanmar Times. Our team arrived in Nay Pyi Taw three days before the first session of the newly-elected parliament was to start, on February 1. Everyone was excited for the future, and for the possibilities of democracy. When we left Nay Pyi Taw the next morning, we passed a road blocked off by an armoured personnel carrier and a detachment of soldiers. As we started taking pictures, a soldier approached to obscure our view, and said: "No photos."