Plainclothes thugs helped police disperse peaceful demonstrators in 2015 and they made their presence felt again last month when they assaulted protesters in Yangon.
By MRATT KYAW THU | FRONTIER
THE USE OF excessive violence to disperse peaceful protesters at Tarmwe junction in Yangon last month was the latest incident to gain notoriety over the involvement of vigilantes in crowd control operations by the Myanmar Police Force.
The prominent role that vigilantes played in beating and arresting protesters revived memories of brutal scenes when police and plainclothes thugs violently attacked protesters in front of Yangon City Hall in March 2015. The same week, a protest at a garment factory at the Shwe Pyi Thar Industrial Zone was shutdown by police and plainclothes men wearing red armbands that had the word "duty" written on them.
The incidents incensed much of the population, and images of men forcefully dragging away protestors were splashed across the front pages of national newspapers.
Protesters saw some familiar faces among the mob of male and female vigilantes in Tarmwe on May 12. Some were seen with the hardline Buddhist nationalists who demonstrated against the National League for Democracy government outside the eastern entrance of the Shwedagon Pagoda early last August.
"Many journalists noticed that they were the same people who helped the police in the crackdown at Tarmwe; we have seen them at anti-government protests and at demonstrations in support of the Tatmadaw," said freelance journalist Ko Phyo Htet Aung.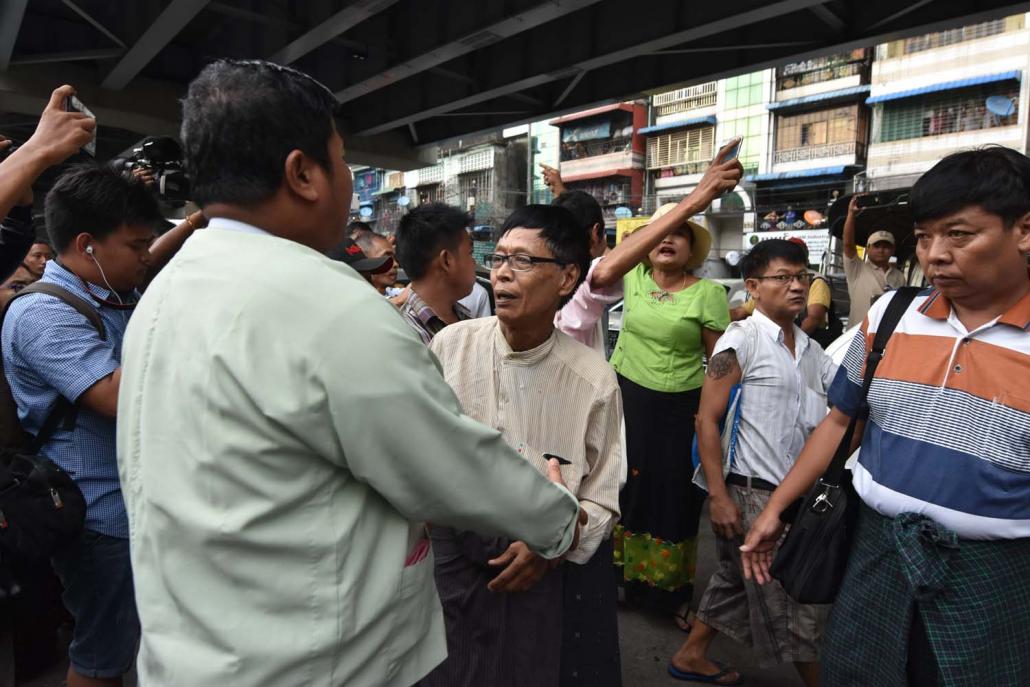 There have been unprovoked assaults on journalists by participants of pro-Tatmadaw and anti-government demonstrations. Myanmar Pressphoto Agency photojournalist Ko Myat Thu Kyaw was punched by a participant at a pro-military event, held in September 2016. When he tried to file a complaint with the police, which is under the military-controlled Ministry of Home Affairs, they declined to take action.
Journalists say it is almost impossible to get the police to take action against vigilantes accused of assault.
Ko Myo Min Soe, a photojournalist with The Irrawaddy, said the violence at Tarmwe came after the protesters agreed to disperse.
"An unknown man shouted, 'Arrest them all, don't let them escape', and within seconds the vigilantes surrounded and seized the students, instead of the police," he recalled.
One of the vigilantes at Tarmwe was identified by protestors as being wanted by police over his involvement in the anti-government protests outside the Shwedagon last August, Myo Min Soe said.
"It's not really surprising because fugitives often attend the trials of Ma Ba Tha and are seen by journalists and police but they don't act like fugitives," Myo Min Soe said, referring to the monk-led nationalist group.
Phyo Htet Aung said township authorities almost always turn a blind eye to anti-government or pro-military protests.  "But when other people seek permission to hold a peaceful protest, it is [rarely] allowed by township administrators," he said.
Another photojournalist, Ko J Paing, said the police were always ready to crack down on some protests, but demonstrations by anti-government and pro-militant protests were never dispersed.
In late 2013, acting on a request from President U Thein Sein, the European Union launched a €10 million (about K16 billion at current rates) pilot project over 18 months aimed at reforming the MPF, which included training in community policing and "internationally accepted" methods of crowd control.
The EU defended the project after brutal attacks on protesters at Letpadan in March 2015, saying the violence used by the baton-wielding police showed the need for further training.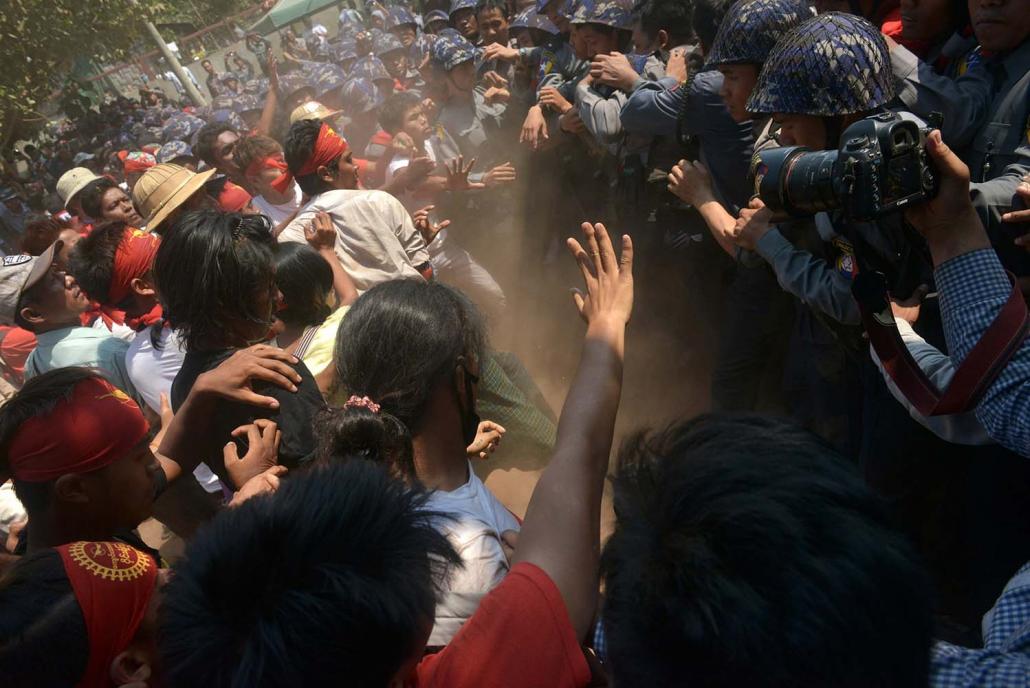 At the request of the National League for Democracy government, the training continued under the EU's five-year MYPOL project launched in late 2016 with funding of €30 million.
Activists say the violence at Tarmwe shows police have failed to adopt "internationally accepted" methods of crowd control since the training began.
Asked by Frontier about police vigilantes, a spokesperson for the European Union in Myanmar, said: "Neither the EU Delegation nor our experts working with MYPOL can confirm whether the Myanmar police hires vigilantes to work alongside police officers during demonstrations."
"We acknowledge that structural changes do need time, and – considering the depth of reform needed – we have only just started," the spokesperson added.
The cooperation between police and vigilantes at Tarmwe received extensive coverage in newspapers, but although the incident occurred on May 12, it was not until more than two weeks later that Bahan police said it would act. An article published in 7Day Daily on May 29 quoted the police saying it would "take action" against the vigilantes. but since then nothing has happened.
Frontier sought comment from the official spokesperson of the MPF, Police Colonel Thet Naing, but was told he had moved to another state, and was directed to his replacement, Police Lieutenant Colonel Kyi Soe. He referred Frontier to another officer, Police Lieutenant Colonel Min Han, who declined to comment.
Frontier also sought a response from Police Major Hla Wai at the Yangon Region MPF headquarters on June 1.
After dozens of fruitless phone calls, Frontier went to meet Hla Wai, who said he did not know about the use of vigilantes at Tarmwe, despite it being widely reported in newspapers and on social media.
Asked who was responsible to answer questions, Hla Wai said he did not know. He also refused to make eye contact when he was answering questions.
"We are not allowed to talk about that," he said.
TOP PHOTO: Policemen take position behind shields near Yangon City Hall after a crackdown on a peaceful demonstration supporting education reform. In the crackdown, police were helped by plain clothed vigilantes. (AFP)