Outbreaks of communal violence have captured significant attention in recent years but less well known are the actions of monks and laypeople who protected those targeted by angry mobs – and saved countless lives in the process.
By HTUN KHAING | FRONTIER
IT WAS the peak of the hot season in late May 2013. Like much of the country, Lashio, in northern Shan State, was on edge; just two months earlier, Meiktila in Mandalay Region had been devastated by communal violence that left more than 40 people dead and thousands displaced.
A rumour that a Buddhist woman had been "torched" by a Muslim man spread quickly through the town. Within hours, a mob had formed, its members riding around town on motorbikes wielding weapons. Muslim-owned businesses and religious buildings were burned to the ground and the town's Muslim population also came under attack, according to witnesses. At least one person was killed in Lashio and several were injured.
"It was only a few months after the Meiktila incident," said one Muslim resident of Lashio who spoke to Frontier on condition of anonymity. "We were so terrified that we didn't know what to do."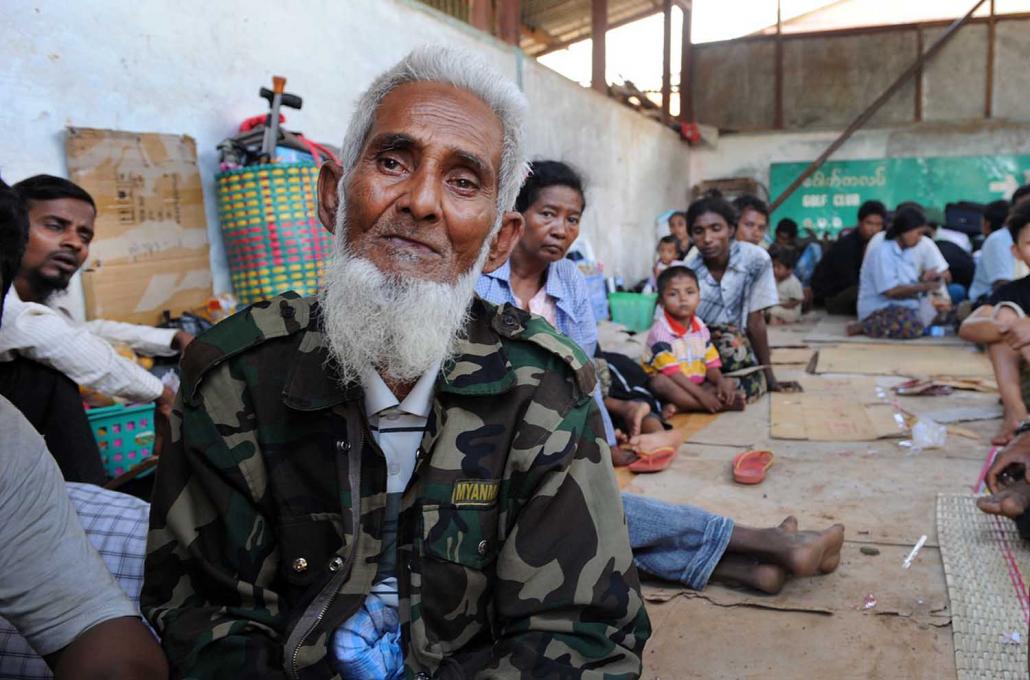 The woman was one of about 1,200 Muslims who were offered refuge by U Ponnanda, the sayadaw of the Thirimingalar Mansu Monastery in central Lashio.
"I welcomed them on humanitarian grounds, and gave them food and shelter," said U Ponnanda. He felt it was his duty as a Buddhist to protect those who were vulnerable, he added. "We were able to look after everyone, regardless of race and religion."
The sayadaw is well known in northern Shan State for his generosity and kindness. His Mansu Shan Monastery has regularly welcomed people in need, including those displaced by natural disasters or fires. When fresh violence broke out in Laukkai, the capital of Kokang Self-Administered Zone, in March this year, thousands were offered refuge at the monastery.
In part due to the monk-led nationalist movement known as Ma Ba Tha, whose members have been among the most critical of Islam, some international observers closely associate monks in Myanmar with anti-Muslim sentiment, and even actual violence. However, that viewpoint does a disservice to the majority of monks in Myanmar who practise a form of Buddhism based on compassion and kindness for people of all religions.
This cohort has also sometimes spoken out against those involved in the anti-Muslim nationalist movements. In November 2015, several senior monks in Mandalay, where Ma Ba Tha was formed, said that the nationalist movement did not represent true Buddhism.
"The aim of Buddhism is to benefit humans. The teachings of the Buddha were about peace, not about fighting," said U Uttara, a monk at the Myawady Mingyi monastery in the outskirts of Mandalay.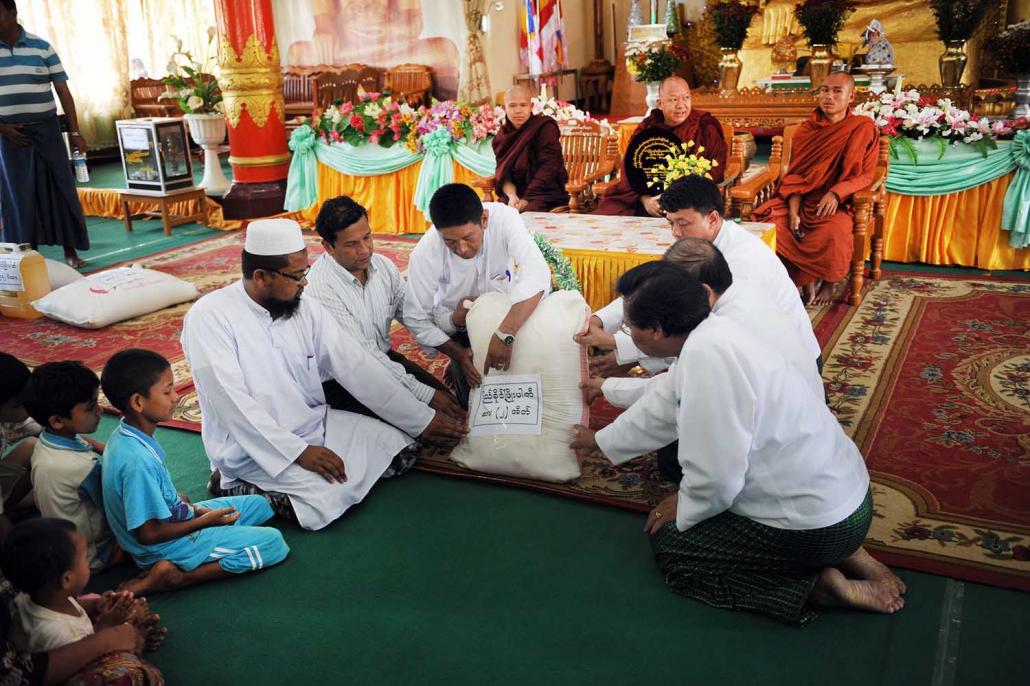 When violence has broken out in recent years, it has often been monks and their followers who have protected vulnerable populations. After the violence in Meiktila, which started after an argument between a Buddhist and a Muslim at a jewellery shop in the town's central market, several monks sheltered Muslims who were fleeing Buddhist mobs.
On the night of March 20, 800 terrified Muslims arrived at Meiktila's Yadanar Oo Monastery, where they were quickly granted refuge. "I accepted them according to the Metta principle [of loving kindness] of the Lord Buddha, which says you should save anyone who is in trouble," the monastery's sayadaw, U Visudda, told Frontier.
News that Muslims were hiding in the monastery rapidly spread around the town and at midnight a mob arrived and demanded that they be handed over. Despite the size of the crowd, U Visudda was unperturbed, making a decision in accordance with the righteous spirit of genuine Buddhism.
"If you really want them, you have to get through me," U Visudda recalled telling the crowd.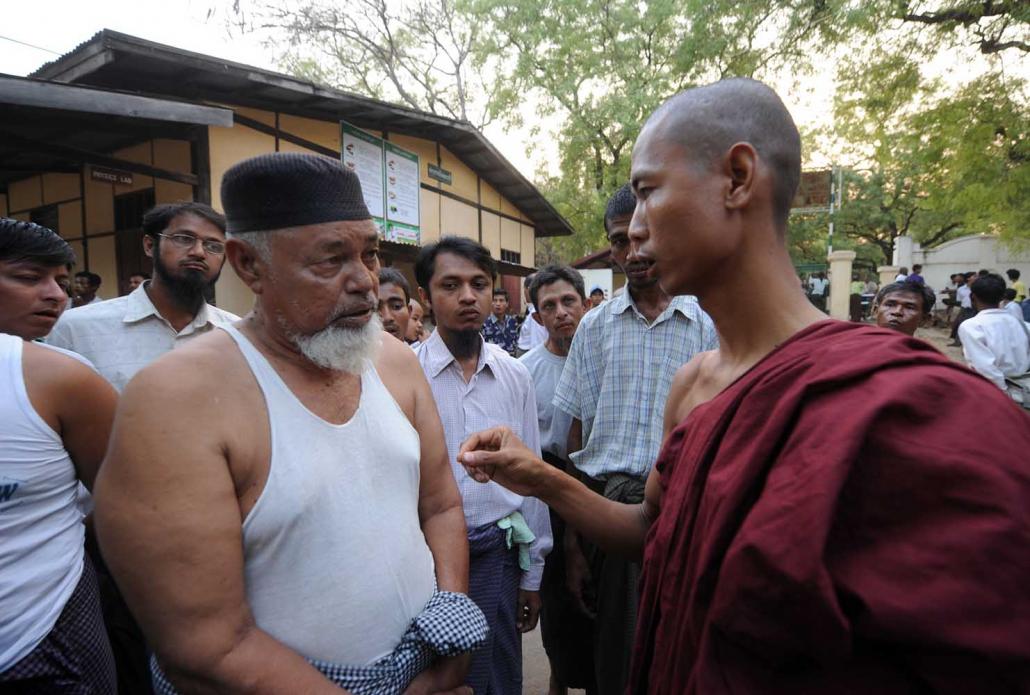 According to U Visudda, the mob seemed surprised to encounter a monk protecting Muslims. The tense stand off eventually ended when the crowd gave up and dispersed.
Al Hajj U Aye Lwin, chief convener for the Islamic Centre of Myanmar, said that the actions of monks like U Ponnanda and U Visudda – as well as others who had performed similar acts of kindness – should be remembered and acknowledged.
Aye Lwin, who is also a member of the Advisory Commission on Rakhine State, which is headed by former United Nations Secretary-general Mr Kofi Annan, said that many other Buddhists had taken care of Muslim neighbours during bouts of violence in recent years.
"In Zigon [Bago Region, where violence hit in March 2013], the uncle of [then Bago Chief Minister] U Nyan Win saved the Muslims in his compound," said Aye Lwin.
Outbreaks of communal violence in Myanmar in recent years have attracted considerable media attention. Although their actions are not as well known, Aye Lwin said it was those who protected people at risk who reflected the true image of Myanmar people.
TOP PHOTO: U Ponnanda, the sayadaw of Thirimingalar Mansu Monastery in central Lashio. (Htun Khaing | Frontier)