Words & Photos SHIN MYINT MO | FRONTIER
Photographer Shin Myint Mo lives in Kengtung in eastern Shan State, part of the notorious Golden Triangle region where the borders of Myanmar, Thailand and Laos meet and traders from China once paid in gold for opium and its derivative, heroin.
Of Shan and Karen ancestry, Shin Myint Mo holds a bachelor's degree in geography and works for a local NGO that promotes women and children's rights.
For her contribution to the Framing the Transition project featuring the works of 12 Myanmar photographers, Shin Myint Mo chose to focus on underage women in border regions going to Thailand and China to be sex workers. "Everyone knows this is happening, but the subject is taboo," she said, adding "and as it is so accepted, it is a hard tradition to break." The villagers are not aware of their right to a better life, and of better alternatives, she said.
Before I left Kengtung to continue my education in Yangon, I taught Myanmar to Shan children at four villages between Kengtung and the Thai border. This is how I met Nang Phawe Hom 14 years ago, when she was eight. I liked her and began regularly inviting her to my family home in Kengtung.
Children living in the region around Kengtung move often to the town to continue their education as no schooling is available after Grade 8 in rural areas, so I asked Nang to stay with my family. I thought of her as my little sister, and I wanted to offer her a chance to get an education and become independent.
Soon after Nang moved in with my family in Kengtung, I left for Yangon to begin my studies at university. A few months later, I learnt from my family that my "little sister", then aged 14, had run away and had probably gone to Thailand.
A few months ago Nang returned to her village and asked to see me. When we met I asked her to tell me her story. It was harrowing and one that a young woman would normally want to keep hidden because it might ruin her chances of finding a decent husband and starting a family. That is why I decided not to use her real name and to make my photo essay for the Framing the Transition project anonymous.
Nang had travelled to Thailand at the suggestion of an aunt, who introduced her to one of the many Thai human-trafficking brokers active in eastern Shan. Nang travelled first to Tachilek, on the border with Thailand about 155 kilometres from Kengtung, where she and some other underaged women found work in a clothing shop. That's where they learned about the possibility of working in Thailand.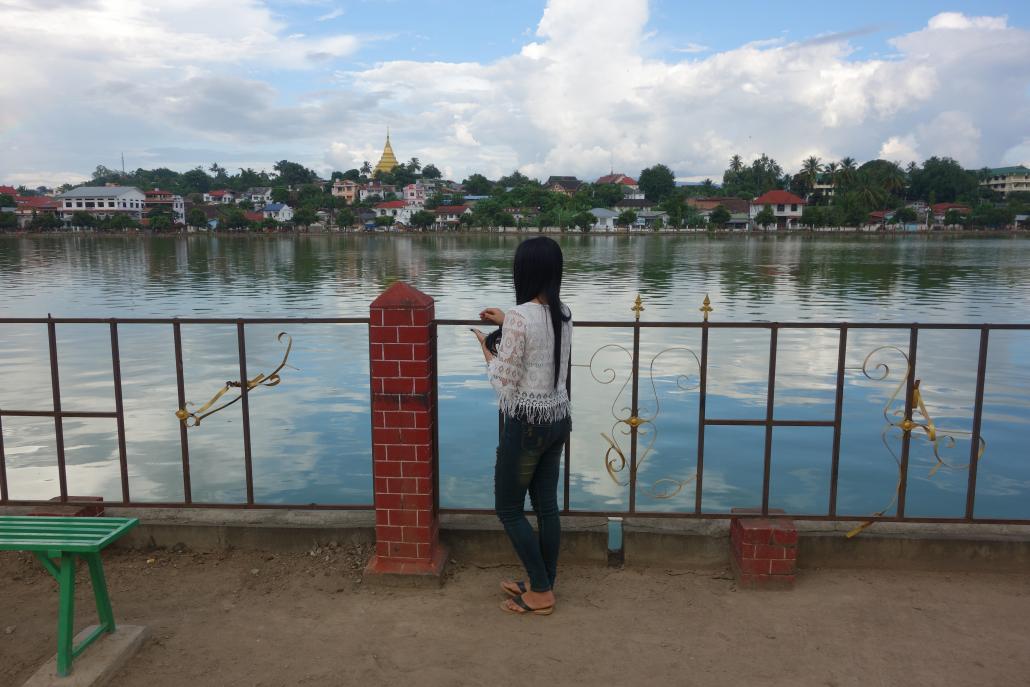 Work in the shop was hard and the pay was meagre, and Nang chose to work in a "massage parlour" in Bangkok. One night she was asked to pack her bag for a meeting with the broker, with whom she signed a contract to pay him THB30,000 (about US$900 at the time), and she was transported to Bangkok in a bus with about 20 girls. Nang said the border was corrupt and there was no problem entering Thailand because, as she put it, "brokers take care of everything".
After the girls arrived in Bangkok they were separated into groups and taken to different locations. Nang was taken to a big house with many underaged women from Thailand and other countries such as Laos, Vietnam, the Philippines and China. The youngest girl was 12 and most were aged under 18, Nang said.
Most of the customers taken to these brothels were from other Asian countries, including Malaysia, China and South Korea, as well as Thailand, and there were some from Europe and North America.
It is common for girls who become sex workers to sell their virginity and this is what Nang did, for which she was paid THB20,000. She does not know how much the customer paid the brothel. Nang was not at all prepared for the experience and she told me that the first three times she did not really understand what was happening to her.
She initially hated what she was doing and felt very lonely but gradually came to accept what she considered to be her fate. She made friends with some of the other girls and they could talk about what they were doing.
It took Nang a long time to pay back the broker. She was charged for room and board at the brothel and after losing her virginity, received a payment of THB500 for each customer.
The girls were forbidden to leave the house without a member of staff and were chaperoned wherever they went. Nang said this made her feel safe because she was still young and preferred to go out in a group. Compared with the grim living and working conditions of many migrant sex workers in Thailand, Nang and the other girls were lucky to have been fairly well treated.
She says she liked her boss, who sometimes took the girls on fun outings, including trips to the beach. When she decided after seven years in the Thai capital that it was time to go back to Myanmar, her boss did not object and helped her return through a broker.
One of the reasons for her decision was a crackdown in Thailand on illegal and underaged sex workers that has resulted in some brothels being shut down and girls being arrested. Another factor was her age. At 22, Nang says she is "old for this job, most of the girls are underage".  When she crossed the border, she had to pay THB5,000.
On her return home, Nang threw a big party, hosting all the villagers at her expense, as is expected. The return of a girl is a traditional reason for celebration in the border villages in eastern Shan because they are known to have made a lot of money, giving them high status in the village.
Looking back over her seven years as a "working girl", Nang says not all of the experience was unpleasant.
"I liked some of the things I did; getting up late, dressing up, shopping for nice things, and the short working hours," she said. She was able to send money to her parents while in Bangkok and to save enough to buy a car and open a little shop. She lives with her parents and dreams of finding a nice husband and having children.
She also knows a secret held by all the women in her family: her mother, grandmother and aunts have shared the same past in Thailand.
I asked Nang if she wanted to go back to school but she is not interested. She thinks it would be too complicated and wants to have a fairly easy life without too much hard work. Meanwhile, her teenage sister is in Grade 9 and it seems that she will continue her schooling. The family does not need the money she could earn in Thailand.