The United States has lifted some sanctions against Myanmar while keeping many more in place, but analysts argue they are impeding the economy's growth.
By SEAN GLEESON | FRONTIER
President Barack Obama last month renewed executive authority over the United States Treasury Department's sanctions, with a number of significant changes designed to raise bilateral trade and ease the burden of risk for prospective American investors.
Some changes to the existing sanctions regime, administered by Treasury's Office of Foreign Assets Control, had been foreshadowed by the new US Ambassador to Myanmar, Scot Marciel, during his first public policy speech on May 10.
Conceding that Myanmar sanctions had "occasionally had broader impacts on the broader economy", Marciel hinted that changes to OFAC's Specially Designated Nationals list would be made with the aim of promoting further political reform and encouraging economic development.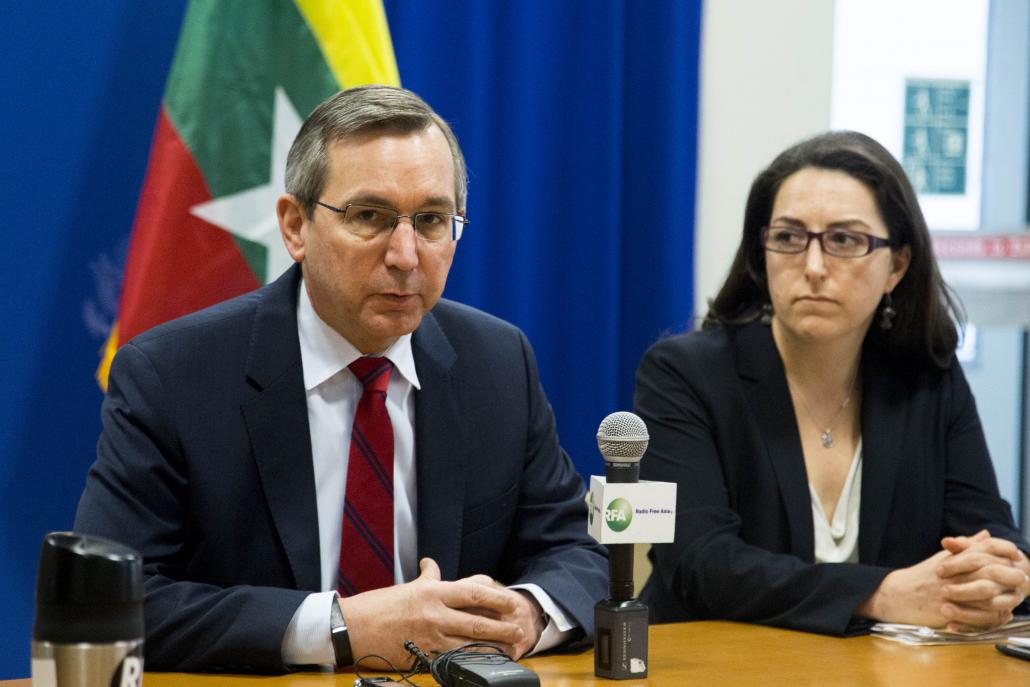 The May 17 renewal of OFAC's authority has eased the regulatory burden on prospective US investors. American citizens have been formally exempted from incidental costs that would arise from living in Myanmar, such as paying rent or buying goods and services. A threshold requiring US investors to comply with State Department guidelines on responsible investment has been raised from US$500,000 to $5 million. Exemptions to blacklisted companies operating in banking, finance and trade have either been broadened or made permanent in order to reduce the risk of potential investors falling foul of Treasury rules.
Speaking to reporters during his visit to Nay Pyi Taw on May 22, US Secretary of State John Kerry said the changes were a reflection of Myanmar's path to democratisation, adding that further political reform was needed before OFAC's authority over Myanmar investment was ended.
"We've made a lot of changes in the last week… in the current regime of sanctions," he said. "We've kept some, as I've said, in order to continue to leverage certain individuals and certain sectors that they must do more to help support and complete this transition to democracy."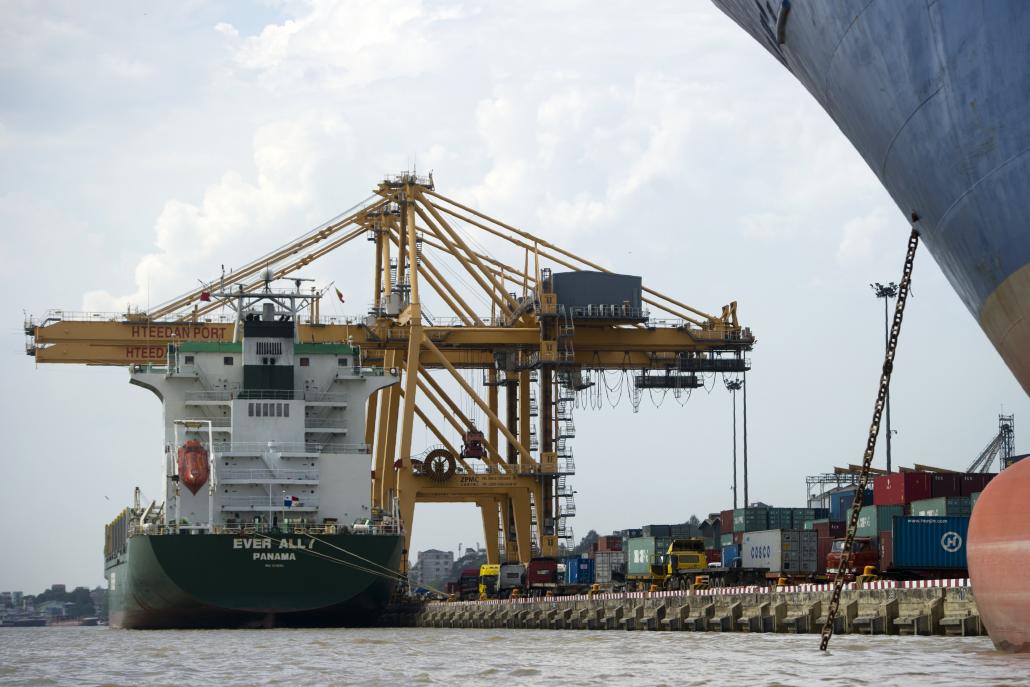 Going for growth
Three state-owned banks and seven other state-owned enterprises have been removed from the list, including the Myanma Economic Bank. With the Yangon Stock Exchange operating as a subsidiary of the MEB, concerns had been raised by local investors that the bank's continued listing would automatically subject the fledgling bourse to Treasury prohibitions.
A six-month exemption that allows US businesses to conduct trade through entities on the SDN list has also been extended.
In the middle of 2015, US Treasury issued informal guidance that conducting trade through Yangon's Asia World Port Terminal would violate the sanctions regime. The move would have crippled bilateral trade if it had remained in effect: according to a recent research paper by former OFAC staffer Peter Kucik, around 60 percent of Yangon's port traffic was conducted through the AWPT.
Meanwhile, six subsidiaries of Asia World, the port's parent company, were added to the SDN list on May 17. Headed by Mr Steven Law, who was added to the SDN list in 2007, the conglomerate has been implicated by US authorities in a number of human rights violations. Law has also been perennially dogged by accusations of involvement in the Golden Triangle's heroin trade.
A US embassy cable from March 2008 revealed that Law had met with Htoo Group chief U Tay Za to discuss possible measures to circumvent US Treasury sanctions. In the years since, a number of entities founded by Law, or his wife Cecilia Ng, have been incorporated in Singapore and belatedly added to the list; nearly half of the Myanmar-related entities blacklisted by OFAC are associated with Asia World in some way.
Among those added to the list this month are Pioneer Aerodrome Services, contracted to construct the first stage of the extension to Yangon International Airport, which was opened in March after four years of development. Among the new leaseholders at the terminal is a franchise of the American fast-food giant KFC.
"Sanctioned entities have long ago found ways around the restrictions," independent analyst Richard Horsey told Frontier. "To unlock growth and investment, the US needs to normalise its relations with Myanmar, and address the very real ongoing concerns using tools other than sanctions."
Opinion has been divided on whether the latest changes to the SDN list will spur an increase in bilateral trade.
Advisory firm BMI Research said the inordinate role of sanctioned tycoons and military-owned enterprises, along with the opaque and byzantine nature of business relationships in Myanmar, would continue to pose a significant risk to prospective investors.
"These adjustments will marginally lower the regulatory burden that US firms face when looking to do business in Myanmar," it said in a May 18 report. "However, core difficulties, such as steering clear of the military and related tycoons, will remain in place."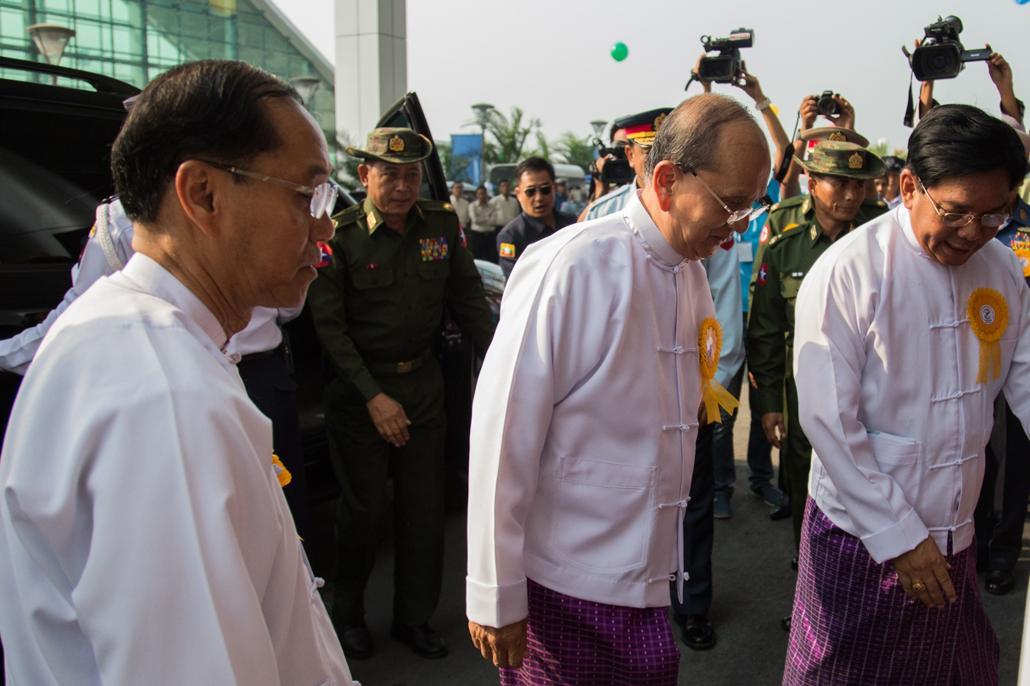 New priorities
Most US sanctions against Myanmar were eased in 2012 and 2013, after the quasi-civilian government of President U Thein Sein introduced a number of political and economic reforms. Existing congressional sanctions on the import of precious stones remain in place, along with bans on the arms trade and military cooperation.
Just over 100 individuals and entities remain on the SDN list, including senior figures of the previous military regime, half-a-dozen business leaders and their family members, and two people who in 2013 were implicated in weapons deals with the isolationist North Korean regime.
Individuals and entities blacklisted under American sanctions can seek their removal by petitioning the Treasury. In 2014 US officials briefed a number of business leaders eager to be delisted. In May 2015, U Win Aung, head of the Union of Myanmar Federation of Chambers of Commerce and Industry, became the first tycoon to be removed from the SDN list through this process.
Some business leaders have sought to burnish their democratic credentials and commitment to supporting reform.
In April last year, the government of Thein Sein engaged the Podesta Group, a lobbying firm with deep ties to the US Democratic Party and former Secretary of State Hillary Clinton, through its embassy in Washington DC. Signing a 12-month, $840,000 deal, Podesta was reportedly engaged to lobby for the complete abolition of US sanctions before last November's Myanmar general election.
Before and after the National League for Democracy's thumping election victory, a number of tycoons still on the SDN list were conspicuous in their support of Suu Kyi's party.
U Khin Shwe, head of the Zaykabar company, encouraged his constituents to vote for Suu Kyi while unsuccessfully recontesting his own seat for the rival Union Solidarity and Development Party. Earlier this year, Tay Za bankrolled training for new NLD lawmakers before new MPs took their seats on February 1.
U Zaw Zaw, chief executive of the Max Myanmar Group of Companies, has been widely tipped to be the next tycoon to be delisted by the US Treasury. He and his companies remain sanctioned, despite his longstanding support of the NLD.
"We sincerely believe and we are very positive that US government is going to lift the remaining sanctions not only on the country but also on every individual entity with good corporate governance, and transparent and responsible institutions," Dr Thaung Han, Max Myanmar's group chief operating officer, told Frontier.
The new government has indicated, however, it is at ease with the remaining US sanctions.
Shortly after the May 17 announcement during a meeting with Singaporean Foreign Minister Vivian Balakrishnan, Suu Kyi told reporters that her government welcomed the scrutiny associated with the remaining sanctions, comments she repeated during John Kerry's Nay Pyi Taw visit on May 22.
Kerry indicated that Suu Kyi's opinion of the sanctions regime would be instrumental in any future changes.
"As the state counsellor and foreign minister indicates to us that it is appropriate, we will consider taking further action," he said.
Title photo: US Secretary of State John Kerry and State Counselor Daw Aung San Suu Kyi at a press conference in Nay Pyi Taw on May 22. (AFP)