A consortium in the running for a tender aimed at avoiding power shortages next hot season seems unfazed by the tight deadlines and viability concerns that deterred many foreign bidders.
By THOMAS KEAN | FRONTIER
It's being called the "impossible" tender – and it's worth upwards of a billion dollars.
In late June, the Ministry of Electricity and Energy's Electric Power Generation Enterprise issued a tender for five emergency power projects, totalling 1,040 megawatts: two smaller plants that would use gas supplied by the government, and three larger projects that would use imported liquefied natural gas. The aim of the tender is to ensure Myanmar, and particularly Yangon, avoid crippling power shortages next hot season.
The tender deadline was July 29, a window of just a month. More significantly, the LNG-to-power projects had an implementation deadline of just 210 days, or about seven months, with steep penalties – up to K300 million – for every day that the winning bidder missed the deadline.
Most foreign companies looked at the terms for the three LNG projects and walked away.
"Bringing LNG from overseas, including building the jetty, pipeline and plant, all in just seven months. It's very challenging – no reputable company would dare to take the risk," said one industry consultant.
But it's not just the technical challenges that have deterred bidders.
The capital costs are significant but the contract is only five years. That means investors would need to charge a very high price to make any profit – as much as 20 cents a kilowatt hour. That's the equivalent of K300 a unit, double Myanmar's current top residential tariff.
The government has also demanded a fixed tariff – including fuel costs – over the five years, despite the fact that the price of LNG fluctuates roughly in line with the price of oil. It would also pay the tender winners in kyat, which only makes the projects less attractive.
"Preparing a bid of this complexity would be extremely difficult, particularly when combined with the challenge of finding a way to make the projects commercially viable," said Mr Jordan Zele from Myanmar Energy Monitor, a research and analysis service. "The use of barges to supply power over such a short period of time would be prohibitively expensive, and does not align with the ministry's current [price] appetite."
Even ministry officials acknowledge the tender is problematic. Although several of them declined to comment on the record, one official told Frontier that the tender committee had received less than 20 bids in total for the five packages, and most were for the more straightforward onshore gas projects.
"Of course, we wanted the large companies to participate so we are disappointed that they are not bidding," said the official.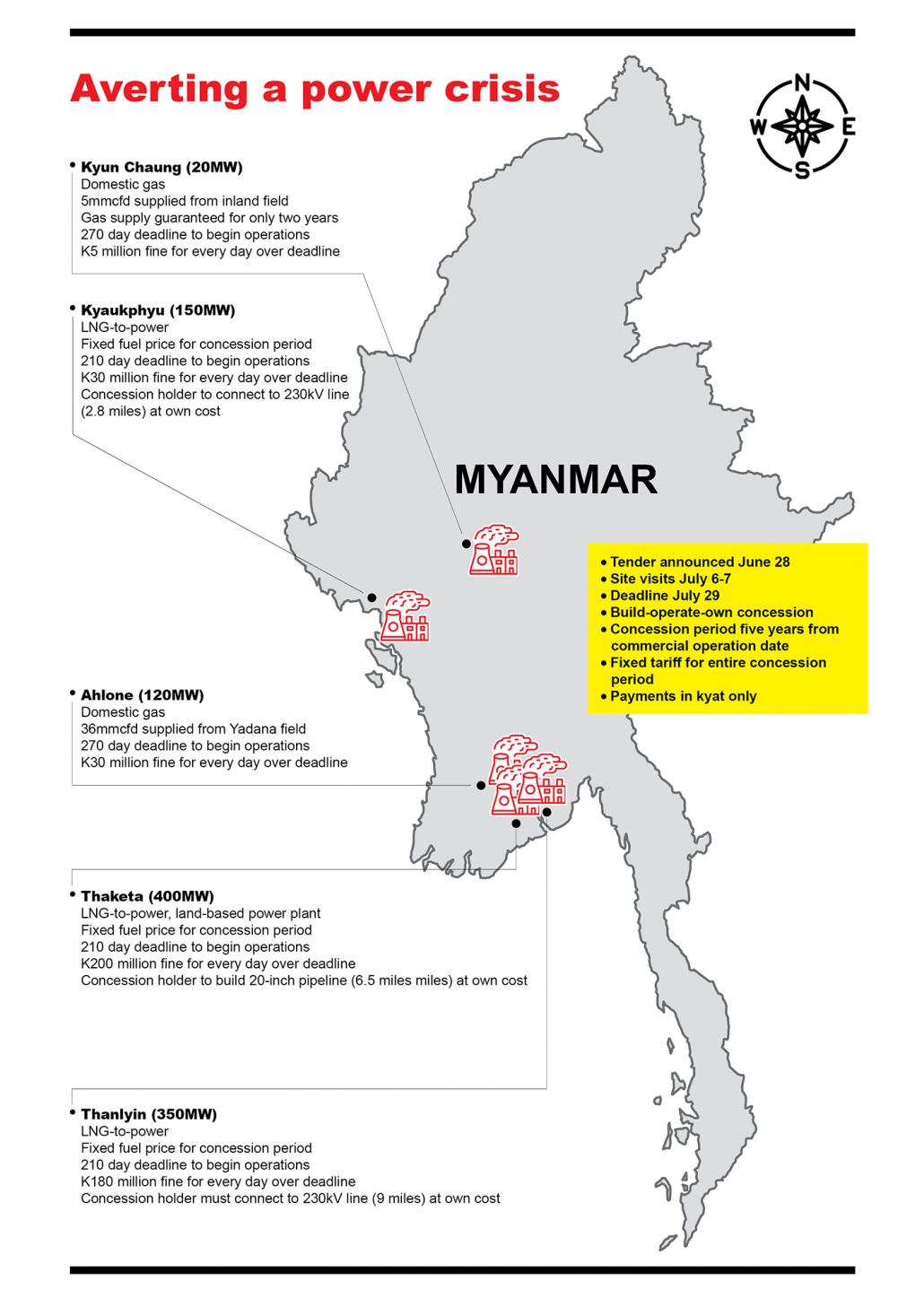 Planning failures
The latest tender is the culmination of a long line of planning failures.
The key issue is that Myanmar has attracted very little private investment in power generation over the past five years. At the same time, demand for electricity has grown at up to 19 percent a year, stretching the capacity of existing infrastructure.
The Ministry of Electricity and Energy has been receiving warnings for years about a looming power shortfall. In 2016, it launched and then abandoned an emergency power tender because of a disagreement with the Ministry of Planning and Finance over the cost.
A supply/demand analysis prepared for the Ministry of Electricity and Energy in June 2017 forecast that unmet demand from 2020-22 could be seven times worse than between 2012-16. With very few projects in the pipeline, the outages would only worsen unless the government took drastic action.
In January 2018, Minister for Electricity and Energy U Win Khaing sought to address the looming shortages by issuing notices to proceed to several large LNG-to-power projects with tight implementation deadlines. Any initial optimism that these projects could address Myanmar's looming power deficit soon evaporated, however, as the projects became bogged down in difficult negotiations over the fiscal terms.
By late April of this year, shortages were beginning to bite. Myanmar relies mostly on hydropower to meet its power needs, and production typically tails off at the end of hot season – just as demand hits its peak. In early May, the ministry was forced to introduce scheduled outages in Yangon and other cities. These outages continued for several months, until monsoon rains began to refill the hydro dams.
With a general election looming, the government resolved to do whatever it could to avoid shortages next year. It soon settled on an emergency power tender but in the eyes of many industry observers it was already too late.
To make matters worse, the ministry made little attempt to consult business associations or engage foreign consultants to run the tender.
"I don't see the ministry engaging seriously with potential investors … it's ridiculous," said U Khin Maung Win, the managing director of MSP Group, which operates the Ywama power plant in Yangon Region.
Khin Maung Win was part of a consortium that submitted a "non-conforming bid" for an alternative power project. He's frustrated at what he perceives to be an unnecessary rush job for essential and expensive government contracts. "Before issuing any tender, it should be well prepared. It's not right to just do billion-dollar deals at the last minute."
But the Ministry of Electricity and Energy is not solely responsible. On the fiscal terms – for example, the insistence on a fixed tariff paid in kyat – it is working within constraints set by the Ministry of Planning and Finance. Rather, the tender reflects a broader dysfunction within the government that has conspired to hold back investment in the power sector.
Advantage China?
While most international firms have steered clear of the tender, a consortium comprising two companies is tipped to emerge as the big winner: Hong Kong-based VPower and Myanmar's Zeya & Associates.
The consortium has been selected as the first-ranked bidder for a number of the LNG packages, according to both industry and ministry sources, with bids significantly lower than other competitors.
Under the tender rules, the ministry is supposed to shortlist the first and second-best bids among the companies that meet the technical criteria. If it cannot conclude negotiations with the first-ranked bidder within 30 days, it is to open talks with the second-ranked bidder.
Frontier understands the ministry is in talks with the consortium and that agreements are expected "very soon".
VPower is a known quantity to the ministry, having already completed several emergency power projects, including two 45MW contracts at Kyaukphyu. In March, VPower and Zeya & Associates began operations at a 90MW plant at Myingyan in Mandalay Region under a five-year contract. Zeya & Associates operates the 25MW Hlawga gas-fired plant in Yangon Region.
But the ministry official told Frontier that the prospect of one consortium taking on several projects was causing headaches for the tender committee.
"We are worried about whether they can really do it," the official said. "If operations are delayed past hot season, it will be useless for meeting our objective, which is to avoid power shortages."
Other observers see a different problem: geopolitics. Although a Hong Kong registered and listed company, VPower's business has traditionally been on the mainland, and state-owned CITIC – the developer of the Kyaukphyu deepsea port – holds 8 percent of its shares. VPower also has strong links to other Chinese state-owned enterprises, including CRRC, the world's largest maker of trains and railway carriages.
About 70 percent of VPower's shares are held by its founder and executive chairman Mr Yam Lee Chun, 48, through a British Virgin Islands-registered company, Konwell Developments Ltd.
VPower did not respond to a request for comment, and Zeya & Associates declined to comment.
"It looks like all winners are coming from a single funding source and the deals look too good to be true," Khin Maung Win said. "If they look too good, then it's a serious problem."
Another observer was more blunt: "Things are moving in favour of the Chinese. Only those who are strategically motivated and backed by the government would be able to do this."
The recent corruption investigation at the Ministry of Electricity and Energy, which is yet to officially conclude, has added a further complication to the selection process.
Officials within the Ministry of Electricity and Energy are uncomfortable at the prospect of awarding all of the larger packages to China-backed companies and would prefer to have Western and Japanese companies among the winners.
However, they are reluctant to exercise any discretion when selecting the winners, in case they are accused of favouritism.
"In that atmosphere," said one source, "no one dares to make any mistake."
TOP PHOTO: Ministry of Electricity and Energy workers string transmission lines in Ann Township, Rakhine State. (Teza Hlaing | Frontier)