When disaster strikes or a deal needs to be done, people in rural areas are increasingly turning to technology – although for some, it's making commerce more cutthroat than ever.
By JEREMY MULLINS & MON MON AYE | FRONTIER
IN APRIL this year, a freak storm pelted Kangyi village, in Mandalay's Region's Kyaukse Township, with golf ball-sized hail for 45 minutes. When the rain and hail stopped, residents emerged from their homes to a scene of devastation. The roofs of nearly every building in the village had been torn off or smashed apart. The goats left outside had been injured or, in a few cases, killed by hail. Even the village pagoda had lost its hti, the pinnacle at the top of the stupa.
Residents then began the arduous process of notifying authorities about the disaster. They reckoned they would need to submit a written report to the government, which would perhaps require a trip to Mandalay, some two hours away – the first hour along now-damaged and submerged dirt roads.
A few villagers prepared their motorbikes for the trip to Kyaukse and then Mandalay to make the necessary reports. They hoped to return with emergency aid, such as food and tarps to make temporary roofs.
But within an hour, something unexpected happened in Kangyi: the aid came to them.
When the storm hit, some of the younger, more tech-savvy residents had snapped photos of the giant hailstones and the damage they had caused. The photos, of hole-filled roofs and wind-bent buildings, were uploaded to their personal Facebook accounts, and widely shared both in Myanmar and abroad.
The first donors to arrive in the village were responding to nothing more than the pictures they had seen on Facebook. They brought sacks of rice and cash, and they kept coming for days.
In all, U Thein Aung, a local farmer, reckoned that about 100 groups came with donations, including movie star Ko Wai Lu Kyaw. The farmer said the speed of the aid delivery had shocked him, and made him a believer in the mobile revolution.
"In the storm we could get the information out from here," said Thein Aung. "I feel good about using the internet."
Still, he hasn't taken the online plunge himself. While he kept an expensive-looking smartphone in his breast pocket during the interview with Frontier, Thein Aung said, somewhat abashedly, that it was a hand-me-down from one of his kids; he uses it only to make calls.
But for many Kangyi residents, mobile phones have been proving their worth for some time. They have quickly transformed the economic realities of this little corner of Mandalay Region – and similar rural areas across the country.
The growing ubiquity of mobiles, particularly smartphones, in small-town Myanmar may be one of the main business legacies of the administration of former President U Thein Sein.
When he took office, SIM cards cost about K500,000. Barely three years later they were just K1,500. At the same time, service quality and coverage – particularly data access – had improved dramatically.
The arrival in mid-2014 of foreign operators Telenor and Ooredoo broke the monopoly of state operator Myanmar Posts and Telecommunications, and the new telcos pumped billions of dollars into new infrastructure. MPT responded by partnering with Japanese firm KDDI Sumitomo, significantly upping its own investment.
Usage quickly skyrocketed. In a March 2016 statement, the since-merged Ministry of Communications and Information Technology said that mobile penetration jumped from 9.5 percent in 2013 to 77.7 percent at the end of 2015 – "a record speed in the history of mobile telecommunications", it said.
As a result, mobile phones are quickly weaving themselves into the economic life of both urban and rural Myanmar.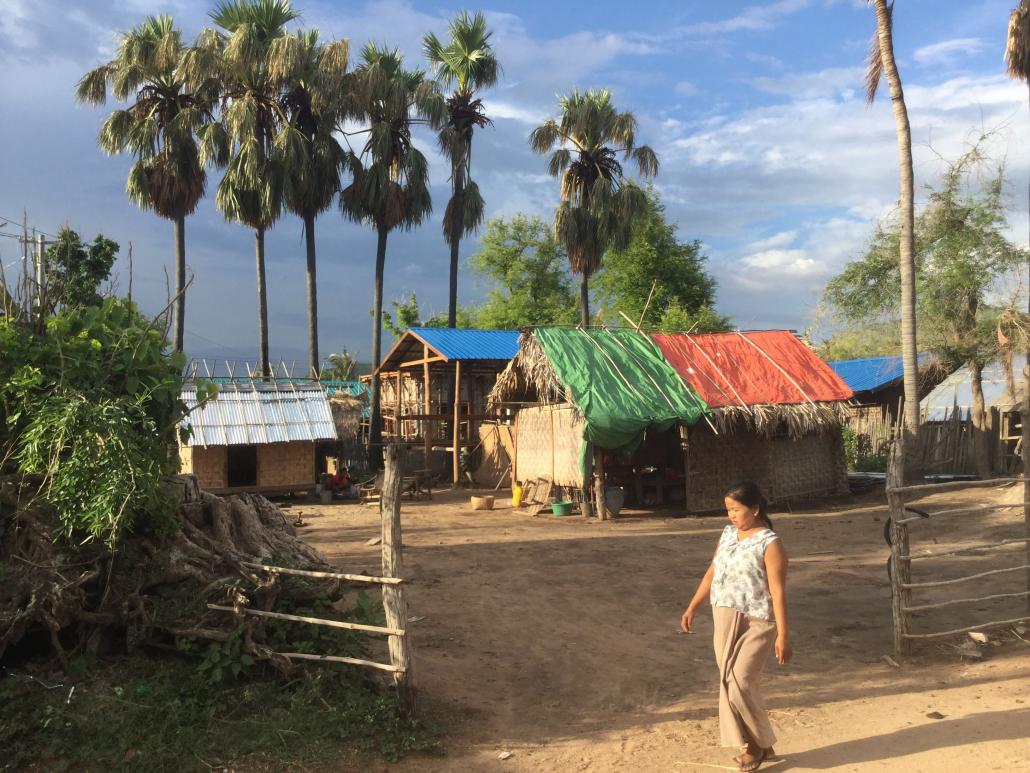 A host of services previously unavailable to most rural residents are now available online, or will soon launch, such as mobile banking and online shopping.
But Mandalay Region farmers told Frontier that at present they most appreciate the information that mobile phones bring them.
Before, an information imbalance meant brokers had the advantage over farmers. Now farmers can shop around for the best price and quickly figure out where to go to make a deal. They ring up one middleman and if they don't like the price they just call another.
 "Farmers can grow their eyes wide with phones. They won't be behind others," said Kangyi resident U Tin Thein.
Internationally, some organisations have tried to quantify the impact of mobile technolgy. The GSMA, an industry body, said in its 2016 annual report that 2.2 percent of global GDP can be attributed to the increased productivity created by wider mobile use.
"Mobile technology has transformed the way in which economic activity is carried out in virtually all the sectors of the global economy, allowing more efficient ways for workers and businesses to communicate and access information," it said.
A previous 2012 study by the GSMA said that 10 more mobile phones per 100 people would increase GDP per capita by 0.6 percent – though studies have shown a larger impact of 0.8 to 1.2 percent in developing countries.
In Mandalay Region, the economic freedom associated with mobile phones is not just changing the nature of business in rural areas. It's also having an impact in the regional centre of Kyaukse.
The area is heavily agricultural. Kyaukse is the largest city in the eponymous district, with 41,482 residents out of a district total of 741,071, according to the 2014 census. It also serves as the economic business centre for the region, where local farmers go to sell their goods to the brokers who on-sell to the wider world.
Daw Ohn Mar Aung's shop, Toe Lay, is on Kyaukse's main street. She buys betel leaf from farmers, then packs and ships it to customers in other cities. Some customers are as far away as Yangon, and most of her time is spent buying and selling.
She opened her shop in 2000. She always had a telephone; it has been a crucial part of her business.
But much has changed since 16 years ago. Now, a lot of her suppliers and customers have phones as well.
Before, people who wanted to buy her betel leaf either sent a letter by post or made a call from a public phone in their town. Prospective buyers had little choice but to accept the deal that Ohn Mar Aung gave them. While buyers may have ended up paying more than the market rate, this pricing power enabled her business to get through tough times.
When the hailstorms swept through Kyaukse in April, many of her traditional suppliers were hurt, and costs went up for the remaining betel. She reckons area farmers are still a few months from fully recovering.
The spike came at the worst possible time. Rainy season is traditionally when prices for betel leaf are lowest. She normally purchases betel for about K22,000 a viss (1 viss is equal to 1.6 kilograms) during the rainy season, and sells it later for about K30,000.
Because of the storm, her supply was damaged. But because other betel-producing areas around the country now have bumper crops, her customers were able to simply find alternate suppliers. This has made life hard for Toe Lay.
"I cannot control the price anymore," she said. "Everyone knows the [betel] price because everyone has a phone."
Phones have given her more customers, just at lower margins. Whereas before she might have 20 customers at a time, the advent of cheap phones means she may now have 40 or 50.
"Using phones has disadvantages and advantages," she said. "Nothing is secret anymore."
But information is not just about pricing. U Win Lwin, owner of Ywet Sein, or Green Leaf, a pesticide shop in downtown Kyaukse, said one of his major challenges is a lack of knowledge among customers. Many are not sure how to mix the various products he sells.
Before, farmers had to call him from a public phone, known as a PCO, or visit in person.
As a consequence, Win Lwin spent a lot of time wading in the paddy fields providing instructions. The spread of cheap SIMs enabled him to spend more time in his shop making sales.
So far he has found more use for phone calls than the internet. But other Kyaukse businesspeople are starting to see returns from heading online.
U Aung Naing Lin operates a bean and seed shop near Kyaukse's main market. In an otherwise sleepy area, his shop was a bustle of activity on the day Frontier visited.
He sells more than 30 types of beans and seeds, shipping to buyers in Myanmar and overseas. While he is an old-fashioned sort of salesman, making deals through a network of buyers and sellers – albeit now abetted by Viber and Facebook Messenger – the internet has helped reduce the risk.
Exchange rates are one of his biggest challenges. A deal with a Chinese buyer previously meant navigating Myanmar's own complex pre-2012 exchange rate system, and then figuring out only a slightly less opaque renminbi exchange rate. Now, he can simply check a mobile app to find the latest rate.
He first went online two years ago with an MPT SIM, and has noticed a rapid increase in speed and choice among operators – he now juggles three SIM cards, one each from Telenor, MPT and Ooredoo.
But like many customers, Aung Naing Lin is hungry for more. The next step that could improve his business is simply more access to information. Most immediately helpful would be prices for various beans and seeds across different international markets, particularly India and China. He says the information is probably online somewhere, but so far he has not been able to find it.
"The internet is useful," he said. "It's very good for local people."
Love it or hate it, it's becoming clear that businesses – even in rural areas – have little choice but to join the mobile phone revolution, or risk being left behind.
This article originally appeared as part of Frontier's Digital Myanmar 2016 special edition. Top photo: Workers set up a generator next to a new telecom tower in the Ayeyarwady Delta. (Steve Tickner / Frontier)