The Asia Highway has tamed the once-treacherous Kawkareik Pass and for the mountain truckers who plied the route it marked the end of an era.
By JARED DOWNING | FRONTIER
"On the road I am happy. I am not happy at home; only when in the mountains," said truck driver U Win Tun. His 22-wheeler was loaded with beans bound for Myawaddy, and growled up and down the slopes of the fresh-cut pass through the Kayin hills.
The 45-kilometre section used to take three hours at the very fastest. Now, with the new stretch of the Asia Highway, it takes under an hour, with more room for motorbikes and small cars to zip around big trucks carrying freight. U Win Tun scoffed at them. You would never see that on the old highway, the rocky trail that wound through the hills like a tattered grey thread. Amateurs did not attempt it.
I understood. I had hitchhiked from Mandalay to Mae Sot in 2014, but my progress came to a frustrating crawl near the Kayin State capital, Hpa-an. The only trucker I found heading my way knew enough English to explain that traffic in the pass travelled one-way on alternate days, and today it was heading towards Yangon. He was heading east just far enough to take his empty rig home. 
The Kawkareik Pass, as it was called, bent transportation to its will for 200km.
In Mae Sot, the Thai border town opposite Myawaddy, backpackers and expats shaped itineraries around when the buses were due to depart for Myanmar. On eastbound days, the road to the Friendship Bridge over the Moei River would be lined with scores of rigs parked for the night, waiting patiently for the gate to open and carry a wave of freight to Yangon.
"Before, the journey from Hpa-an to Myawaddy took two days, there and back. Now we can do it in one day," a driver told me in Hpa-an. After 30 years on the road, he drives one of the bigger passenger trucks and earns about K40,000 a trip.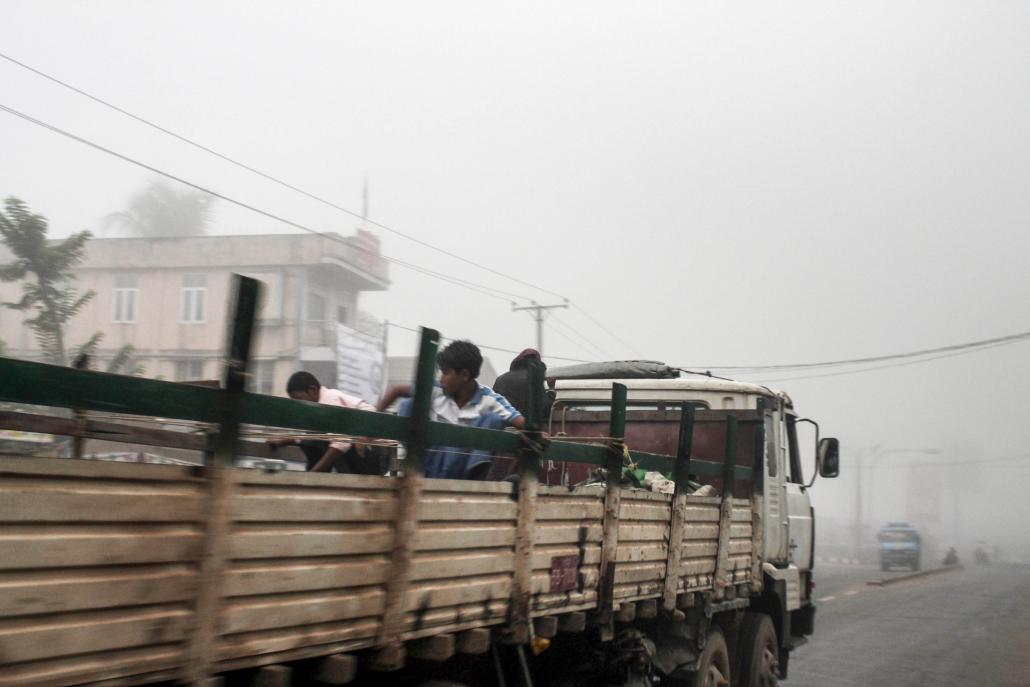 The new road, built in cooperation with the Thai government, is the latest leg in the Three Nation Highway project designed to link Thailand, Myanmar and India. Work on the Kawkareik Pass section began in 2012, and its journey towards completion was lined with political and economic potholes. Human rights groups decried the Myanmar government for railroading such a lucrative development project in an active conflict zone. Sure enough, as soon as the ribbon was cut in August, the Tatmadaw, Karen National Union and Democratic Karen Benevolent Army began erecting toll stations and, occasionally, exchanging fire. Two villagers were shot dead, reported the Karen Peace Support Network.
Tensions among the rival groups seem to be easing, said U Cho Cho, who returned to Kawkareik from Phuket in Thailand to start a roadside tea shop after he and his wife had their first son. There are rumours that in the coming months the Tatmadaw, Immigration, KNU and DKBA will cooperate and check every vehicle.
"[Local] people never registered their cars before, and now we're worried they will arrest us," U Cho Cho said in English. "I will have to hide this in the trees so they won't see," he said, indicating his silver Honda with no licence plate.
U Cho Cho's shop is the first after the new highway forks off from the old. Traffic whizzes by. The 26-year-old grew up watching truckers pull over at Kawkareik before the morning haul over the pass, drinking beer and swapping stories through nights that were silent but for distant gunfire. And for a few months, they came to U Cho Cho's shop, too.
"They always liked to stop here because it was very beautiful. Every night they would be sleeping here," he said. "I said, 'Everything is very good.' After, the engineers told me my shop was too close to the new road. They made me move it over here."
U Cho Cho helped me flag down the white 22-wheeler driven by U Win Tun and his young assistant. They gave me and photographer Ko Taik, who also translated, a lift without a second thought; Immigration checks be damned. The cab had a small bed and was easily big enough for the four of us, and its huge windows offered a 180-degree view of the valleys and fields of the Kayin hills.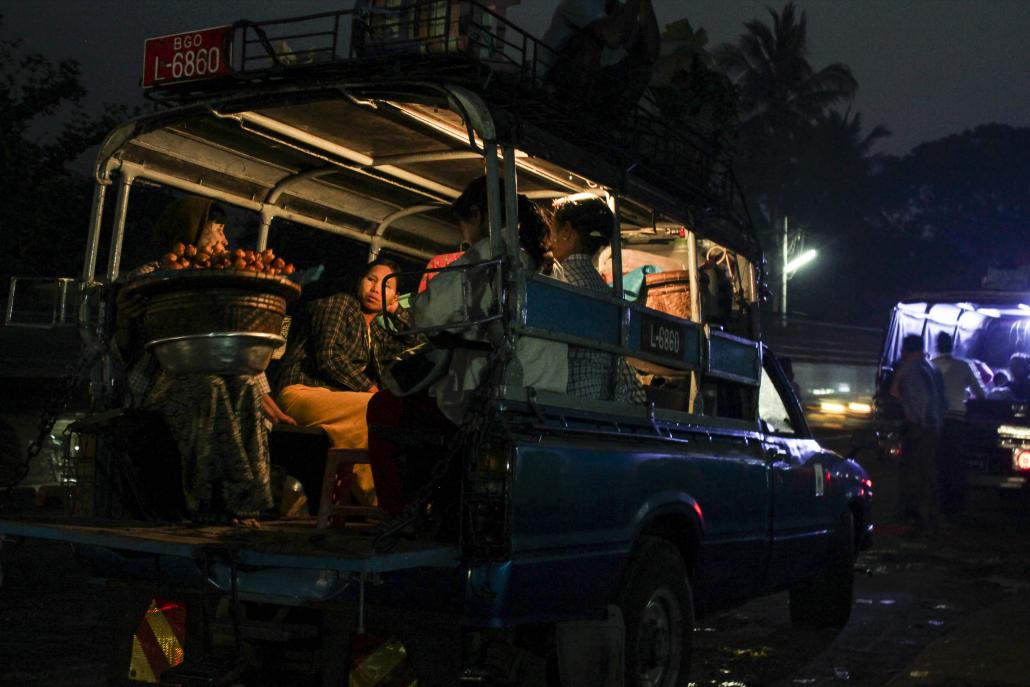 When I rode the pass in 2014, the four-hour journey was fraught with treacherous bottlenecks and crumbling ledges that I was sure would collapse and send me, the two drivers and our cargo of ore tumbling into the valley below. Now it was smooth as a parking lot with enough room for trucks, sputtering farm wagons, motorbikes, and family cars with luggage heaped on their roofs like giant snails. Once we passed an American couple happily peddling a tandem bicycle.  
"This road is so easy," said U Win Tun. "You don't need any skill or experience, but it is so fast that bad drivers can lose control."
He pointed to dark scuff marks on the freshly-painted guard rails. Abandoned on the roadside was a crumpled 22-wheeler that had failed to negotiate a turn.
U Win Tun sighed. "Some of these drivers have never even seen the old road. But I knew every curve and hill, and every curve and hill was a new challenge."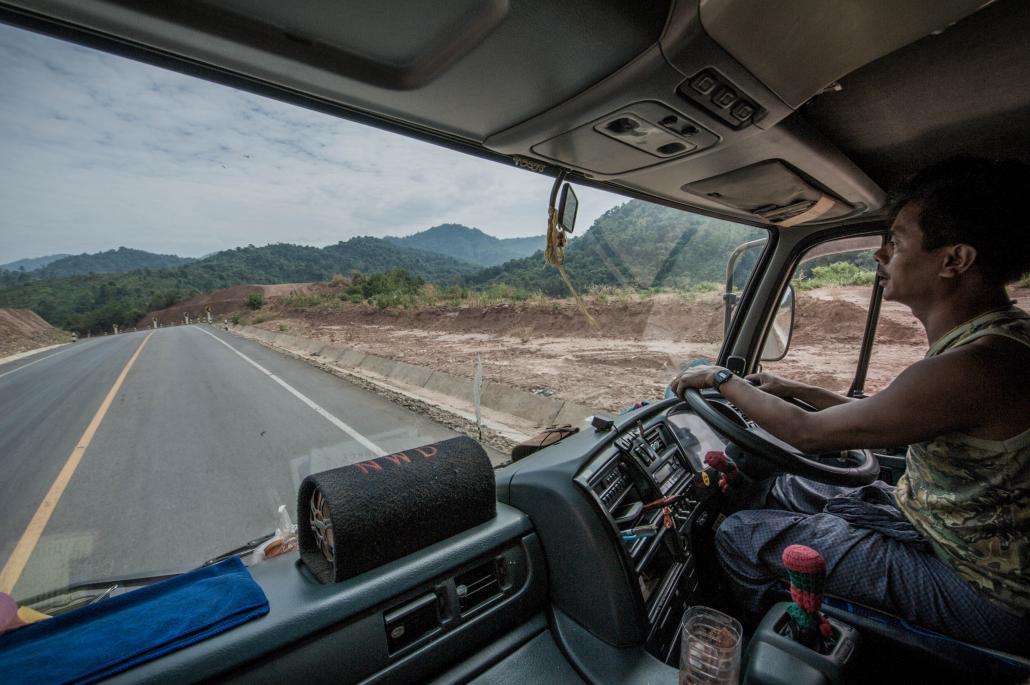 It was a topic to which U Win Tun kept returning: how mastering the Kawkareik Pass was a badge of honour, how being a mountain trucker meant something; his Burmese growing sharp and fast, sad and angry. As he coasted through the valleys, he seemed to see something from the past. I had seen it too: The dusty, pockmarked trail; dozens of trucks waiting in line to crawl past a fallen boulder; the co-driver hanging out the window and barking orders to the driver, who danced with the brake and clutch as the huge rig heaved and roared.
Even fully laden, the journey was over in less than an hour. At the checkpoint outside Myawaddy, Immigration officers gave everyone in the cabin a stern talking-to and U Win Tun and his assistant joined a queue of big rigs waiting to be inspected.
I spoke to some of the other drivers, and some were also nostalgic for the old road. One expressed some regret about the new highway, but acknowledged it was good for Myanmar. Many of the drivers welcomed the shorter travel times and the higher income from being able to make more trips. "But understand," said one, "for many others, the old road is like an old friend to us."
I was glad I got to see it.
Title photo: Ko Taik / Frontier