The Burmah Oil Company was the target of one of the biggest strikes of the colonial era. Today, union leaders say oil industry workers continue to be exploited.
By HTUN KHAING | FRONTIER
ON MAY 1, more than 300 oil workers from state-run fields converged on the historic heart of the industry in Magway Region to honour the leader of one of the biggest strikes during British colonial rule.
At the Workers' Day ceremony in Chauk Township – the first held there in more than 50 years, according to residents – the workers in their bright orange uniforms gathered to pay respects at the statue of Thakin Po Hla Gyi, who in 1938 led a series of strikes against the Burmah Oil Company that eventually escalated into a general strike.
The strikes began at the Chauk field in January 1938. Under the leadership of Po Hla Gyi, who was known as alawaka, or "The Ogre", because of his fierce militancy, the striking workers presented BOC with a list of 12 demands for better pay and conditions.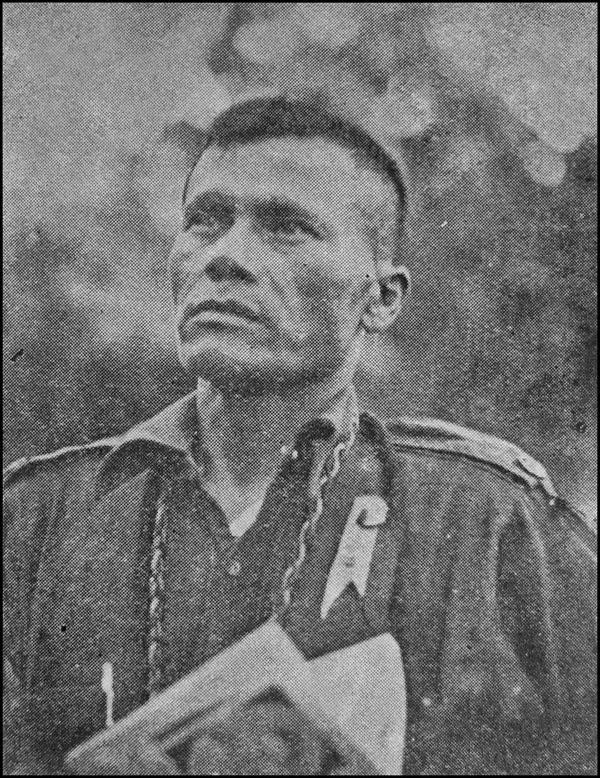 They included an eight-hour working day, paid overtime, the right to medical leave, and the provision of living quarters bigger than the 80-square-feet (24.4-square-metre) accommodation it was providing for families.
There was a powerful motivating reason for the dissatisfaction of the Burmese workers: the Scottish-owned BOC granted better conditions and paid higher salaries to its employees from Europe and India.
Although BOC acceded to some demands in April 1938, the strikers refused to return to work. Over the coming months they attracted the support of more than 10,000 oil industry workers, including those from another historic oil-producing field at Yenangyaung, on the Ayeyarwady River south of Chauk, as well as BOC's refinery at Syriam, in what is now Thanlyin Township, on Yangon's southeastern outskirts.
In November, the Chauk strikers began marching on Rangoon, picking up supporters along the way; about 1,500 completed the march on January 8, 1939. By this time, the movement had already evolved into a general strike and been dubbed the "1300 Revolution", a reference to the year in the Myanmar calendar.
From late 1938 to mid-1939, under the auspices of this revolution, the country was hit by a wave of strikes and protests led by workers, farmers and students. At least 33 deaths were recorded; the first occurred on December 20, 1938, when a young student, Ko Aung Kyaw, was attacked by baton-wielding colonial police during a protest outside the Secretariat in Rangoon. On February 20, 1939, 17 people were killed in Mandalay when police opened fire on a crowd marching along 26th Street, beside the city's moat.
By July 1939, the "revolution" was over. In June, Po Hla Gyi and some workers had returned to Chauk, with promises from BOC of higher salaries, guaranteed holiday leave and improved housing.
In an introduction to his translation of Po Hla Gyi's The Strike War, a tract written in late 1938 and sold to raise money for the strike fund, Canadian academic Mr Stephen Campbell wrote that although the strikes "did not result in an undisputable success for the workers involved", they were still "the most significant series of workers' strikes in the country's colonial period".
Po Hla Gyi, who took the title thakin ("master") as a member of the anti-colonial Dobama Asiayone (We Burmans Association), was "a true working class hero of Burma's independence struggle", wrote Campbell in the translation of The Strike War. It was published as a working paper under the Myanmar Literature Project by Germany's Passau University in 2012.
Po Hla Gyi would die just a few years later, during the Japanese occupation of Burma, but he would be remembered as an important anti-colonial figure. When the dictator Ne Win demonetised K25, K35 and K70 notes in September 1987, they were replaced by K45 and K90 notes – the former bearing an image of the strike leader on one side and oil workers on the other.
In 2013, a 12-foot statue was erected at a park in the centre of Chauk that is now called Thakin Pho Hla Gyi square. Built at a cost of more than K5 million, it was funded by Ayeyarwady Bank, Thakin Oak Ka Lay and Ottaya Tun Company.
Nearly 80 years after the strikes, employees of state-owned Myanma Oil and Gas Enterprise, which took over BOC after it was nationalised in 1963, continue to draw inspiration from Po Hla Gyi as they struggle for better conditions.
Although May 1 is a gazetted public holiday, many of the workers at the 13 onshore oil and gas fields operated by MOGE were unable to attend the ceremony in Chauk to honour Po Hla Gyi because they were not given the day off.
There are some parallels with the situation faced by MOGE employees today. As well as being refused leave on public holidays they say they are also forced to work unpaid overtime, they said.
"We work from 6am to 6pm, which means that we work four hours overtime a day. The law says workers must be paid overtime if they work more than eight hours, but we never get it," said U Maung Maung Han, chair of the All Myanmar Oil Workers' Union, who has worked for MOGE for 26 years.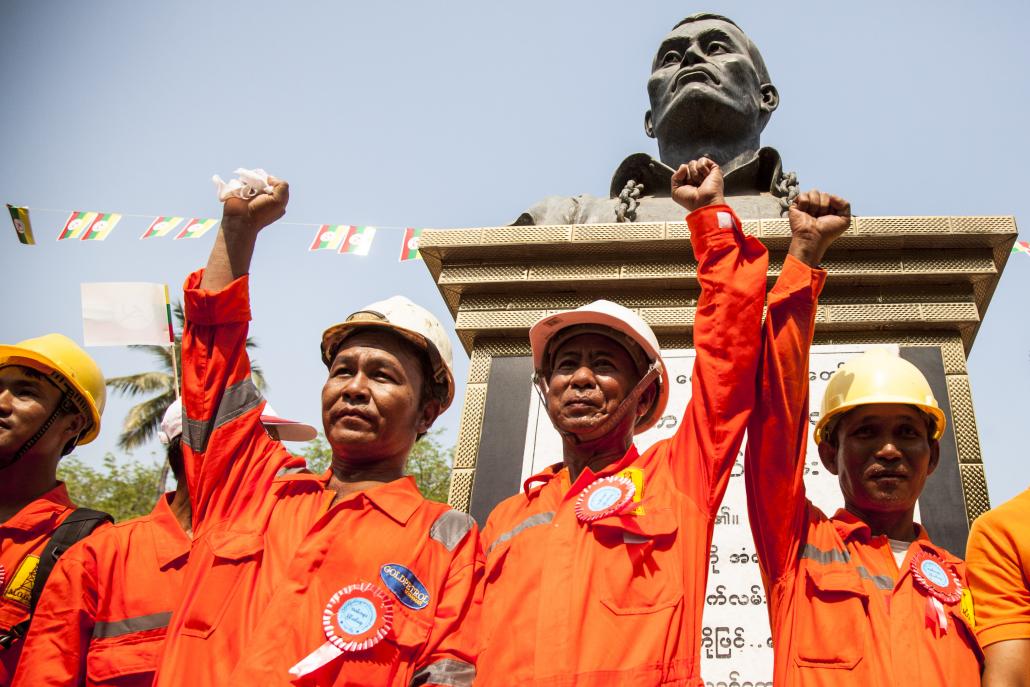 He said conditions deteriorated for workers in the aftermath of the military coup that replaced Ne Win's socialist regime. From 1990 to 1997, overtime, bonuses and other support, such as rice, cooking oil and salt, were gradually cut back. After the junta appointed Lieutenant-Colonel Lun Thi as energy minister in 1997, the last of these privileges were removed, leaving workers with just their salary.
"A worker who retires at 60 has worked the equivalent of hundreds of days without being paid any overtime," said Maung Maung Han, adding that he was threatened when he was involved in launching the first oil workers' union at Chauk in 2013.
"Two years later I was transferred to the MOGE field at Myan Aung in Ayeyarwady Region," he said.
The All Myanmar Oil Workers' Union was established in 2015 with members from workplace unions at all 13 MOGE fields throughout the country. The union says MOGE employs more than 90,000 workers, of whom nearly 40,000 are members.
As well as unpaid overtime, another complaint of union members is having to work on holidays.
Ko Lay Naing, a finance officer with the AMOWU, said it was common for employees to be required to work on gazetted public holidays without receiving a substitute day off.
"They told me that I must apply for leave, even for May Day. As a worker I vigorously protested," he said.
It was also claimed that there has been little improvement in the accommodation provided to oil industry workers since 1938.
"There is not enough housing; accommodation built for workers long ago is not being properly maintained," said U Kyaw Soe, secretary of the AMOWU.
He added that workers who are transferred to other fields often find when they arrive that there is no accommodation allocated for them.
"Workers are still enduring cramped conditions in old housing, some of which is in a terrible condition," Kyaw Soe told Frontier.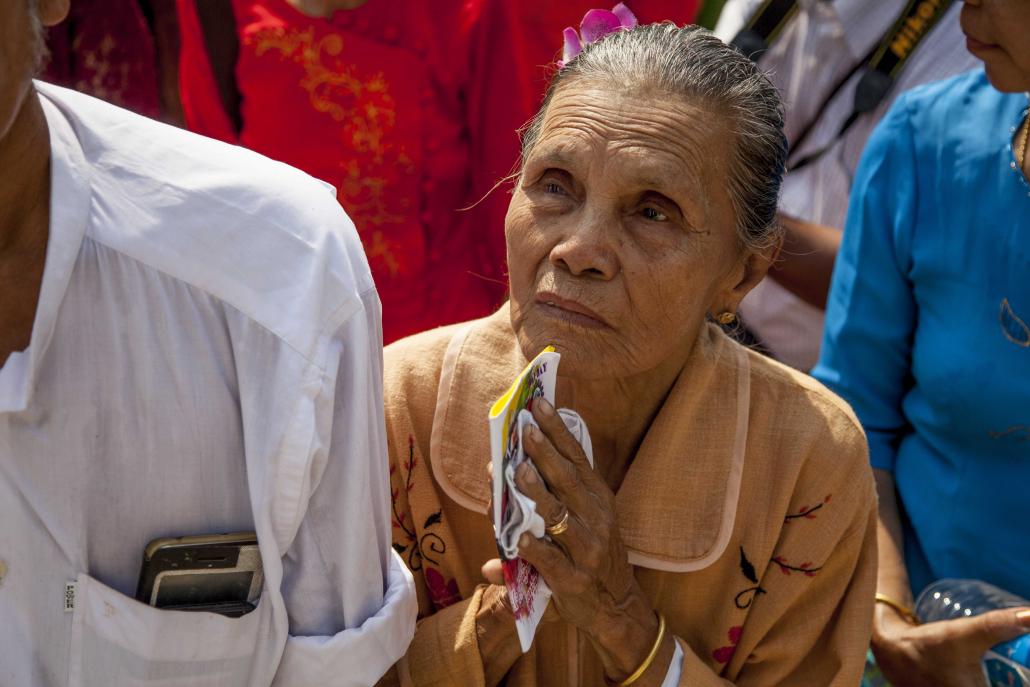 A related problem occurred when a MOGE employee died because it meant that family members had to find their own accommodation.
"This is a normal situation for any government employee, not only those working for MOGE. But we get paid a low salary, so it's a struggle for the family when a worker dies," Kyaw Soe said.
The monthly salaries for permanent MOGE workers range between K120,000 and K175,000, and temporary employees – who do not receive housing benefits – are paid K108,000, he said.
Workplace safety is another concern of the union, which says that at least five MOGE employees have died in oil field accidents between 2013 and 2016.
"The main reason they died is inadequate workplace safety measures," said Maung Maung Han.
"We use safety helmets made in China that are substandard quality," he said.
Ko Kyaw Lwin Oo, a worker from the Mann field in Minbu Township, Magway Region, said safety had been an issue for "decades".
"For example, we lacked safety gloves and footwear. Recently it has improved but not enough," he said. "The government is trying to understand the problems we face, but it's still not working well … the government needs to meet our fundamental needs."
MOGE could not be reached for comment.
In a significant legislative advance for workers' rights, a Labour Organisation Law was enacted under the previous military-backed Union Solidarity and Development Party government in October 2011. It gave workers the right to form unions for the first time since 1962.
Many workplace or sector-based labour unions have formed since 2011 but AMOWU leaders say they need more time to be more effective in fighting for the rights of members.
Maung Maung Han said members of the AMOWU planned to go on a study tour to the United States, the Philippines and Sweden in September that will focus on workers' rights and safety. When the delegation returns it hopes to have more detailed talks with the government and the Hluttaw about improving conditions.
"We are government employees and we don't know how to handle this case because our country is just opening up," Maung Maung Han said.
He added that Po Hla Gyi's leadership continues to be a source of inspiration for the union and its members.
"He was the first workers' leader in Myanmar. He showed how workers were living in poor conditions and being exploited," Maung Maung Han said. "Every oil worker is inspired by him because he not only opened the eyes of the workers, but also the public."
TOP PHOTO: A worker from a state-run oil field takes part in a May Day commemoration in Chauk on May 1. (Theint Mon Soe aka J | Frontier)