Political allegiances in the real world are reflected in debates and arguments on Facebook, but the social media platform remains plagued by hate speech and fake accounts.
By MRATT KYAW THU & KYAW PHONE KYAW | FRONTIER
WANT to join the virtual political debate in Myanmar?
Here's how you do it. Start by purchasing a mobile phone SIM card, a smartphone and some credit. Next: open a Facebook account. Then follow a few social media "influencers" – those who prompt and encourage debate.
Now you're all set to wade into the conversation. Don't worry if your views are irresponsible, extreme or even dangerous – no one's likely to stop you. In fact, you'll find plenty of other like-minded people online.
And when someone says "online", what they actually mean is just Facebook. While political debate in other countries tends to be spread across a range of social media platforms, in Myanmar Facebook is the only one that counts. While Viber has more users, only the former is used for "serious" discussion. The mobile operators have encouraged its use by offering a lower tariff for data usage on Facebook, or even sometimes free use.
Mother's sons and Grandpa's men
Generally, most Facebook users who discuss politics identify in one of two ways – a supporter of Daw Aung San Suu Kyi, or a supporter of the military.
Her backers are often referred to as "demo" – short for "democracy", which is the same in the Myanmar-language. Because Aung San Suu Kyi is often referred to as Amay Suu (mother Suu), they are also known as "Mother's sons" and "Mother's daughters".
While her National League for Democracy won last year's election in a landslide, there are still many people on social media who support the military. Members of this group are called as "Grandpa's men". Grandpa in Myanmar is "aba", and in military society the word is often used as an affectionate pronoun when referring to one's superiors.
So while the NLD and the military battle it out in the real political arena, a similar war is being waged online between Mother's sons and Grandpa's men. No topic is too trivial or unimportant to provoke an argument.
If you agree with a comment or post from one side, you will instantly be labeled either a Mother's son or Grandpa's man, regardless of your real-world allegiance.
There is a third force, however. Those who want to remain neutral usually preface their posts with, "I'm not from any group," or "I'm neither Mother's son nor Grandpa's man."
Rise of the Facebook minister
As the social network boomed in Myanmar in late 2011, a few members of U Thein Sein's government joined the party. This was part of their media strategy – to remove the journalist as middleman, and go directly to the public. Reporters who called these officials directly for comment would often be told, "Check my Facebook timeline – you'll see what I've written about that."
But most ministers in the former government struggled to harness the medium. Some couldn't type properly in the Myanmar font, while others would like or follow inappropriate pages, such as those peddling softcore pornography.
Today, it's become routine for politicians, government officials and activists to use Facebook to keep in touch with their followers. The current government and most lawmakers have generally taken a more professional line with the medium, and there have been suggestions that some are employing staff to manage their pages.
While much of the material they share is little more than bland press releases, occasionally a topic will capture public attention.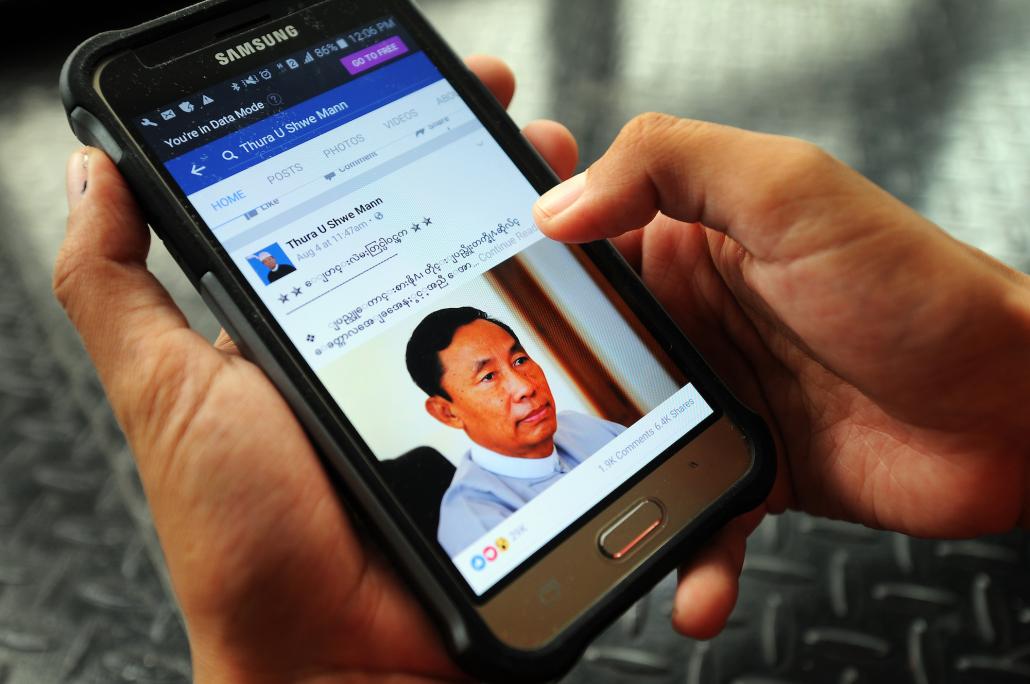 On August 2, a Facebook "fight" erupted between former Minister for Information U Ye Htut and former Pyithu Hluttaw Speaker Thura U Shwe Mann related to a post on flooding.
It started when one well-known user posted: "Thura Shwe Mann released a statement this time last year, but did not do so this year." The statement the user referred to urged the government to step up its floor relief and recovery activities.
Ye Htut shared the post with the comment, "People can change according to the situation."  Thura Shwe Mann then responded, "It's good if the situation changes for the benefit of the people and the state."
Cue a spat between the respective followers of Ye Htut and Shwe Mann.
In the previous government, Ye Htut was famous as the "Facebook Minister". An active user for many years, he would share a mix of official and personal information, and even reply to public comments on his posts.
Shwe Mann only started his Facebook profile in September 2015 – around the same time as his purge from the Union Solidarity and Development Party leadership. While Ye Htut's star has faded with the ouster of President Thein Sein, Shwe Mann – on Facebook at least – has risen again due to his alliance with Aung San Suu Kyi.
The NLD Facebookers
Many of the National League for Democracy's new MPs are avid users of Facebook. Their posts on the social network have occasionally drawn the ire of the party leadership, however.
When they entered the Hluttaw in Nay Pyi Taw for the first time on February 1, many posted selfies of themselves and their colleagues to Facebook. On that historic day, some female lawmakers wore attractive, colourful batik outfits.
And after much criticism from Facebook users, Aung San Suu Kyi ordered all of her party's MPs to dress in the more modest, reddish beige-coloured pinni jacket at all times in parliament.
NLD lawmakers would also regularly post their opinions about political issues on their timelines. These posts sometimes subtly revealed internal party news and issues – for example, they sometimes post the agenda for meetings that are not open to the public.
But their contribution to the political debate has been mostly underwhelming, said Nanda Tint Swe, a Facebook user based in the United States who often writes about politics.
"It would be better if MPs learned to use Facebook effectively rather than just posting things of no substance, like their photos in the Hluttaw," he said, adding that he wanted to see them use Facebook to educate the platform's users.
In recent months, many of the NLD parliamentarian Facebook pages have gone quiet. The exact reason for this is unclear. It has coincided with a rise in criticism of the government's activities, particularly the perceived failures of its 100-day plans. But the NLD leadership is also said to have ordered them not to write anything about the party, particularly its policies, on their Facebook pages.
Neither senior NLD officials nor party MPs responded to requests for comment on this issue.
The lone survivor is Yangon Region Chief Minister U Phyo Min Thein. Among all the ministers and chief ministers, he is the most active and his posts gain the most traction. He uses the platform to inform readers about his daily activities, bringing news to them about the regional government before most of the private media.
Ye Htut and Phyo Min Thein are not the only political figures to have captured the imaginations of users, however.
"Bullet" U Hla Swe is another who has made himself a household name through Facebook. While serving as a USDP parliamentarian, he offered up caustic, sometimes offensive remarks on the hottest political issues, and was also not afraid to get into lengthy and furious arguments with those who disagreed with his position.
Since losing his seat in last year's election and leaving office, he's attempted to translate his online popularity – or at least notoriety – into a real world business, launching Bullet News Journal in early July.
Religion and hate speech
Another key driver of political debate has been nationalist sentiment, particularly around issues of religion, ethnicity and citizenship. The rise of Ma Ba Tha – known in English as the Committee for the Protection of Race and Religion – and similar nationalist groups has coincided with the take-off of Facebook.
These organisations and networks use social media to share information with and organise their supporters. However, their attempts to translate online support into real-world political activities, such as protests, have largely failed. Earlier this year, nationalism-inspired protests outside the US embassy and at Yangon International Airport, the latter targeting Yangon Region Chief Minister U Phyo Min Thein, attracted relatively small crowds.
"We need to be clear about this. A large amount of support online does not mean that they have a lot of support outside," said Ko Tun Lin Oo, a web developer and former blogger who is now active on Facebook.
Hard-line Buddhist groups have also been regularly accused of hate speech, which has occasionally flared into real-world violence. In June 2014, the sharing of Facebook posts claiming that a Buddhist woman had been raped by Muslim men – information that later turned out to be false – sparked several days of riots and violence in Mandalay that left two people dead.
This phenomenon is not new to Myanmar – the humble mimeograph, the predecessor of the photocopier, has been used for decades to churn out hate-filled leaflets, and still dies in some areas. But social media has facilitated a rise in intensity and visibility of hate speech.
While most hate speech focuses on the country's Muslim population – a Myanmar Centre for Responsible Business monitoring project in February and March 2015 found 88 percent of hate speech was directed at Muslims – ethnic minorities and democratic groups are also sometimes targeted.
The government has done little to control its spread – from July to December 2015 the President's Office asked Facebook to restrict access to only one item, according to Facebook's Government Requests Report.
Facebook lacks the resources to monitor all activity, but has undertaken campaigns aimed at educating users on hate speech. In September 2015, it pushed localised illustrations warning users about the dangers of hate speech into news feeds. It also encourages users to report content that they believe breaches its community standards.
In the absence of a concerted official response, a few NGOs and activists have sprung up to monitor social media for signs of hate speech.
The seal of approval
One common tactic used by hate speech practitioners is to set up a fake account, and then post photos of attractive women to get attention. Once they have a number of followers, they then switch to spreading hate speech.
Fake accounts and false user names are used for many purposes, some of which are not clear.
In one case, an account named Htar Thakhin used a photo of a woman from the Philippines as its profile and began posting sensational and funny stories, mostly about love. The page gained many fans, and its posts regularly gained thousands of likes. Nobody knows why the page was created, or who is behind it. However, the woman in the photo, Zianly Nicole Apang Sonape, eventually learned about it because curious Myanmar users tracked her down.
She was happy about the fake account and that her photos had a huge amount of fans. Now, she has many Facebook friends from Myanmar, and posts from her real account get hundreds of likes.
In June 2013, Ye Htut was quoted as saying that half of Myanmar's 800,000 Facebook accounts used a false name. The scale of the problem today is hard to gauge. According to The Myanmar Times, Facebook now has 10 million active monthly users, but it has also instituted measures to reduce the number of fake accounts, such as verification processes that require users to send in a photo of an identity document.
Public figures can get "official" status – a white tick in a blue circle that signifies the account is indeed controlled by the person it purports to be. However, many do not bother to go through the process of getting official status. This can confuse users and opens the door for copycat accounts. The government has also not clarified which Facebook pages it considers "official".
"Politicians should endeavour to get their Facebook pages officially recognised. We cannot avoid the problems of fake accounts, but they have to make an effort to act in a reliable way online," said Min Din.
He added that there was still significant, untapped potential for politicians to use Facebook more effectively.
"This is the social media age, so politicians can use these platforms to inform people and announce what they are doing."
But there are those who seek to use Facebook for more nefarious purposes, including inciting hatred – and even violence – against minority groups, with Muslims a regular target.
In 2014, a post alleging that a Buddhist woman had been raped by Muslim men contributed to the outbreak of communal violence in Mandalay, leading to two deaths.
"Social media in Myanmar today is very dangerous," said Tun Lin Oo. "Just one action on Facebook can have an impact on people's normal life in the real world."
Min Din said users needed to be vigilant against those who were spreading information in an effort to create instability.
"This is a time when we're re-building the country," he said, "so people should always be aware of those 'destroyers' on Facebook and respond back to them."
The military vs Facebook
Myanmar's military takes a dim view of anything posted to Facebook deemed disrespectful to it or its leaders. Its primary weapon is section 66(d) of the Telecommunications Law, which states that anybody found to be "extorting, coercing, restraining wrongfully, defaming, disturbing, causing undue influence or threatening to any person by using any telecommunications network" will face up to three years' imprisonment, a fine or both.
Several have received prison sentences. Ma Chaw Sandi Tun, also known as Chit Tha Mee, who posted a photoshopped image comparing the colour of Commander-in-Chief Senior General Min Aung Hlaing's uniform to Aung San Suu Kyi's htamein. She was arrested and imprisoned for six months after being found guilty of defamation under section 66(d).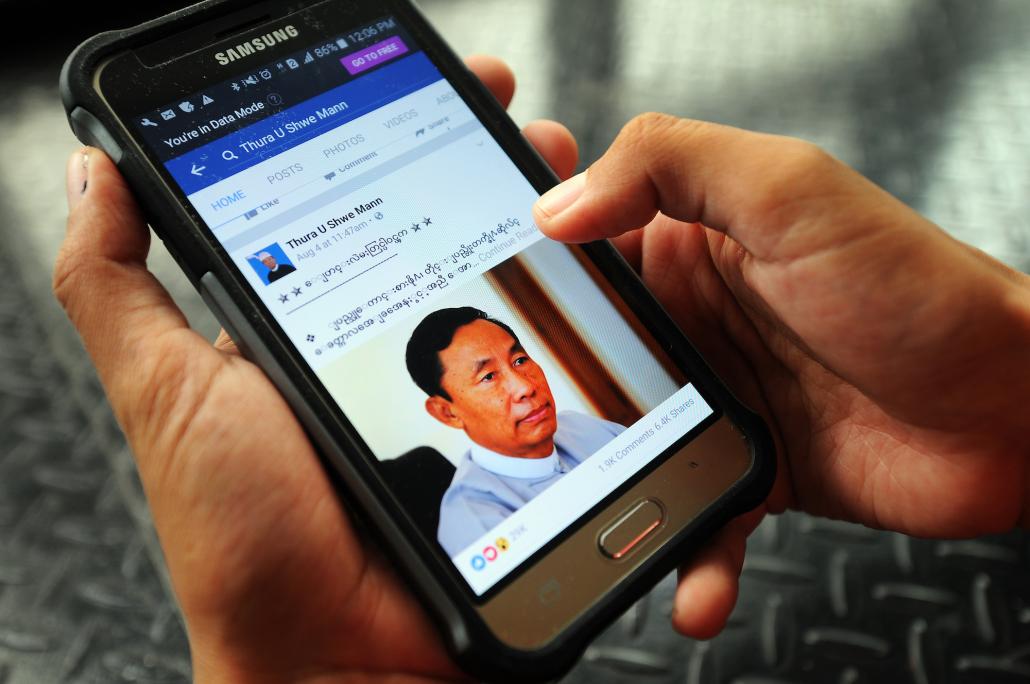 Patrick Kum Jaa Lee, a Kachin activist, also received a six-month sentence for sharing a Facebook post showing someone stepping on an image of Min Aung Hlaing.
Another person, Ko Hla Phone, is facing a section 66(d) charge after he allegedly posted several photoshopped images poking fun at Min Aung Hlaing and Thein Sein from October 2015 until the day he was arrested in February. The Facebook page in question was named Kyet Pha Gyi – the big rooster.
To date, five people have been charged with insulting the military or U Thein Sein's government.
Those who post insulting images or materal about Aung San Suu Kyi can also find themselves on the wrong side of the law. While neither she nor the party tend ot respond to these posts, her supporters have reported the more explicit to police. In one case, a Union Solidarity and Development Party member from Ayeyarwady Region who posted fake nude images received a six-month sentence.
This article originally appeared as part of Frontier's Digital Myanmar 2016 special edition. Top photo: AFP