A new mapping exercise aims to highlight the role women play in communities across the country.
By SU MYAT MON | FRONTIER
ALTHOUGH A final date has not been confirmed at the time of writing, it has been reported that the third 21st Century Panglong Union Peace Conference under the current administration is due to take place at the end of the month.
More than two years after eight ethnic armed groups signed the Nationwide Ceasefire Agreement, civil society groups are continuing to call for greater inclusion of women, youth and grassroots groups in the peace discussions.
The number of women involved in peace discussions remains significantly under the government's target of 30 percent female inclusion, CSO groups say. The Alliance for Gender Inclusion in the Peace Process said that less than 20 percent of delegates at the second UPC in May last year were women.
As part of plans to increase the number, organisations are establishing a mapping exercise, aimed at highlighting women who play a role in issues related to the peace process across the country. These areas include politics, land and environment, economy and security.
"It's really a case of looking at women participants around the country who are experts in this area," said Ms Linnea Beatty, deputy country representative for the Office of Transition Initiatives, USAID, which is funding the project. "The aim is to use it as an advocacy tool, and to counter this narrative that there aren't enough qualified women to meet the 30 percent quota; the mapping will help to show that that's not the case."
Land and environments
Daw Cho Aye: Chairwoman of May Doe Kabar, an organisation formed in 2015 to act as a resource and advocacy group for women across the country.
Cho Aye, who is originally from Kyaikto Township in Mon State, said that her experience growing up in a rural area encouraged her to advocate for better women inclusion of all aspects of life in Myanmar.
"We don't women to just stay behind, for example, washing dishes and cooking at an event," she told Frontier, adding that the government should play a leading role in promoting women's inclusion, especially in rural areas.
Lue Htar: A member of the Naga ethnic group, Lue Htar became heavily involved in land issues immediately after Cyclone Nargis decimated large parts of the Ayeyarwady Delta in 2008. She spent several years researching the disasters' impact on local communities.
A respected land activist, Lue Htar has been involved in dozens of projects through the Enlightened Myanmar Research Foundation, and continues to advocate for better land laws and dispute resolution methods.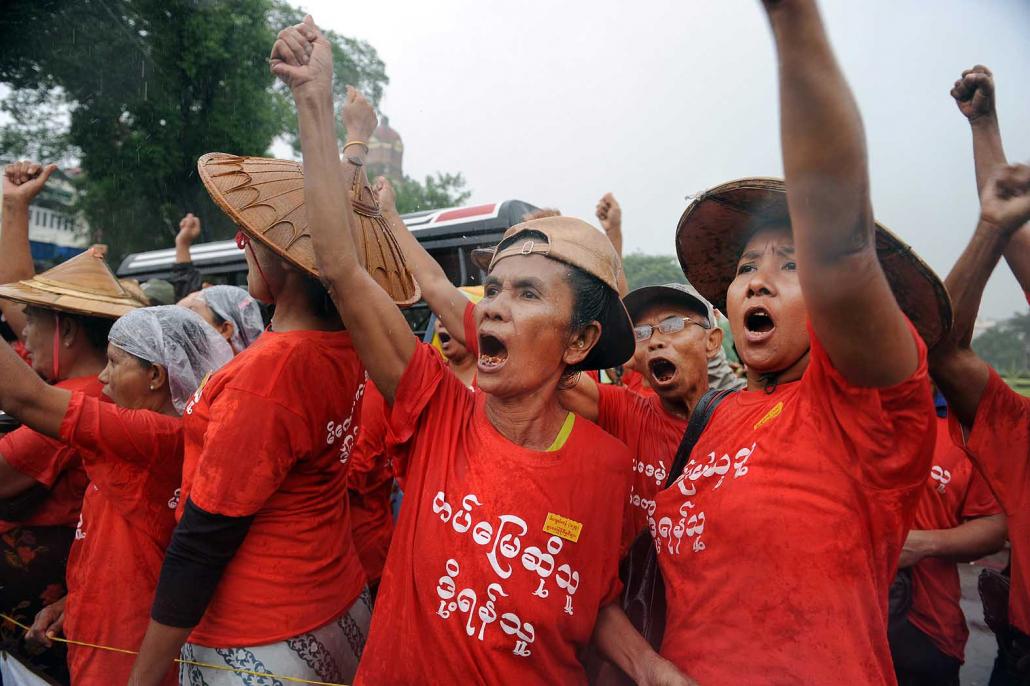 Cheery Zahau: In 2017, Cheery Zahau, a renowned human rights activist from Chin State, was awarded the N-Peace Award, which supports women's leadership for conflict prevention, resolution and peace building.
The award was recognition for work she has conducted for the past 15 years, including with the Women's League for Chinland, where she documented the inequality faced by Chin women, as well as human rights abuses.
"I am happy and pleased for this recognition of my work," she told Frontier on January 15. "I will continue working for my country, for what needs to be improved; receiving the award is a strength to me," she said.
She left Myanmar for India in 1999, in search of a better education, and moved to Chiang Mai, Thailand in 2009. She returned to Myanmar in 2012, and in the 2015 general election sought election to the Pyithu Hluttaw for the Chin Progressive Party, losing to a candidate from the National League for Democracy. She remains active in politics and is currently secretary for the CPP.
Security
Khin Ma Ma Myo: A political analyst and women's advocate working as a director for the Myanmar Institute of Gender Studies, and as executive director of Myanmar Institute for Peace and Security Studies.
She organizes peace and reconciliation training across the country, and has had some involvement in the UPC, stressing the need for the inclusion of women and on security issues related to women's rights.
In 2013, she returned to Myanmar after having lived for several years in the United Kingdom. She studies economics and governance in Japan and the UK, respectively.
As well as her political work, she also writes about issues including the peace process, politics, economics, education and health.
Seng Pan Lasham: An ethnic Kachin originally from northern Shan State, Seng Pan Lasham is currently working with the Joint Ceasfire Monitoring Committee's Interim Technical Secretariat Centre, as deputy team leader. Her role with the JMC involves ceasefire monitoring at union, state and local levels.
She has been heavily involved in a number of civil society-related issues since the beginning of Myanmar's transition, including humanitarian assistance in Kachin State, and as a political advisor to the British government.