Talk of a post-election "coalition" misrepresents Myanmar's winner-takes-all electoral system and gives false hope that minority interests can be meaningfully represented without constitutional reform.
By BEN DUNANT | FRONTIER
Myanmar's ruling party, the National League for Democracy, is assuming battle stations for another general election on November 8. Its record in government has been spotty, with next to no progress on the peace process, an economic downturn that has tipped into a recession, and a litany of problems, from rural land disputes to rapacious natural resource extraction, that would be entirely familiar to someone teleported from 2015.
But if there's one thing the party excels at, it's winning elections. The NLD's landslide win in 2015 closely mirrored its haul of seats in 1990. Two rounds of by-elections, in 2017 and 2018, and the Yangon municipal election the following year showed that its hold on the electorate remained strong, even as it conceded some seats to ethnic parties and the military-backed Union Solidarity and Development Party.
Political winds at home and abroad have also been favourable to the NLD. For reasons that are little understood, the country has ridden the COVID-19 pandemic without its threadbare hospitals overflowing, despite the government acting late to curtail the virus. This has allowed the government to ride a wave of civic pride. And before all eyes turned to the pandemic, state counsellor and NLD chief Daw Aung San Suu Kyi's decision to personally defend Myanmar against charges of genocide at the International Court of Justice in the Hague in December 2019 was not only popular at home but also represented a check-mate to the USDP, which had earlier accused the NLD of being soft on nationalism.
Nevertheless, some analysts and opposition figures think that the days of untrammelled NLD rule might soon be over. They point to parliamentary arithmetic: although the NLD remains broadly popular, the military's guaranteed share of 25 percent of parliamentary seats means that the party needs to gain another supermajority of elected seats if it wishes to "form" another government alone.
Doing so will be harder this time because new players have entered the field. Ethnic parties were largely split in 2015, with several Kachin, Chin, Mon and other ethnic parties battling for the same constituents. Many of these parties have since unified and are poised to capitalise on growing disillusionment with the NLD among ethnic minority voters. These voters are fed up with stalled peace talks, continued conflict and the imposition of Bamar symbols, such as independence hero General Aung San, in the public spaces of ethnic states. New, non-ethnic parties have also emerged, with U Ko Ko Gyi's People's Party and U Shwe Mann's Union Betterment Party aiming to peel away NLD and USDP discontents.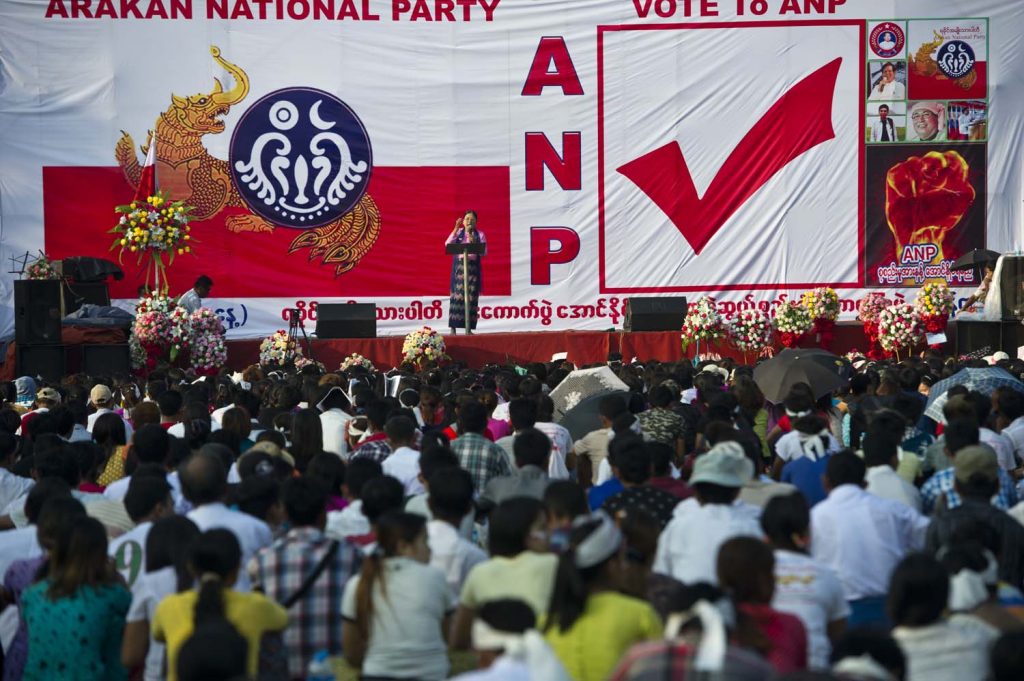 So, the logic goes, when the electoral dust settles and the new parliamentarians take their seats alongside uniformed military officers, the NLD might find itself short of a majority despite being the largest party. It may then need to form a "coalition" with a number of ethnic parties or an upstart like the UBP if it wishes to continue in government. In this way, a new era of cooperation and compromise would dawn in Myanmar politics, with ethnic and other marginalised interests given a voice in how the country is governed.
Some opposition parties seem to be banking on this outcome, proclaiming themselves as kingmakers in waiting. "We are well prepared to form a coalition government," Kachin State People's Party vice chair Gumgrawng Awng Hkam told The Irrawaddy in a July 3 article. "After the election results come out, [the NLD] will surely have to negotiate with us. Our door will always be open to them." The article supports this premise, with the author writing, "The ruling party will need to win more than 50 percent of seats – more than two thirds of the [elected] seats – to form a government."
This reasoning, which supports most talk of "coalition government", is sadly false. First of all, the winning party does not need more than half of all parliamentary seats to rule, and the process by which it can "form a government" makes this clear.
Although elections are for parliament, Myanmar has a presidential form of government. The president appoints the cabinet, members of constitutional bodies such as the Union Election Commission, and the chief ministers of state and regional governments. The president, who does not need to be an MP, is chosen by the new crop of 664 lawmakers that assembles after the election.
The vote in a joint session of parliament, undertaken by secret ballot, is a simple first-past-the-post race between three candidates chosen in turn by the elected members of the lower house, the elected members of the upper house, and the non-elected military representatives in both houses. The candidate with the most votes becomes president; the candidate with the second-highest number becomes vice president 1 and the remaining candidate vice president 2.
To pick the upper and lower house candidates, and then the president, all the NLD needs is a mere plurality, not a majority. Hypothetically, if a 40pc NLD bloc in parliament was to vote for one presidential candidate, a 30pc USDP and military bloc for another individual, and a 30pc combined ethnic party bloc for another, the NLD candidate would win comfortably, even without an absolute majority.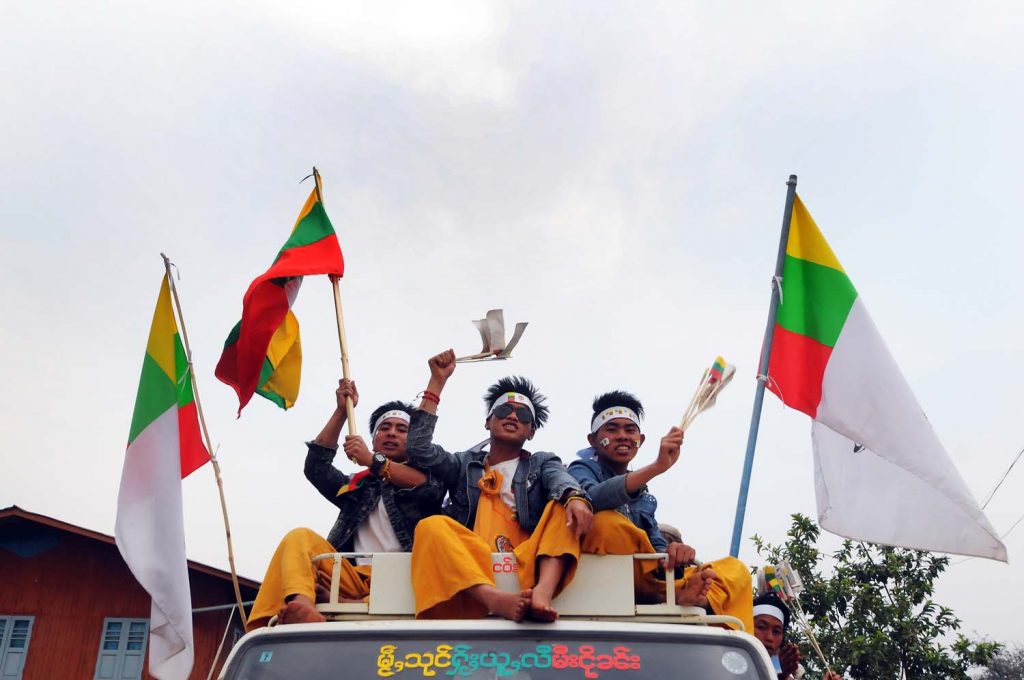 But what if the USDP-military bloc were to team up with the ethnic bloc and deny the NLD the presidency? Wouldn't the NLD need to pre-empt this outcome by forming an alliance with other parties? In theory, yes, but this would be to ignore the basic contours of Myanmar politics.
While some ethnic parties are close to the USDP, the largest ones, such as the Arakan National Party and the Shan Nationalities League for Democracy, are premised on dissatisfaction with the military-drafted 2008 Constitution and serve constituencies with deep grievances against the military. The only choice that Myanmar's electoral system presently offers them in practice is between a president supported by the NLD and a president backed by the military. However much they may distrust the NLD, could these ethnic parties join hands with the military, deliver a military-backed president, and still face their constituents?
For smaller parties, the benefits of backing a presidential candidate aligned with either the NLD or military would also be negligible. An alliance need only last the single day it takes to choose the president, who will then appoint all civilian members of the administration. Anything minority partners have been promised ­– such as cabinet or state and regional chief minister posts – in exchange for their votes could later be rescinded at the stroke of the president's pen. The leverage a junior coalition partner would have in a country with a parliamentary form of government would not apply in Myanmar's presidential system. Any "junior partner" that supports the ruling party could not bring down the government by quitting the alliance because they would not be part of the government. They would merely be appointees of the president.
They could try to use their representatives in parliament to impeach the president, but this would require support from a two-thirds majority of lawmakers. Even if successful – a very unlikely prospect – minority parties would then face the same choice when it comes to choosing a replacement: to back a presidential candidate from the NLD or the military, or to support one of their own in a futile attempt at the presidency.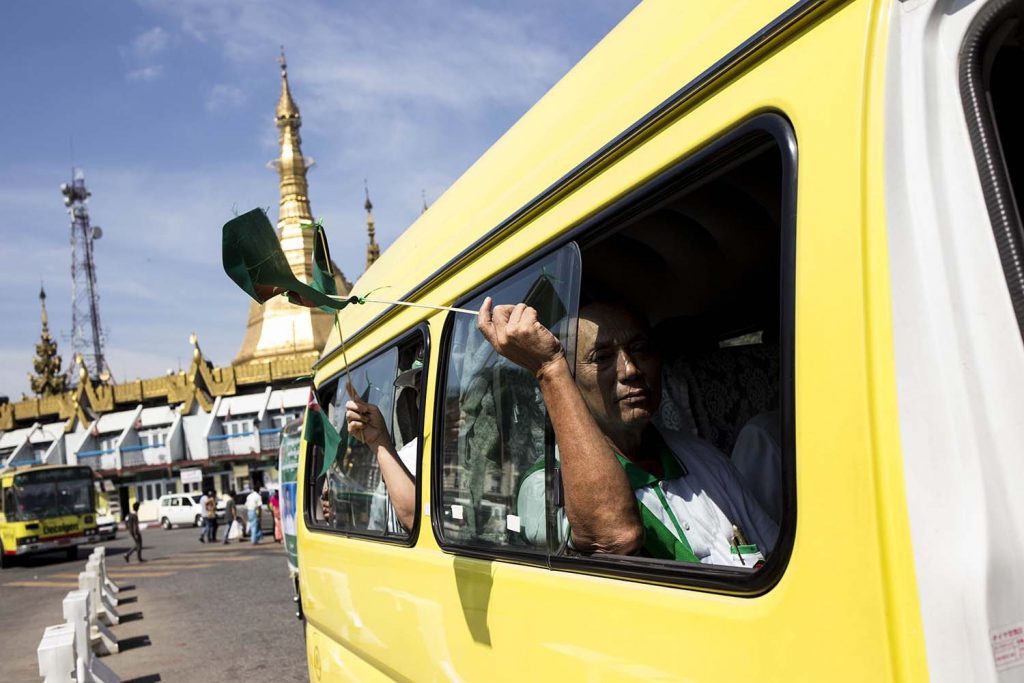 Talk of "coalition government" not only misrepresents Myanmar's winner-takes-all electoral system but also gives false hope that minority interests can be meaningfully represented in government. This should be of concern not only to ethnic communities who want their votes to count, but also to a government that wants to end a decades-long armed conflict that has been fed precisely by ethnic groups' exclusion from political power.
Under the current rules, ethnic parties will have little real executive power even if they perform substantially better in this year's election. The failure of two election sweeps for Rakhine parties, in 2010 and 2015, to result in even a modicum of executive power for Rakhine people helped foment the current conflict in the state involving the Arakan Army. There is a very real risk that the disillusionment felt by the Rakhine today will be felt by the Shan or Kachin tomorrow, if it's not being felt already.
Parties that are disgruntled with NLD dominance ought to spend less time peddling fantasies of "coalition" and more time lobbying for electoral reform through constitutional amendments. It's a sad irony that the reform with the greatest potential to deliver a more decentralised politics in the near term has been championed most loudly by the USDP and military.
This is the proposal to amend article 261 of the constitution to allow chief ministers to be elected by state and regional legislatures, rather than being appointed by the president. Given that chief ministers assemble regional and state cabinets, this reform could allow ethnic parties to govern with a local mandate. Some ethnic parties did support the proposal, which the NLD voted down in parliament in March this year.
There are many other ways that Myanmar's electoral system could be changed to give minority interests a place at the heart of government, to make regional and state administrations accountable to local residents, and to replace majoritarianism with a culture of compromise. None of these things are possible under the current rules, which cannot be changed in time for this year's election. But after the results of November's vote are in and a new government formed, the hard, slow work of electoral reform should begin.