The main investor in a controversial Kayin State mega project is an expatriate Chinese businessman who has a built a commercial empire in Southeast Asia by fudging connections with the Chinese state.
By ANDREW NACHEMSON | FRONTIER
Although 1,000 kilometres apart, two massive development projects – one in Myanmar's Kayin State, the other in Cambodia – bear striking similarities.
They both cover thousands of hectares and include plans to build airports, hotels and casinos. Both are located in neglected, undeveloped corners of their respective countries. Both have been accused of having links to online gambling and other illegal activities, and both have been mistaken for state-owned enterprises.
Both projects ­– Shwe Kokko in Myanmar's Kayin State and Long Bay in Cambodia – also involve the same ethnic Chinese businessman: She Zhijiang.
Variously known as She Lunkai, Dylan She and Tang Kriang Kai – to name but a few of his pseudonyms – he is chairman of Yatai International Holding, a company registered in Hong Kong and headquartered in Bangkok that has high-profile businesses in Cambodia, Myanmar and the Philippines.
But neither Yatai nor the man behind the company are well known outside ethnic Chinese business circles in Southeast Asia. Despite the media coverage of his projects – particularly Shwe Kokko, which the company touts as a US$15 billion "new city" development but observers say appears to be a front for online gambling operations – the spotlight has mostly passed over Zhijiang.
The most detailed portrait of the businessman comes from a December 2017 profile in a Chinese magazine that hailed him as a "legend without a story". In the interview, Zhijiang says that he got his break in "game development" in the Philippines, but provides few details.
Zhijiang, who was 36 when the story was written, was born in Shaodong, Hunan Province, to a rural farming family and claims to have worked dozens of odd jobs since the age of 14. The fawning article describes Zhijiang as tall, handsome and generous.
Zhijiang says that when he first arrived in the Philippines, there was tension between Chinese investors and locals.
"But in the past two years, China has become more and more powerful, and the status of overseas Chinese has clearly improved. People have started to respect you and give you a high look, because behind you is a powerful China!" he was quoted as saying.
The extent to which the Chinese government really stands behind Zhijiang, however, is part of his mystery.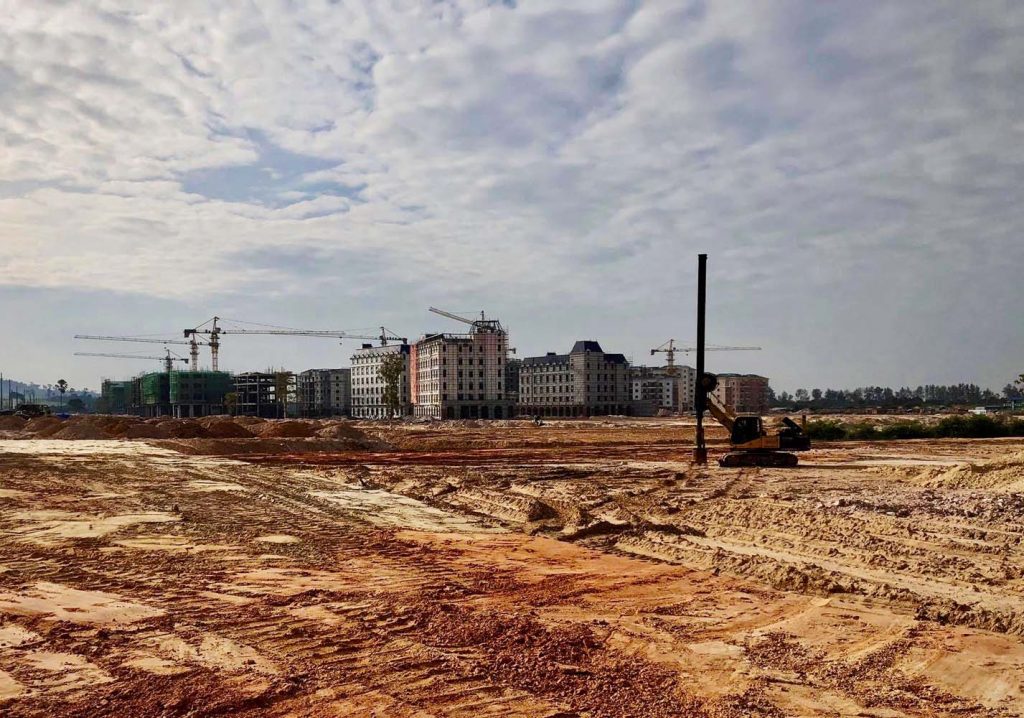 Zhijiang and the BGF
About 5 kilometres outside Shwe Kokko, the narrow, potholed stretch of bitumen that winds north from Myawaddy suddenly turns into a new four-lane concrete road. The wide shoulders and walls of the deep cuttings are the bright orange-red of freshly disturbed soil.
Until recently, Shwe Kokko was the relatively quiet headquarters of the Kayin State Border Guard Force, whose soldiers broke away from the Karen National Union in 1994 and formed the Democratic Karen Buddhist Army, a Tatmadaw-aligned group that became formally integrated into the Tatmadaw as a BGF in 2010.
Over the past two years the Shwe Kokko area has been transformed, particularly the southern and eastern sections along the Thaung Yin (or Moei) River that marks the border with Thailand.
After passing by the Kayin State BGF parade ground, Kokko Villa – the home of the group's commander, Colonel Saw Chit Thu – and the older parts of Shwe Kokko village, visitors confront the incongruous sight of towering construction sites, a hotel set by a man-made lake, and luxury villas. There are dormitories for thousands of workers, nearly all of them Chinese. A freshly laid road stretches along the riverfront, flanked by concrete batching plants and warehouses. A barge attached to a tow rope waits on the narrow river to ferry heavy vehicles across from Thailand.
This is just a fraction of what Yatai claims to have planned for Shwe Kokko. In a public planning document for Shwe Kokko, it outlined ambitions for a $15 billion high-tech hub over 12,000 hectares, with an airport, luxury housing, a 1,200-room hotel, casinos, an entertainment complex, supermarkets, department stores, a police station, an industrial zone and freight depots.
But the project has already prompted an outcry, in part because developer Myanmar Yatai – a joint venture between the BGF and Yatai International – has played fast and loose with numerous Myanmar laws.
In August 2019, at a ceremony to mark the ninth anniversary of the creation of the Kayin State BGF, the group's leader, Chit Thu, said that work had been suspended at Shwe Kokko. But after many reports to the contrary – confirmed through both satellite imagery and Frontier's site visits – the government finally confirmed in June that it had formed a tribunal to investigate the alleged irregularities at Shwe Kokko.
Myanmar Yatai did not respond to multiple requests for comment.
A BGF spokesperson, Major Saw Maung Win, said he was not aware that the tribunal had been formed, but insisted that work had stopped in December 2019.
He said an ex-BGF colonel, Saw Min Min Oo, is a director of Myanmar Yatai, but the company is not directly owned by the BGF. Min Min Oo could not be reached for comment.
"Our responsibility here is only for the security of the Shwe Kokko area," Maung Win said. "I don't know about any business deals between the BGF-linked company and the Chinese company."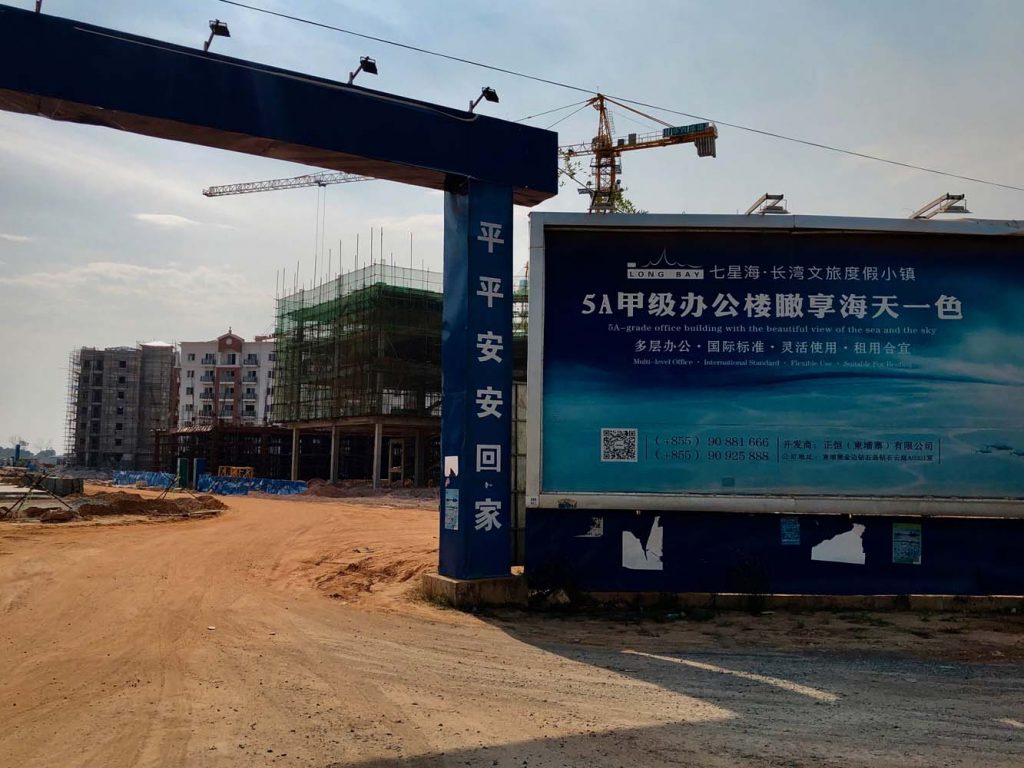 Cambodia connection
Despite often being described as Chinese, Zhijiang initially used the name Tang Kriang Kai on Myanmar Yatai's corporate records – since amended to She Zhi Jiang – and listed his nationality as Cambodian.
Cambodian government documents show Zhijiang was granted citizenship by royal decree under the name Tang Kriang Kai in January 2017, less than three weeks before he registered Myanmar Yatai with Myanmar's Directorate of Investment and Company Administration.
It's not clear how Zhijiang obtained Cambodian citizenship, but it is possible to get it for making a donation of at least $250,000 to the government. The Chinese government does not recognise dual citizenship, but it does not necessarily mean that Zhijiang gave up his Chinese citizenship upon becoming a Cambodian national.
Yatai's massive spa in Manila, Yatai Spa, is also registered under the man's Cambodian name, Tang Kriang Kai. The 7,000-square-metre spa has nearly 1,000 employees, is open 24 hours and offers a wide range of services.
According to the website, in addition to typical spa services, it offers catering and cultural exchange, and can serve as a private party venue. It declares itself the "top private health club in Manila", claiming the wealthy and famous among its members.
Zhijiang's connection to Cambodia does not end with his citizenship. He is also involved in a large-scale development project in Koh Kong province that bears striking similarities to the one in Shwe Kokko. In 2008, the Cambodian government granted 36,000 hectares of land within a national park to Chinese company Union Development Group on a 99-year lease. The concession, which includes 20 percent of Cambodia's total coastline, was later expanded by another 9,000 hectares.
Within the concession there are a series of projects being implemented by different companies, including an airport that will feature Cambodia's largest runway, a proposed deepwater port, and the Dara Sakor Seaside Resort and casino.
On Yatai's website, Zhijiang is said to be an investor in Long Bay, a massive project within the concession that will resemble a self-contained city, according to Cambodian media. Zhijiang is also involved in Seven Star Hotel, a much smaller resort that consists of seaside bungalows and is one of the few businesses already operating.
Although most of the other developments in the UDG concession appear to have ground to a halt, two projects have made significant progress: the airport and Long Bay. Dozens of massive buildings appeared in the Long Bay site between May 2019 and February, making it the primary hotspot for construction activity in the area.
As in Kayin State, many Cambodians living in the area have stories of land being stolen in shocking ways. Sang Puy's house was demolished in 2011 while she was out for the afternoon.
Puy lives on Koh S'dach, a small fishing island included in the UDG concession. Initially the company claimed it had already been granted the land by the government, and didn't need to pay her anything. When she refused to leave, company representatives came back with an offer of $15,000, which she rejected, saying it was significantly below the market value. Eventually company officials stopped coming to try and negotiate; instead, they destroyed her house and never paid her anything.
"I asked, 'Why did you destroy my house?'" They said they already talked to the authorities and the government already gave the land to the company, so we are living on company land," she told Frontier. "Some families got compensation, but not much."
Despite UDG going to great lengths to remove locals from their land, Koh S'dach has not been developed and Puy believes her old property has already been sold on to another company. Much of the business dealings in the area seem to revolve around securing concessions on the cheap and then selling land.
Billboards along the main road in the concession area openly advertise land for sale. One displaced villager, who asked not to be named, fought for compensation for 10 years before giving up and becoming a land broker for UDG.
"There's no solution," he said. "I feel tired, I don't want to fight anymore."
Now he works for the company that stole his property, selling parcels of land to third parties. He showed Frontier certificates written up by the Cambodian government, verifying that the land belongs to UDG and giving it permission to sell it onward, despite continued land disputes.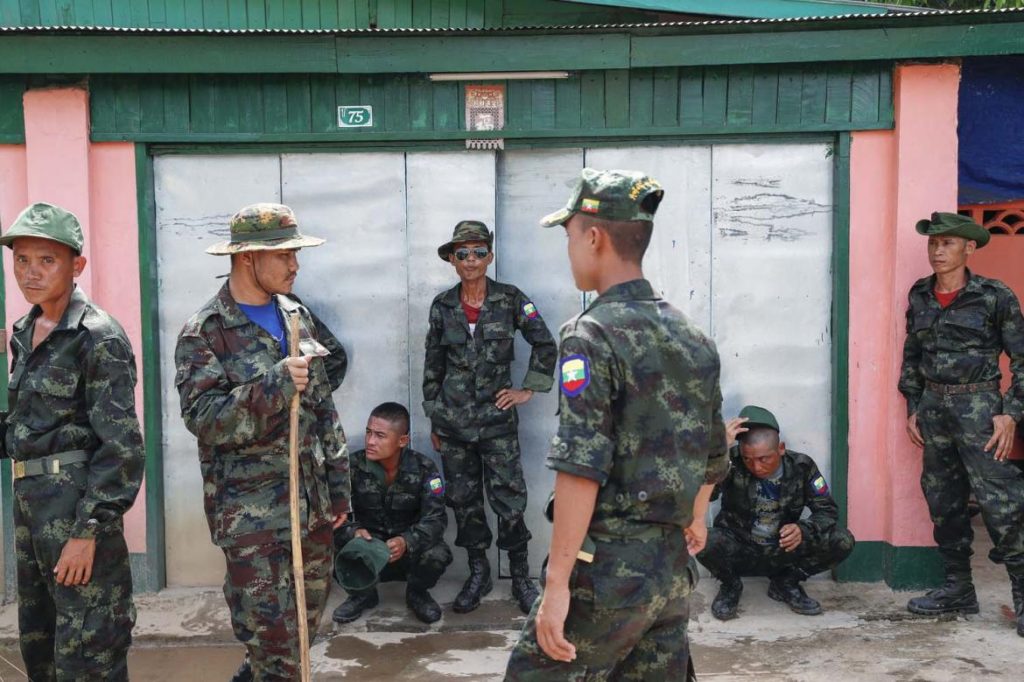 Seeking the Belt and Road
A row of bright yellow flags trumpeting Shwe Kokko as part China's state-backed Belt and Road Initiative hang limp on bamboo poles along the bank of the Thaung Yin River.
The flags reflect Yatai International's attempts to portray Shwe Kokko as "an important economic corridor of the Belt and Road", as it described the project in its planning document. Yatai International also promotes BRI heavily in its company literature and media coverage.
Although there is no definitive public list of BRI projects, neither Myanmar nor China have mentioned Shwe Kokko as being part of the initiative. It's also hundreds of kilometres from the China-Myanmar Economic Corridor, which is the focus of BRI in Myanmar and stretches from Muse in Shan State to Kyaukphyu in Rakhine State and Yangon.
Yatai's intention seems to be acquring legitimacy for Shwe Kokko by creating the impression Shwe Kokko has some official state backing.
To some extent this effort has paid off, helped along by the fact Yatai International is often mistaken by non-Chinese speakers for the Chinese state-owned enterprise Jilin Yatai (the characters in the Chinese names are different).
The names may be a coincidence, but Yatai International has in other ways sought to emphasise or even exaggerate its connections to state organisations.
Occasionally, it even invents them.
In December 2018, the company advertised that it was cooperating with a "famous Chinese central government SOE" called "China National Red Estate Develop Investoneot [sic] Group" – a private company that appeared to be purposefully ripping off the China National Real Estate Development Group. The impostor's website has since been shut down.
But other links to the Chinese state are real, albeit tenuous. Zhijiang has received positive coverage from state media outlets like Xinhua and Chinese officials attend Yatai events. He has claimed to have met Chinese President Xi Jinping at an event in Manila, but Frontier could find no photograph to corroborate the meeting.
His businesses also work with state-owned enterprises, further helping to burnish his credibility. The logo of Huashi, a state-owned Chinese construction company from Sichuan province, is plastered all over the construction site of his project in Cambodia. In Myanmar, Zhijiang has signed an agreement with the state-owned Metallurgical Company of China to build part of Shwe Kokko; the signing was witnessed by Myanmar officials and a commercial counsellor from the Chinese embassy.
An MCC subsidiary, MCC Singapore, is also active in the UDG concession in Cambodia, doing work on Yatai's Seven Star Resort, among others. MCC Singapore's website shows that the China's top government planning agency, the National Development and Reform Commission, signed agreements in 2016 and 2019 with Cambodia's government to prioritise certain development projects, including the UDG concession.
One article identifies Zhijiang as vice chairman of the China Federation of Overseas Chinese Entrepreneurs, an organisation registered with China's Ministry of Civil Affairs, but he does not feature on the group's website.
Some of the projects Zhijiang is involved in have been accused of having direct links to the Chinese government, and even the People's Liberation Army. In 2018, Washington-based thinktank the Center for Advanced Defense Studies first suggested that the Koh Kong project in Cambodia could be used by the Chinese military.
The report resulted in media speculation and US intelligence concerns, prompting Vice President Mike Pence to write a letter to Cambodian Prime Minister Hun Sen. Cambodia has long denied that China plans to use the area as a base, but has grown much closer to China in recent years. Cambodia has engaged in more frequent military exercises with China, and a military-grade drone recently crashed near the UDG concession. Still, there is no hard evidence of a Chinese military presence in Koh Kong.
Shwe Kokko, too, has excited imaginations in Washington, with a September 2019 Senate report describing the project as "an effort by the PRC [People's Republic of China] to colonize Karen territory with 320,000 Han Chinese and protect and expand regional BRI investments in Southeast Asia".
Ms Yun Sun, director of the China programme at the Stimson Center, a non-partisan think-tank, said Zhijiang has "used his overseas businesses to attract attention and support from the Chinese government, or at least some government agencies".
Sun said though that she was sceptical about the US accusations of military involvement. "I think the details are too vague to draw that conclusion, so it needs more elaboration," she said. "Tagging along BRI, even nominally, is a normal thing to do – to increase publicity and gain political and economic support," Sun said.
Sun said in Chinese society, connections are crucial to business success. "Any private businessman good at building connections will be able to gain much sway and influence from it," she explained.
Other observers have reached similar conclusions. In a March report, the International Crisis Group said that both the "grand claims" of Yatai International and the media reporting about Shwe Kokko having Chinese government backing have been "inaccurate or misleading".
Nevertheless, it has worked to some extent: Zhijiang has been able to leverage his position to develop positive relationships with officials from the Myanmar and Thai governments – particularly the Kayin State administration – which he then uses to further legitimise his business activities.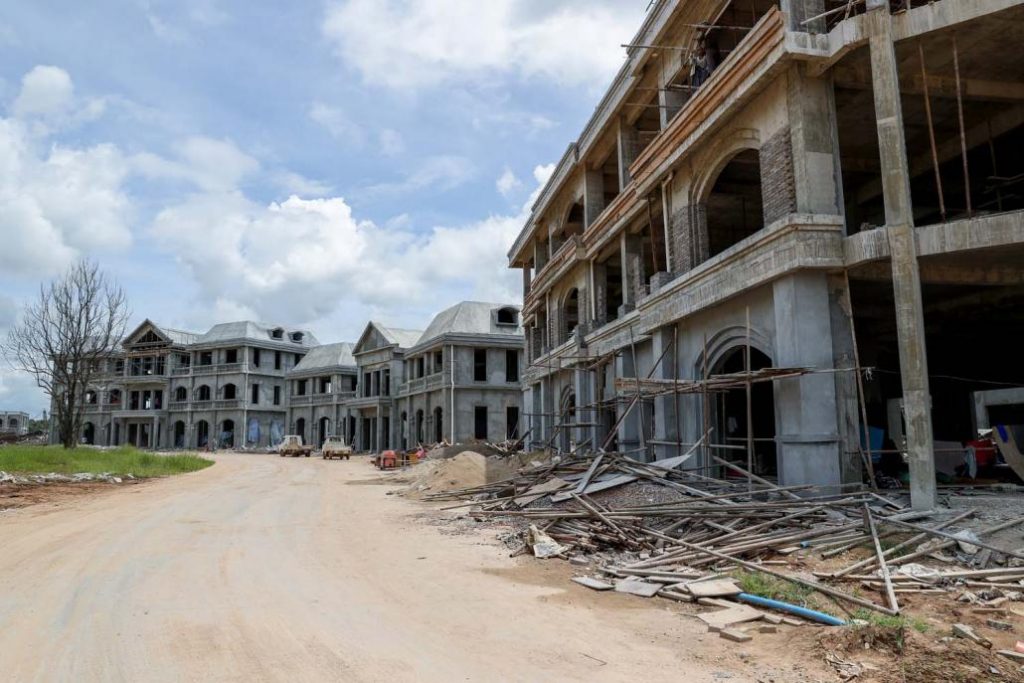 From Sihanoukville to Myawaddy
Zhijiang's business activities in the Philippines, Cambodia and Myanmar reflect a bigger story: the rise of overseas-based gambling operations in Southeast Asia.
In recent years both Cambodia and the Philippines have licensed online gambling, prompting a surge of investment from China-linked businesses seeking to set up operations targeting users in China, where gambling is illegal.
According to Bloomberg, more than 50 companies have received permits in the Philippines and hundreds more are thought to operate illegally. Hundreds of thousands of Chinese workers have descended on Manila to work in the industry; this has sparked a boom in the city's property market, with entire office towers dedicated to online gambling outfits.
It's a similar story at Sihanoukville in southern Cambodia, where more than 70 casinos were established between 2016 and 2019. One "conservative" estimate put the annual revenue from Sihanoukville-based casinos at between $3.5 billion and $5 billion a year, of which 90 percent came from online gambling.
Eventually the industry – thought to be worth $24 billion last year – caught the attention of the Chinese government, which pressured both countries to put a stop to the boom. Cambodia has acquiesced, halting new licences and not renewing existing ones, but the Philippines has resisted.
The Cambodian ban has devastated the Sihanoukville economy. Many of the 200,000 people thought to be employed in the online gambling operations have left the city, and numerous half-finished condos and office towers have been abandoned.
Cambodia's crackdown appears to have prompted some Chinese investors to shift from Sihanoukville to Myawaddy Township, where Shwe Kokko is located.
The Karen National Union, which battled for decades with the Myanmar military before signing a bilateral ceasefire in 2012, recently signed an agreement with Huanya International Holding Group in a ceremony witnessed by officials from the Sihanoukville business federation, including its secretary-general Zhang Zhiyong.
Another project, the Saixigang Industrial Zone, is "also designed to house Chinese businesses being forced out of Cambodia", according to a recent United States Institute of Peace report. A key figure in the project is Wan Kuok-ku, a former Macau crime boss who was arrested and convicted in 1999.
At least one company, which opened the $100 million Goddess of Liberty Hotel & Casino in Sihanoukville in 2019, has already broken ground in Myawaddy. Its project sounds similar to Shwe Kokko, and is expected to feature hotels, casinos, KTVs, shopping malls, office complexes and more. Liberty Group also recently agreed to a partnership with Lixin Development Company, whose director is Hun To, an infamous nephew of Hun Sen.
Chasing profits in Myawaddy
Even prior to this influx, a casino boom was already underway in downtown Myawaddy. In recent years 18 casinos have been built along the Myanmar side of the river on BGF-controlled land, mostly aimed at customers crossing on ferries from Thailand.
But these casinos appear to be shifting their operations increasingly online, and a significant proportion of the estimated 15,000 Chinese workers in Myawaddy are believed to now work in online gambling.
During visits to Myawaddy in late 2019 and early this year, Frontier confirmed that at least some of these casinos have online gambling operations. Alongside their physical gaming halls, some of the casinos have constructed dormitory-style prefabricated buildings for hundreds, even thousands of Chinese workers. One source with knowledge of the industry said landholders build these dormitories and rent out space to small online gambling operators.
Some reports have also linked Shwe Kokko to online gambling. International Crisis Group said it appears to be the main focus of the project "for the moment", and the reason why Shwe Kokko hosts thousands of white-collar workers. The BGF, it said, had installed high-capacity internet connections and was profiting from reselling the bandwidth at a steep margin to numerous companies at Shwe Kokko. "Even a small slice of this [online gambling] market would be extremely lucrative," it said.
In a recent report, Gambling Away Our Lands, the Karen Peace Support Network said it had seen evidence that casinos, including those serving online gambling, are already in operation in Shwe Kokko.
But the extent to which Yatai International is directly involved in this online gambling is unclear. An article on the Yatai website, since removed, trumpeted a company named Tianxia Group, a "high-tech" company that built an "IT compound" in the zone, which KPSN said was a common euphemism for online gambling.
Yatai International also has a partnership with a Singapore-based cryptocurrency company called Building Cities Beyond Blockchain, which advertises itself as the "first blockchain for smart cities". BCB declares itself the exclusive blockchain provider at "Yatai City" in Shwe Kokko, supporting finance and business services, accommodation and food, construction, utilities, wholesale and retail trade, transport, information and communication.
BCB, which claims to have offices in Myanmar, the Philippines, China, Cambodia, and Thailand – everywhere that Zhijiang is active – can also be used for payments at Yatai Spa in Manila.
Earlier this year, parent company GBCI Ventures launched an e-wallet, Fincy, that uses the BCB blockchain protocol. Fincy is said to be "the exclusive provider of financial infrastructure to Yatai City's 40,000 residents, who can use the startup's app to make purchases, perform transactions, receive salaries and manage their expenses digitally". Fincy is unregistered in Myanmar and therefore likely in violation of the Financial Institutions Law.
Cryptocurrencies, meanwhile, are unregulated and difficult to trace, making them ideal for money laundering or transactions involving illicit activities such as online gambling.
BCB's chief technology officer, Ms Vanessa Koh, told Frontier that there are "challenges" in preventing the illegal use of any open-source cryptocurrency, but "money laundering is something that we actively seek to combat".
Koh said that BCB "strives to be socially responsible", but relies "heavily" on local authorities and development partners in "navigating the local landscape".
"As of today, BCB Blockchain is focused solely on the technological aspect of the project, but we will continue to communicate any concerns to our partners," she said.
As Zhijiang continues to build his business empire, he is attracting ever more attention – most of it negative – and this may increase as the Myanmar government probe gets underway. So far he has mostly been ignored by China, but that could change if Yatai casts Chinese investment in Myanmar in a bad light.
Sun from the Stimson Center said China might not "fully understand and gauge the nature of these businesses" at present, but if the project becomes too much of a problem for locals, Beijing may be forced to intervene – just as it did in Cambodia in response to online gambling.
– Additional reporting by Naw Betty Han and Thomas Kean