With bullets, beatings and arrests, the junta is trying to scare volunteer rescue workers from treating its victims, and are breaking international humanitarian law to do it, charity groups say.
By FRONTIER
When the three-member team of volunteers from Mandalay's Payaheta Darri charity rescue service arrived, the found they couldn't get their ambulance close enough to get the 18-year-old victim onto a stretcher and wheeled to safety.
Friends had brought the teenager, who had been shot in the back, inside a home on 76th Street between 34th and 35th streets in in the city's central Chan Aye Thar Zan Township. With security forces continuously firing live rounds. The closest the ambulance could get was about three blocks down 34th Street. Ko Htet Myat, 21, a volunteer with Payaheta Darri since the group's founding in 2015, set out on foot.
He moved cautiously past young protesters huddled behind sandbag barricades and woven bamboo strips, turning onto 76th Street, which he described as a "battlefield". Inside the home, he pulled the victim onto his back, the teenager's arms slung over Htet Myat's shoulders.
Htet Myat slouched forward and began making his way back to the ambulance. On 76th Street three bullets whizzed by – the last terrifying close to his head – before he turned back down 34th. He finally loaded the teen into the ambulance and took him to a nearby hospital. It was about 1pm on March 27.
At about the same time, in Nay Pyi Taw, strutting columns of garlanded troops paraded before junta chief Senior General Min Aung Hlaing to mark the 76th anniversary of Armed Forces Day. Meanwhile, throughout Myanmar that day, forces under Min Aung Hlaing's command killed more than 100 civilians in crackdowns on protests.
Htet Myat is among thousands of volunteer ambulance and rescue workers in Myanmar, who are increasingly being targeted by the junta with both bullets and the law. Earlier that morning, outside of a branch of state-owned Myanma Economic Bank, junta soldiers fired several shots at his ambulance as it took another gunshot victim to a hospital.
Since the crackdowns began, there have been at least 28 attacks on hospitals and health workers, according to the United Nations, which has condemned the junta's deliberate targeting of rescue workers and their vehicles.
"Attacks against health volunteers and against ambulances are preventing life-saving help from reaching civilians wounded by security forces," UN spokesperson Mr Stéphane Dujarric told reporters in New York on April 6.
The junta has raided the offices of several charity organisations doing rescue work, and the Assistance Association for Political Prisoners says that at least 18 medical volunteers have been arrested, charged or sentenced for attempting to save lives.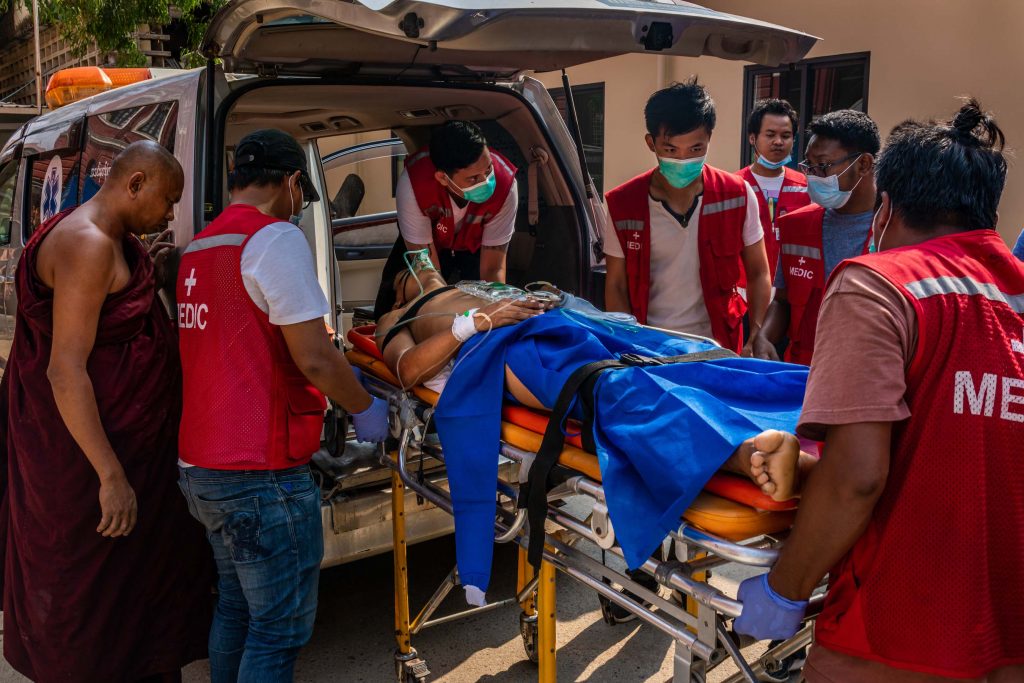 Most of the organisations are small, local entities working independently, but even volunteers for the large, government-affiliated Myanmar Red Cross Society have been injured and arrested, with some of them still in custody.
MRCS general secretary Dr Htin Zaw Soe said that Geneva Conventions signed by Myanmar in 1949 recognise volunteers and vehicles bearing the Red Cross flag and logo as symbols of protection, making it a violation of international humanitarian law to target them.
"They [security forces] may not be aware of this [law]," he said. "We plan to raise awareness among the public so this is more widely known."
For Htet Myat in Mandalay, the moral calculus is clear without bringing in international humanitarian law.
"It is just inhumane of them [the security forces] to prevent us from helping the injured," he told Frontier. "If protesters have been shot and badly injured, the junta's security forces should allow us to retrieve them [and] save people's lives."
'There is no guarantee for our safety'
The targeting of rescue workers did not begin with the Armed Forces Day slaughter. One of Payaheta Darri's four ambulances was shot 15 times while parked outside the team's office in Mandalay's Chan Aye Thar Zan Township on the night of February 17.
U Ye Myint Win, aka Nickey Diamond, a Myanmar human rights specialist with the international watchdog group Fortify Rights, believes the junta considers the charity groups to be anti-coup partisans.
"The military junta assumes these charity groups support the protesters, and that is why they are also cracking down on them," he said. "One of their objectives is to prevent injured protesters from being rescued and treated."
On February 28, junta forces beat two Red Cross volunteers as they were administering first-aid to injured protesters in Mandalay's Chan Mya Tharzi Township, and damaged two of their ambulances.
The day before, three other volunteers from the Pakkoku branch of the Red Cross in Magway Region were arrested while providing aid. Htin Zaw Soe said the organisation does not know why the arrests were made or if the volunteers have been charged with a crime, but that they are still in custody. It is lobbying local police for their release.
In Mandalay, at least 26 members of the Payaheta Darri and Payaheta Min Khaung charity rescue groups, including two medical doctors and one nurse, were arrested and taken to Obo Prison for treating injured protesters on March 27, then charged with incitement under section 505-A of the Penal Code, according to an official with Payaheta Min Khaung.
Also among the arrested was the Payaheta Darri team leader, a spokesperson told Frontier, adding that the group has since suspended its service "due to insecurity".
In Yangon, the highly-respected Free Funeral Service Society has suspended all operations since March 4, after security forces launched a midnight raid on its North Okkalapa Township office.
During the raid, security forces brutally assaulted staff and volunteers, leaving at least three injured, and seized computers and other equipment, though they made no arrests.
Two days prior to the raid, FFSS chair U Kyaw Thu had gone into hiding. Hours after the office was raided, the junta charged him in absentia with incitement under section 505-A of the Penal Code, which carries a maximum three-year year sentence.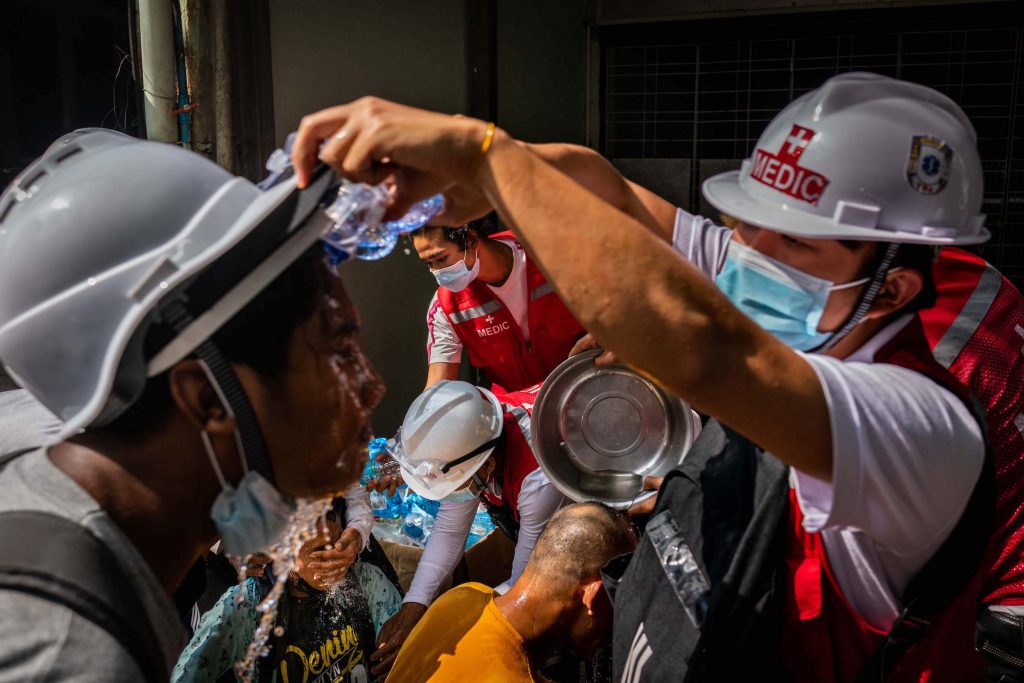 Daw Myint Myint Khin Pe, FFSS finance officer and Kyaw Thu's wife, was charged with incitement on February 25, after the society voiced support for the Civil Disobedience Movement and pledged not to assist police or military personnel with medical or funeral service, according to a March 4 broadcast on state news.
Military-run media has also accused the couple of "misusing" donations, including raising more than K316 million in donations for CDM participants between February 10 and March 3, and of distributing to about 2,000 CDM participants between K100,000 and K200,000 each.
"All of our staff are now in hiding," an FFSS employee who asked not to be named told Frontier on April 2. "The military is hunting us."
On March 3, CCTV footage that was shared on Facebook captured security forces savagely beating three male volunteers with the Mon Myat Sate Htar rescue charity who had been detained that day by security forces in Yangon's North Okkalapa Township, where the group is based. The AAPP says a fourth was also detained, but was separated and harassed before the camera began rolling.
The three volunteers in the video, clad in construction hard hats, are forced to kneel before being kicked in the head and beaten with batons and rifle butts by police, who had also shot out the windows of their ambulance. All four suffered injuries and were reportedly treated at Insein Prison, where they were detained for several weeks. The AAPP says they were also slapped with 505-A charges, but Mon Myat Sate Htar could not confirm this, and they were all released on March 24.
After their release, all four returned as volunteers to the frontlines of demonstrations. But Mon Myat Sate Htar president U Hla Kyaing said he fears the incident will deter others from volunteering as the need increases.
U Zin Moe, vice president of the Mawlamyine Rescue Organisation, said volunteers were being forced to gamble with their own lives. "We want to help people, but there is no guarantee for our safety," he said.
On April 2, in the Mon State capital, soldiers and police dragged three volunteers from an MRO ambulance that had been called to assist people injured in a motorcycle accident at around 7pm. Police interrogated and humiliated the three on the street, though they made no arrests that night, Zin Moe said, adding that the nationwide 8pm-to-4am curfew in place since February has made it impossible to operate rescue services at night. The curfew has no medical exceptions, he said.
'The injured just piled up'
The deadly consequences of the security forces' targeting of medical workers was on full display during the April 9 mass slaughter in the city of Bago, where many victims died from excess blood loss after the military prevented rescue workers from getting to them. That day, police and soldiers reportedly killed more than 80 people.
An official from a Bago rescue group who requested anonymity told Frontier that nearly every rescue group in the city was unable to tend to the wounded because of an unending torrent of junta gunfire.
"The injured just piled up," he said. "Even nearby residents couldn't get to them. We wanted to save them, but our teams couldn't run straight into a barrage of gunfire.
The UN issued a statement the following day condemning the crackdown.
"The UN in Myanmar is following continued escalation of violence in Bago with reports of heavy artillery being used against civilians and medical treatment being denied to the injured," it said. "We call on the security forces to allow medical teams to treat the wounded."
Among the dead was at least one medical worker. U Thiha, a volunteer from the Pyae Wa charity group, was killed in Bago's Ponna Su ward while helping to arrange a funeral when security forces arrived and opened fire.
Witnesses told Thiha's mother, Daw Yamin Oo, 52, that the 32-year-old was shot in the thigh as he tried to flee by scaling a wall. After he fell, soldiers approached and savagely beat him. Ponna Su residents told Frontier they later saw Thiha being dragged behind a police motorbike through the rock-strewn streets, screaming at first until his body became limp.
"When I saw my son's dead body, his head was dented and his chest was also bruised, and there was no skin at all below his knees," Yamin Oo told Frontier. "How inhuman!" she said, going momentarily silent before breaking into a wail and calling out her son's name.
Ye Myint Win from Fortify Rights believes the savagery of such attacks is meant to send a message to protesters.
"They want to instill fear in the people, so protesters know they will be helpless if they are shot or injured," he said.
Yamin Oo offered a similar, if more pointed, assessment of an institution whose power depends on fear.
"My son was brutally murdered," she said. "Soldiers and police are not security forces who protect the public – they are terrorists!"