Mercury, a highly-toxic chemical that endangers the health of small-scale gold miners who use it in far northern Myanmar, has been detected in one of the main waterways flowing through Yangon.
Words & Photos VICTORIA MILKO | FRONTIER
ABOUT 50 kilometres north of the Kachin State capital, Myitkyina, three illegal gold miners stand knee-deep in mud at a mining site they say was closed with no warning a few weeks earlier. The men dig through the gravel and shovel it on to green floor mats they use as makeshift sieve to remove the stones. Then they carefully sift through the remaining sand. It sparkles with the promise of gold.
Using their bare hands and a single garden hoe, the three men don't stop working, even to answer questions about their lives and their dangerous work.
"So you know that it's poisonous and potentially killing you slowly, but you use and directly handle it anyway?" they're asked.
The miners let out a dry laugh, and continue working.
"Of course we do. But what choice do we have?"
Widely used, poorly understood
Mercury, a highly toxic chemical, has long been used by artisanal and small-scale miners in Myanmar and elsewhere in the world, despite the threat it poses to their health and the environment.
The chemical, which is liquid at room temperature, was used in the gold mining industry for centuries until it was replaced in most countries by less harmful processing techniques.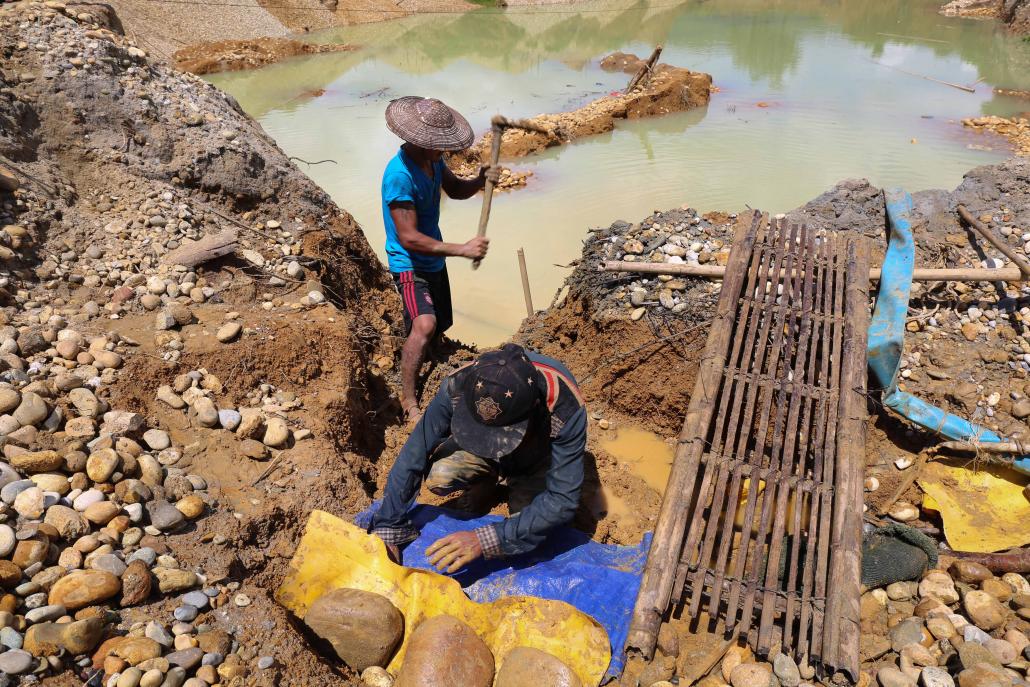 Artisanal and small-scale miners in Kachin State make sluices by laying coarse mats on the ground that are used to filter slurry pumped from mines or other ore-bearing sites. Stones and coarse sand are removed from the sediment and it is sluiced through the mats again. Liquid mercury is hand mixed with the resulting fine sediment and it bonds with the gold to form an amalgalm. The mercury is burnt off, leaving nuggets of pure gold.
"Miners use mercury because it is cheap, easily obtained, quick and easy to use, and good for processing small quantities of ore," Mr Jack Jenkins and Daw May Zin Thaw wrote in their unpublished report, Artisanal and Small Scale Gold Mining and Mercury Use in Myanmar: Current Issues and Ways Forward. The pair wrote the report while working for Spectrum, a non-profit knowledge-sharing organisation that promotes sustainable development.
May Zin Thaw said the report was sent to Spectrum on April 25 but remains unpublished because of pressure from the Environmental Conservation Department of the Ministry of Natural Resources and Environmental Conservation.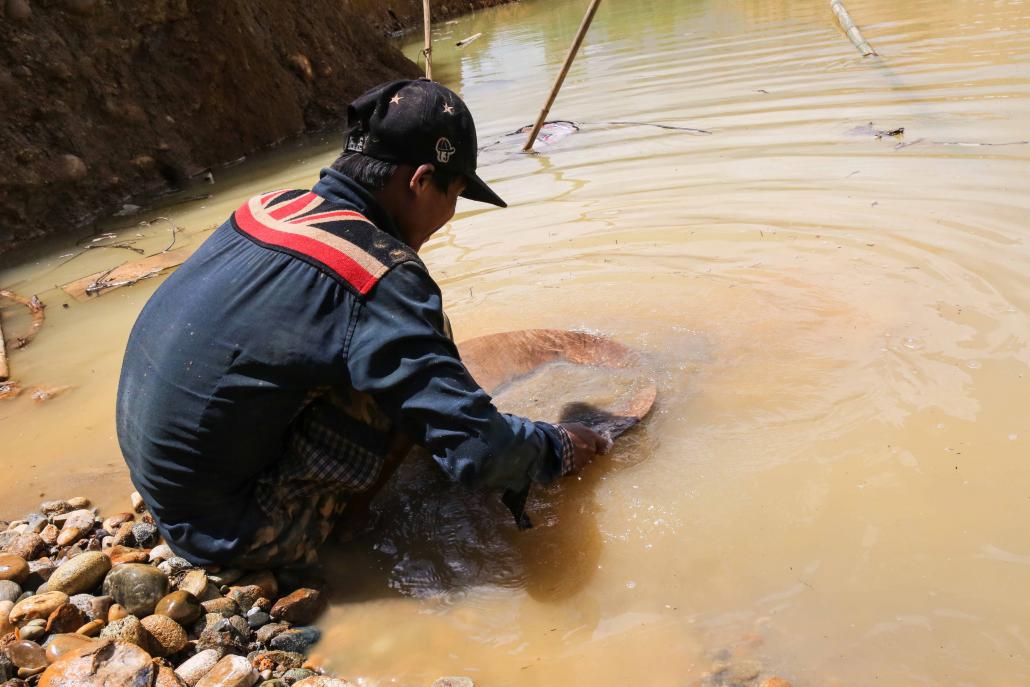 In the Kachin capital, Myitkyina — the closest big city to a gold mining area where the  n'Mai and Mali rivers join to form the Ayeyarwady — mercury is sold in small packets in jewellery and electronics shops, though it is rarely advertised. About 50 kilometres north, shops along the single-lane road leading to the mining area at the confluence of the two rivers also sell mercury, often for cheaper prices than in Myitkyina. Ten millilitres – the equivalent of about two soft-drink bottle caps – was selling for about K2,000 earlier this month, though the price fluctuates in line with the market price of gold.
The World Health Organization says mercury is among the top 10 chemicals of major public health concern and cites a wide range of health problems that can arise from direct or indirect handling or exposure to the element.
The direct handling of liquid mercury can cause "corrosion to the skin, eyes and gastrointestinal tract", WHO says, adding that other symptoms of exposure include "tremors, insomnia, memory loss, neuromuscular effects, headaches and cognitive and motor dysfunction". WHO warns that the fumes produced by burning mercury, as artisanal and small-scale miners often do in their homes, are also highly toxic and can damage the nervous, digestive and immune systems, as well as lungs and kidneys.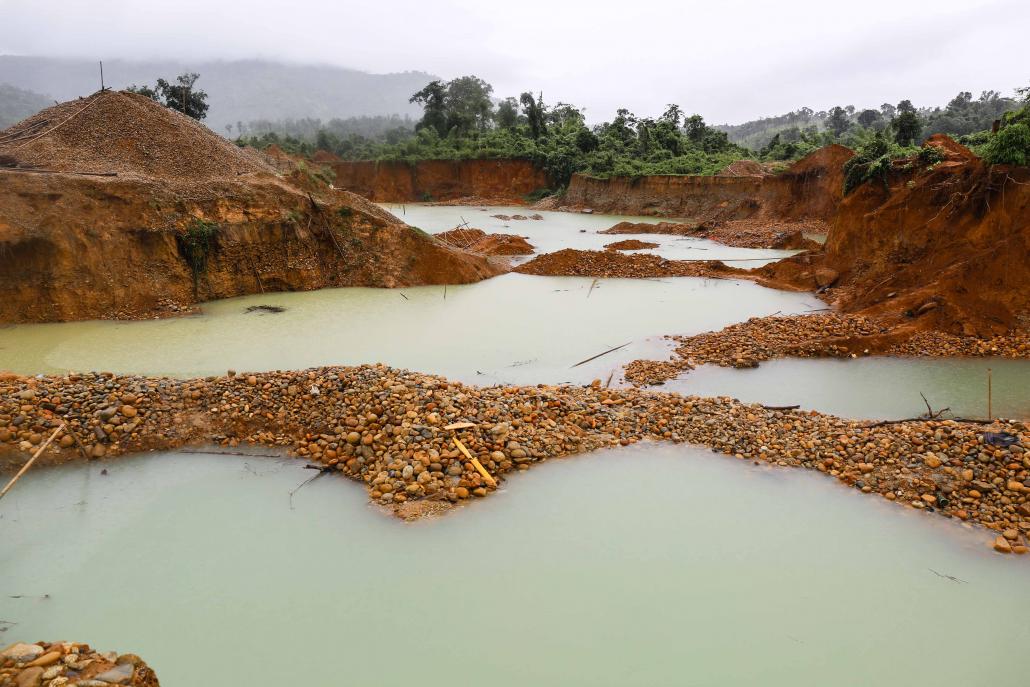 Children exposed to mercury fumes are especially susceptible to adverse health effects, including stunted growth and impaired mental development.
The serious health risks from using mercury raise an obvious question: Why do artisanal and small-scale miners use it?
An answer is given in At What Cost? Gold Mining in Kachin State, Burma, a report by Chiang Mai-based Images Asia and the Pan Kachin Development Society released in late 2004. "Miners and local people are often too poorly educated to access information on the threats posed to their lives and health from pollution by mining agents, so dangerous handling of mining chemicals is commonplace," the report said.
It's more than a decade since the report was released but miners and non-government groups that monitor the mining industry say little has been done to raise health and safety awareness at mining sites.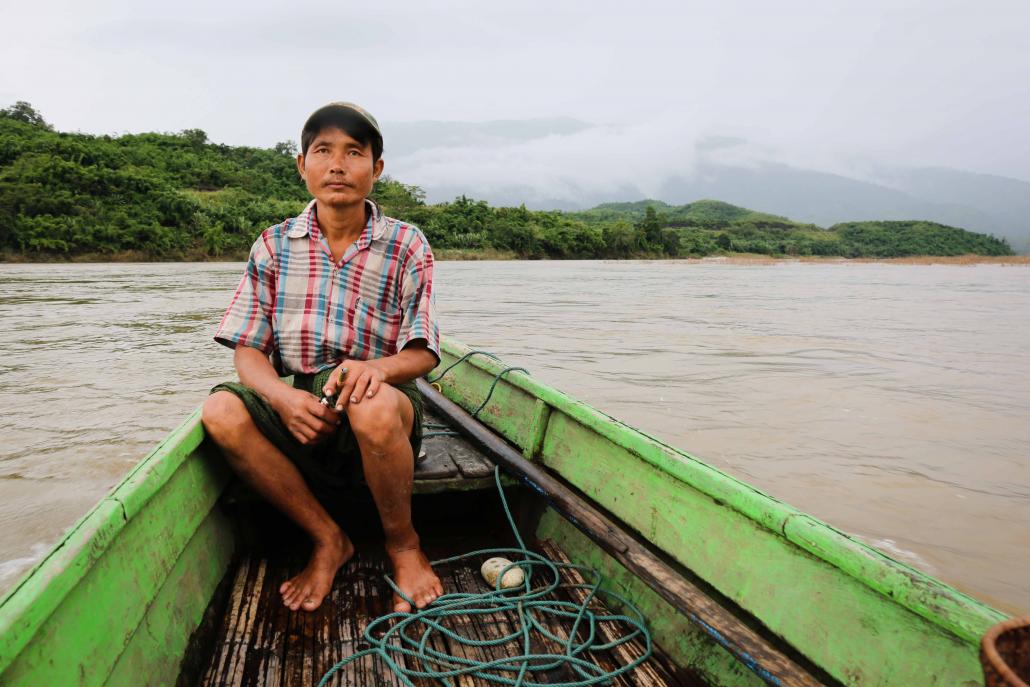 "Many people don't know that there are any effects from using mercury," said U Tun Tun. A small-scale gold miner in Kachin for seven years, he said that information had never been provided about the health hazards of using the chemical.
U La Seng, who worked for two years as a small-scale gold miner in Kachin, told Frontier he knew there were side-effects from using mercury, but his knowledge was limited.
"I know a little bit about the dangers, like if you inhale it when it is [vapour] that you cannot breathe," La Seng said. Asked if he was aware of any other side-effects, he shook his head. "No, I haven't heard of anything else."
Many miners say they are aware of the health risks but continue using mercury, often with little or no protective clothing, because they need to make a living.
Miners at the confluence said the government had closed mines in the area recently for reasons they believed were linked to the controversial Myitsone Dam project and they had continued working in the area illegally to support themselves.
"We need to make money still, so we mine ourselves now, even if that means we have to use something that may be not safe," one of the illegal miners told Frontier.
Environmental toll
The use of mercury by artisanal and small-scale miners in Kachin, along the upper reaches of the Chindwin in Sagaing Region and elsewhere in northern Myanmar poses a serious threat to the environment as well as to health.
It does not help that miners sometimes dispose of mercury directly into waterways.
"You can see large pools of mercury sitting on the edge of the water sometimes," said U Hkun Myat, a coordinator with the Nyein (Shalom) Foundation, an NGO with offices in Myitkyina and Yangon, who has been working to document mining in the region. "No one is told how to dispose of it, so it's just left in the river."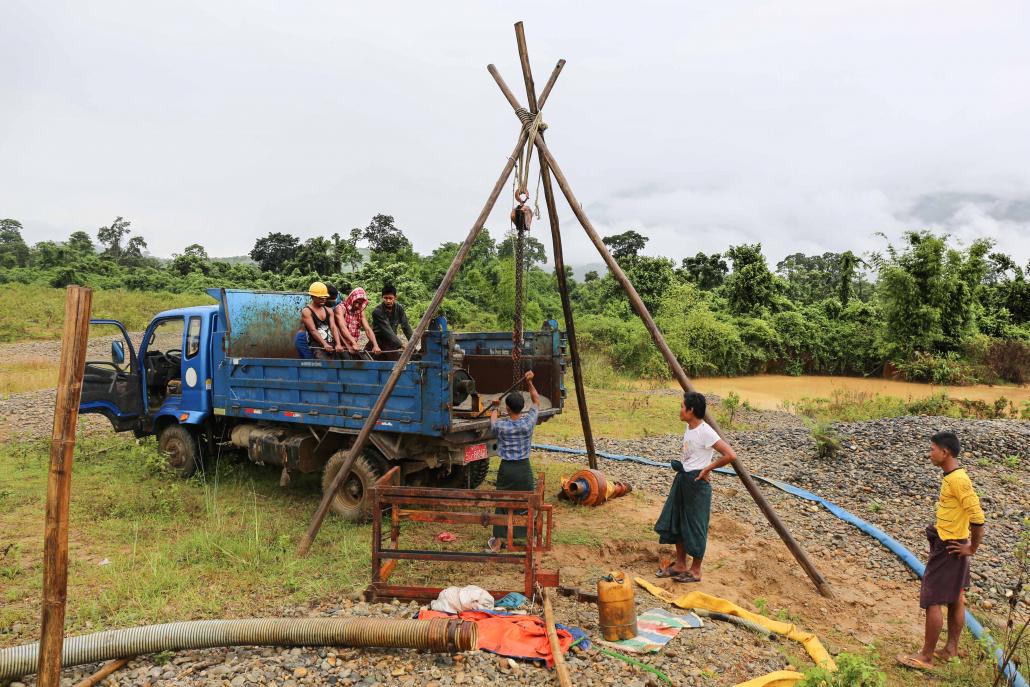 When mercury enters the natural environment it undergoes a transformation that also poses a serious health threat to humans and wildlife.
"Organic mercury, often known as 'methylmercury', is produced as a result of elemental mercury being broken down by anaerobic microbes that live in aquatic ecosystems," Jenkins and May Zin Thaw wrote in their report. "Methylmercury then enters and biomagnifies up the food chain, putting humans and animals at great risk."
The alarming contamination of the nation's waterways by mercury has been described in a report by Japanese researchers. Water samples they tested from throughout the country showed increased levels of mercury in waterways as far south as Yangon's Ngamoeyeik Creek.
"As gold mining using mercury does not occur in the area of Ngamoeyeik Creek, it can be concluded that mercury derived from upstream has accumulated in this area," said the study, Artisinal and small-scale mining in Myanmar: Preliminary research for environmental mercury contamination, which was published last year.
"Our investigation of artisanal and small-scale gold mining in Myanmar shows that river sediments in this nation are polluted with mercury, and many gold miners and their families may be contaminated," wrote the study's authors, Mr Takahito Osawa and Mr Yuichi Hatsukawa, from the Quantum Beam Science Center of Japan's Atomic Energy Agency.
The threat to public health and the environment from mercury raises the question of what can be done to regulate or mitigate the consequences of using it in artisanal and small-scale gold mining.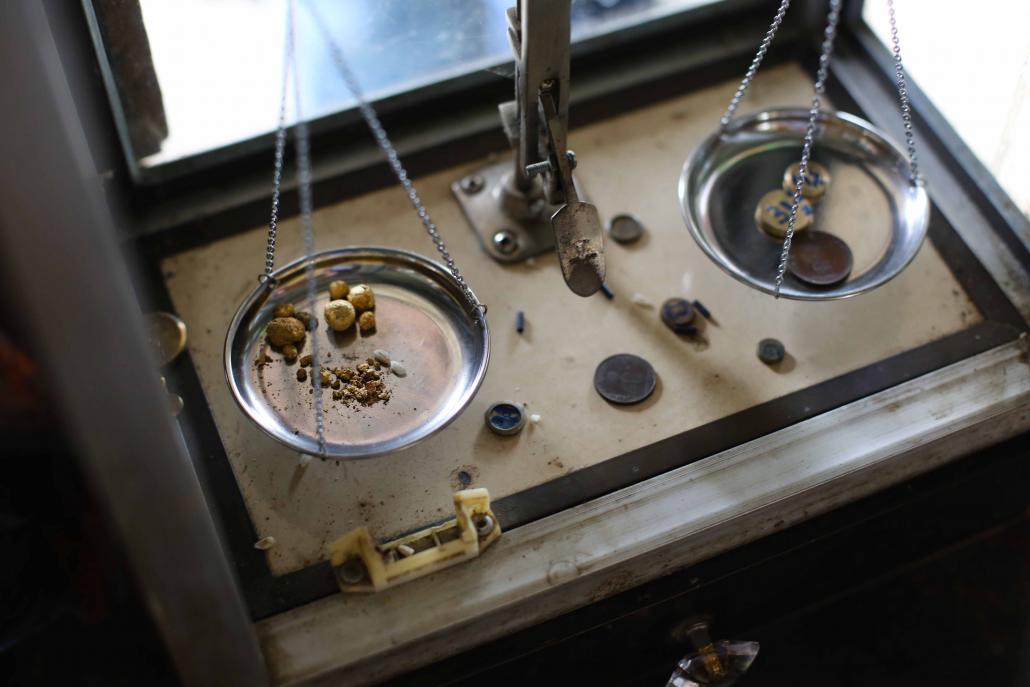 Jenkins and May Zin Thaw agree that a complete ban on using mercury could have negative economic consequences for communities that depend on gold mining.
"[ASGM] is a very small local livelihood practice," May Zin Thaw said. "The local economy, that is really localised, and the livelihood of the local people very much depends on particular mining like gold."
They support the use of alternative gold mining methods and in their report suggested techniques such as direct smelting or the use of either borax or magnets, which have been used successfully by artisanal and small-scale miners in such countries as the Philippines, Mongolia and Mozambique.
"Direct smelting can be an alternative to mercury use if there is enough free gold, which at the moment is unclear," said Jenkins. "Borax is a smelting agent rather than an alternative in itself. Magnets can help to improve the gold concentration – which is useful for direct smelting as a good concentration is needed."
As well as encouraging miners to switch to safer extraction techniques, researchers also suggest that they receive training in the proper disposal of mercury after it is used.
"Although metallic mercury left under the ground continuously contributes
to environmental pollution, it might be almost impossible to collect the mercury completely because the tailings are widely diffused over a vast area," Osawa and Hatsukawa wrote in their study. "If the polluted tailings are settled in a limited area, for example tailing ponds, they can be recovered by a simple method."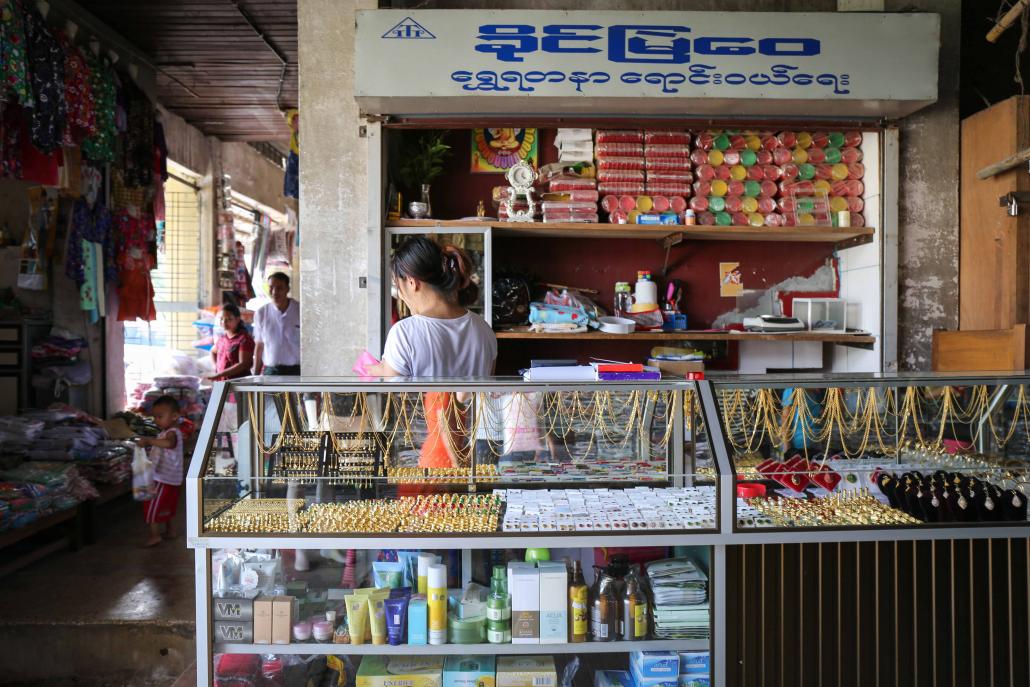 There have also been suggestions that regulations to reduce the use of mercury in artisanal and small-scale gold mining be included in the Law Amending the Myanmar Mines Law. The opportunity exists for such regulations because although the law was enacted on December 24, 2015, its by-laws are yet to be drafted.
Jenkins and May Zin Thaw call in their report for the drafting of legislation on gold mining to involve all stakeholders, including the relevant Union ministries, state and regional governments, artisanal mining and non-mining communities, big mining companies, ethnic armed groups and civil society organisations.
"Formalisation of artisanal and small-scale gold mining operations will help to remove barriers to miners adopting cleaner gold processing practices," Jenkins and May Zin Thaw wrote. "As mines are moved into the formal sector, miners will have improved access to service provision and technical assistance, and the government will be better able to regulate mining operations."
Not all involved in gold mining are convinced.
"I have never seen people here to check if rules are followed," Tun Tun said of the mines in the confluence region. "We just continue to work as we always have. No one ever cares."