The sprawling Arlein Nga Sint monastery in northern Yangon's Insein Township is home to the old, mysterious and bizarre.
By JARED DOWNING | FRONTIER
Photos NYEIN SU WAI KYAW SOE
The Arlein Nga Sint Pagoda in Insein Township is one of only three Myanmar pagodas with a maze. But where the other mazes are mainly for show, finding your way through the winding labyrinth that winds around Arlein Nga Sint is no easy feat.
"It takes about an hour and a half to find your way through it," said head monk U Agga Dhamma.
The maze was believed to have healing properties for those devoted enough to complete it, although it also attracted drunks, thieves and couples meeting for mischievous liaisons.
"These days we open it only on special maze festivals," U Agga Dhamma continued.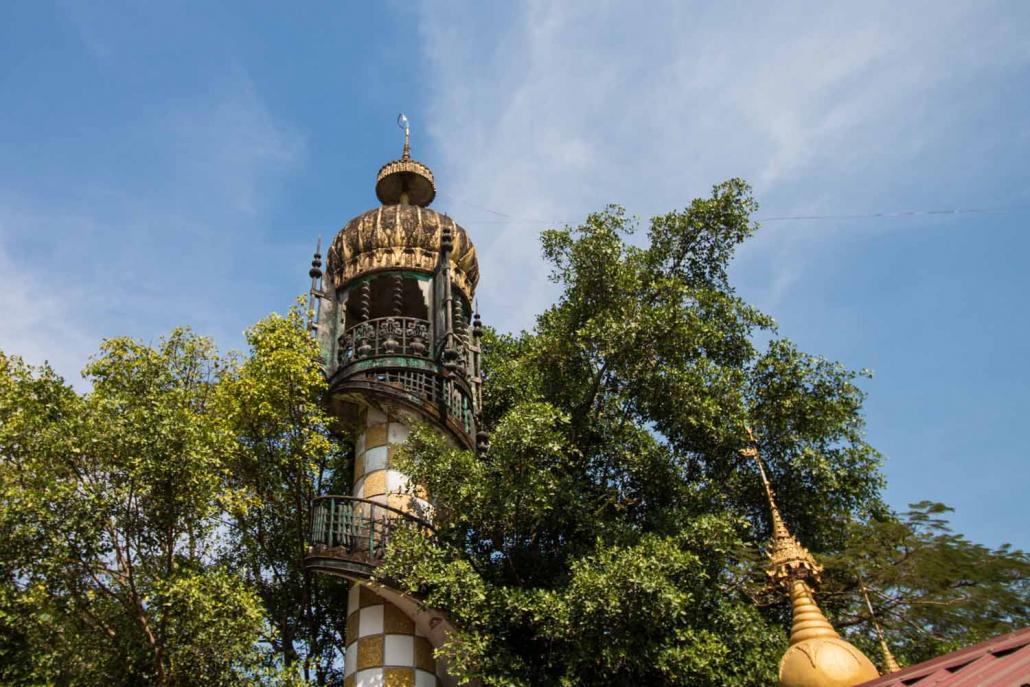 No matter, the maze at Arlein Nga Sint is but one of the wonders of the largest pagoda in the neighbourhood, which is home to Yangon's largest Kayin community. U Agga Dhamma spoke in a room packed with centuries-old Buddha images worshiped by some of Myanmar's most renowned kings, including Thibaw and Alaungpaya. He said one ornamental serving plate was more than 900 years old.
Outside, the monastery complex is a winding labyrinth of hidden shrines, sacred founts and meditation alcoves, with 180 Buddha images tucked away in every nook and cranny.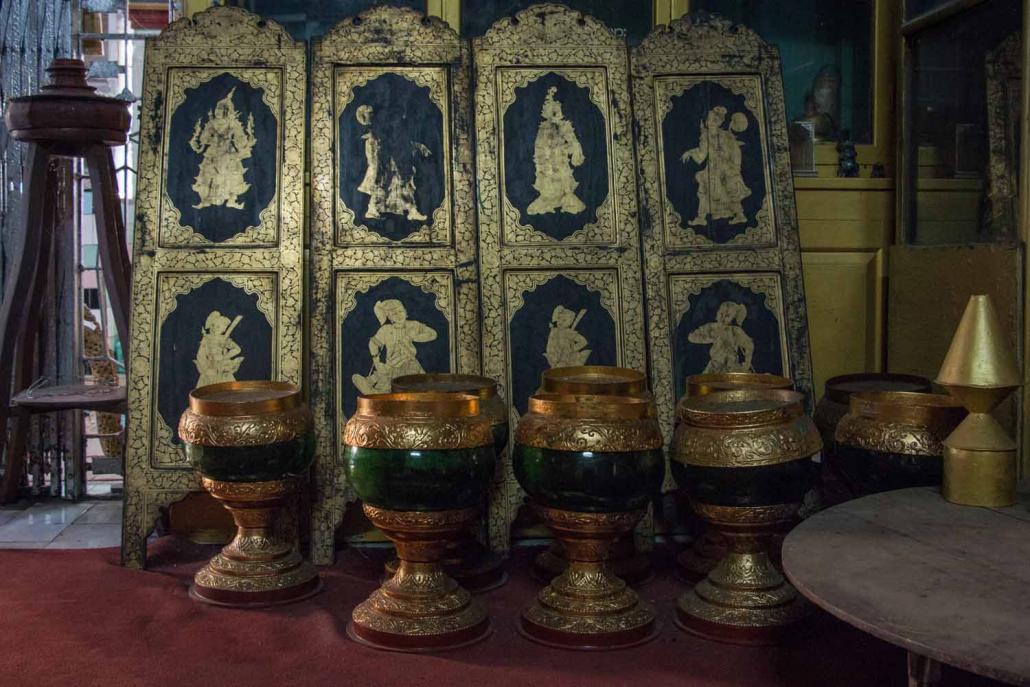 There is a group of seven sacred pools said to bring healing to those who drink from them, life-sized statues of great Myanmar kings atop their elephants, a looming watchtower with each level dedicated to a different heroes of Buddhist lore, and the body of the monastery founder U Thuriya, his face plated in gold.
"There were no chemicals used or embalming of any kind," U Agga Dhamma
said of the body, which has lain in a glass coffin for more than 40 years. "It is totally preserved. The muscles still move freely when you move its limbs, they are not stiff."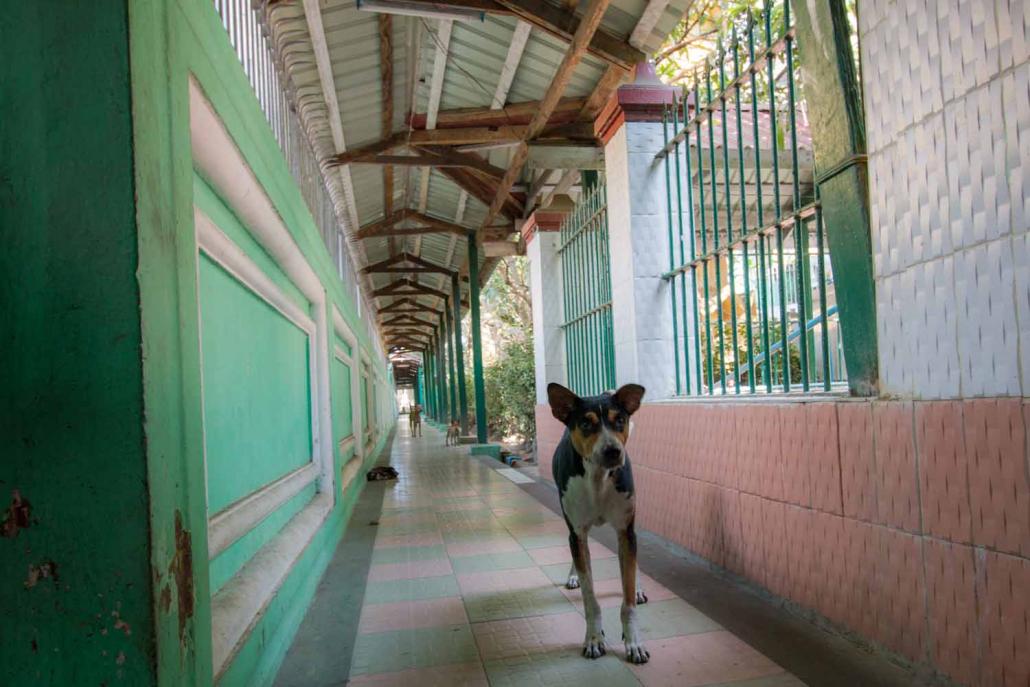 U Thuriya, an ethnic Kayin, founded the monastery in 1954 with the blessing of post-independence Prime Minister U Nu and Kayin politician U Mahn Win Maung, while civil war raged with the Karen National Union.
History has it the design for Arlein Nga Sint's main pagoda came to U Thuriya in a dream. It is built in seven layers, each guarded by images of Nats and other mythical creatures, and its surface is covered in scales rather than the common smooth taper.
The inside is a study in cross-cultural styles. The vaulting upper section appears more French château than Theravada temple, with powder blue walls and lavish Rococo windows and mouldings.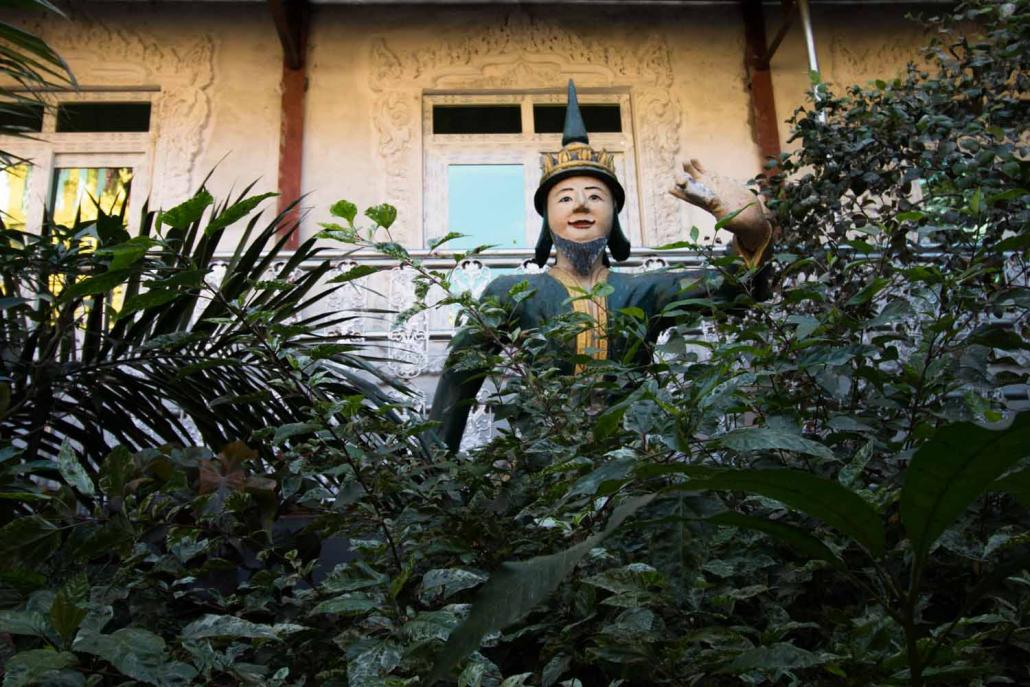 Below, dozens of golden Buddha images – hands depicting various mudras and different virtues written above their heads – line the walls, but the central image (with a Burmese-style body and Thai-style face) is green, not gold.
The treasure that would have plated the statue was instead hidden underneath it in a massive golden reliquary that contains jewellery, precious stones and relics of the Buddha, all out of sight.
The place also smells of cats. Dozens of them roam freely within the pagoda, and outside, scores of puppies explore every inch of the compound.
"People bring the puppies and kittens here as offerings," said Daw Win, 72, who moved to the monastery as volunteer caretaker after retiring.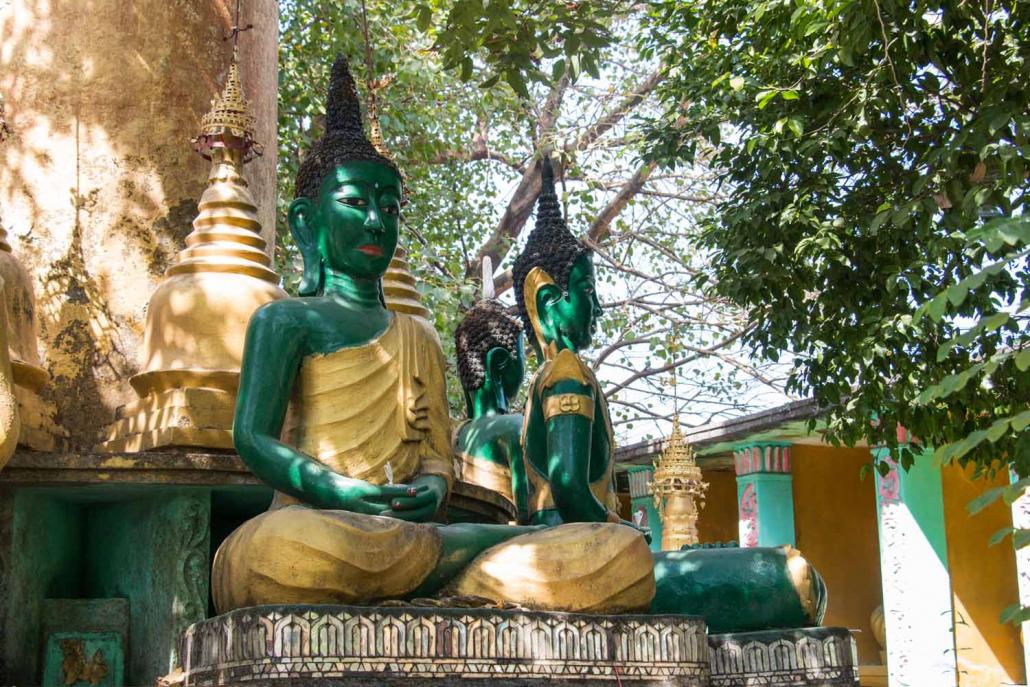 An ethnic Kayin, she was raised in a village north of Yangon, where she became a farmer, but travelled to Arlein Nga Sint on special occasions to worship and meditate.
She has watched Arlein Nga Sint grow up one statue, tower and relic at a time, under the guidance of U Thuriya and then Agga Dhamma, who is now in his 80s.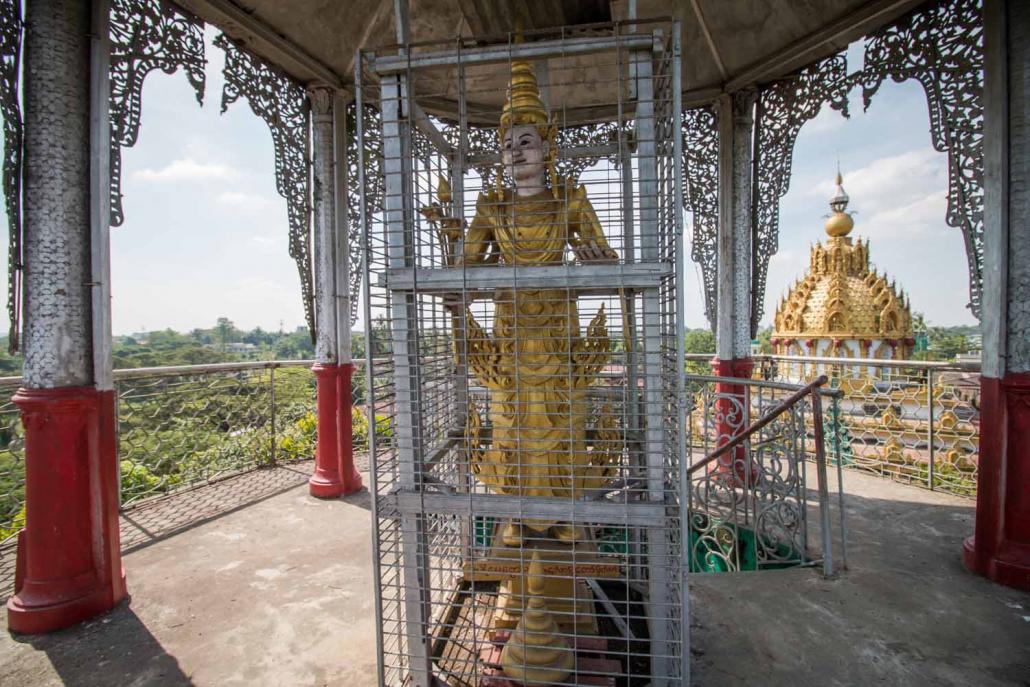 Two large images rest in what has become the vehicle garage, and its original ornamental gateway, crumbling and covered in weeds, guards the groundskeeper's shop. These old pieces are set against half-finished buildings and the sounds of construction as the complex continues to expand.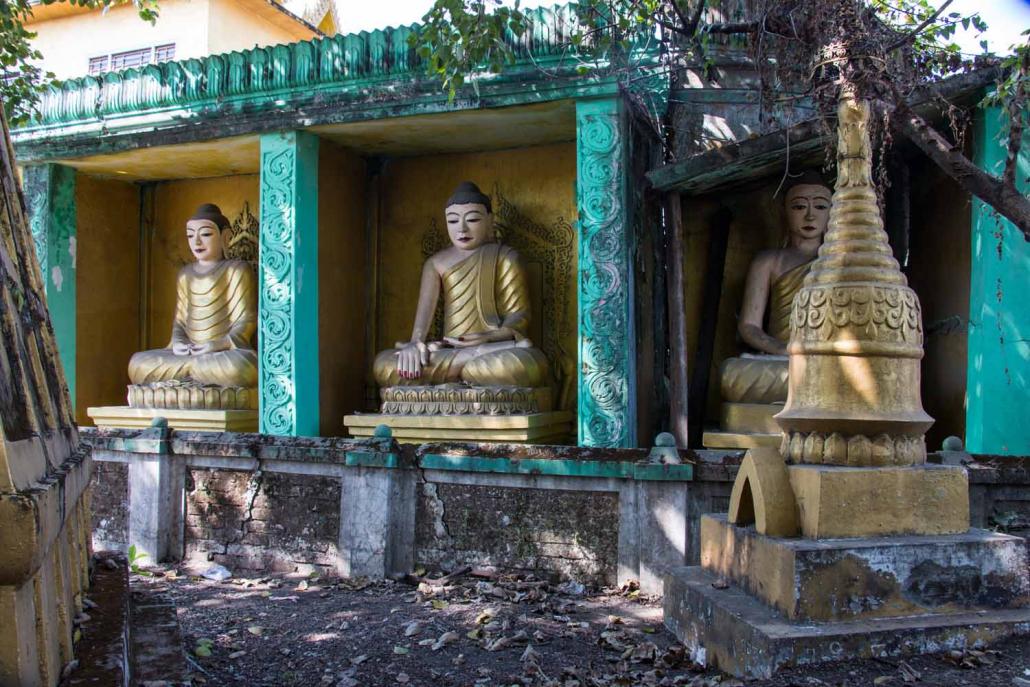 Daw Win's favourite time at the monastery is during the Kayin New Year festival, when thousands of people in traditional dress throng the complex, and the peddlers, lights, songs, and ceremonies fill the compound with electricity and life.
But most afternoons, the monastery is quiet. Turtles float in its sacred pools, dogs laze under the banyan trees, and the strange and mysterious Arlein Nga Sint remains an oasis in the industrial roar of Insein.