A master craftsman in the art of making Burmese harps fears for the future of one of the country's best-known traditional instruments.
By SU MYAT MON | FRONTIER
Photos VICTORIA MILKO
U AYE AUNG WIN, 34, is one of the last professional makers of traditional Burmese harps in Yangon and carries the weight of expectation that he will continue his exacting craft.
Aye Aung Win, also known as Ko Pho Tha, began learning the art of making harps – "saung" in Burmese – at a young age from his father, U Hla San, a master craftsman who died from throat cancer in 2011. He is one of only three traditional harp makers left in the country, he said.
"This is the legacy I inherited from my father," he said modestly. "It is not mine."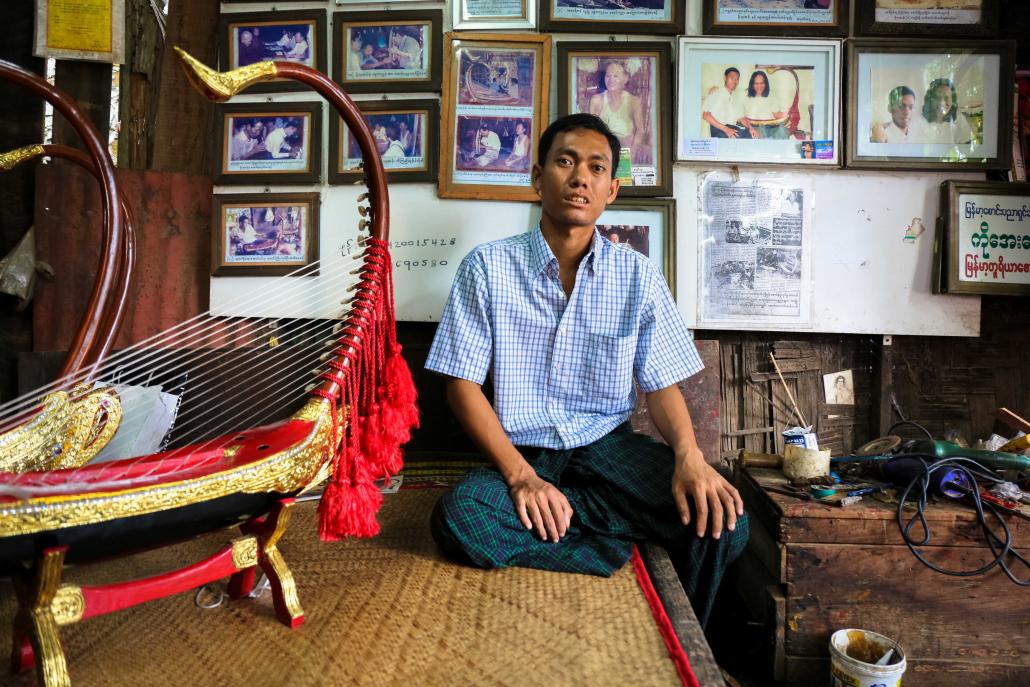 Aye Aung Win said he had considered ceasing making harps after his father died but had been urged to continue by older musicians and others who appreciate his craftsmanship.
"They [the older people] feared that the craft would die out if I did not continue," he told Frontier. "No one learned from my father except me."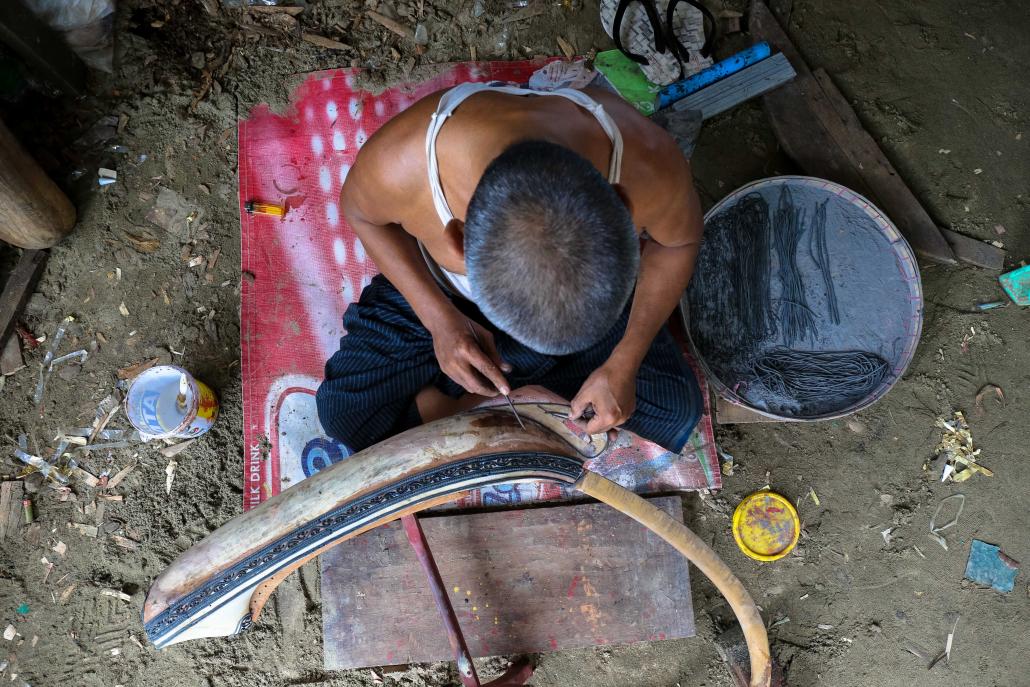 Harpist U Myint Soe, who has been playing the instrument for nearly 40 years, said Aye Aung Win was renowned for the quality of the sound produced by his harps.
"That's why we urged Ko Aye Aung to keep making harps, because we were fearful they would no longer be made," Myint Soe said.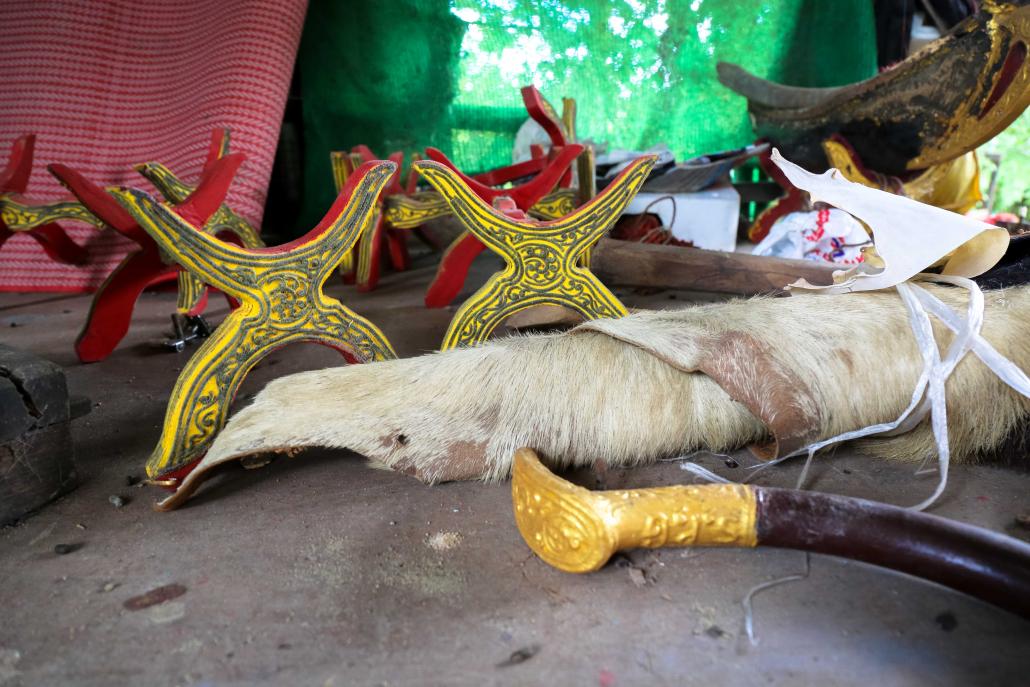 Aye Aung Win said making a harp was painstaking, intricate work that required more than one craftsman.
"It is not only done by me; it requires a number of people to make the parts," he said.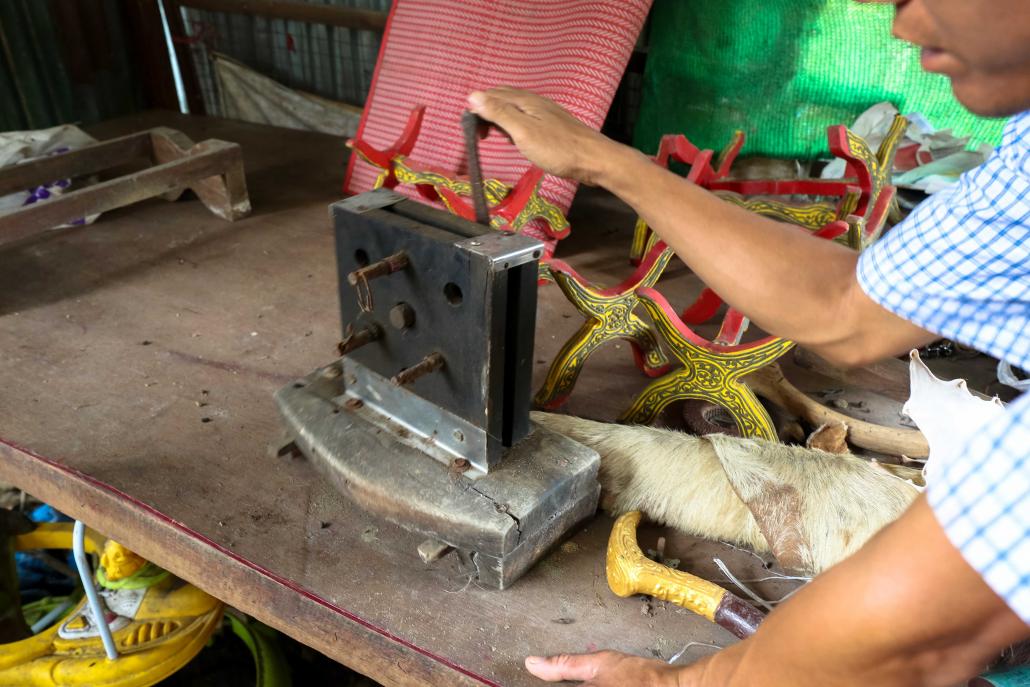 Aye Aung Win employs five people at his workshop in North Okkalapa Township and they make about 15 harps a year.
Aye Aung Win said Hla San began making harps in the 1960s and supported his family with the proceeds of his craftsmanship.
At the time it was common for Burmese harps to be ordered from such countries as Japan, South Korea, India, the United States, Ireland and France, he said. One of Hla San's most famous customers was Thailand's Princess Maha Chakri Sirindhorn, who ordered several harps from him over the years.
The release of a critically-acclaimed Japanese movie in 1956 introduced the sound of the Burmese harp to audiences around the world.
The Burmese Harp, directed by Kon Ichikawa, a stark drama about a group of Japanese soldiers isolated in Burma after World War II ended, won a prize at the Venice Film Festival in 1956 and was nominated for Best Foreign Language Film at the 1957 Academy Awards. The film is based on Michio Takeyama's children's novel, Harp of Burma, which won a cultural award from the big Japanese publishing house, Mainichi, and was one of the literary masterpieces translated into English as part of a discontinued project by the United Nations cultural and educational agency, UNESCO.
Aye Aung Win said his family had long been acknowledged for the quality of its harps.
"It is something to be proud of, for the country's sake," he said.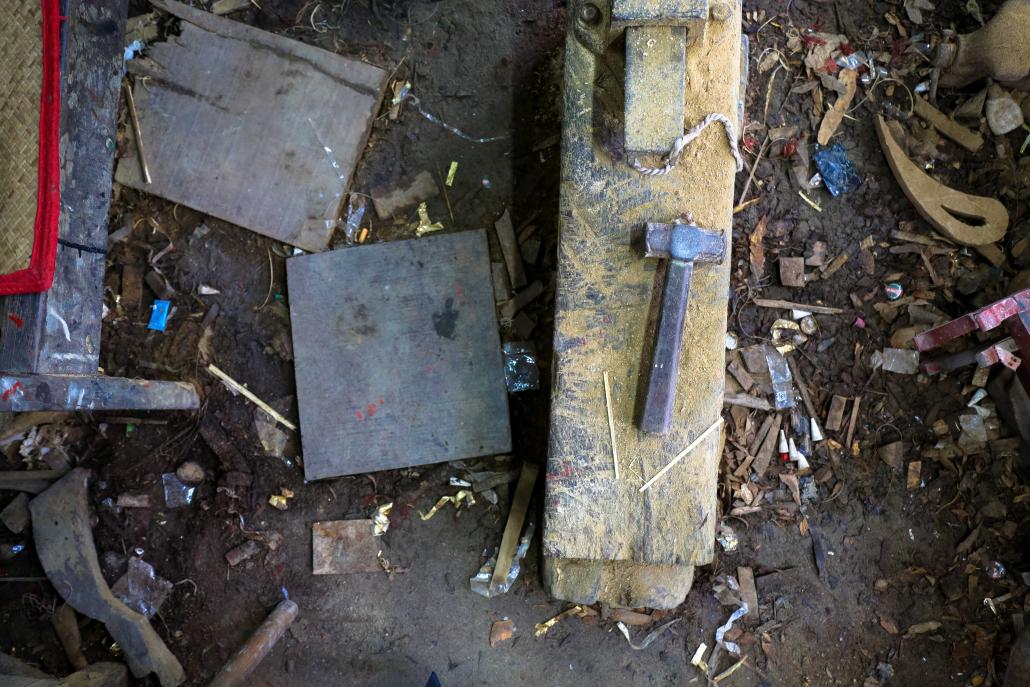 The quality of the harps was certainly appreciated by Major-General Suzuki Keiji, a Japanese intelligence officer who played a key role in recruiting and training the Thirty Comrades, the group of nationalists including Bogyoke Aung San that was formed in 1941 to fight beside the Japanese against the British.
Aye Aung Win said he was told by his father that before leaving Burma, Suzuki, who adopted the Burmese nom de guerre "Bo Mogyo" (Commander Thunderbolt), met with the family at an event at Yangon's Kandawgyi Palace Hotel where he apologised for the disruption caused to harp makers and harpists by the Japanese invasion.
Aye Aung Win recalled an episode in the 1990s when a monk – a childhood friend of Suzuki's son – visited Hla San. Also present at the meeting was Saung Thein Pe, one of Myanmar's most popular harpists, and the monk asked him to play a song called "Natshinnaung", which was popular at the time. Remembering the major-general and his son, the monk – who had been out of touch with the family for several years – broke down in tears.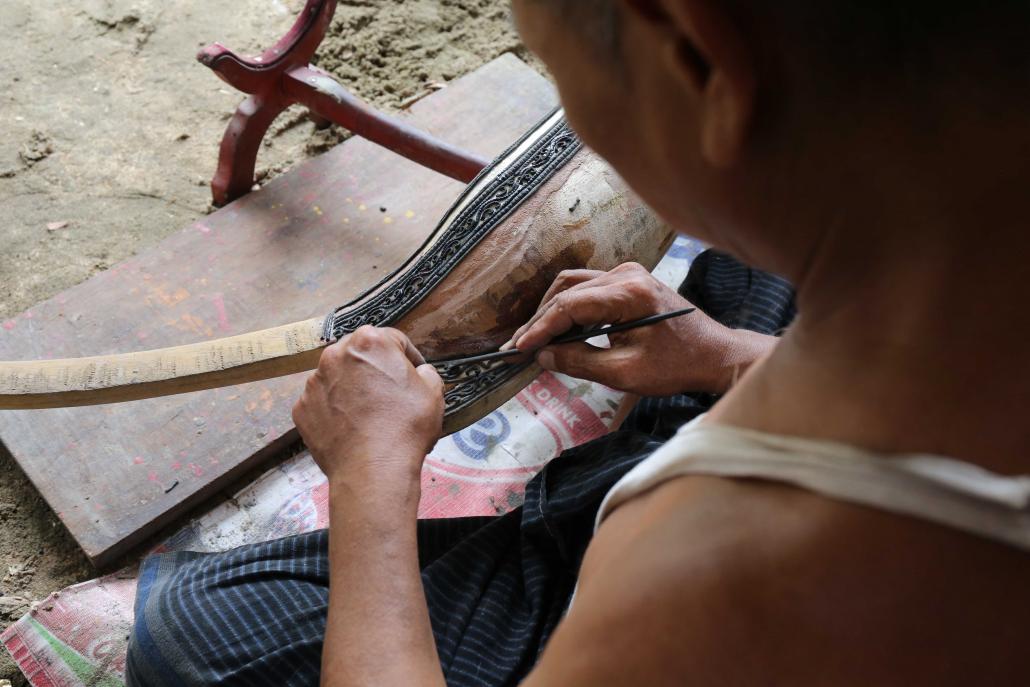 Myint Soe said the government does not do enough to help preserve traditional performing arts and instruments, which are part of the nation's cultural heritage.
"It will surely hurt the country and the people if our traditional culture disappears," he said.
"Every nation has its cultural identity based on tradition and history, and we should preserve ours."
Aye Aung Win agrees that government should do more to promote and preserve cultural heritage, including the craft of making harps, which are featured in some murals at temples at Bagan.
As well as being part of Myanmar's heritage, the culture of the harp was ancient and was also part of the world's heritage, he said.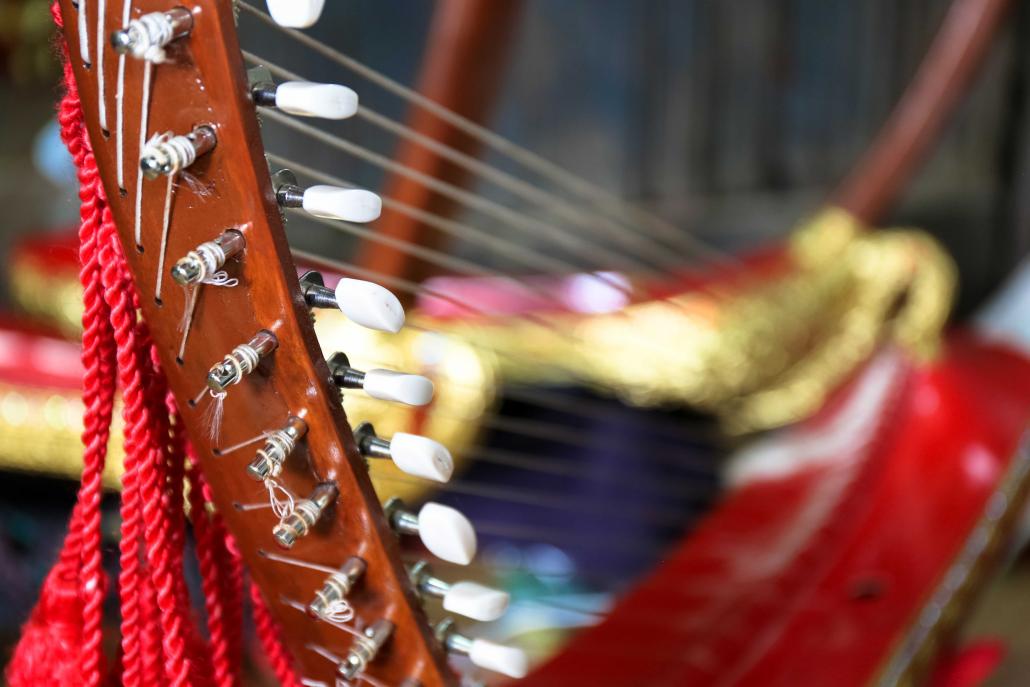 Aye Aung Win said it was worrying that those who make harps do not receive enough attention and support from the government.
His parents had never stopped making harps, including during the upheaval of the national protests in 1988, because of their dedication to the work, he said.
The memory of his parents inspires him to continue making harps, which he regards as a king among Myanmar traditional instruments.
"This is precious work but I worry about the future," Aye Aung Win said.
"If I don't do it today, there will be no one to replace me tomorrow."