Daw Aung San Suu Kyi issues a legal challenge to critics after being peppered with questions about race and religion during her campaign trip to Rakhine State.
By MRATT KYAW THU | FRONTIER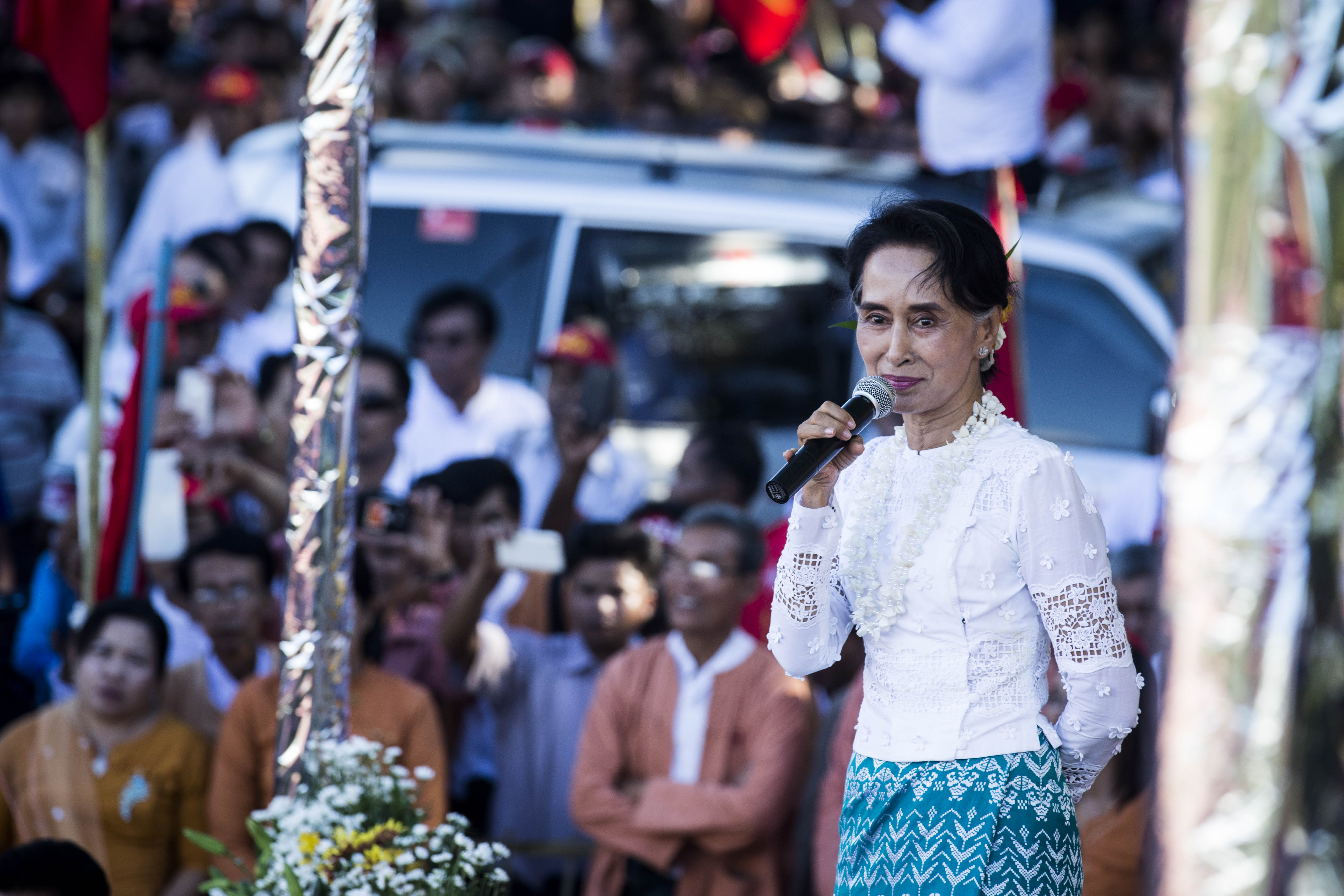 Daw Aung San Suu Kyi responded with a legal challenge after being repeatedly questioned on religious issues during a three-day election campaign trip to Rakhine State, where memories remain fresh of the communal violence in 2012 that left scores dead.
The questions to the National League for Democracy leader came thick and fast at campaign speeches in two southern Rakhine townships that have each been affected by deadly outbreaks of communal violence.
Daw Aung Sau Suu Kyi, who likes to invite questions from the audience after addressing election rallies, was clearly irritated by the persistent questioning about the issue.
She responded by issuing a legal challenge to the unnamed group she accused of attacking the NLD "on Bengali issues".
"If you become president, how will you handle the Bengali Muslim problem here [in Rakhine State]?" an ethnic Rakhine woman asked at a rally in Toungup on October 16, using the official term for the minority group who call themselves Rohingya.
"All people here are saying that if you become president, all Muslims and Bengalis will weaken Buddhism. Is it true?" asked another Rakhine woman.
Daw Aung San Suu Kyi said the people needed to be aware that some groups were systematically attacking the NLD over "Bengali issues" and trying to foment tension and violence.
"Some high-up men are campaigning by making people fear religious issues and social issues," she said, visibly irked. "I see that they are threatening people by saying some religion will gain influence [in the country] and turning people against one another," she told a crowd at Toungup estimated at about 8,000 people.
People travelled by boat from nearby islands and hundreds of others from surrounding villages crammed into trucks to make the journey to Toungup to see and hear Daw Aung San Suu Kyi, who last visited Rakhine in December 2002.
Some were seizing the opportunity to see the NLD leader for the first time.
"I don't know exactly who I will vote for but I wanted to see her since I have heard about her for so long," said Daw Mya Shwe, 64, who travelled by boat from a village 20 miles from Toungup, where 10 Muslims were dragged from a bus by a mob and murdered in June 2012.
Ahead of the trip to Rakhine, NLD sources had expressed concerns about her safety, with some citing the 2003 Depayin massacre in Sagaing Region, when Daw Aung San Suu Kyi's motorcade was ambushed by thugs in carefully-planned attack that left at least 70 NLD supporters dead.
Religion was involved in an apparent attempt to disrupt an NLD assessment of the security situation in Toungup ahead of Daw Aung San Suu Kyi's visit.
Daw Aung San Suu Kyi's personal bodyguard, the musician Lynn Lynn, said in a post on his Facebook page that police had initially tried unsuccessfully to prevent him from entering Toungup on October 15 to assess the security situation the day ahead of the NLD leader's visit.
"Rumours were spread here [in Toungup] that Lynn Lynn was a Muslim, so we had to tell him not to enter the town," Toungup Township police chief Police Major Tin Aung Soe told Frontier. "He didn't agree."
Daw Aung San Suu Kyi began her Rakhine visit at Thandwe airport and about 60 plainclothes police were reported to have been deployed along the route to Toungup, a 46-mile journey. The Toungup NLD chapter also sent 230 volunteers to provide security, said its vice president, U Than Win.
Daw Aung Sau Suu Kyi left Toungup for Thandwe, where the authorities were taking no chances with the maintenance of law and order during her visit, announcing a night curfew and a ban on gatherings of more than five people.
The Thandwe authorities told reporters on October 16 that the measures were necessary in case of an "unexpected situation" in the town. Some Thandwe residents were sceptical about the reason given by the authorities. "It was the plan of the government, I think, to make people here misunderstand Aunty Suu's campaign," said Ko Wunna, 26. "Some of my friends said they were afraid to go and listen to Aunty's speech because of the announcement."
Only about 3,000 people attended the October 17 rally in Thandwe, one of the smallest turnouts on the campaign trail so far for the NLD leader.
A supporter of the Rakhine National Party, the NLD's main rival in southern Rakhine, said religion was a reason for the small turnout.
"Thandwe's NLD office is dominated by Muslims, so people here, especially Rakhine people, do not want to be NLD party members and they didn't cooperate with those Muslims on the Lady's trip," said Ko Win Naing. To her apparent annoyance, Daw Aung San Suu Kyi faced more questions about Muslims at Thandwe and she issued a challenge to those she said are exploiting religion for political purposes.
"The men who are campaigning by using religion and race, I have to say to you, if you are brave, come out and accuse us directly," she said. "We can discuss it in court."
After leaving Thandwe, where days of past communal violence and scores of houses destroyed in arson attacks, Daw Aung San Suu Kyi made campaign stops at two small townships near Gwa, where she faced more race and religion questions.
"If people are using race and religion to attack the NLD, please keep their attacks on record. We'll sue them when we get clear evidence," the party leader told a small crowd in Kyone Pyaw, Ayeyarwady Region, after arriving there from Rakhine on October 18.