Despite rising criminal prosecutions, human trafficking remains rife in Myanmar and is fuelled by widespread poverty. 
By WIN ZAR NI AUNG | FRONTIER
"They killed her because she refused to work as a prostitute."
Ko Min Zaw said he saw about half a dozen men beat Ma Moe to death in a forest in Thailand's Satun Province about five years ago. Min Zaw, who like Ma Moe was illegally trafficked from Myanmar to Thailand, said he pleaded with the leader of the group to stop beating her, but he refused.
Min Zaw said that before they killed Ma Moe, some of the men raped her.
"The female victims of human trafficking arrived at Satun Province and were forced into prostitution," he said. "If they refused they were beaten with an iron bar. Some died in the forest."
Min Zaw spent 15 years in Thailand in the hands of traffickers. In 2001, he moved from his home in Yangon to Kawthaung, on Myanmar's far-southern border with Thailand, to work on a palm oil plantation. After a month, he was convinced to cross into Thailand for work. Without a passport or work permit, Min Zaw was vulnerable to unscrupulous traffickers and was soon sold onto a fishing boat by a broker he called U Win Myint, from Kawthaung.
"I don't know how much he sold me for," Min Zaw told Frontier.
He spent four months on the boat, but said he was thrown into the sea after an argument with one of the Thai fisherman. He only survived because he had learned how to swim, and was saved by another boat manned by Myanmar fishermen.
But Min Zaw's hardships were to continue. He was arrested and sentenced to more than a year in prison in Thailand under several charges related to not having a passport or work permit, fishing in restricted areas, and entering the country illegally.
"People who don't have a passport have to stay in jail. They are only released when [a trafficker] gives them [Thai officials] money," he said.
The gang leaders had particular disdain for Myanmar people, Min Zaw said. He said he saw one trafficker kill a Myanmar man on a boat before remarking, "Myanmar people's lives are worth less than a dog's".
Min Zaw said Issara, a non-profit organisation based in Thailand, helped him escape after he saw a flyer advertising their services and called them. He returned to Myanmar in 2016.
Almost a third of Myanmar's 52 million people live in poverty, according to the Myanmar Poverty Assessment conducted by the World Bank and Myanmar's finance ministry, published in December last year and based on data for 2015.
"The lack of job opportunities and development in the country, as well as natural disasters and inequalities, have led to a high amount of human trafficking in Myanmar," said Police-Lieutenant Thet Naung from the Anti-Human Trafficking unit of the Myanmar Police. 
In its 2018 Trafficking in Persons Report, the US State Department downgraded Myanmar to the bottom tier of countries, placing it among North Korea, Syria and South Sudan. The report said the Myanmar government had "not fully meet the minimum standards for the elimination of trafficking and is not making significant efforts to do so".
"There were reports that government officials were complicit in both sex and labour trafficking, including by hindering law enforcement efforts against the perpetrators," the report said.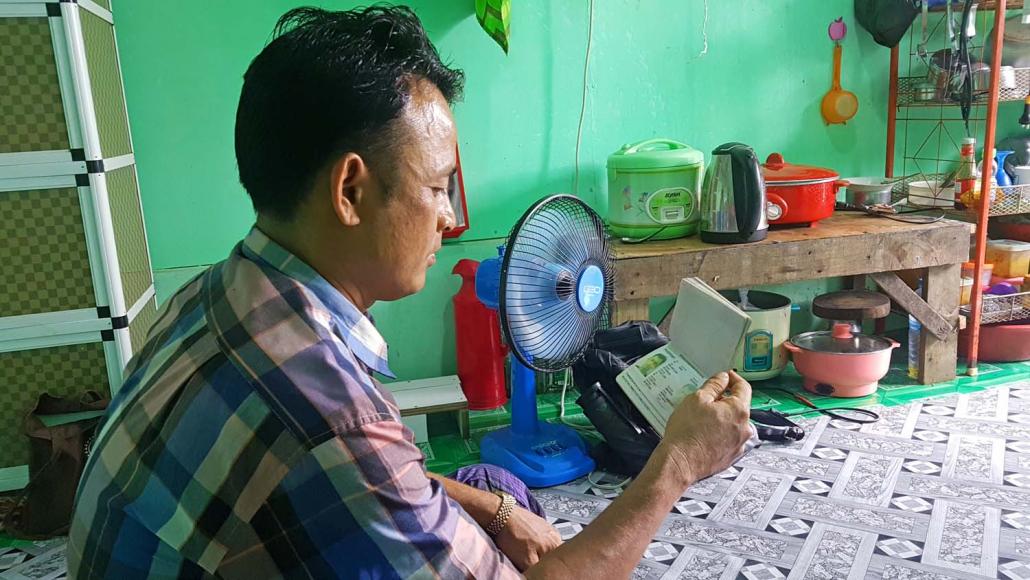 The government reported investigating 185 trafficking cases in the first half of 2018, up from 95 a year earlier, the TIP report said. Of these, 22 were related to forced labour – compared to 46 in 2016 – including one case of domestic servitude and 21 cases "related to fishing, manufacturing, palm oil farming, and jade and precious stone mining".
Authorities reported prosecuting 532 individuals – an increase from 145 in 2016 – but only 86 of them got jail sentences.
Thet Naung said he was disappointed by Myanmar's ranking in the TIP report and maintained his unit was trying to tackle trafficking more effectively. He said the government had signed agreements with Thailand and China on combating human trafficking and was also cooperating with other countries in Southeast Asia, as well as UN agencies and NGOs.
In 2005, Myanmar enacted the Anti-Trafficking in Persons Law, which outlines penalties of between five years and life in prison. Sentences are higher if those trafficked are "women, children and youth". A youth is defined as someone aged 16 to 18.
There were 107 recorded cases of human trafficking involving 200 people in the first six months of this year, according to the anti-trafficking police. Of these, 79 cases were related to forced marriage in China.
The highest number of cases, 30, were reported in Yangon Region, followed by Shan State, with 28. More than three quarters of the victims were women, and police arrested 292 suspects in total, the figures show.
In 2011, Ma Thu Zar was illegally trafficked to China. Living in Yangon at the time, she was told about a job opportunity as a housemaid in Lashio, in northern Shan State.
She told Frontier that, on the road journey, "someone gave me medicine to stop me from getting dizzy. When I regained consciousness I was in China."
Thu Zar said that when she arrived in China she was forced into marriage with a local man who infected her with HIV. 
She said that many people in Myanmar still blame the victims of human trafficking. The public needs to be taught more about the issue, and more rehabilitation programmes for survivors should be provided, she said.
Daw War War Lin Tun, spokesperson for a coalition of groups known as the Network to End Trafficking, said educational programmes on human trafficking take place in larger cities but more needs to be done to educate people in hard-to-reach areas.
"Many cases occur in villages that we haven't heard of before, so we need to reach those communities," she told Frontier.
Another major challenge is finding decent paying jobs for survivors of human trafficking who have returned to Myanmar.
Today, Min Zaw is a casual labourer at a cement factory in Yangon's northern Shwepyithar Township, but his financial situation is so bad he is considering going abroad again.
"I hate the idea of it, but I need to make a living," he said.
The Network to End Trafficking has established a hotline to report suspected trafficking cases. It can be reached at 0949555666; 0949555777; 0949555888; 0949555999. Some names in this story have been changed.
TOP PHOTO: Ma Thu Zar, trafficked to China. (Win Zar Ni Aung | Frontier)