The government hosted a series of events last month to mark Anti-Trafficking in Persons Day but has come under criticism for not doing enough to help rescued victims recover from their ordeals.
By HEIN KO SOE | FRONTIER
IT'S NOT surprising that Ma May Oo, 20, has memories she would rather forget. She was trafficked to China for a forced marriage when she was barely 18.
She lives together with 15 other survivors of human trafficking at a centre that provides support for rescued victims of human trafficking, at Hmawbi, in northern Yangon Region.
The centre, run by an NGO, Thae Lo Myittar Yeik Mon, provides physical and emotional support to its residents, as well as vocational training. It receives no support from the government.
"We would like to stay happy and want to forget our past," said May Oo, who was trafficked to China for a forced marriage.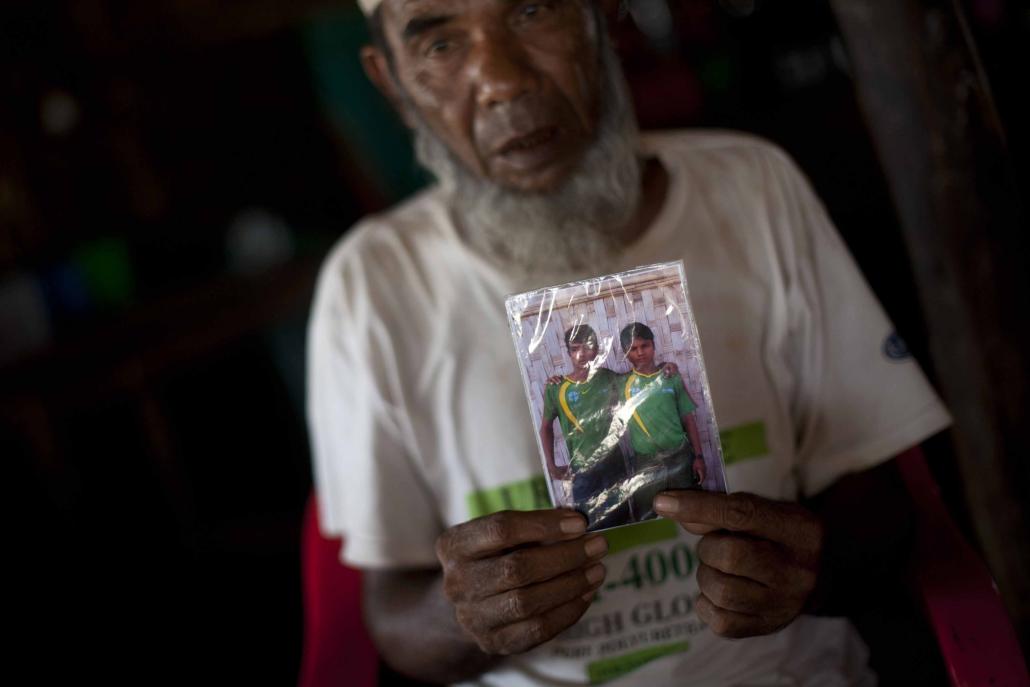 After she took the matriculation exam in 2014, May Oo was enticed by a neighbour to leave her Insein Township home for a visit to China – not realising the woman was a broker for a trafficking gang.
When they arrived in the border town of Muse, the broker sold her to a Chinese trafficking gang. She endured two years of forced marriage. In early 2015 she called China's anti-trafficking hotline to seek help, but was rebuffed because she was unable to speak Chinese.
By the middle of the same year she had learned more of the language and called the hotline again, explaining her plight. A joint operation between Chinese and Myanmar police eventually secured her release, and she returned home in January of this year. But she had to leave her child in China.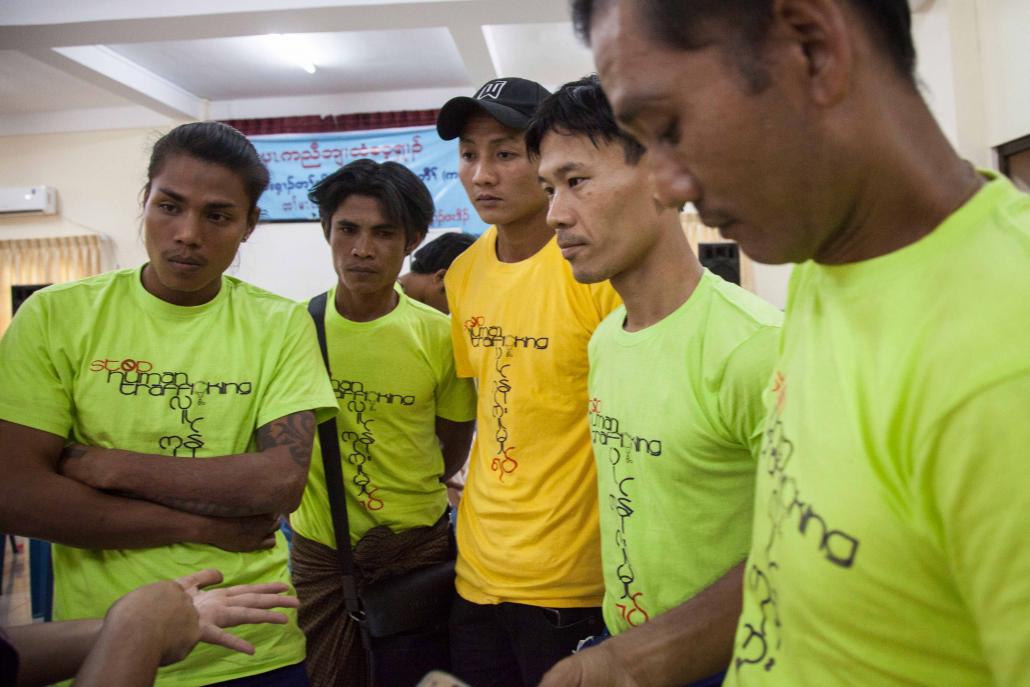 "We need more protection than other citizens," May Oo said, explaining why she welcomed being able to stay at the centre, which also shelters the rescued trafficking victims from stigma. "People criticise us because of our past," she told Frontier.
On September 13, Myanmar marked Anti-Trafficking in Persons Day, with government-organised ceremonies in each state and region.
Civil society groups said the official ceremonies shunted victims of human trafficking to the background and they organised their own event to mark the day.
It was held at the Karen Baptist Compound in Yangon's Ahlone Township and provided an opportunity for 24 trafficking victims, including May Oo, to share their experiences.
The event also included discussions about the impact on victims of being trafficked, the prospects of finding a job, and what the government needs to do to better help those who have been rescued. The organisers plan to send a report on the event to the government and stakeholders.
"There were no trafficking victims at the events organised by the government so they did not hear about the ordeals of those who survived," said Ko Toe Wai, who was rescued from forced labour in Thailand in 2015.
Figures from the Myanmar Police Force's anti-human trafficking taskforce show that most victims are women sold into forced marriage in China, with the second-biggest group sent to Thailand and Malaysia for forced labour. The third-biggest group is sold into the sex trade in China and Thailand.
Vice President U Henry Van Thio told the event in Nay Pyi Taw on September 13 that a third anti-trafficking campaign was being planned for the four years to 2020. The first was from 2007 to 2011 and the second from 2012 to 2016.
Despite the campaigns and the efforts of the anti-human trafficking taskforce, its figures show the number of cases continues to rise. The number of known victims in 2015 was more than double the 309 reported the previous year. In the eight months to August this year, 212 people were reported as being victims of human trafficking.
The head of the anti-human trafficking taskforce, Police Lieutenant-Colonel Thet Naung, told the event that the anti-human trafficking law was being updated and it was hoped to submit a draft to parliament by the end of the year, media reports said.
Thet Naung expressed disappointment that the taskforce did not receive greater cooperation from Thailand and other members of the Association of Southeast Asian Nations, as well as China, to tackle trafficking.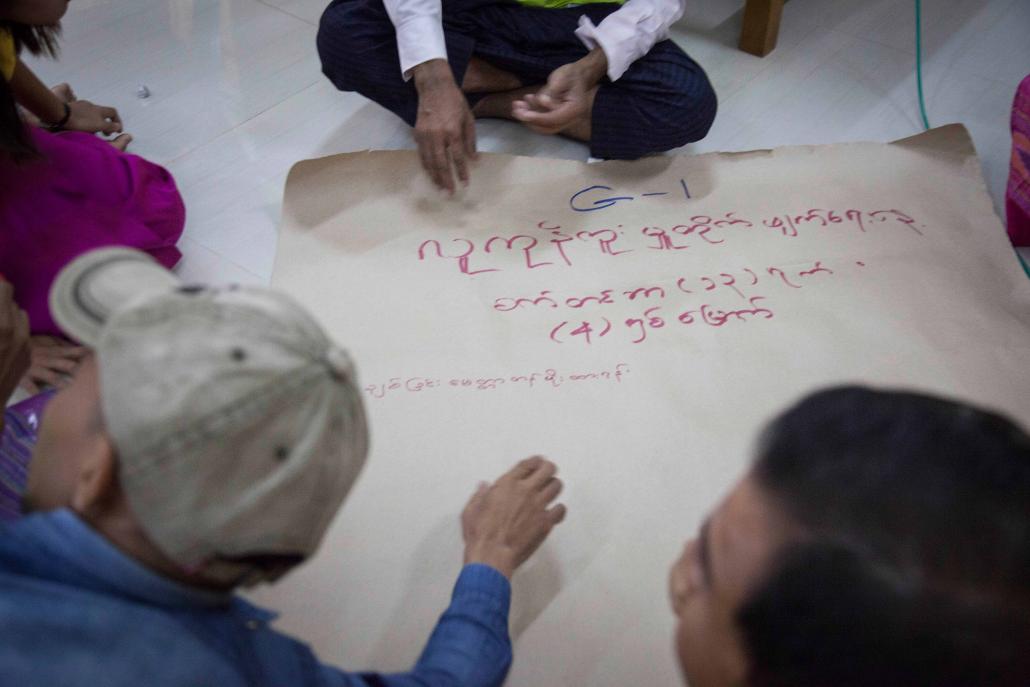 But Ma Ohnmar Ei Ei Chaw, an activist involved in assisting victims of trafficking, says the government is not doing enough to support their resettlement and rehabilitation.
Formerly with the United Nations Inter-Agency Project on Human Trafficking, Ohnmar Ei Ei Chaw is now head of Myanmar country operations with Issara Institute, a Thailand-based NGO focused on preventing trafficking among migrant workers.
"The government needs to focus more on resettlement and should listen to voices of those rescued from trafficking," Ohnmar Ei Ei Chaw said.
"Those who have been rescued face so many difficulties, as well as discrimination because of what they experienced," she said, adding that the number of reported cases was likely to be a fraction of the total number of victims.
The Ministry of Social Welfare, Relief and Resettlement has a rehabilitation strategy that includes community-based programs but it mainly benefits those with disabilities or former drug addicts.
Frontier contacted the Department of Social Welfare in Yangon about resettlement and rehabilitation support for victims of human trafficking but it declined to answer.
The government is under pressure from the United States to improve its performance on combatting human trafficking.
In its annual Trafficking in Persons report in June, the US downgraded Myanmar to the lowest, tier three, ranking of countries regarded as not doing enough to combat the evil trade.
Myanmar had previously been on the tier two watch list in the annual TIP report.
The Ministry of Foreign Affairs, which described the downgrade as "regrettable", said it would take into account recommendations made in the 2016 TIP report.
A US senator who raised the issue at a meeting with State Counsellor Daw Aung San Suu Kyi during her Washington visit expressed disappointment at her response.
Republican Senator Bob Corker said he raised the issue at the meeting with Aung San Suu Kyi and Vice President Joe Biden on September 14.
"While we certainly appreciate the work Aung San Suu Kyi has done to ensure a democratic transition in Burma, I am somewhat appalled by her dismissive reaction to concerns I raised this morning about the problem of human trafficking in her country," Corker said in a statement after the meeting, Reuters reported.
"After witnessing her lack of regard for Burma's dismal track record on this issue, I plan to pay very close attention to her government's efforts to prevent innocent human beings from being trafficked and sold into forced labor and sex slavery," said Corker, chairman of the Senate Foreign Relations Committee.
Washington newspaper Roll Call quoted Corker as saying that he found Aung San Suu Kyi to be "somewhat arrogant about the issue and dismissive, and I was very put off by her lack of concern".
Survivors of human trafficking are also disappointed by the government's response and say it should do more to tackle the problem and pay more attention to addressing the difficulties they experience after they return to Myanmar.
Ma Poe Myar, manager of the Thae Lo Myittar Yeik Mon, said she was unsure what Aung San Suu Kyi had said in the US. But she insisted that tackling human trafficking must be an "urgent" priority for the government, and that it should work more closely with NGOs on the issue.
"The number of cases is rising each year. The government should be working to resolve it," she said. "We need government support and cooperation to fight human trafficking. We have many problems helping victims because some officials don't want to work with us."
At the event arranged by CSOs at the Karen Baptist Compound on September 13, most of the rescued victims declined to discuss their experiences with Frontier because they said they did not want to re-live their ordeals.
May Oo was no exception.
"I never want to think about the bad past," she said. "I just want to live happily in society without discrimination."
Top photo: Ma Mar Tuu holds a photograph of her sister, Ma Kyi Pyar Soe, who in April was traf cked from her home on the outskirts of Yangon to China for a forced marriage. (AFP)