A widespread belief in spirits and the supernatural in Myanmar is keeping members of a sect busy bringing comfort to the possessed without causing physical pain.
By HTUN KHAING | FRONTIER
IN SEPTEMBER, a group of about 20 girls at a government high school in a village in the heart of the Ayeyarwady Delta began exhibiting strange behaviour.
The girls, students at the school in Shan Ye Kyaw village, about 27 kilometres south of Myaungmya town, displayed physical and mental symptoms. They were exhausted, with chills in their fingers and toes, and they seemed to have lost control of their mind, shouting and making other unusual noises.
Their behaviour persisted for weeks. The government sent psychologists and psychiatrists to the school to investigate.They diagnosed the girls as suffering from mass hysteria and prescribed medication.
But parents of the hundreds of students at the school believe there was another reason for the behaviour: possession by evil spirits.
They suspected that spirits possessed the girls because they were angry about an expansion project at the school last year that resulted in classrooms being built on a former cemetery. According to this theory, the ghosts of the dead wanted revenge for having been disturbed.
Such was the level of concern that soon the Ayeyarwady Region Chief Minister, U Mahn Johnny, was involved. He visited the school on October 25 and ordered the evil spirits to leave. His guards then fired guns into the air to frighten them away.
However, the girls showed no improvement, and the parents at the school became increasingly worried.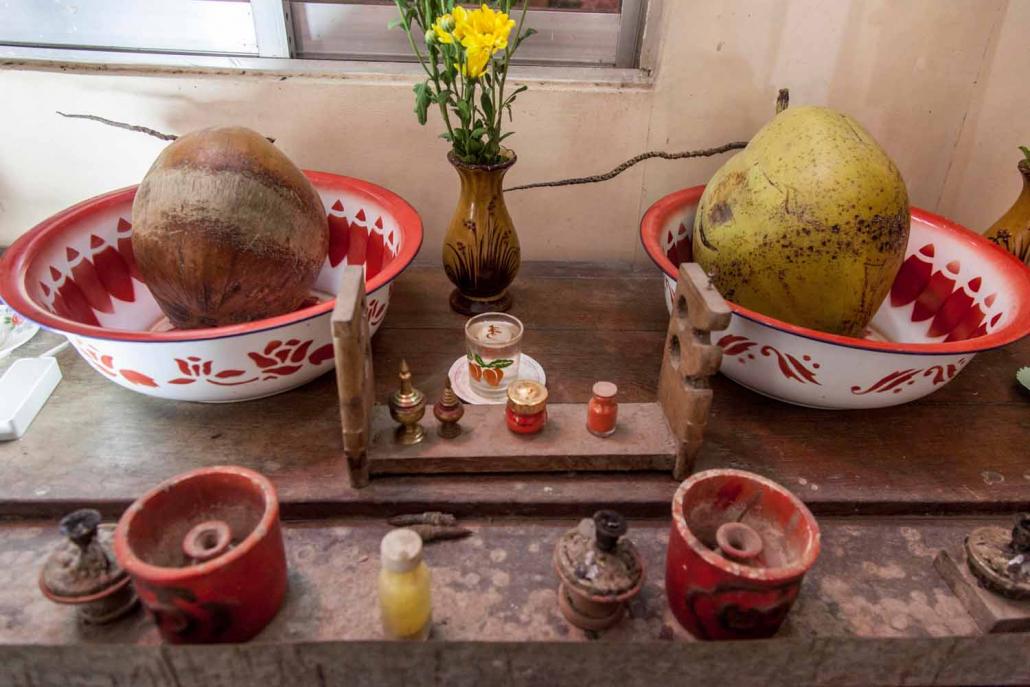 It was at this point that U Khin Than, a member of the well-known ghost-busting Shwe Yin Kyaw sect who lives in Yangon's outer eastern Thaketa Township, read about the girls' plight on Facebook. He knew his skills as an exorcist were needed.
"I felt I needed to go there to solve this problem," he told Frontier.
He spent three days in the village, communicating and negotiating with the evil spirit via the patients. Whether through his efforts or those of the mental health specialists sent by the government, or a combination of both, the girls' behaviour returned to normal.
But Khin Than has no doubt it was his efforts that succeeded in exorcising the evil spirits.
Although the Shwe Yin Kyaw sect is controversial among disbelievers, superstition and belief in the supernatural is widespread in Myanmar. In many parts of the country, when people suspect that malevolent spirits are active, the first person they call is a member of the Shwe Yin Kyaw sect to arrange an exorcism.
"We follow strict rules of procedure," said U Zaw Min, a member of the sect, which is also known as Eiksathaya Maheidi Shwe Yin Kyaw.
The sect features only laypeople and has no centralised structure; senior followers cannot say how many adherents there are. Groups are spread around the country, clustered around prominent members like Khin Than.
"We provide treatment only if requested by the patient or guardian of the patient," Zaw Min said.
"We determine if a patient is really possessed by an evil spirit or if they are pretending, by using the method prescribed by the sect."
Sect members take an oath before they try to cure a patient and it includes a vow not to commit adultery, consume alcohol or eat beef, Zaw Min said.
"If we confirm that a patient has been possessed, we have to determine how that was achieved. In some cases the disturbance is the result of evil spirits, but in others it is the work of magicians," he said.
"In one of my cases, I discovered that a man was being disturbed by a magician because he had accidentally spat betel on the magician in a teashop."
Khin Than believes it was a magician with the ability to manipulate evil spirits who was responsible for the outbreak of mass hysteria among the girls at Shan Ye Kyaw BEHS.
As well as countering malevolent spirits, Shwe Yin Kyaw sect members believe they can heal the bite of venomous snakes, as well as scorpions.
"Most of the cases involve snake bites, but we also give assistance to victims of scorpions," Zaw Min said.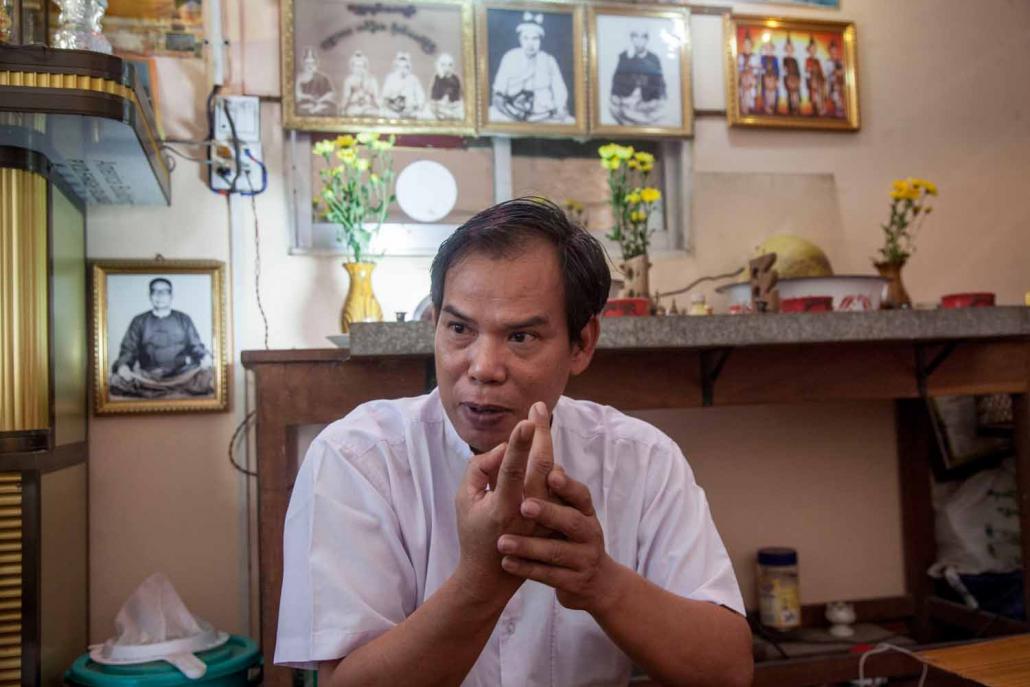 He explained that the Shwe Yin Kyaw sect is based mainly on Buddhism. "Followers must follow Buddhist discipline and only those who show strong enthusiasm are admitted as members," he said.
Sect members are graded from level 1 to 9. Levels 1, 5 and 9 are regarded as the most important, because they represent the starting point, mid level and master status. When adherents attain these levels they typically mark the milestone with a donation ceremony, at which they offer coconut and banana to a senior Shwe Yin Kyaw member who has passed away.
The origin of the sect is unclear, though some believe it was started by a son of King Alaungphaya, the founder of the Konbaung Dynasty who reigned from 1752 to 1760.
In 1974, Shwe Yin Kyaw members gathered at a monastery in Yangon's Ahlone Township and decided to upgrade the sect's organisation and introduce advanced techniques.
Adepts have provided a community service for centuries – one that is invariably appreciated by those who believe in spirits.
Sometimes belief in the supernatural can have horrible consequences, though. A rogue exorcist went on trial for murder at Twante in the Ayeyarwady Delta last month over the deaths of three young children. The two girls, aged eight months, and two years, and a boy aged three years, suffered fatal injuries while being punched and kicked.
In contrast, Shwe Yin Kyaw practitioners never hit their patients, sect members said. Instead, they rely on their ability to conjure invisible guardians with the power to heal the afflicted – and banish the evil spirits that many people believe lurk within.