Growing interest in health and fitness, especially among the young, is supporting a rise in venues for playing futsal and pumping iron, but entrepreneurs say profits are slim.
By KYAW LIN HTOON | FRONTIER
U Kyaw Naing initially considered building a restaurant or guesthouse on his empty plot of land in ward 21 of Yangon's South Dagon Township. But the 48-year-old, who has lived in the area since long before the military turned it into a satellite township in the early 1990s, decided he wanted his first business venture to make a positive contribution to his community.
"The main reason for developing the land was to support my family," said Kyaw Naing, who is a government employee. "But I also wanted the youth in this area to play sport as part of their daily or weekly routine."
Kyaw Naing had noticed that most young men in the neighbourhood spent their evenings at the teashop, as they often do throughout the country. He decided to build a caged, open-roofed court for futsal, a type of five-a-side football played on a hard-surface pitch.
"What I saw is that they were playing games on their mobile phones and the older boys were going to beer stations every day," he said. "But since my business opened one-and-a-half years ago, most of them have become dedicated futsal players."
High inward migration from the countryside has seen Yangon's population grow rapidly in recent decades, to 5.2 million at the time of the 2014 census. New areas such as South Dagon have been created to cater to this growth, but sporting enthusiasts, health experts and urban planners say facilities devoted to fitness and recreation have not kept pace.
Ko Phyo Wai, 36, a father of two who lives in Yangon's Thaketa Township, said of the city's residents, "How many are able to play sport at venues such as futsal courts or tennis courts, or swimming pools or gyms? I think there couldn't be more than a few thousand. We need to have more spaces for sport."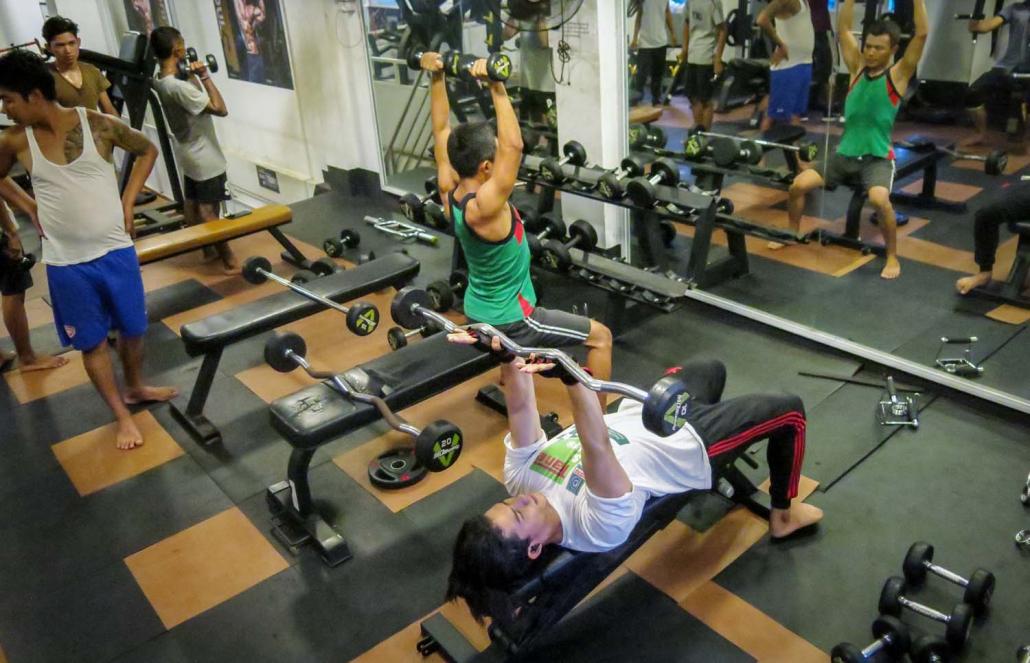 Nonetheless, in recent years there has been a gradual increase in the number of privately run futsal courts, gyms and other sport venues being built in Yangon's outer townships. For the owners, these appear to be mostly a labour of love. The owners of some futsal courts and other fitness venues, most of which have opened in the past three years, told Frontier they are yet to make a profit.
Daw Thinzar Myo, 43, who is the proud owner of a fitness centre with a gym in North Okkalapa Township, said returns on investment can be slow, but she doesn't mind. A single woman who said she has no ambitions of wealth and likes to live frugally, Thinzar Myo described the fitness centre as the ideal business for someone like her who wants the benefits of good health and fitness to be spread more widely in society.
She recalled the "luxury" gyms that catered to the wealthy about 20 years ago. "At that time, I remember that gyms and fitness centres were mostly opened in hotels, and the prices were so high," she told Frontier.
Thinzar Myo said customers came to her fitness centre for a range motives. "Some may want to lose weight, while others might want to bulk up," she said. "Whatever the reason, they will all get the same benefit: healthiness."
Ko Nay Min Thu and his friend invested K40 million to build an open-air futsal court that opened in North Dagon Township two years ago. They pay rent of K500,000 a month for the site because they could not afford to buy land in their preferred location. The hourly fee for renting their futsal court is between K10,000 and K15,000.
"My friend and I are doing this business because [football] is our hobby," Nay Min Thu told Frontier. "When we were young we were passionate about playing football, but there were few proper pitches near where we lived. We don't want the younger generation to suffer the way we did."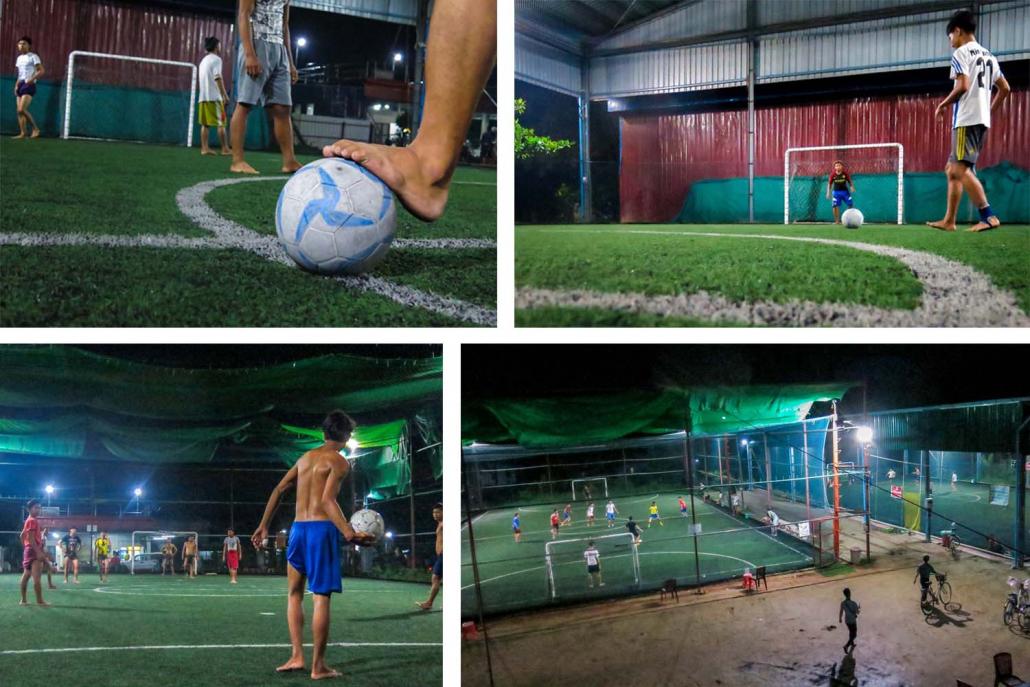 The emergence of fitness and sports as a growth industry reflects an increasing awareness, especially among young people, of the health benefits of regular exercise.
The Su Myat Fitness Centre in South Dagon opened eight months ago and its manager, Ma Yu, says it now has more than 100 members who attend regularly.
"Although they are living in this kind of [low income] suburb, our members are quite disciplined about coming to the gym and doing their workouts every day," she said.
The well-equipped, three-storey centre charges a monthly membership fee of K30,000, meaning its members should be generating revenues of K3 million a month. The company owns the property, and the estimated monthly cost of paying the centre's five trainers is at least K1 million, but the manager would not divulge the amount they had invested.
Kyaw Naing claimed that futsal had kept young people in his neighbourhood from engaging in anti-social behaviour, and that this social dividend was more important to him than any monetary return on his investment.
It didn't happen overnight, though. When Kyaw Naing first built his court, young people spat betel juice everywhere and some brought beer to the venue, he recalled. "I didn't scold them; I told my employees to keep cleaning up after them and not to say anything." He said his patience and understanding had been rewarded by a marked behaviour change in players and their supporters.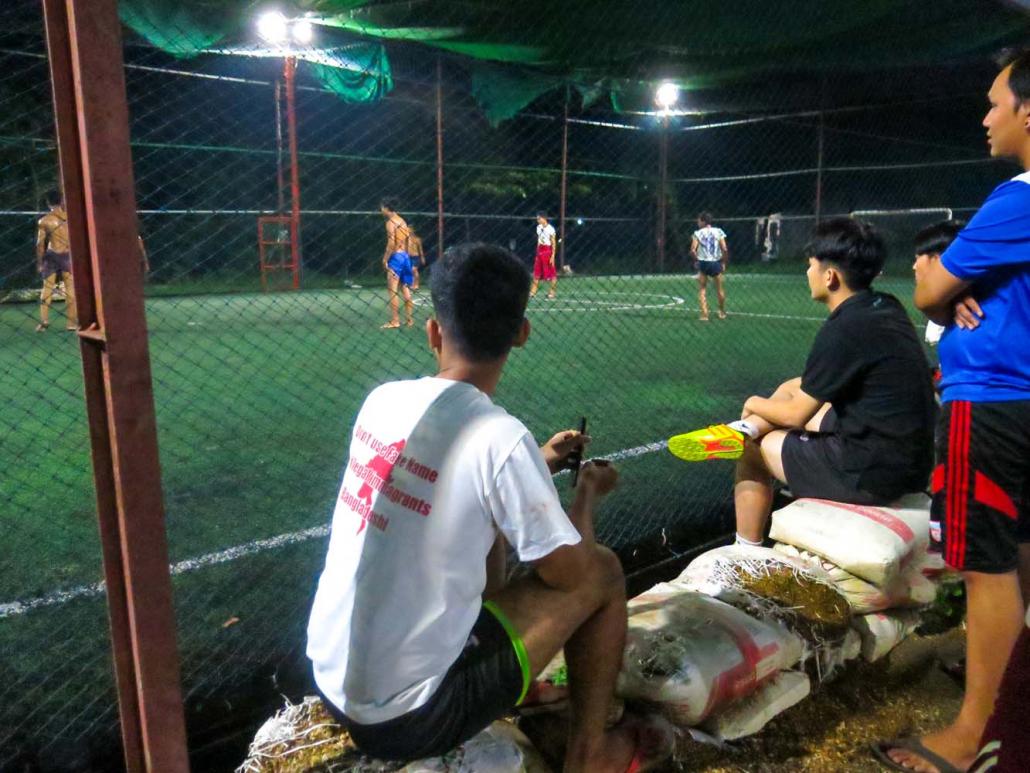 Six months ago, Kyaw Naing built a second futsal court, an improvement on the first with steel posts and a high roof, but he didn't stop there. Rather than worrying about profit and loss, he decided to build a small annex behind the new court, and installed table tennis facilities and exercise equipment.
Ko Pyae Sone Win, 29, an amateur futsal player who lives in inner Yangon's Mingalar Taung Nyunt Township, is delighted by the increasing number of venues for the sport, but says more are badly needed in the commercial capital.
He wants the government to encourage and support sport and fitness activities by adopting two measures. The first is to ensure that children have more opportunities to become involved in sport when they are at school and the second is to support the building of more facilities for public use.
If that happened, Pyae Sone Win said, "All the people throughout the country will be able to do sport in their daily life."
TOP PHOTO: Yangon residents work off their fried rice lunches at a gym in South Okkalapa township. (Kyaw Lin Htoon | Frontier)