Non-communicable diseases such as diabetes, cancer and alcoholism cause the most death and suffering in Myanmar, but with causes as numerous as they are complex, it requires more than doctors to treat them. 
By JARED DOWNING | FRONTIER
WHAT do a heroin addiction, type-1 diabetes and a leg lost in a car crash all have in common?
You won't catch any of them.
That sounds like a bad joke, but in the medical world, non-communicable diseases (NCDs) – that is, any ailment which cannot be passed from person to person – are deadly serious.
NCDs kill 38 million people per year, the World Health Organization reported in 2015. Almost three quarters of these deaths occur in low- and middle-income countries. In Myanmar, NCDs account for nearly two-thirds of all suffering caused by a health condition, according to the collaborative Global Burden of Disease Studies.
Yet, within the development community, NCDs are often made the lowest priority, said Dr Jamie Uhrig from the Kyannmar Initiative, which works to raise awareness of and find solutions for NCDs in Myanmar.
Organisations and governments are more likely to address more quantifiable, containable illnesses.
"There has been a massive international and domestic resource mobilisation for AIDS, malaria, tuberculosis," he told Frontier in a recent interview. "They are politically popular."
Without relatively straightforward causes, such as a virus or a parasite, non-communicable conditions are as varied as the cultural, economic and behavioural conditions that cause them.
In February, the Kyannmar Initiative invited professionals working in a wide range of sectors to develop strategies and solutions for addressing NCDs in Myanmar. 
Participants in the three-day Kyannmar Initiative Blitz included doctors, teachers, local politicians, religious leaders and at least one reggae singer. Their fields ranged from family planning and HIV education to urban poverty. Yet in each area of expertise, NCDs were ever-present in the lives of their clients and communities.
The first order of business was why the term "non-communicable disease" even exists at all.
"We're simply talking about 'everything else'," Uhrig explained.
In 2009, the World Health Organization formed the Global Noncommunicable Disease Network (NCDnet), which identifies four main categories: cardiovascular diseases, cancers, chronic respiratory diseases and diabetes.
However, the Kyannmar Initiative Blitz also included a focus on mental illnesses such as anxiety and depression, sudden onset conditions such as drowning and road injuries, and even domestic abuse.
The first research that attempted to quantify the impact of NCDs began in the 1990s. This impact was measured in metrics like quality-adjusted life years (QALYs), disability-adjusted life years (DALYs) and total years lost due to disease (YLDs). Studies soon showed that non-communicable conditions account for far more of the global disease burden (what Uhrig calls the "suffering map") than infectious diseases.
But since NCDs are linked to environmental and behavioural causes rather than germs or parasites they are normally approached from an economic and social development standpoint. Uhrig argues though that NCDs should not be less of a medical priority just because the causes are complex and often difficult to trace.
Addressing the example of obesity, he said: "Food is culture bound: what foods we eat and what foods are available. There is a science of what is individual, and what is due to the context. A 12-year-old girl, what she eats is largely determined by what her mother puts in front of her. Is that a 'lifestyle choice'?"
Unfortunately, the roots of most NCDs are broad and complex, and stretch from medicine into the realms of economics, politics, sociology and any number of other fields.
For this reason, at the Kyannmar Initiative Blitz, an NGO director found himself brainstorming with teachers and monks.
"Things like hypertension, asthma – they are definitively much more relevant than we thought," said U Sid Naing, country director for Marie Stopes International, which operates family-planning clinics and conducts women's development projects in rural communities.
Sid Naing pointed out that the women and families he works with have unique and complex backgrounds; serving them usually means addressing issues that are not in his organisation's stated purview.
"We work also on psycho-social support. We have gender-based violence survivors and work in disaster-affected communities. People have mental health issues," he said.
For Sid Naing, the event was an opportunity to network and potentially share resources with professionals in other fields. But the brainstorming exercises – in which, for example, a dentist, a lawyer and a monk might tackle a problem together – helped him approach longstanding challenges in new ways.
"We have around 60-plus people from different backgrounds and different responsibilities and different interests," Sid Naing explained. "What I'm really learning is not about facts, but from people sharing their own opinions."
He cited, as an example, the idea a "robot doctor", which came up during the discussions.
"[It] sounds crazy, but … many basic elements of healthcare could be quite mechanical and maybe taken care of by, in this case, robots. But being from the healthcare profession, we would never robotise ourselves."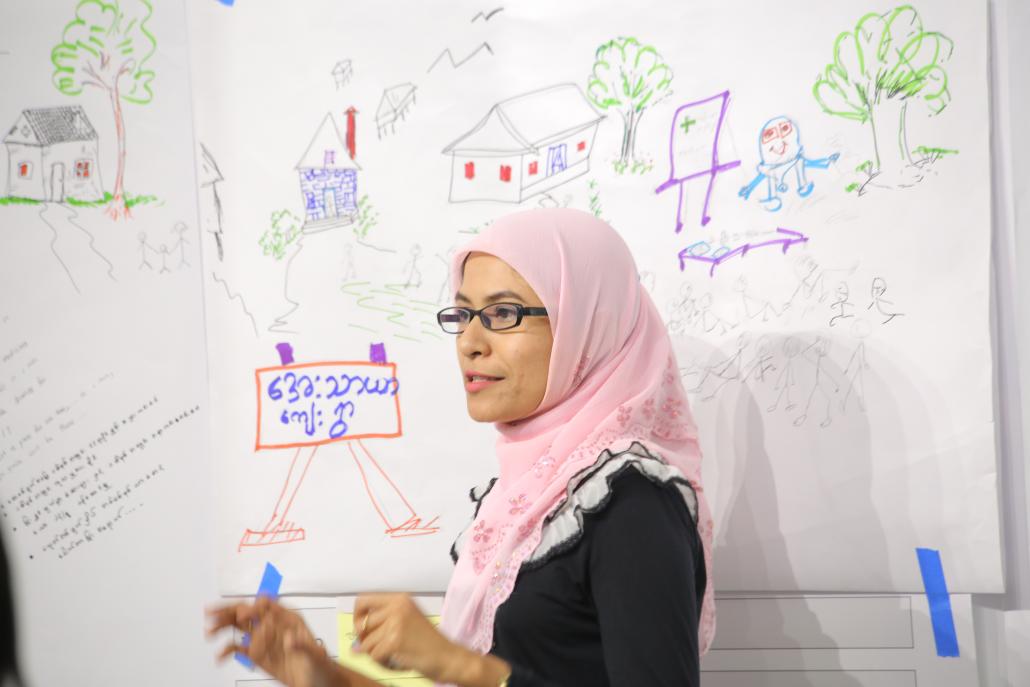 Bringing people together from all across the development map is essential for tackling a problem as broad and complex as NCDs, said program designer Mr Nikolai Greg Galle.  
Galle's background is in management and consulting, not medicine or development. He founded a software innovation and services company called Future and has spent more than 30 years conducting talks and workshops for clients ranging from Fortune 500 companies to small civil society organisations.
He argues that to address any non-communicable disease one must step out of their own field. Unlike ailments like HIV, malaria or typhoid, which have relatively identifiable causes, NCDs arise from a vast, complex network of cultural, socioeconomic and behavioural factors.
"Our system is called 'Think Wrong'," Galle continued. "It's a [training] system designed to help people escape the status quo and think of new solutions that are strange or abnormal."
One Think Wrong exercise is called "Matters Most", in which group members write down what they consider to be the eight most important agents in the fight against NCDs. They then stick their answers to a common poster.
When this was done at the Kyannmar Initiative Blitz, the posters were at first covered with dozens of post-it notes, each with different answers, including "doctors", "pastors", "drug users", "NGOs" and "members of parliament". Then, through discussion and negotiation, the participants gradually narrowed down the answers, forcing each person to think outside his or her own paradigm.
Many medical experts and development professionals were surprised to find themselves collaborating with reggae singer Saw Poe Kwar, who attended the event in full green, red and yellow regalia.
Saw Poe Kwar said he suffers from chronic stomach issues brought on from a life of eating unhealthy street food, but he is also particularly interested in road injuries – a growing threat as more cars enter Myanmar roads.
He attended the Kyannmar Initiative Blitz to learn about these issues, help find solutions and then spread awareness to the public through his music and performances.
"One of the most interesting things I learned was how to discuss with people," he said. "Sometimes I would spend a long time arguing with someone only to realise we were both making exactly the same point, just in a different way."