Refugees in Bangladesh recount the burning of their homes and killing of their relatives, allegedly at the hands of soldiers and Rakhine vigilantes.
By OLIVER SLOW | FRONTIER
Photos STEVE TICKNER
WHAT IS most striking is the consistency of their testimonies.
In more than a dozen interviews conducted in refugee camps in Bangladesh in late September, former Muslim residents of Min Gyi – which they call Tula Toli – told Frontier that Tatmadaw soldiers, accompanied by Rakhine vigilantes, came to their village on August 30. They then torched houses and killed scores of people; the violence lasted for three days, they said.
Min Gyi is several hours north of Maungdaw town, nestled into a kink of the Purma River, which winds its way through northern Rakhine. The village is about a dozen miles east of the seemingly endless refugee camps that have sprouted up in southern Bangladesh since late August, and where these interviews were carried out.
It is surrounded on three sides by the river – to the north, south and east – and the only way to enter, or leave, the village is through the forests to the west.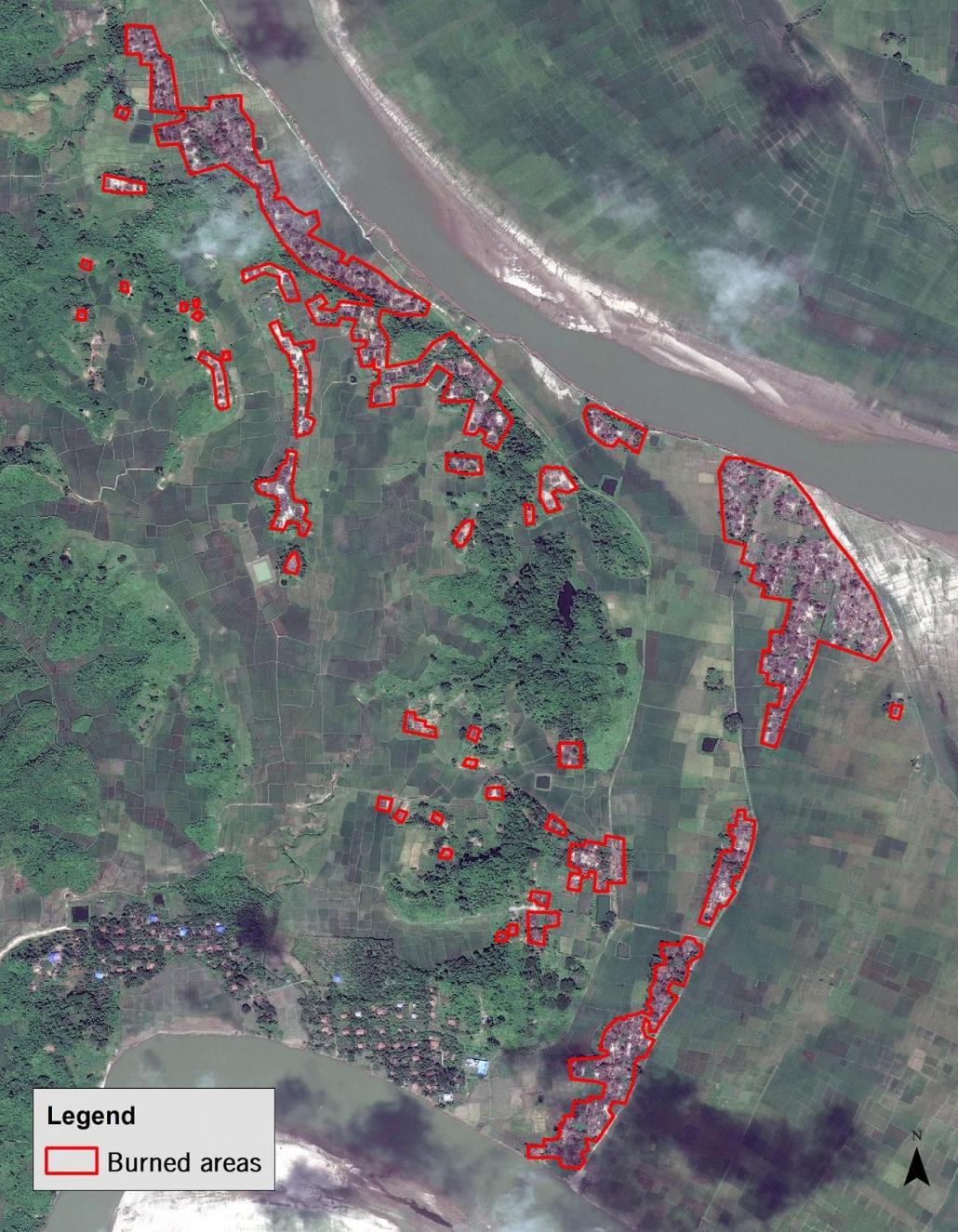 Min Gyi had once been a mixed village. While the exact demographics of Min Gyi before the exodus are unclear, one villager in Bangladesh told Frontier that it had been home to about 300 families, of which 60 had been Rakhine and the rest Muslim.
Just over a year ago, relations between the Muslim and Rakhine were generally amicable. Like most villages in this picturesque but deprived corner of the country, residents survived through farming or fishing. For the most part, Rakhine and Muslims lived and worked peacefully side by side.
Then their lives were upended.
"Things changed after October 9," said Mohammed Rashid, 50, referring to the 2016 attacks launched by the Arakan Rohingya Salvation Army on Border Guard Police posts, which announced the arrival of a new and even darker chapter to the dynamics in northern Rakhine. "After that, the military came to the village and arrested innocent people, saying they were involved with the militants."
The village chief
A name that would crop up consistently in interviews was a Rakhine man who was village leader of Min Gyi (Frontier has not named him because he could not be reached for comment).
Villagers recounted numerous interactions with him prior to the second ARSA offensive on August 25. All seemed to include some sort of threat.
Some said he had threatened to kill all Muslims in the village. Others said he told them that if they took part in the government's National Verification Certificate process and identified themselves as Bengalis rather than Rohingya, then all Min Gyi residents could live peacefully side by side.
A few days before the soldiers arrived in Min Gyi on August 30, a nearby village was set alight, forcing its residents to flee. Several interviewees said that the village chief reassured the Muslims in Min Gyi that they had nothing to fear if the soldiers came.
"He told us we don't need to go anywhere," said Amin Khartoum, 22, who is now staying at the Kutupalong refugee camp in Bangladesh. "He said that if the military came, we should take shelter at the river bank. We went to the forest, but those who listened to him, they died."
Among those to flee into the forest was Mohammed Islam, 40. On August 30, he said he had been visiting a nearby village and was returning to his home in Min Gyi when he came across a neighbour.
"They told me the village was being burned, that people were being killed," he told Frontier, his eyes filling with tears.
He joined his neighbours and ran to a nearby hill in the forest, on the west side of the village.
"I watched everything," he said. "My wife and three children were killed."
On the river bank
During the interview, Mohammed Islam's 10-year-old daughter Nor Kaida sat beside him. As her father spoke she stared blankly ahead, tears streaming down her cheeks.
She had been at her home with her mother and brothers when the soldiers entered Min Gyi. She ran with them to the riverbank, she said.
"When the military reached us, they divided us into two groups: male and female," she said. "The military told the men to dig a hole. After that, they were shot."
A group of women were then taken to nearby houses. According to witnesses Frontier interviewed, as well as other journalists and monitoring groups researching what happened at Min Gyi, the women were raped and severely beaten before the houses were torched with the women inside.
Some women are said to have escaped the buildings and are now receiving treatment in hospitals in Bangladesh, but this could not be independently verified.
Those who remained on the riverbank were then told to lie on the ground, Nor Kaida said.
"The military then told us to stand up. Some people jumped into the river, so I did too." she said.
Nor Kaida said she swam for about an hour, before returning to shore. After some time, she eventually came across her elder sister, who lived in a nearby village with her husband. (Mohammed Islam said this daughter had also fled to Bangladesh with her family, but Frontier was unable to locate her among the hundreds of thousands of refugees.)
Asked how she felt at that moment when she found her sister, Nor Kaida said: "I just cried. I shouted. I said, 'My mum is dead. My siblings are dead.'"
Conflicting accounts
Speaking by telephone on November 10, government spokesperson U Zaw Htay told Frontier that a total of eight clashes had broken out in the area close to Min Gyi village on August 30.
Citing military reports, he said that a military unit had been staying in the area, when it had come under attack by an unspecified group, leading to the fighting to break out.
The Tatmadaw has denied that its personnel committed any wrongdoing during its northern Rakhine operations in late August and early September.
On November 13, a statement was posted to the Facebook page of the military's commander-in-chief saying that an investigation by the Tatmadaw True News Information Team had found "there was no death of innocent people" during the operations.
The investigation was headed by Lieutenant-General Aye Win, the Inspector General of the Defence Services, and included interviews with more than 3,000 villagers in northern Rakhine, including 2,817 "Bengalis", a term the military uses to describe the Muslim minority.
"They [security forces] did not commit shooting at innocent villagers and sexual violence and rape cases against women. They did not arrest, beat and kill the villagers," the statement said. "They did not totally destroy, rob and take property, gold and silver wares, vehicles and animals of villagers from the villages and displaced villages. They did not set fire to the mosques in Bengali villages. They allow (sic) the Bengali villagers to perform their faiths in freedom without banning them to attend the mosques and join prayers."
The statement added that all security members were following the orders of "superior bodies" especially in rules relating to the rights of self-defence and in conducting anti-terrorist operations.
It said that in 94 clashes between August 25 and September 5, 376 alleged ARSA members were killed and 78 arrested. The government's death toll from the fighting was 13, with 15 injured and one missing.
However, the statement came in for criticism from several quarters.
Dutch diplomat Ms Laetitia can den Assum, a former member of the Advisory Commission on Rakhine State, headed by UN Secretary General Mr Kofi Annan, which concluded its work in August, said that the report "reinforces the dire need for an independent and impartial investigation" into what happened in northern Rakhine, including listening to the more than 600,000 refugees who have fled to Bangladesh.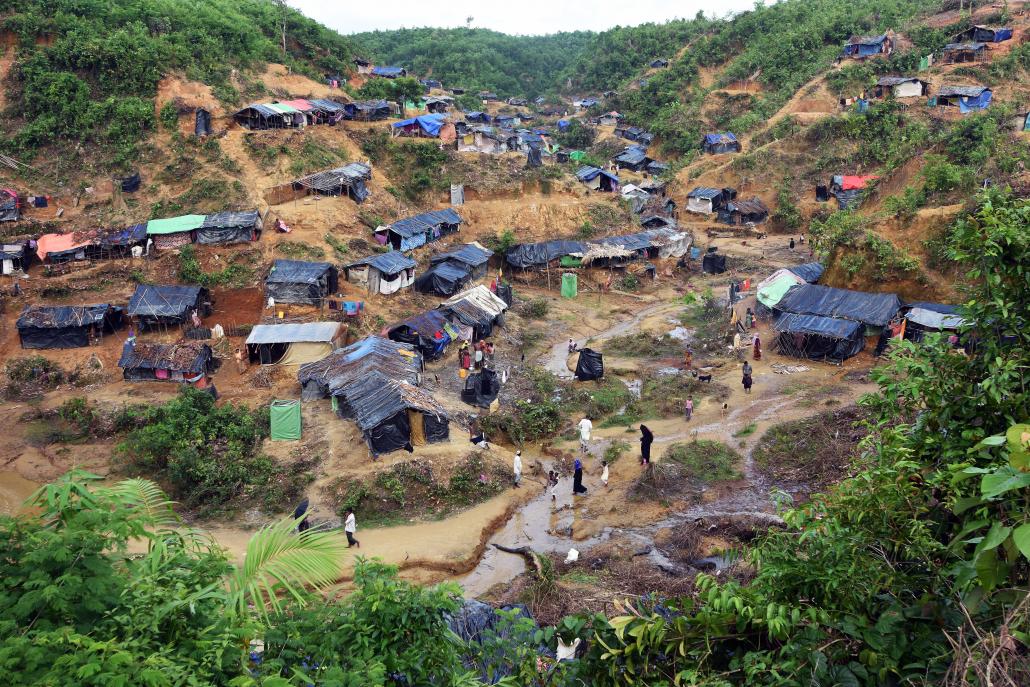 "There is a remarkable consistency in the testimony by refugees, and hospital records in Bangladesh indicate that a large number of them have presented bullet wounds and other serious injuries," she told Frontier by email on November 14. "Credible reports on sexual violence indicate that many women suffered tremendously. This cannot just be ignored."
The incident at Min Gyi has been documented by human rights groups and other media outlets, including The Guardian, CNN and the BBC. It is also documented in Fortify Rights' report They tried to kill us all, which was published on November 15. The findings documented in that report are consistent with those Frontier heard.  
Amnesty International and Human Rights Watch have also released satellite imagery showing the widespread burning of villages in northern Rakhine.
In its October report My world is finished, Amnesty released satellite images of Min Gyi, comparing shots taken on September 22 with those captured on May 25 (see map). The later image showed a pattern of burning along the southern shore of the river in the north of the village, and to a row of houses running north to south.
The report suggests that targeted burning took place on the houses belonging to Muslims.
"In Min Gyi, Rohingya residents described their houses as being near the river, while the ethnic Rakhine lived at a higher elevation, in the southwestern part of the village," said the report. "This, too, matches what the satellite imagery shows in terms of the targeted burning of Rohingya areas."
One of the burned houses belonged to Haj Jaford Alam, 75. Many of the relatives he shared it with were killed in the attacks, he said.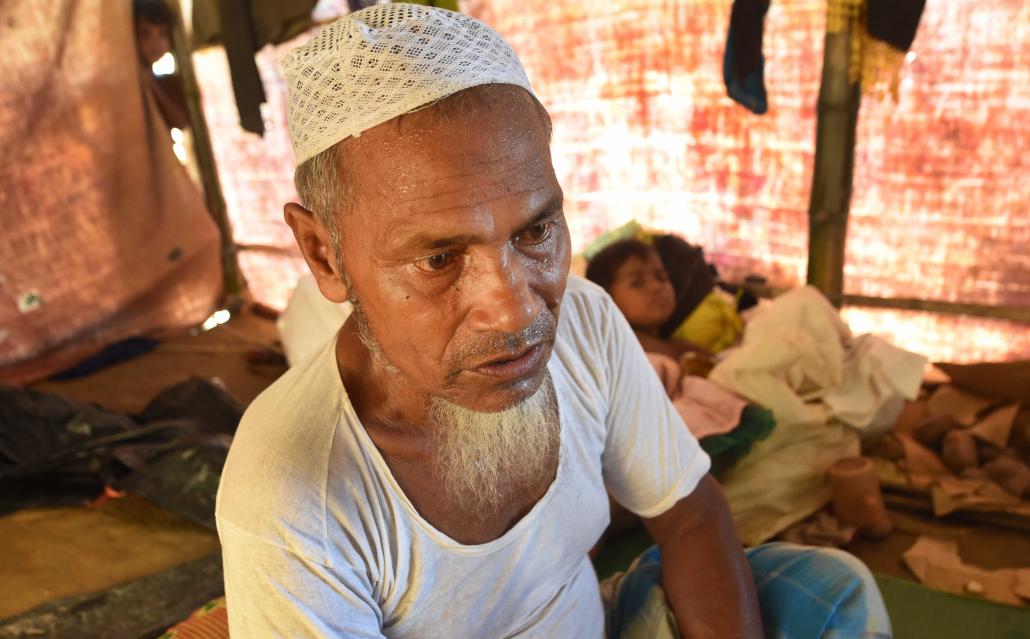 Asked if he wanted to return to Min Gyi, he said he would if his people were given back their rights.
"We had our rights before," he said, having to stop the interview several times to compose himself as he fought back tears. "In the past, I was the chairman, I had rights. If they accept us, we will go back.
"This is all we are asking of the world, that we get back our rights. Because we have nothing."
Additional reporting by Mratt Kyaw Thu.