First-hand accounts of criminal acts spread on social media are fuelling perceptions of a crime epidemic, even though police say crime has not markedly increased.
By HTUN KHAING | FRONTIER
BUSINESS IS normally slow during the rainy season for Ko Than Htaik, a key cutter and padlock repairer who runs a small shop near Tarmwe Junction. Not this, year, though – he's struggling to keep up.
"Some customers are asking me to cut 10 or even 15 keys," he said. "They've put a new gate in at the entrance to the stairway of their apartment building and need to give a key to each apartment owner." 
There's a good reason for the extra caution. Yangon is in the grip of a crime wave – or, at least, that's what everyone seems to think.
Every day, stories of brazen robberies, violent assaults and brutal murders are spreading through social media, primarily Facebook. These raw, first-hand accounts of brushes with hardened criminals are striking fear into hearts of the city's residents.
In one recent example, a former police officer, his wife and two sons were found dead in their home in Mingalardon on August 20. Photos of the victims were shared through Facebook. Nearly two months on, police are yet to crack the case.
But the reports are not just from Yangon. Two days later, on August 22, three people, including two children aged 12 and 10, were found dead in the Shan State capital Taunggyi. Police have since arrested the victim's boyfriend on suspicion of murder.
The 7Day News post about the killing was shared more than 3,300 times. Many users responded with comments about the apparent impotence of the Myanmar Police Force. "This news annoys me – what's happening to our country? It looks like people have to take care of their own security. It's very scary," wrote one user, Ko Ko.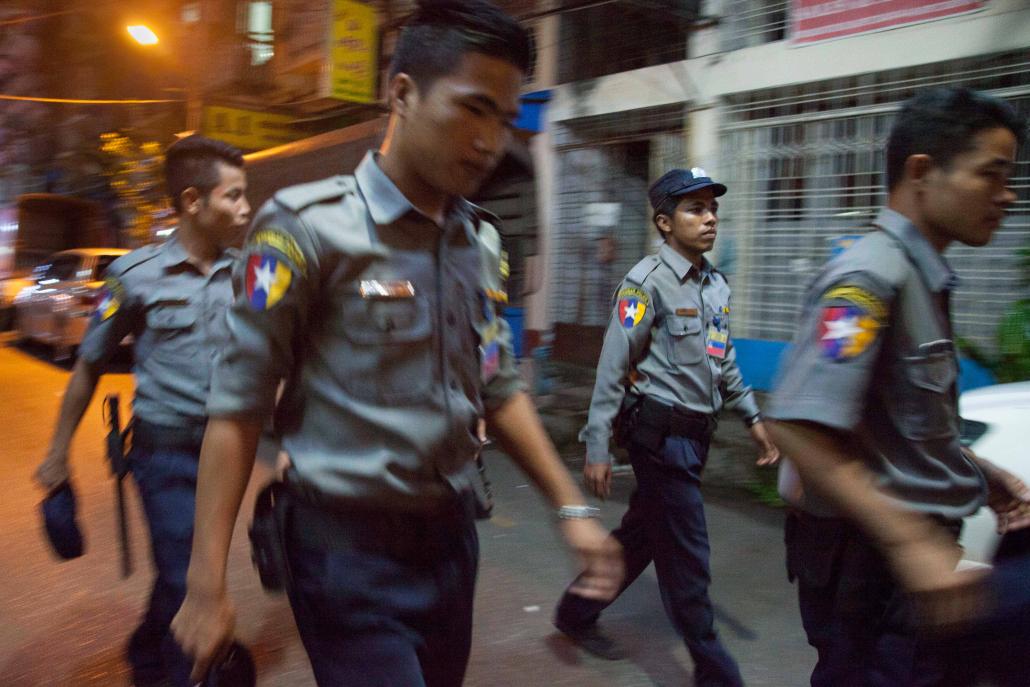 Police officers conduct night time patrols in Yangon's downtown area. (Theint Mon Soe — J / Frontier)
As a result, people are taking extra precautions – which is good news for Ko Than Htaik's business. "Apartment dwellers are taking care to lock their iron gates, so they need to get duplicate keys," he said.
A key factor in this supposed crime wave is the spread of information. The military government's strict censorship regime meant that it was rare for news of violent crimes to be published in local newspapers.
The Myanmar Police Force's Hmukhinn Journal, meanwhile, only published cases about cases that had been solved. It made no mention of the many other crimes for which nobody was ever caught.
In August 2012, state censorship was lifted on private publications. But many continued to rely on the police force for their crime news.
The big change came in 2014, when foreign mobile phone operators Telenor and Ooredoo entered the market. As a result, the price of a SIM card – which had been as high as K1.5 million in 2010 – fell to just K1,500, putting a mobile phone within the reach of nearly every household.
The most recent government figures show 43 million active SIMs, of which more than half are using data regularly. As a result, Myanmar has about 11 million Facebook users – more than 20 percent of its population – and unfiltered pictures of crime scenes are being shared widely through the social network.
U Shwe Thwe, a former administrator in Kamaryut Township's No 3 ward, said people were unaccustomed to reading such vivid and frequent accounts of criminal activity. The deluge of reports had left them feeling overwhelmed and under siege, he said.
"Before we knew only what we read in the newspapers. Now we can know what's happening straight away from Facebook – and it's making us cautious and watchful," Shwe Thwe said.
He said military rule had damaged the ability of the police force to tackle crime. Because police were often corrupt and also used to stifle political activities, public confidence in their ability and willingness to keep the community safe was also eroded, he added.
"Former governments gave no real education to the public about crime and how to cooperate with the police."
But there's a question over whether there really has been an increase in crime. Figures from the start of 1999 to end of 2014 show that nationally there was a sharp rise in murders (from 570 in 1999 to 1337 in 2014) and rape cases (from 156 to 756), but the numbers rise and fall from year to year.
In the first eight months of this year, there were 117 murders and 130 rape cases in Yangon, slightly more than in recent years, and higher than the full-year totals prior to 2011.
Some have sought to blame this on the new government. In August, an editorial in the Union Daily, a newspaper published by the Union Solidarity and Development Party, accused the new government of failing to stem "rampant" crime. It said the new government's efforts to crack down on crime had "come to nothing", but failed to note that law enforcement is the responsibility of the military-controlled Ministry of Home Affairs.
Senior officers have denied that crime is significantly up.
Police Colonel Zaw Win Aung, a national commander in the Myanmar Police Force, told Mhe time that there were no figures to back up the claims in the editorial.
"I would surely say 'no', if you ask me if there are more crimes under the new government," he was quoted as saying.
U Myint Lwin, a Yangon Region Hluttaw MP who chairs the Justice, Rule of Law, Complaints and Petitions Committee, said he believed crime was actually decreasing under the new government thanks to its 100-day plan focused on maintaining law and order.
"Our 100-day project was a success," he said. "Under the military government they didn't always allow crime to be published. Now people can get information more easily, so they feel it is increasing, but actually it's not."
Police Major Thein Aung from the Yangon Police Force said in the past the government had not released information about "tragic crimes" because it didn't want to alarm the public. "Nowadays though everyone covers that news. Even people from remote areas know what crimes have happened in Yangon," he said.
Rather than a recent uptick in crime, the official figures suggest a marked increase since the transition from military to quasi-civilian rule in 2011. Murder and drug cases have all increased significantly over the past five years – for example, drug cases rose from 2706 in 2010 to 6763 in 2014.
Of course, few people trust the police statistics. Many crimes go unreported or are resolved through negotiation rather than formal complaint. At the same time, low-level police often arrest petty criminals in order to increase case numbers and please their superiors.
Many residents are in no doubt that crime is on the up. Ko Aung Nay Myo lives in the Hledan area of Kamaryut, which is popular with students and migrants. He said he often sees drug addicts injecting heroin in the stairway of his apartment building, and worries that one day they might attack him.
"If I tell them to move out of the way, they might stab me," he said, as he showed Frontier a photo on his phone of used syringes that had been left on the steps of his block. "One of the main reasons for homicide is drug abuse," he added.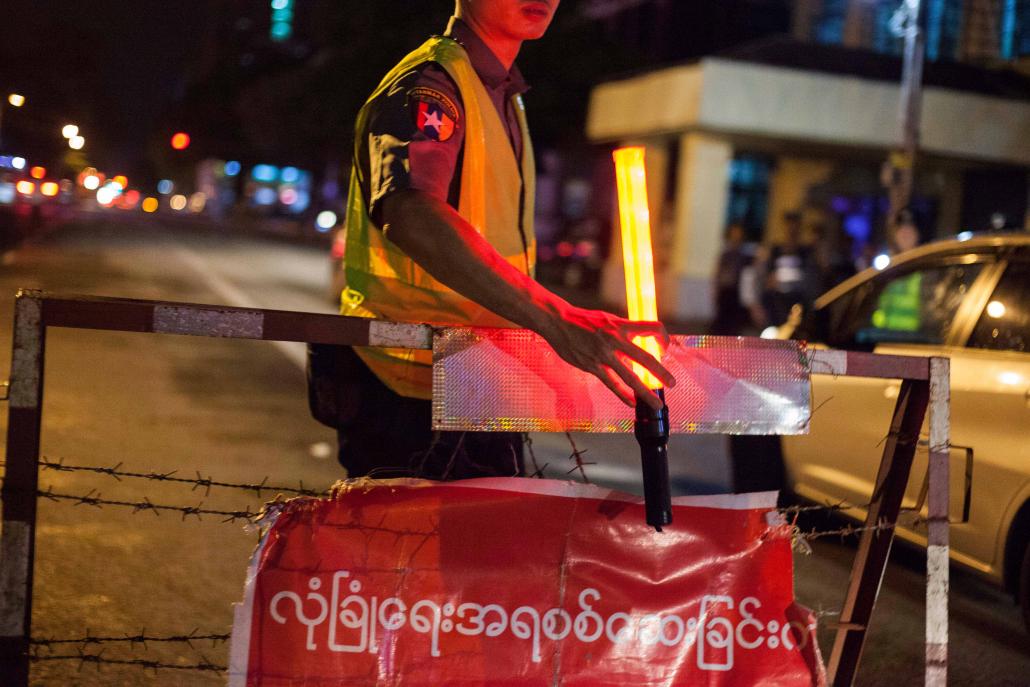 Myint Lwin said drug abuse and lack of employment opportunities were resulting in many young people turning to crime. "Drug use and gangs are huge challenges for government," he said.
Police officers also told Frontier that since 2011 they had found it more difficult to control violent crime because of a greater focus on human rights. This had made officers more hesitant to use force and emboldened criminals, said U Myat Thu Hein, who recently retired after working as a police officer for 13 years.
"[Criminals'] understanding of democracy is different. For them, democracy makes it easier to confront the police," said Myat Thu Hein, who now heads the Police Charity Network.
"If a complaint is made against a policeman, he gets interrogated. Senior police officers are preoccupied with the idea that action must be taken against a policeman if there is a complaint against him, regardless of whether the complaint is justified or not. The criminals know this very well," he said.
Another issue is lack of resources. Police are often poorly equipped to tackle armed adversaries – World War II-era firearms still widely used – and are not always well trained.
There are also simply not enough police: Myanmar has less than 77,000 officers in service, but the Ministry of Home Affairs is aiming to double that to 160,000 to be in line with international policing standards.
The minimum level recommended by the United Nations is one police officers for every 450 people. The Yangon Region police chief, Police Brigadier-General Win Naing, has been quoted as saying that the police-citizen ratio in the country's biggest city is 1:1,274.
In Hlaing Tharyar, a township on Yangon's western fringe with 700,000 residents, the shortage is so acute that "enforcement" is often undertaken by vigilante groups and criminal gangs instead of police officers.
The perceived crime wave has spooked many in Yangon.
The frequent reports of taxi drivers attacking passengers have made many cautious when hiring a cab, for example. At the same time, drivers are also being targeted by some passengers: On October 8, the body of a taxi driver was found inside his vehicle in Bahan Township, while on September 5 a driver was robbed by a 15-year-old boy in North Dagon Township. These incidents have led to a breakdown in trust on both sides.
"Taxi drivers and passengers don't believe each other because of the recent crime reports," said Ko Chit Chit Zaw, assistant marketing manager at Hello Cabs, an on-call meter taxi service.
Some are turning to services like Hello Cabs or Oway Ride due to safety concerns, he said.
"Customers tell us that the main reasons why they choose Hello Cabs taxi service is because we have installed GPS tracking in our cabs and because they feel safer using a company."
In some wards, residents have set up volunteer teams to patrol at night in an effort to scare away criminals. When they see strangers come into their ward acting suspiciously, they report them the police. U Myo Aung, a ward administrator in Kamaryut, said that in his ward these civilian teams were patrolling until midnight, after which they were relieved by police units, who took over until dawn. This had helped to "noticeably" reduce crime at night.
Whether residents will continue to patrol once the "crime wave" dissipates is anyone's guess.
"People willingly do their community duty when news of brutal crimes are rampant," Myo Aung said. "But I'm afraid that after a while they'll stop worrying about crime and won't be interested."