Residents in some remote areas of Myanmar have come to associate journalism with extortion, and unscrupulous crime reporters are to blame.
By HTUN KHAING | FRONTIER
IN APRIL, drivers on the highway between Lashio and Hseni in northern Shan State were confronted with an unexpected expense.
Vehicles were being stopped by four men purporting to be journalists who said they were collecting "donations" for a media fund.
The four men, who were detained by General Administration Department officials from Lashio Township on May 9, were reported to have displayed cards identifying them as journalists to drivers before making their request.
They were seeking "donations" of K100,000 from each vehicle, reported the Tachilek News Agency.
The news agency, based in the Shan town of the same name on the border with Thailand about 360 kilometres southeast of Lashio, said the four men had called themselves, "The special journalists' group from Nay Pyi Taw".
The arrest of the four men is the latest incident involving extortion by people who claim to be journalists.
"In Lashio, there were cases where so-called crime journalists collected money from gambling groups and illegal timber traffickers and took hush-money in land disputes," said Ko Nay Phyo Myint, the Tachilek News Agency reporter who covered the case of the four donation collectors arrested near Lashio.
There are hundreds of people in Myanmar who call themselves journalists and use the fear of publicity to practise extortion. Some of them describe themselves as crime journalists and as well as extortion, they have been accused of involvement in other criminal activities, including human trafficking.
Among those against whom such allegations have been levelled are reporters at Hmukin Shudaunt News Journal ("Crime Perspective News Journal"), published every Monday since its launch 21 years ago.
The journal's reporters wear uniforms and caps that are similar to those worn by members of the Myanmar Police Force. The journal's honorary patron is U Tin Hlaing, a former colonel who served as home affairs minister in the military government, and its staff, including legal advisers, include more than a dozen former government and police officials.
"The journal has about 380 branch offices throughout the country and a work force of 2,000 to 3,000 reporters," said its chief editor, U Thet Naing Oo.
There is also a Hmukin Shudaunt parahita (charity) group with about 20,000 members.
Thet Naing Oo, who is also the journal's chief executive, admits that among his thousands of reporters are some who violate the ethics of journalism and are involved in extortion and other crimes.
"Some only work here to extort money from people; they don't even know the six Ws of reporters," he told Frontier in an interview at Yangon Region's northernmost Taikkyi Township on May 14.
[The six Ws of journalism — or five Ws and one H — are the questions that a story needs to answer to be complete: what, when, where, why, who and how.]
Thet Naing Oo said reporters with the journal had been arrested for involvement in at least two cases of smuggling Muslims from Rakhine, most of whom are banned from leaving the state, to other parts of Myanmar.
The chief editor said one of the journal's reporters was arrested in May over a land sale involving documents bearing the forged signature of the chief minister of Ayeyarwady Region.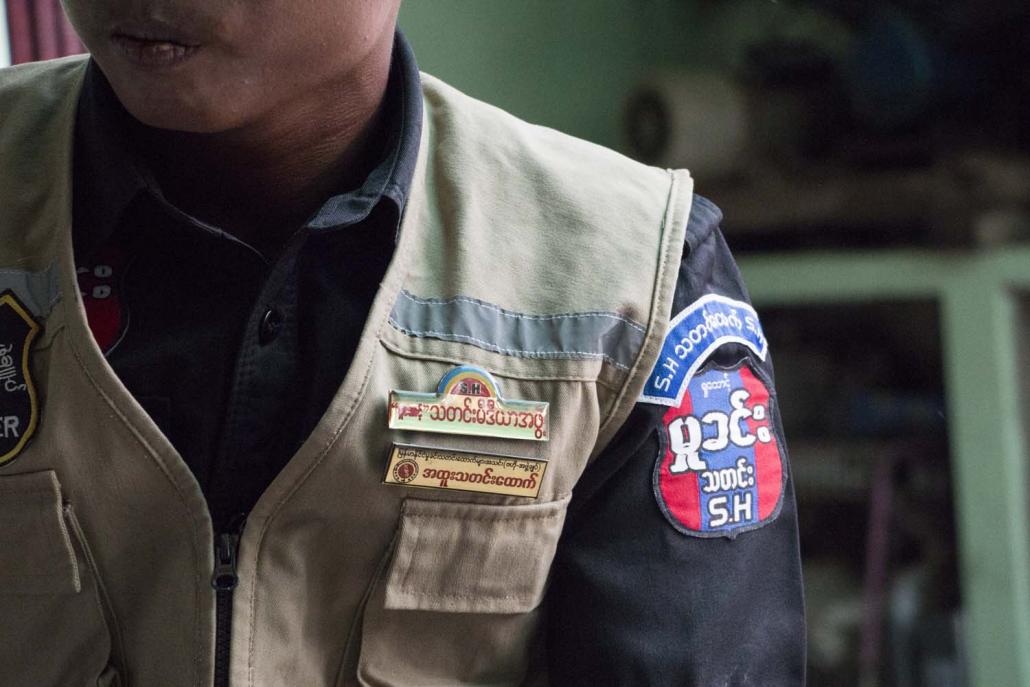 Thet Naing Oo, who has established a group to take legal action against errant reporters, said he was planning to hold a meeting to warn them to maintain professional discipline.
"Starting from this year, if there is evidence that a reporter has been involved in extortion, he will be sacked, regardless of whether he faces legal action," he said.
Reporters who commit crime violate the dignity of the journal, Thet Naing Oo said.
The problem of reporters using extortion to supplement their incomes is so widespread in some parts of the country that residents associate the profession with criminal activity.
People in remote areas worry about visits from people calling themselves reporters because they think they have to pay them money, said Ko Kan Thar, a reporter in Lashio.
"These people misunderstand the role of reporters," he told Frontier.
Lawmakers throughout the country have been pushing for the government to take action against reporters involved in extortion, and crime reporters who strive to uphold ethical standards are also hitting back against those who tarnish their image.
"The people need to understand that they don't have to be afraid of journalists," said Nay Phyo Myint. "I want them to ask journalists to show their credentials and if they suspect the journalists of breaking the law, they should gather evidence, such as video footage, and report them to the authorities," he said.
Thet Naing Oo said he has sacked reporters because they were corrupt and had violated Hmukin Shadaunt News Journal's objectives of gathering crime news and performing philanthropic works.
Of one reporter he fired, Thet Naing Oo said simply, "But he was able to join another crime journal the day after". 
TOP PHOTO: U Thet Naing Oo, chief executive officer of the Hmukin Shudaunt News Journal, or Crime Perspective News Journal. (Nyein Su Wai Kyaw Soe | Frontier)