The Aung Bar Lay lottery generates tens of millions of dollars a year for the state but there are concerns about the overcharging of customers, a few large distributors monopolising tickets and the potential for money laundering.
By HEIN KO SOE | FRONTIER
"THE LOTTERY will be drawn tomorrow, buy a ticket and become a winner."
Towards the end of each month, this is a sales pitch you're likely to hear regularly throughout Yangon and many other areas of the country. For low-income households, lottery offers the chance – albeit a slim one – to escape the poverty that is so widespread in Myanmar.
But Myanmar's lottery, known as Aung Bar Lay, is also a big business, raising tens of millions of dollars in state revenue a year and supporting a wide network of wholesalers, distributors and retailers, each of whom takes a cut – and in the process makes the tickets more expensive for the end customer.
Although the government sells tickets to distributors for K450 and mandates a retail price of K500, it's basically impossible to buy a ticket for this amount. Instead, the distributors who buy from the State Lottery Directorate on-sell the tickets to retailers for K550 in Yangon and K650 in rural areas. The tickets come in a packet that includes the distributor's logo, because customers prefer tickets from well-known brands that are considered lucky or reputable.
In Yangon customers typically pay K600 a ticket, while in rural areas it's normal to pay K700 or even K800. U Myint Tun, a lottery retailer in Maubin Township, Ayeyarwady Region, said he bought tickets from his "boss", the Star Moe Yan company, for K650 and sold them for K700.
"If we could reduce the price I think it would be better for retailers like me, because people would be able to afford to buy more tickets," Myint Tun said.
State Lottery Directorate director U Kyaw Thant Lwin said the system of disbursing tickets was fair and transparent. The directorate announces every February that it is accepting applications from distributors who want to buy monthly batches of tickets for the coming fiscal year. It does this by printing a notice in state newspapers and putting up signs in Internal Revenue Department offices.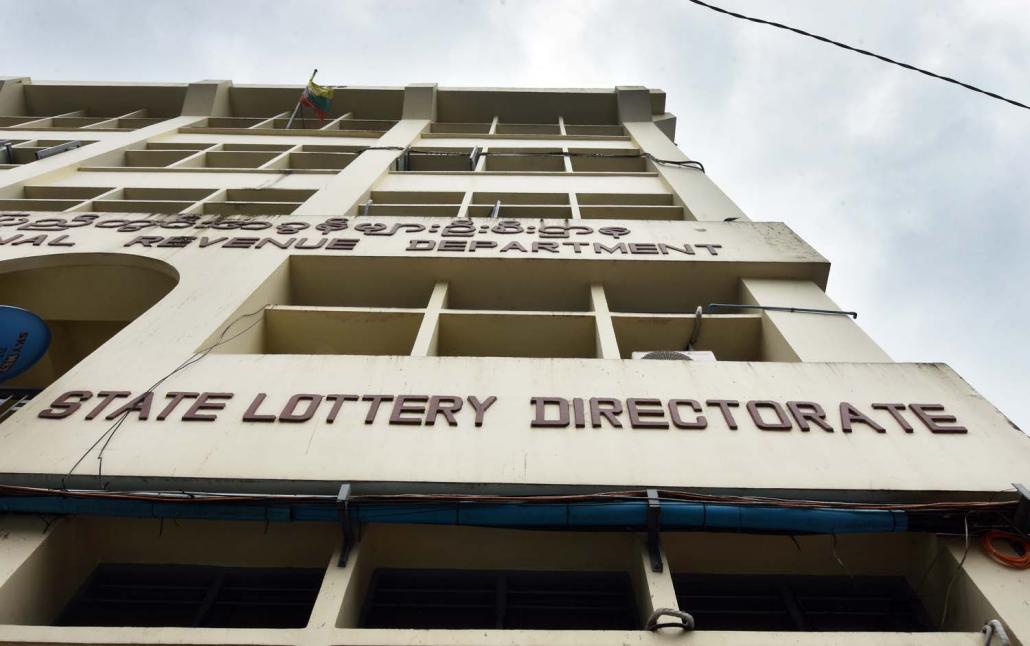 Prospective distributors can then apply at the enterprise or township IRD offices. Each year the State Lottery Directorate receives more than 3,000 applications, he said. Each applicant must buy a minimum of 550 tickets, but most apply for the maximum of 450,000 a month.
"We sell to those buyers. They can each get a maximum of 450,000 tickets from us," Kyaw Thant Lwin said. "It is legal for them to resell to other people, who can then resell to other people."
Kyaw Thant Lwin said that the State Lottery Directorate strictly enforces the limit on lottery ticket sales to distributors. Star Moe Yan owner U Myo Nyunt, he said, buys only 450,000 tickets from the enterprise directly, but on its website the company claims to have more than 200 shops that supply 10,000 dealers and resellers.
Kyaw Thant Lwin conceded that the large distributors clearly sell many more tickets than what they purchase from the directorate. "We don't know how many people buy lottery tickets on behalf of companies like Star Moe Yan. We can't check it," he said.
Some feel that a handful of large distributors get an unfair advantage from the State Lottery Directorate. Although in theory anyone can apply to purchase tickets direct from the government, in practice a few companies get most of them and then make a profit by selling them on to smaller distributors and retailers.
"The directorate should sell to any dealer who applies to buy tickets," said Dr Thaung Kyaw Soe, a lottery ticket retailer in Mandalay Region's Sintgaing Township. "These days, the big companies that everyone knows well are buying a lot of tickets. It's not a level playing field." 
Thaung Kyaw Soe sells about 50,000 to 60,000 tickets a month in Sintgaing that he purchases from Star Moe Yan and Shwe Myanmar.
"We never got the permission to buy ticket from the lottery enterprise," Thaung Kyaw Soe said. "My father has run a lottery business since 2000. He applied several times and never got permission. I applied last year to the State Lottery Directorate but was unsuccessful too."
One issue is that there is no law to regulate the lottery business. All that exists are a series of orders and notifications.
Kyaw Thant Lwin said this meant the State Lottery Directorate, which is part of the Internal Revenue Department, could do little in response to complaints about distributors and retailers selling tickets above the mandated K500.
While a law was drafted by IRD and the directorate and sent to parliament in 2011, it is yet to be enacted. Kyaw Thant Lwin said it included sections to regulate distributors, and also set clear terms and conditions for ticket retailers and customers.
"With this law we would be able to control the price of tickets," he said. "But now there's no laws so we can't take legal action. All we do is when we get a complaint about the ticket price being much higher than our price, we warn the retailer and reduce the amount of tickets that we allocate them in future."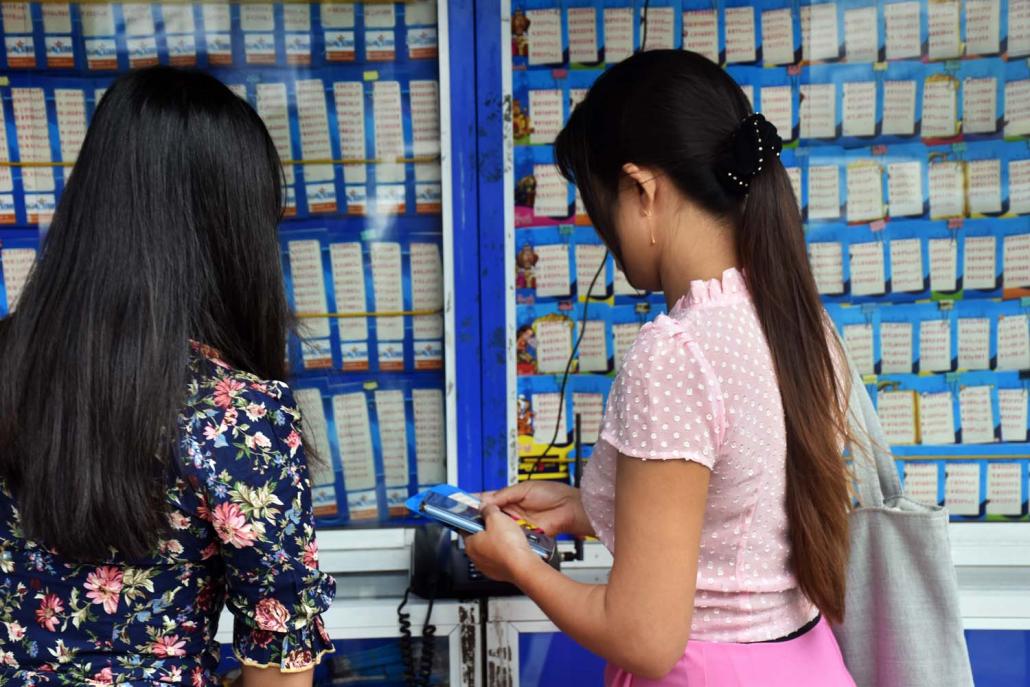 Last year, the Pyithu Hluttaw Bill Committee sent the draft law back to the Ministry of Planning and Finance, recommending that it draft separate legislation governing the lottery and a planned electronic lottery, or e-lottery, which would be more complicated to implement.
Secretary U Kyaw Soe Lin (NLD, Pyigyitagon) said the Bill Committee also had concerns about the potential risk of money laundering from the lottery business.
Because lottery winnings are considered tax-free income, and come with official documentation to confirm this, the companies that sell lottery tickets are eager to buy back winning tickets from their customers. They then claim the tax-free money from the department.
"For example, when my son won K2 million in the lottery in 2000 we just gave the ticket to the retailer and then he gave us the money," said Kyaw Soe Lin. "I did it because I didn't know how to claim my winnings from the State Lottery Directorate."
U Than Soe Hein, a Yangon-based lottery retailer who sells around 3,000 tickets a month in rural parts of the country, said it was normal to buy back winning lottery tickets from customers before claiming the winnings from the directorate.
But officials seem resistant to address the issue. Kyaw Thant Lwin said the reselling of winning lottery tickets was not the directorate's problem to resolve.
IRD director general U Win Htut said his department had no plan to rewrite the draft law as per the Bill Committee's request.
"We can operate the lottery as normal without the law. We don't need to rewrite it," he said. "The government has the power to run the lottery."
Lottery by the numbers:
K500 – official retail price per ticket
39.6 million – tickets produced
K17.8 billion – maximum ticket revenues
60% – revenue returned to customers in prizes
120,000 – prizes awarded
K1 billion – maximum prize
K50,000 – minimum prize
TOP PHOTO: Steve Tickner | Frontier