The recent visit by Prime Minister Narendra Modi and the trip to India in July by the Tatmadaw chief are part of a strategy by New Delhi to counter China's influence in Myanmar.
By JOE KUMBUN | FRONTIER
THE INDIAN Prime Minister, Mr Narendra Modi, paid a second official visit to Myanmar in September as it was grappling with the festering crisis in Rakhine State and continuing civil conflict in the north of the country.
The visit included talks with President U Htin Kyaw and State Counsellor Daw Aung San Suu Kyi, and Modi tweeted that it had given "a much-needed impetus to India-Myanmar relations and deepening bilateral cooperation".
During the September 5-7 visit, Myanmar and India reportedly signed 11 agreements. Modi also offered New Delhi's assistance for the Rakhine State Development Program, which includes plans for a special economic zone near the state capital, Sittwe. The two countries intend to finalise plans for the programme in the coming months.
Modi's visit has prompted questions about his interest in seeking closer bilateral ties.
There are four main reasons why India is keen to build stronger diplomatic, military, economic and cultural ties with Myanmar.
Hindu zealot
Modi became prime minister after leading his Hindu nationalist Bharatiya Janata Party to a convincing victory at elections in 2014. Modi's rise to the premiership made many Muslims in India uneasy because of his support for the nationalist philosophy of "Hindutva", or "Hinduness", which was adopted by the BJP as its official ideology in 1989.
Modi is a product of the militant, trident-shaking ideological parent of the BJP known as the Rashtriya Swayamsevak Sangh, with which he trained as a youth. RSS chauvinists, who dream of a Hindu-dominant India, adore him as their champion.
The Economist magazine has said Modi is careful to court militant Hindus. After the BJP won a landslide victory in March in India's most populous state, Uttar Pradesh, it appointed a firebrand Hindu priest as the state's chief minister.
Modi's reputation was tainted by an eruption of communal violence in Gujurat state in 2002 when he was its chief minister. Modi never apologised for the riots, for which the official death toll was 790 Muslims and 254 Hindus, and which resulted in him being denied a visa by the United States until becoming prime minister.
When the Arakan Rohingya Salvation Army stormed security posts in northern Rakhine State in late August, triggering a military response that has seen more than 400,000 Muslims flee to Bangladesh, India condemned the attacks by the extremists. Hundreds of Hindu families are among the estimated 30,000 non-Muslim residents of northern Rakhine who have also been displaced by the attacks.
Modi and his government see Muslims as foes; he will not hesitate to intervene when Hindus come under attack from Muslims.
India defended Myanmar after a United Nations rights envoy issued a stinging report in March over a security operation launched by the military following attacks by ARSA militants last October.
The UN special rapporteur on human rights in Myanmar, Ms Yanghee Lee, also separately expressed concern that the military operation seemed to be directed at expelling all Rohingya from the country.
New Delhi was displeased at the tone of Lee's report, said online daily, The Wire.
It quoted an unnamed Indian diplomat as saying that the special rapporteur's report had failed to give Myanmar the credit it deserved for its "continuing efforts under difficult circumstances".
Modi's administration was keen to help the government solve the conflict in Rakhine by showing that New Delhi stood with Myanmar.
Military ties
The Indian government's enthusiasm for stronger ties with Myanmar was also demonstrated by its decision to host an extended visit by Tatmadaw Commander-in-Chief Senior General Min Aung Hlaing earlier this year.
During his eight days in India in July, Min Aung Hlaing visited defence establishments and held detailed talks with Minister for Defence Mr Arun Jaitley (since replaced in a cabinet reshuffle by Ms Nirmala Sitharaman), National Security Adviser Mr Ajit Doval, army chief General Bipin Rawat and navy chief Admiral Sunil Lanba.
Min Aung Hlaing ended his visit by meeting Modi, who underlined New Delhi's commitment to strengthening bilateral ties, including defence cooperation. India has in the past sold rocket launchers, mortars, radar, night-vision devices, communications gear and road building machinery, such as bulldozers, tipper trucks and soil compactors, to the Tatmadaw, and Modi's government is ready to expand this trade.
In March, media reports said the Tatmadaw had agreed to buy torpedoes from India worth US$39.7 million.
The Indian government is concerned about insurgent groups that operate along the 1,624-kilometre shared border, much of which is porous, and has stepped up coordinated patrols with the Tatmadaw. India has also invited the Tatmadaw to participate in joint military training and drills.
Sources say the Modi government is keen to further expand military cooperation and to provide more equipment to Myanmar to counter Chinese strategic inroads into the country.
Economic cooperation
Modi's government wants to increase economic cooperation with Myanmar so as to leverage its economy and boost economic ties.
There is much room for growth. India is one of Myanmar's smaller trading partners, while its historical rival China is one of the biggest. In 2014-15, India accounted for just 8.1 percent of Myanmar's exports and China, 41.3 percent, official figures show. Imports from India were 4.9 percent, and from China, 38.6 percent.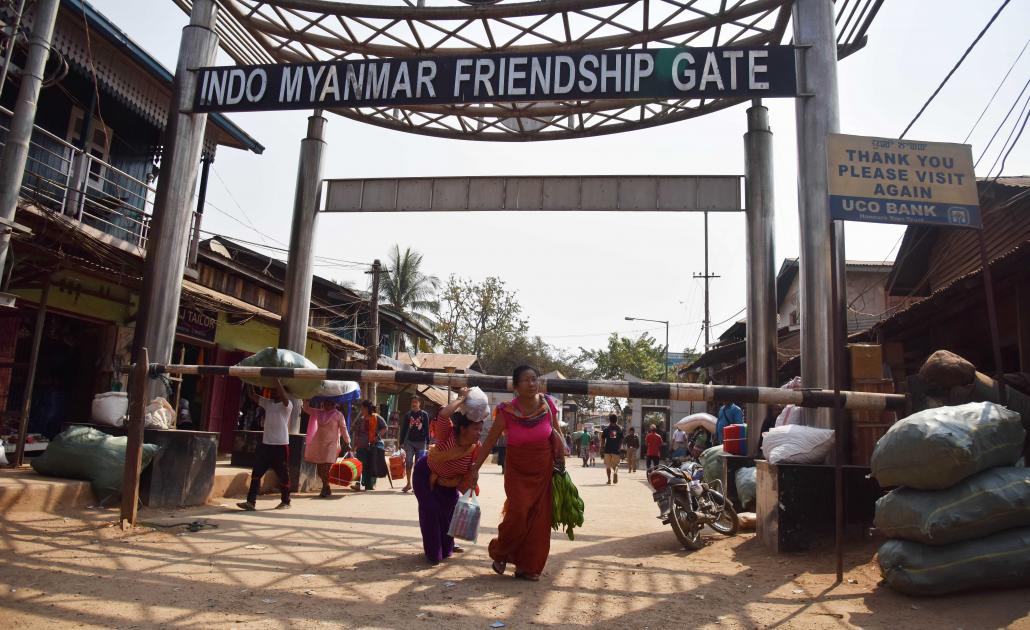 China is the biggest investor in Myanmar, accounting for 26.36 percent of FDI since 1988 – about 25 times that of India, at 1.02 percent.
Myanmar's major export to India is beans and pulses. Recently, the Indian government placed restrictions on imports of pigeon pea, green gram and black gram in an effort to prop up prices for domestic producers. This has caused concern in Myanmar, particularly considering the likely impact on farmers.
It appears to be just a temporary blip in economic relations. In a joint statement issued during Modi's visit, the two countries said they "emphasised the need to improve market access by removing all trade barriers with a view to facilitate trade". This suggests that India will soon remove the restrictions on bean imports.
'Act East' policy
The 'Act East' policy embraced by Modi's government is a more pro-active version of the 'Look East' policy unveiled by New Delhi in 1991 to strengthen ties with ASEAN members and serve as a counterweight to China's influence in the region.
As part of its 'Act East' strategy, India plans to invite the leaders of the 10 ASEAN countries to New Delhi next year to attend a parade and celebrations marking Republic Day, on January 26.
India also hosted the joint study group of the Bangladesh-China-India-Myanmar Economic Corridor (BCIM) for its third meeting in Kolkata in April. The head of the Myanmar delegation, U Win Lwin – the chief engineer in the Ministry of Construction's Department of Highways – said at the meeting that the corridor would boost trade by opening land-locked areas. Myanmar will host the next JSG meeting in 2018.
Ms Preeti Saran, secretary of India's Ministry of External Relations, further underlined New Delhi's commitment to "Act East" when she told journalists from the 10 ASEAN countries on July 3 that it was keen to increase ties through trade and cultural exchanges.
At the Delhi Dialogue on July 4, Minister for the State Counsellor's Office U Kyaw Tint Swe said Myanmar would fully cooperate with India on security and combatting terrorism.
During Min Aung Hlaing's visit, Modi emphasised that Myanmar was a "key pillar" of the "Act East" policy. The comment showed that India wants to implement the policy by allying with Myanmar.
Future dynamics
India has been working to build closer ties with Myanmar since 2012 when Mr Manmohan Singh became the first prime minister to visit its neighbour in 25 years.
President U Thein Sein had paved the way for the visit when he travelled to India to meet Singh in 2011. In October last year, Aung San Suy Kyi visited India and signed three key agreements.
During his recent visit, Modi said Myanmar was a "special" neighbour for a number of reasons, including linkages between religion and culture and for being "a land bridge that connects India with Southeast Asia".
The visit was a major turning point in relations between India and Myanmar, and particularly for the Tatmadaw's interest in countering China's regional influence.
There may be several motivating factors for the blossoming relationship between India and Myanmar, but the major reason for both countries is to counterbalance China.