Women in Myanmar enduring the misery of postpartum depression can expect to suffer in silence and one reason is a paucity of health professionals with knowledge of the illness.
By VICTORIA MILKO | FRONTIER
THE BIRTH of a baby is typically a time of celebration, joy and good fortune. Yet there are those who find themselves with a far different experience – one of crippling depression, physical exhaustion and even thoughts of suicide. The cause is an easily detectable yet widely undiagnosed culprit: postpartum depression.
Also called postnatal depression or postpartum blues, postpartum depression is a form of clinical depression that can affect both sexes after childbirth, though it most commonly diagnosed in women. The symptoms include anxiety, low energy, extreme sadness and sleep deprivation.
The exact cause of PPD is unknown, but hypothesised potential causes include genetic predisposition and hormonal changes resulting from pregnancy. External factors such as birth-related trauma, major life events or changes, low social support and socioeconomic status have also been suggested as being likely to increase the risk.
"Many of us don't know what it is and because
of that we suffer in silence."
"[In Myanmar] training on postpartum depression and any other forms of mental health disorders is poor to non-existent," said Ms Gracia Fellmeth, a researcher at Oxford University who has studied PPD in Myanmar. "General healthcare staff, such as medics, nurses and midwives, normally receive very little teaching on this subject."
Fellmeth's statement isn't unfounded. Staff at Yangon Central Women's Hospital said they were not aware of PPD treatment being provided there. Mr Daniel Crapper, the deputy country director of Population Services International, a US-based non-government organisation that has provided reproductive health and other programs in Myanmar since 1995, said the organisation has "no specific information or knowledge" about PPD in Myanmar.
The 2006 World Health Organization Assessment Instrument for Mental Health Systems (WHO-AIMS) found that there were 265 people working in mental health facilities or private practice in Myanmar, a rate of 0.477 for every 100,000 people, with no mention of maternal-specific resources – a statistic that further highlights the lack of mental health care in the country.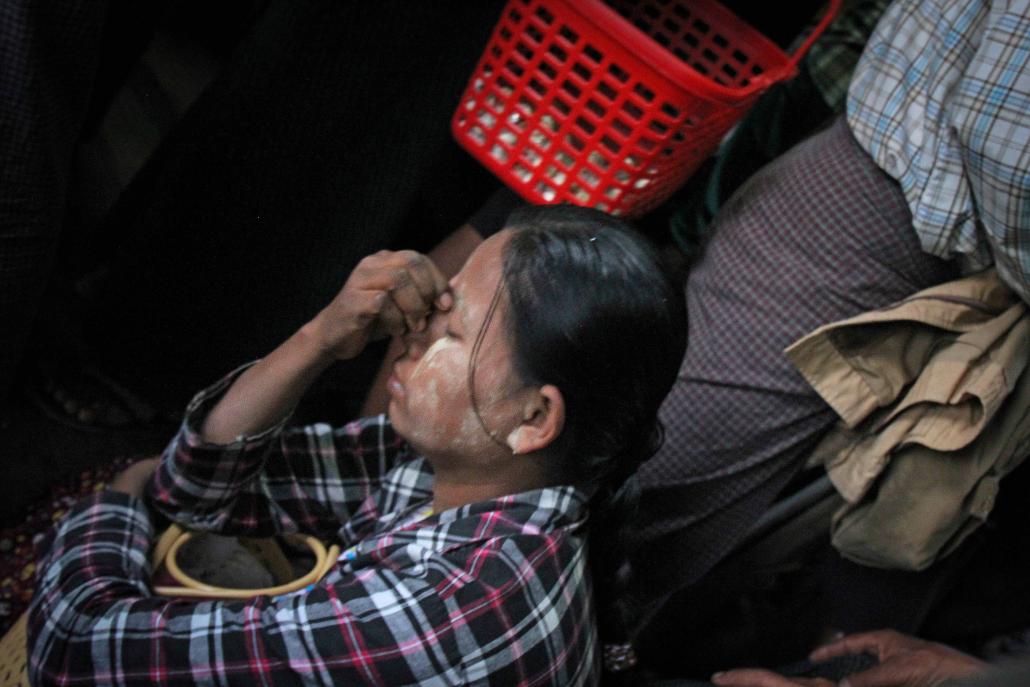 "This topic is something that is neglected and ignored in society," said Daw Htar Htar, the founder and director of Akhaya Women, an organisation that engages and educates women about emotional, social and sexual health issues.
"Many of us don't know what it is and because of that we suffer in silence," she said.
Htar Htar said common birthing practices and procedures typically remove power from the mother. They are often a source of increased anxiety and stress, both of which are considered possible triggers of PPD in women.
"Women in Myanmar are often cut when they are giving birth," she said, referring to the procedure known as an episiotomy that makes birth easier and prevents severe tears. "Even when they don't want to be, they are given no choice and it can be traumatising."
Some post-natal rituals and traditional beliefs, such as isolating the mother for long periods, can also create added stress on postpartum mothers, she said.
"Women are often considered the lowest in their life after they give birth. People consider them dirty and untouchable," Htar Htar said. "In some parts of Myanmar women are subjected to practices such as being wrapped with a mat and instructed to stand over boiling water, so that they are 'purified', causing them to pass out. These things are hard on women."
The side effects of PPD can also have social and economic ramifications that linger long past the depression itself.
There can be negative financial effects because many employers are "unwilling to employ women with mental disorders due to a lack of knowledge and understanding of the conditions", said Fellmeth. "Women who previously were financially independent or able to contribute to household finances may therefore no longer be able to do so."
Fellmeth said evidence was emerging that showed perinatal depression – associated with the period immediately before and after birth – could also affect the newborn child.
"There is a growing body of evidence that shows perinatal depression has lasting physical, cognitive, social and emotional effects on children," she said. "Mothers with depression are less likely to form a strong bond with their infants and less likely to breastfeed. Infants of depressed mothers are more likely to have low birth weight and experience stunting, malnutrition and diarrheal infections in childhood."
However, there have been some positive developments. NGOs and research projects, such as the one in which Fellmeth is involved, are taking steps to gain a better understanding of methods for diagnosing and treating PPD in Myanmar.
"We found that if women were not depressed, they didn't mind being asked these questions: If they were depressed, they were pleased to have an opportunity to talk," said Fellmeth. "For many women it was the very first time they had ever had the opportunity to talk about how they feel and they were thankful for the opportunity."
Screening tools for PPD, such as questionnaires, have been translated into Myanmar and have proven effective in early detection of the disease. A class of drugs known as selective serotonin reuptake inhibitors that provide relief from the symptoms of PPD are becoming increasingly available at health centres and hospitals.
Htar Htar said the number of doctors with training in PPD was slowly increasing, but they were more likely to be concentrated in big cities such as Yangon and Mandalay.
She said many cultural changes were needed in order to address women's health issues more comprehensively.
"Until women are seen and included as equal to men, there will always be unfair practices in this country," she said. "There is still much to be done."
Top photo: Patients in a waiting room at Yangon Central Women's Hospital. (Victoria Milko / Frontier)