Myanmar and Cambodia have two of the world's most outstanding ancient Buddhist sites and they are among the top tourist destinations in each country – but Angkor Wat attracts almost eight times as many foreign visitors each year.
By SU MYAT MON | FRONTIER
MYANMAR AND CAMBODIA share rich histories and some of the world's finest examples of Buddhist architecture, the magnificent temples and stupas at Bagan, and Angkor Wat.
Bagan, in Mandalay Region, and Angkor Wat, in Siem Reap Province, are enduring legacies respectively of the Bagan Kingdom, which flourished between the 11th and 13th centuries, and Khmer Empire, which thrived from the 9th to the 15th centuries.
The beauty and scale of Bagan and Angkor Wat have made them top tourist destinations.
Visitors to both sites often remark on the friendly, welcoming nature of the locals they encounter while touring the temples, who can range from people on pilgrimage tours to children selling souvenirs.
Souvenirs are also big sellers at stalls and shops at Bagan and Angkor Wat, an image of which dominates Cambodia's flag.
For now, Angkor Wat attracts close to eight times the number of foreign visitors as Bagan. But tourism authorities in Myanmar hope to coordinate with their counterparts in Cambodia and leverage Angkor Wat's popularity to boost visitors to Bagan.
At a meeting in Siem Reap in June, Cambodia and Myanmar discussed ways to jointly promote Angkor and Bagan, including streamlining visa procedures. In early 2018 the countries are expected to sign a formal cooperation agreement and begin a "two countries, one destination" promotion.
In July, airline Emirates launched daily direct flights between Yangon and Phnom Penh, while Myanmar Airways International has in the past also operated flights from Yangon to Phnom Penh and Siem Reap.
Siem Reap
Angkor Archaeological Park, a UNESCO World Heritage Site since 1992, covers 400 square kilometres and is near the town of Siem Reap. As well as the awesome Angkor Wat, built by King Suryavarman II in the 12th century, the park includes other marvels of Buddhist architecture, such Angkor Thom and the richly decorated Bayon, its stone towers adorned with the faces of Buddha images.
Visitors who climb Angkor Wat's steep stairs are rewarded with a view of its moat and the surrounding jungle.
Bicycles and cars can be hired to tour the park but its huge, shady trees make walking a pleasure and you can spend hours strolling the roads linking the temples.
The trees are a feature of the park. The Apsara National Authority – the government agency responsible for managing and protecting the park – plants more trees every year to preserve its biodiversity and support the livelihood of villagers living in the area.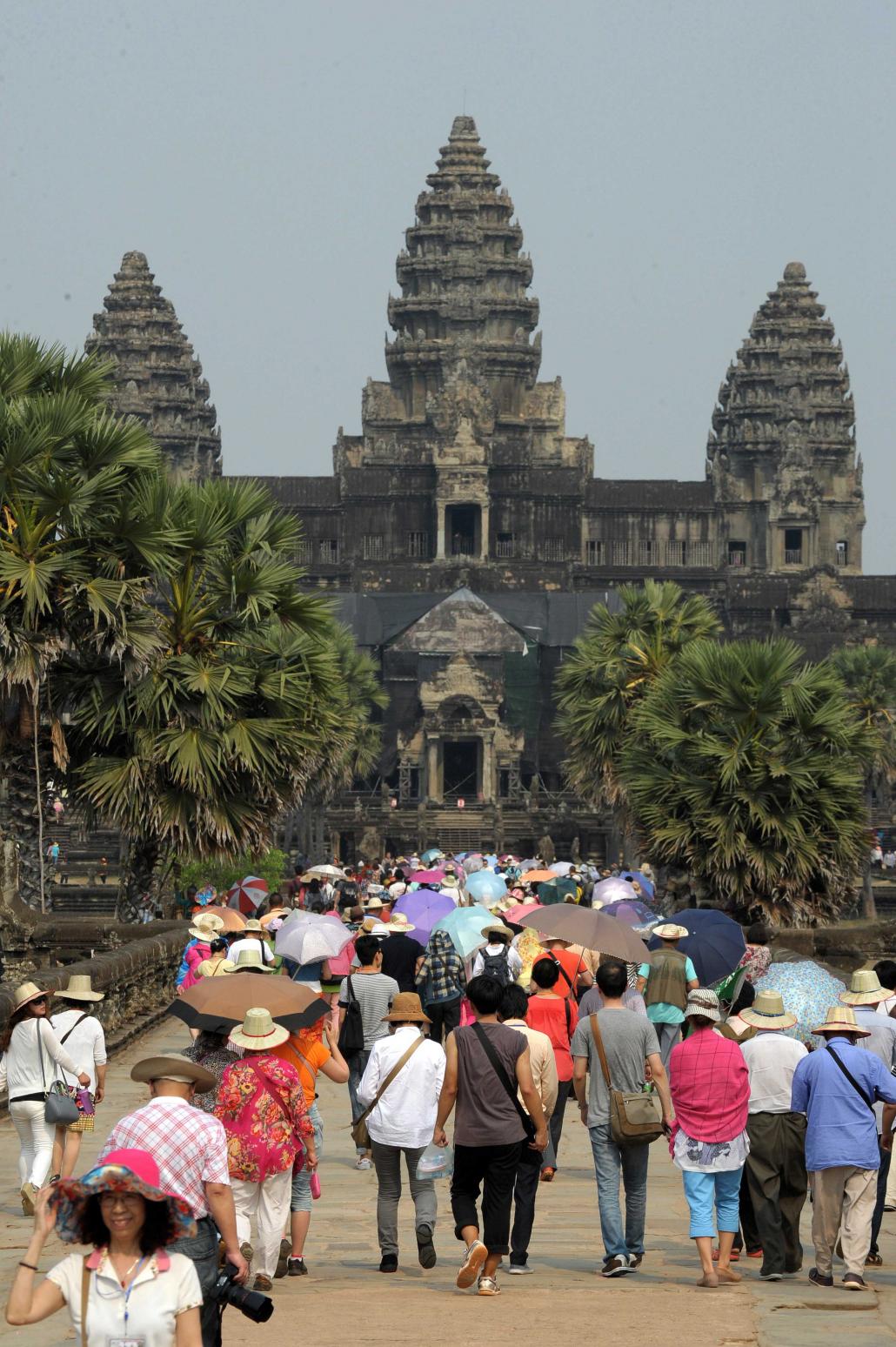 Government figures show that of the five million tourist arrivals in Cambodia last year, about 2.2 million visited the park, with most from Vietnam, China, Thailand and Laos. Many foreign visitors head straight to Siem Reap. The figures show that of the 2.7 million foreign visitors who travelled to Cambodia by air last year, 1.5 million arrived through Siem Reap Airport – more than the airport in the capital, Phnom Penh.
The cost of visiting the park ranges from $37 for a one-day ticket to $72 for seven days. The admission fees go to the Apsara National Authority, which uses the funds to maintain the park.
Accommodation to suit all budgets is available in Siem Reap, a town that is highly dependent on the tourist trade. Some residents there though are concerned about the number of hotels being bought by investors from China.
"We are very proud of it [Angkor] but we worry that most hotels will be run by Chinese and we want the government to reconsider that," tour guide Mr Chem Bunchay told Frontier on September 27.
"It is worrisome that the market will be monopolised by Chinese," he said.
Bagan
The Bagan Archaeological Zone is on a plain covering 104 square kilometres beside a sweeping bend in the Ayeyarwady River.
Foreign visitors pay a K25,000 fee to enter the zone. Traditionally most have come from Western nations, but Asian visitors make up an increasing percentage. The number of travellers from China, in particular, has increased noticeably in recent years.
There are temples or their ruins everywhere at Bagan, where a recent survey by the Association of Myanmar Architects found 3,822 monuments.
The AMA hopes that the inventory, which it has provided to the Ministry of Religious Affairs and Culture, will assist in the long-running effort to have Bagan declared a World Heritage Site.
The effort has been complicated by repairs to temples damaged in a 1975 earthquake and renovation projects during junta rule that did not respect the architectural integrity of the ancient sites. Tourism development, including hotels, was also permitted very close to some of the monuments.
The government is planning to submit the inventory to UNESCO next year.
Ministry of Hotels and Tourism figures released in January said Bagan had attracted more than 282,000 foreign visitors last year, up around 17 percent on 2015. To the end of August, the site had received 191,549 foreign visitors.
Although tourism officials say they are confident of breaking last year's record mark, media reports indicate that the number of foreign visitors to Bagan has declined recently because of negative publicity over the situation in Rakhine State.
In an interview with Eleven Media last month, U Zaw Weik, the chairman of the Myanmar Hoteliers Association (Bagan Zone), said occupancy rates at hotels were below 30 percent and they did not expect to make a profit this year.
Zaw Weik said Bagan had 80 hotels with more than 6,000 rooms and another 20 hotels were being built. About two-thirds were budget hotels and the rest are three-star and four-star properties, he said, adding that there were no five-star establishments.
Zaw Weik called on the authorities to lift a ban on climbing temples to watch the stunning sunsets for which Bagan is also famous.
The Ministry of Religious Affairs and Culture said in July it would impose the ban to protect the ancient sites from being damaged. It also closed some temples for safety reasons in August last year after they were damaged by a 6.8 magnitude earthquake.
Editor's note: The journalist travelled as a guest of Emirates. This article was first featured in the Discover Myanmar special edition of Frontier published in October 2017.