Women who were jailed for supporting the struggle for democratic change in Myanmar deserve more recognition for what they endured.
By SU MYAT MON | FRONTIER
WOMEN PLAYED a significant role in the struggle for democratic reform in Myanmar and many of them paid a high price for their courageous activism, including long sentences under harsh conditions in jail.
State Counsellor Daw Aung San Suu Kyi, co-founder of the National League for Democracy, is the nation's most famous former political prisoner, but the sacrifices of many other women who spent time in prison for their political beliefs are not widely known.
Aung San Suu Kyi is one of 14 women former political prisoners in the Union Parliament, says the Assistance Association for Political Prisoners. Despite the political prominence of Aung San Suu Kyi, women are hugely underrepresented in the parliamentary arena, holding only 10.5 percent of the seats in the Union Parliament, and 9.7 percent of seats in state and regional hluttaws.
Many former women political prisoners were sustained by an indomitable spirit and a powerful determination to advance the cause of democracy.
Among them is Pyithu Hluttaw MP Daw Phyu Phyu Thin, 46, (NLD, Mingalar Taung Nyunt), who served four months in Insein in 2000. She said she was never charged; instead, she was held without charge in a separate detention facility inside Insein reserved for political prisoners.
Phyu Phyu Thin was among a group of about 30 NLD members who were arrested near Yangon Central railway station ahead of a planned trip to Mandalay.
"We weren't even told the reason [for our arrest] until after we were released," she told Frontier on July 22.
They were taken to Insein with nothing more than the clothes on their backs.
"For more than a week, we had no clothes except what we were wearing. When we washed our clothes we had to wear a prison blanket until they dried," Phyu Phyu Thin said.
"When we arrived at Insein Prison it was like hell and we had to go through interrogation for a week, day and night," she said, adding that the second worst experience was poor quality food.
The rice was full of sand and pieces of stone, and the beans were eaten by moths.
"We tried to keep our spirits up," she said. "So we made fun of the food. We called it an 'election', because we had to pick things out of the rice.
"For the entire four months we were kept in a cell, where we ate and defecated in a bucket because there was no toilet."
Phyu Phyu Thin was unable to have family visits during her time in prison, but they were able to send food parcels through the International Committee of the Red Cross and Red Crescent Societies.
She said the parcels were always delivered late and some of the food would be missing.
In 2007, Phyu Phyu Thin was among hundreds of people detained during the monk-led protests against rising living costs known as the Saffron Revolution and was held for more than a month at the Kyaikkasan sports ground in Tarmwe Township before being released.
Despite the handover to the NLD government in March 2016, she said people were still being imprisoned for political activities and the government needed to work harder to ensure their release.
"There should be no political prisoners in a country that is moving towards democracy," she said. "Those in detention should be released immediately – at any cost."
13 years in Insein
Former activist Daw Than Than Htay, 52, spent nearly 13 years in Insein prison, where she endured torture under interrogation.
Than Than Htay served two stints in Insein. In 1991 she received a six-year sentence under the notoriously vague section 5-J of the Emergency Provisions Act for her involvement with a student union, but was released after one year and four months.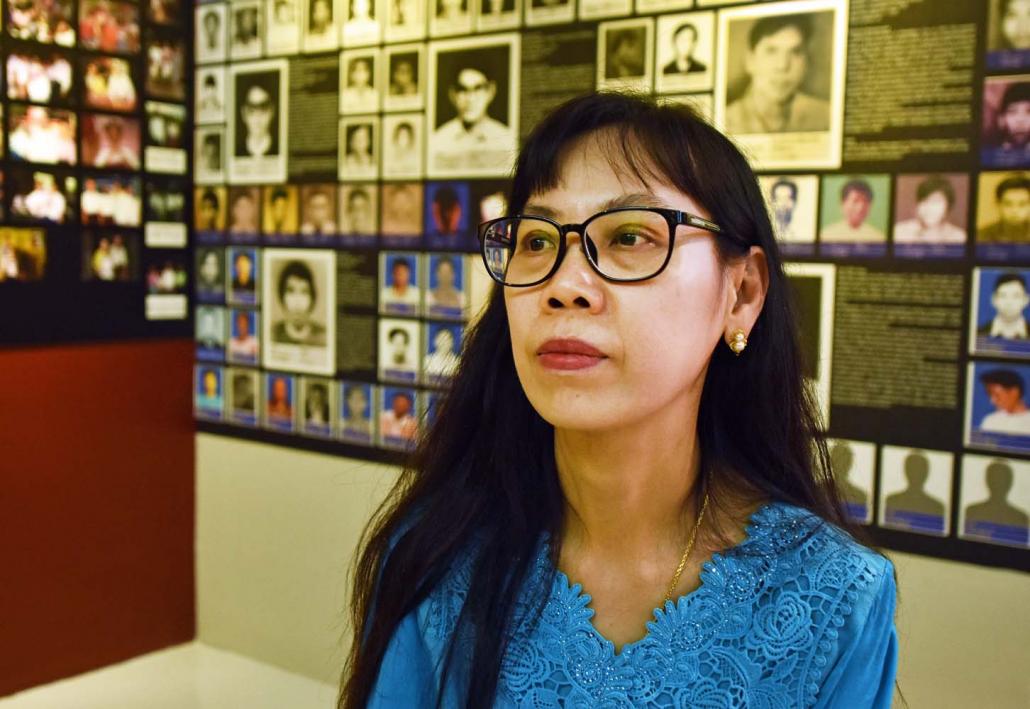 In 2000, she was sentenced to 17 years and four months for two offences under the Emergency Provisions Act and another under the Unlawful Association Act, for sending a list of political prisoners to an activist group in Thailand, and providing money to relatives of political prisoners. She was pardoned in 2011.
Than Than Htay said conditions for women political prisoners in Insein were grim. Fresh air did not circulate in her cell, from which she was released for 15 minutes a day to exercise. Rats sometimes ate her food, she said.
Prisoners in Insein were like animals caged in a zoo, Than Than Htay said.
"That is why most former political prisoners, including myself, do not like to visit the zoo because it reminds us of what we suffered in jail," she said.
A turning point in Than Than Htay's life was witnessing the fatal shooting by police on March 13, 1988 of Rangoon Institute of Technology student, Ko Phone Maw, the first casualty of a crackdown that escalated into the 8-8-88 national uprising against the junta.
Than Than Htay, a second-year student at Yangon University at the time, said it was the junta's deliberate misinformation about the circumstances of Phone Maw's death that motivated her to become more involved in politics.
Her family also paid a price.
When the authorities were searching for Than Than Htay in 1991, they detained two of her older sisters and her mother.
"My mother and one older sister were arrested first and were denied food to force them to reveal where I was hiding," Than Than Htay said.
Another sister, who was imprisoned for a year and four months, was brutally beaten during interrogation sessions. "When I saw her she was unrecognizable because her face was so swollen from the beatings," Than Than Htay said.
During her first term in Insein she had no visitors and when she was jailed there for a second time it was five months before she was able to have family visits. Sometimes food parcels from her family were not delivered.
Dealing with life in prison was emotionally and mentally difficult, said Than Than Htay, who also had to deal with feelings of guilt after she was released because of the difficulties she had caused for her family.
Former political prisoners need a strong mind to rebuild their lives after being released, she said. "I had to struggle."
Than Than Htay said she became involved in politics because she wanted Myanmar to be a better place. "I believed I was doing nothing wrong, so I did not stop my political work," she said.
Colour protest
Daw Cho Cho Aye, 53, vice president of civil society group Demoracy, Peace and Women, was among three women arrested after offering food to monks on the second anniversary of the 2007 monk-led protests.
The women had worn yellow and used yellow umbrellas for a month to mark the anniversary.
"When we went to public places as a group wearing yellow there were always Special Branch police following us," Cho Cho Aye recalled.
A member of the NLD, she had also been part of a group that since 2004 had gathered regularly at Aung San Suu Kyi's Tuesday birthpost at the Shwedagon Pagoda to pray for the opposition leader's release from house arrest.
After being arrested in 2009, the three women were interrogated for four days and three nights without sleep before being transferred to Insein, where they spent four months of pre-trial detention in a bare, dark cell without toilet facilities.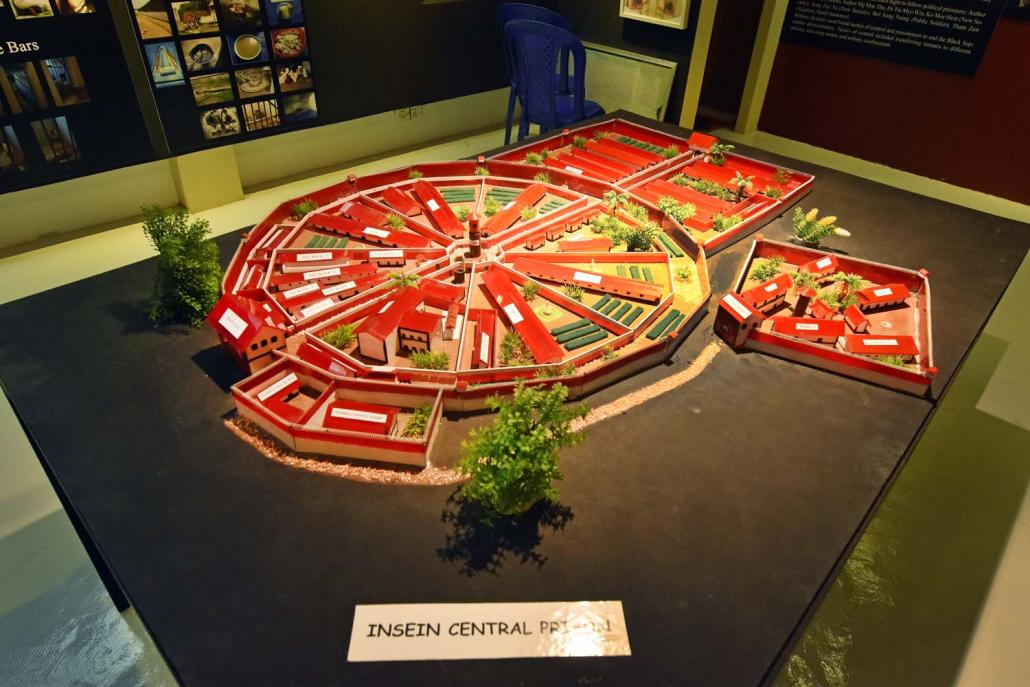 Cho Cho Aye said she was told by a police officer while being interrogated that her daughter, who was studying at university, would not be allowed to travel overseas after she graduated.
"Because they were talking about my daughter, I was very worried about her," she said.  "I saw her only once in two years."
Cho Cho Aye was eventually informed that she would be charged with a wide range of offences that could have kept her in jail for at least 60 years.
"When I saw the charge sheet, my blood pressure went up and I nearly collapsed," she said.
In the end she was convicted of only incitement, and sentenced to two years in prison. She was transferred to Yamethin Prison, in the centre of Mandalay Region.
"They sent me there to make it difficult for my family to visit," she said.
Cho Cho Aye said she drew inspiration while in jail from the sayings of Aung San Suu Kyi. Her bitter experiences in prison only increased her determination to get involved in politics. "The effect of these difficulties on me was like the sharpening of a sword. It made me more motivated, not less," she said.
Cho Cho Aye said it was not easy for women in Myanmar to be involved in politics because they were expected to look after their family.
Women involved in politics are sometimes made to feel selfish, Cho Cho Aye said, adding that she had also faced criticism from members of her own family.
"As a woman who is not able to contribute to the family income, I feel guilty," Cho Cho Aye said.
'I want the government to take responsibility'
Daw Aye Chan, 53, is also a member of Women for Democracy and Peace.
She was once a school teacher, serving in Yangon and Kayin State, but quit in 1998. Five years later she travelled to Thailand to meet the International Labour Organization and discuss forming a labour union to work for the rights of farmers and civil servants.
"I just went there because I wanted to help government staff," said Aye Chan. "I didn't think I was getting involved in politics."
Two years later, in May 2005, three bombs went off simultaneously at two shopping centres and an exhibition hall in Yangon, killing 11 people and injuring 162.
Aye Chan was among those arrested in connection to the bombing. She was charged under section 17(1) of the Unlawful Associations Act and section 13(1) of Myanmar's immigration law.
"When I was arrested, I was surprised and outraged," she said. "I didn't even know which centers had been bombed."
While she was interrogated for 16 days, she was not tortured – unlike some of the other suspects.
"I think if they thought I was really involved in the bomb attack, they would have tortured me for sure," she told Frontier on 17 July.
Aye Chan was convicted and sentenced to eight years in prison, but was released after serving six years. Supporting Aye Chan while she was in prison was a heavy financial burden on her family. Her two sons dropped out of school and the family had to sell their house.
"I want the government to take responsibility for what they have done to us," she said.
According to AAPP, there are 3,500-4,000 former political prisoners in Myanmar, and 33 people who are still in prison for political activities. Another 245 people are facing charges, AAPP figures show.
TOP PHOTO: National League for Democracy lawmaker Daw Phyu Phyu Thin campaigns in 2012. (AFP)