The satirical barbs of Thingyan thangyat performances this year are likely to mock the NLD government over its attitude towards freedom of speech.
By HTUN KHAING | FRONTIER
THE PUBLIC performance of satirical verses known as thangyat have traditionally been as much a part of the Thingyan traditional new year celebrations as throwing water, but the sting of biting humour has not always been appreciated by those in power.
Thangyat performances, which combine poetry, dance and music, were banned by the junta after the 1988 national uprising. It was 25 years before they were permitted to return to Thingyan pandals by President U Thein Sein's quasi-military government in 2013, but on condition the lyrics were subjected to censorship.
When newly-appointed Yangon Region Chief Minister U Phyo Min Thein told a pre-Thingyan news conference on April 2 last year that there would be no restrictions on thangyat performances, revellers were delighted.
This year revellers are disappointed: The NLD government has turned back the clock and decided that thangyat lyrics need scrutiny before they can be performed at Thingyan.
It announced on March 20 that a special committee had been formed to check thangyat lyrics. Aspiring Thingyan thangyat performers were given until March 28 to submit their lyrics for scrutiny.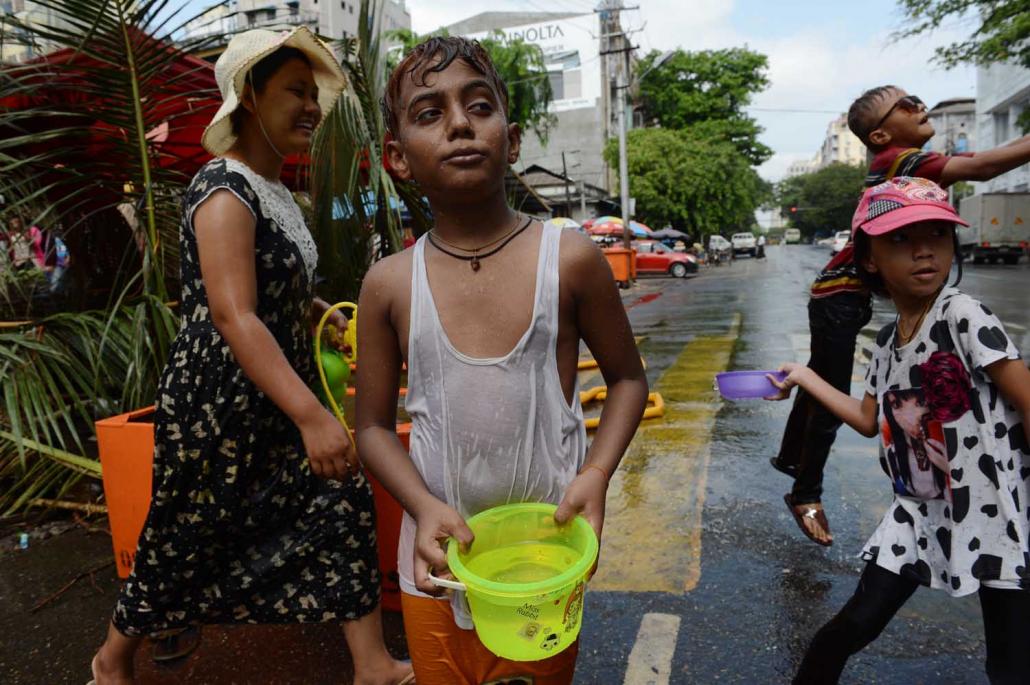 Curiously, the announcement did not say what would happen to those who ignored the instruction, reminiscent of those issued by the junta when the media was subject to pre-publication censorship.
The targets of mocking thangyat humour are usually government leaders or their decisions and the lyrics are often rich with political satire.
Thangyat might have been banned by the junta but that did not prevent them from being performed under military rule.
Performances at Thingyan in 2008 satirised the junta's cruelty during its harsh suppression the previous year of the monk-led protests known as the Saffron Revolution. In 2009, the junta was mocked for giving voting in the constitutional referendum in May the previous year greater priority than responding effectively to Cyclone Nargis, which killed more than 100,000 people.
After the Thein Sein government took office in 2011, common targets of thangyat satire included the unelected military MPs who hold 25 percent of the seats in the nation's Hluttaws, corruption and the slow pace of democratic reform.
There's speculation that a big target for Thingyan thangyat performances in Yangon this year will be Phyo Min Thein because of his role in some controversial decisions.
The chief minister was the driving force behind the introduction of a new bus service in Yangon in January that encountered serious teething problems. A social media video posted on March 1 in which the chief minister claimed the bus service was upgraded in three days was quickly pulled after attracting ridicule. The new Yangon Bus Service is still encountering problems and is sure to attract the attention of thangyat performers at Thingyan.
Phyo Min Thein is also expected to be mocked over his role in the controversial decision last May to suspend work on about 200 high-rise developments. The order was lifted with minor adjustments in August after an angry backlash from the construction sector.
At a pre-Thingyan news conference on March 24, Phyo Min Thein was quoted as saying that thangyat lyrics would be censored for hate speech, but not for criticism of the government.
"We have to scrutinise [the lyrics] to ensure that national unity is not damaged," he said.
Some thangyat performers and troupes are adamantly opposed to submitting their lyrics for scrutiny. Among them is the Daung Oway troupe.
"We equate the scrutiny of thangyat lyrics with suppression; that's why we did not submit our lyrics for scrutiny under the U Thein Sein government and we will not do it this year," said Ko Min Thwe Thit, a spokesperson for the troupe.
Daung Oway has performed at Thingyan since 2013 and has satirised land grabs, corruption and what it perceives as a readiness to be too accommodating with China.
Min Thwe Thit said successive previous governments were hostile towards thangyat because the performances were used to smear their decisions and activities. "But the people see them as an informal way of communicating with the government," he said.
A popular thangyat troupe is headed by actor U Kyaw Thu, a founder of Yangon's much-respected Free Funeral Service Society, who defended the government decision to check lyrics to ensure they did not contain hate speech.
Kyaw Thu's troupe was among the few permitted to perform outside Daw Aung San Suu Kyi's lakeside residence at 54 University Avenue during her years under house arrest.
During the years of junta rule, Myanmar people living in self-imposed exile used thangyat to symbolise their defiance of a regime that stifled freedom of speech. It was common for political activists in exile to produce thangyat CDs for clandestine circulation in their homeland during the Thingyan celebrations.
Salai Kaung Myat Min, who lives in Pyay, was a member of a thangyat troupe in New Delhi that sent CDs to Myanmar for nearly 20 years. He is disappointed, too.
"I never expected that a government chosen by the people would ask to scrutinise our thangyat," he said.
TOP PHOTO: Myanmar revellers take part in celebrations on the fifth and last day marking Thingyan on April 16, 2016. (AFP)