More than a dozen speakers, including activists, businesspeople and entrepreneurs, will speak at this month's TEDx event at Yangon's Inya Lake Hotel, exploring the theme of "Myanmar Connects".
TED (Technology, Entertainment, Design) is a global set of conferences run by the non-profit Sapling Foundation. Notable TED speakers include former US presidents Bill Clinton and Jimmy Carter and Microsoft founder Bill Gates.
TEDx are independent events, organised by those who obtain a licence from TED and follow set criteria.
Ma Thiri Thant Mon, one of the TEDxInyaLake organisers, said the March 23 conference* presented an opportunity to share knowledge with the world, at a time that access to information has improved with better internet access in Myanmar.
"Our education system has suffered greatly in the last five decades or so," said Ma Thiri Thant Mon, who is also managing director at Yangon-based investment group Sandanila.
"That needs to be supplemented and it can be supplemented now that we are connected to the world," she said, adding that the country's isolation from the rest of the world was another issue for development in the past. "We wanted to put forward talks that were varied because Myanmar's narrative to the world has been so limited to the politics, that I think people have forgotten to see us as three-dimensional humans."
Speakers at the event include Ma Yin Myo Su, founder of Inthar Heritage House on Inle Lake, founder of Yangon's Pansodan Art Gallery U Aung Soe, and U Aung Naing Oo, director general of the Directorate of Investment and Company Administration, under the Ministry of National Planning and Economic Development. Other speakers include activists, educators and filmmakers.
Ma Yin Myo Su will use the event to discuss sustainable development, an issue that she feels is important in Myanmar as the country develops and attracts record levels of investment.
"I think now is the time [to talk about this issue], now that the country is opening up and people are coming to invest. I think we should highlight how responsible businesses are very important at this time, and that there are people doing that in our country," she said.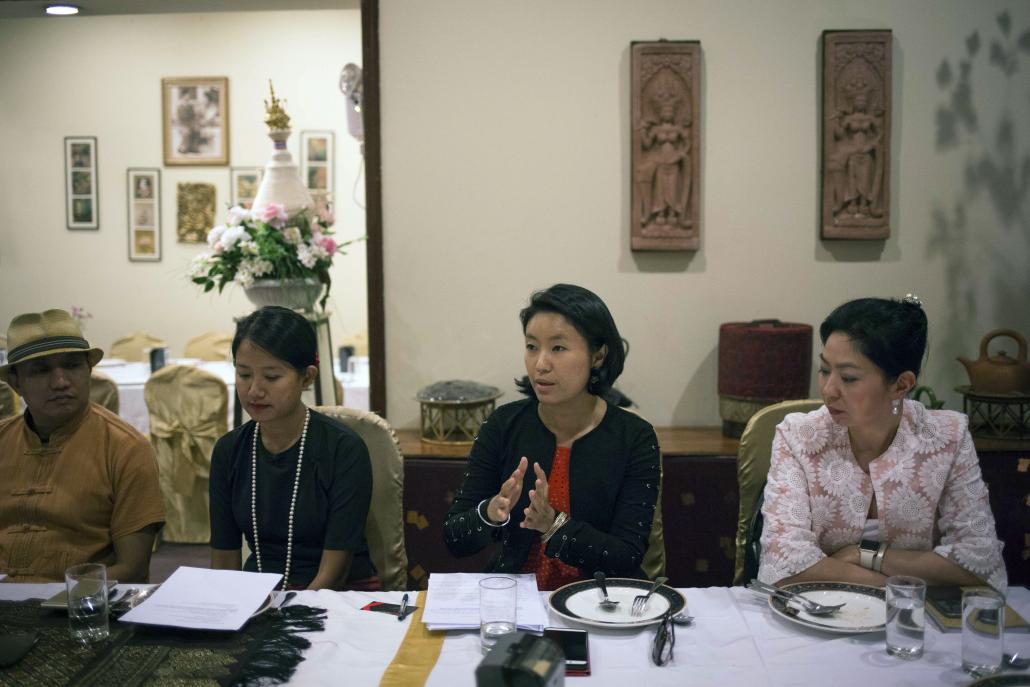 U Tim Aye-Hardy left Myanmar for more than 20 years during the years of military rule. Today he is executive director and co-founder of the Myanmar Mobile Education Project, which provides mobile education to children working in tea shops. He believes the event is an opportunity to contribute to a debate about how Myanmar can best move forward.
"We are going through this wonderful and encouraging transition, but can we build a better society and a better country for everyone? It is a wonderful and unique opportunity to share this experience and the challenges that we are facing in this country with the rest of the world. We can reach out to millions of people who will be watching this," he said.
According to Ma Thiri Thant Mon, all of the talks will be uploaded to the TEDx YouTube channel, which has almost four million subscribers, and some selected videos will be uploaded to the TEDx website.
The event comes just a few days before Myanmar's government transitions to one led by the National League for Democracy. The speakers, many of whom have been affected by the country's military past, want to use the event to talk about some of the most important issues facing the new government.
"I think economic development will drive a lot of things," said Ma Thiri Thant Mon. "Education is lacking, infrastructure is lacking, we have children out of school, we have an entire country that we need to feed. In order to do that, we need money, and for that we need to develop our economy," she said.
For Tim Aye-Hardy, the country will not develop without a reform of the country's judiciary.
"There are so many things that need doing in this country, but the biggest thing I think the government should do is try to get rid of the laws that are out there preventing the country from moving forward. Even though we have all these brilliant ideas, if we have these laws that are restricting ideas to develop, we won't be able to go too far," he said.
Ma Thin Lei Win, founder and chief correspondent of Myanmar Now and one of the event's curators, believes the event presents an opportunity for Myanmar to show that it has the people who can help move the country forward.
"I think it will show that we have the minds, the brains and the hearts within this country to get it moving forward. What needs to be done is to make sure that the development is inclusive, because that has not been the case in Burma before," she said.
*Correction, March 18, 3:45pm: An earlier version of this article incorrectly stated the March 23 event was the first time a TEDx conference had been staged in Myanmar. A previous conference was held in 2012.