United Nations Office on Drugs and Crime report reveals crime syndicates are seeking out new routes through Myanmar in response to law enforcement efforts in northern Thailand. 
By THOMAS KEAN | FRONTIER
Tanintharyi Region has become a major new trafficking route for syndicates producing crystal methamphetamine in northern Shan State as they respond to law enforcement efforts in northern Thailand, the United Nations Office on Drugs and Crime says.
The UNODC said last year that Southeast Asia's drug gangs are making over US$60 billion a year pumping out record amounts of methamphetamine, with northern Shan State the epicentre of the global meth trade.
But law enforcement efforts in northern Thailand have forced crime syndicates like Sam Gor to diversify their trafficking routes, UNODC said in the report Synthetic Drugs in East and Southeast Asia: Latest Developments and Challenges released on Friday.
This was borne out in Myanmar's figures for seizures of crystal meth – also known as "ice" – which are often used as a proxy for production.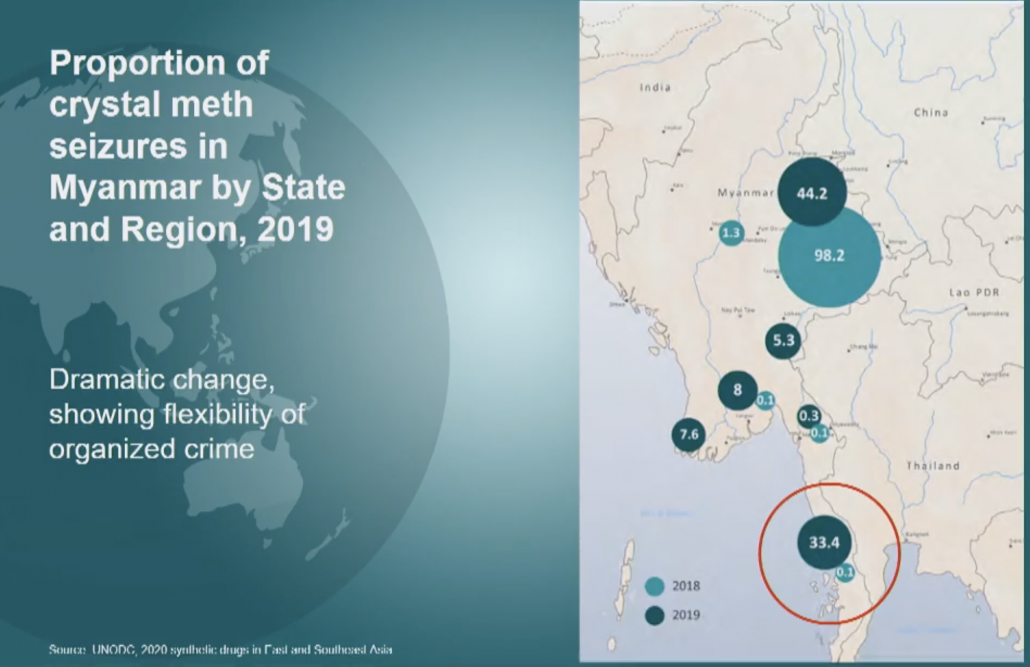 The data shows that the proportion of crystal meth seizures in Shan State relative to the rest of Myanmar fell from 98.2 percent to 44.2pc in 2019.
In contrast, seizures in Tanintharyi Region rose from negligible levels to account for 33.4pc of all seizures in Myanmar last year, based on government figures. Seizures of crystal meth were also up in Yangon (8pc of total seizures), Ayeyarwady Region (7.6pc) and Kayah State (5.3pc), again from almost nothing the previous year.
Thai seizures data reflects the shift, with western rather than northern Thailand now the main gateway into Thailand, from where the crystal meth goes to places like Australia, New Zealand and Japan. Syndicates are also increasingly trafficking from Shan State into Laos and Vietnam, and from there to other markets. "We should not underestimate the flexibility of organised crime groups," Mr Inshik Sim, a UNODC drug programme analyst, said at a live-streamed launch of the report. "They are very agile and know how to respond to changes."
UNODC also said that seizures of methamphetamine tables known as yaba were down for the first time in a decade, but this decline was offset by a rise in seizures of crystal meth, which is much more lucrative for crime syndicates. While a yaba tablet costs just a dollar or two in Southeast Asia, a gramme of crystal meth fetches up to $500 in some markets.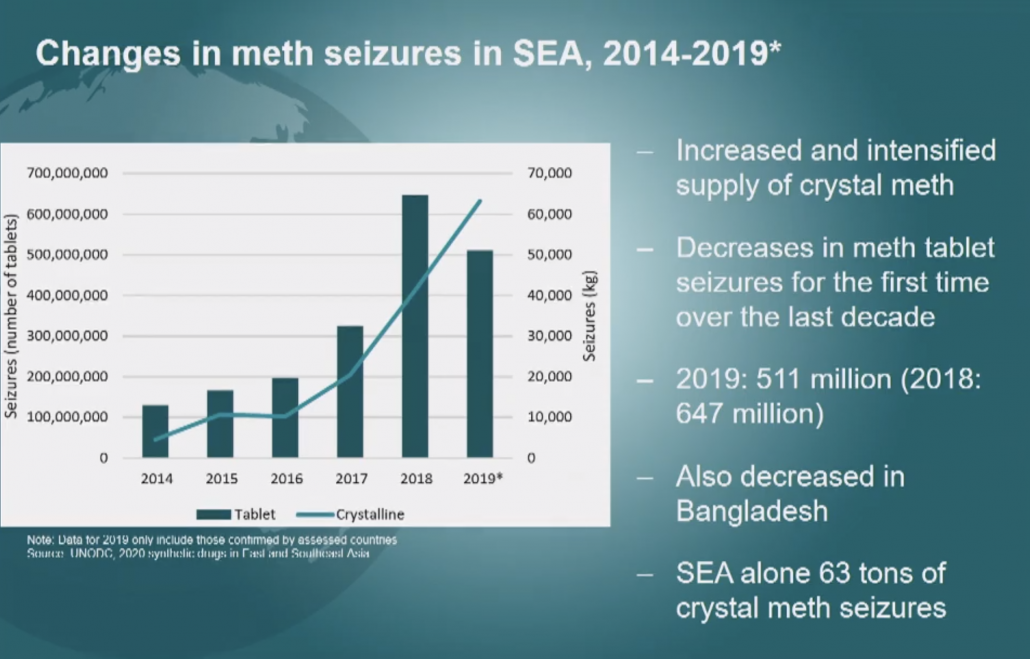 However, the report also cited lower prices overall, as drug syndicates chasing short-term profits flood the market with both yaba and crystal meth. "It's truly a supply driven market in this region," Sim said at the report launch.
The latest UNODC report said methamphetamine seizures were down slightly on last year because of the absence of data from China. After adding figures for seizures in China, which average about 30 tonnes a year, total seizures for 2019 will exceed the previous year, it said.
On the impact of the COVID-19 pandemic on the meth trade, UNODC representative for Asia and the Pacific Jeremy Douglas said it was difficult to say yet but suggested it may create new business opportunities for Asian syndicates.
Noting reports that Mexican drug cartels were having trouble sourcing precursor chemicals, Douglas said Asian cartels had no such problems because they source directly from factories – mostly in China – rather than divert from legal trade. "It puts syndicates in this region at an advantage over syndicates in other parts of the world… we're very concerned that syndicates here will capitalise [on COVID-19]."