Amid turmoil and uncertainty, some Myanmar youth have gone overseas or are choosing to remain abroad despite facing financial challenges and survivor's guilt.
By EMILY FISHBEIN
The February 2021 coup devastated work and educational prospects for most young people in Myanmar and cast a shadow over daily existence.
According to the International Labour Organisation, some 1.6 million people lost their jobs in 2021, while teacher and student unions have reported that a majority of students are still boycotting the military-controlled public schools. In cities and towns, armed police and soldiers patrol the streets, and vigilante shootings and bomb attacks have become increasingly common. In rural areas, fighting between resistance groups and the military has internally displaced half a million people and caused another 48,000 to flee to Thailand and India, according to the United Nations Refugee Agency.
Faced with this dire situation, many people are seeking opportunities to study or work abroad. Frontier interviewed three young people in countries with limited Myanmar diaspora communities about how they got there and their experiences watching chaos engulf their country from afar. Their names have been changed to protect the safety of their families in Myanmar.
'I had to rethink about staying in the country'
Zin Zin,* 29
Zin Zin, a medical doctor, was working with an international humanitarian organisation in an ethnic state when the military staged its coup. She joined street demonstrations and treated wounded protesters when the military response turned violent.
Over the following months, she became involved in various anti-coup networks, including those supporting the mass strike of civil servants known as the Civil Disobedience Movement (CDM), and later, those supporting armed resistance groups. Although she had vowed to herself that she would stay in Myanmar until the democracy movement succeeded, as more and more of her contacts and friends were arrested, with some sent to interrogation centres, she began to reconsider.
"I couldn't assess my risk and how much [my contacts] would expose after being interrogated," she said.
Before the coup, she had been planning to sit the exams that are a prerequisite for foreign doctors to practice medicine in the United Kingdom in a few years. So when several close contacts were arrested in mid-2021, she discussed accelerating the plan with her friends.
By then, however, she could not afford it.
"I had a good-paying job but I stopped saving money after February. I shared it with my CDM friends, supported them, and I literally ran out of cash in my bank account," she said. She was just about to go into hiding when her friends offered to cover her travel and living expenses.
"I felt so bad to leave the country at that moment, but all of my friends who were in the revolution together understood me, supported me emotionally, financially and logistically to get out," she said.
The first of the two exams Zin Zin needed to take is offered in several countries. But when she tried to register online, she could not find any available seats within the next six months in Asian countries that she could enter under pandemic restrictions. So, she booked her exam in the UK for late 2021.
Even in the best of times, applying for a visa to Western countries is challenging for Myanmar nationals, who typically need to show that they have enough money in their bank accounts to support their living expenses during their stay, that they have stable employment, and that they are not likely to overstay their visas.
The pandemic and coup have made this process even more daunting. Many people have lost their jobs and savings, and with the country in crisis, visa applicants may appear to be more of an overstay risk.
On top of this, VFS Global, an outsourcing agency that handles visa applications to several countries including the UK, closed its office in Yangon for several months last year due to the coup and pandemic. The next closest office in Thailand was also inaccessible for a time because of COVID-19 restrictions, leaving people in Myanmar scrambling for alternatives. A Frontier review of social media posts showed that many went to the Middle East, South Asia and the South Caucasus to apply for visas to Western countries.
Zin Zin applied online for a tourist visa to a country in the South Caucasus, and then boarded an overnight bus to Yangon. "There were so many checkpoints along the way, and I was always shaking," she said.
Her final days with her family were tense. The junta has frequently targeted the families of dissidents, and Zin Zin said it was left unspoken that her family preferred she leave as soon as possible. "They were sad to say it out loud. They are supportive of my activities but they feel safer not having me around," she told Frontier.
She left Myanmar with a friend, and both of them were overwhelmed with relief and sorrow when they went out the next day. "It was like a whole new world," said Zin Zin. "People were walking freely, and they looked so happy. My friend and I cried that day, thinking of our friends and families back in the country."
They soon met others from Myanmar but were hesitant to trust anyone. "We have to choose carefully who we stay with because some might be daughters or sons of big military people," she said. Finally, they selected a roommate and rented a two-bedroom apartment for about US$500 a month through Airbnb. Despite the chilly weather, their tight budget made them frugal about using heating.
After applying for a 24-day visit visa to the UK, Zin Zin passed her time studying for the exam, while still attending online meetings with various anti-coup groups. To cope with her stress, she meditated.
"I started doing it after the military coup because I reminded myself that I could get killed or tortured any time. And to be ready for death, I had to be at peace with myself," she said.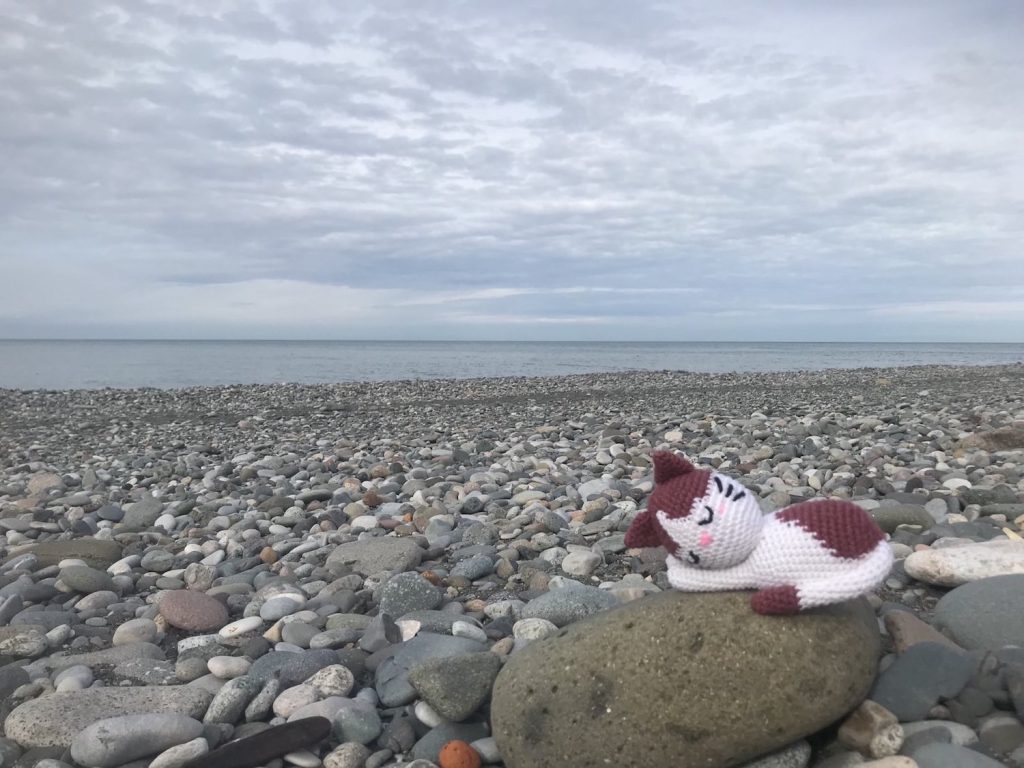 'They are so much better than me… I feel so guilty'
Although she is doing her best to continue participating in anti-coup activities, she said it is at times painful not to be able to stand alongside her friends in the country who are still in danger. "What I did in Myanmar was nothing compared to them, going to the front lines, hiding in the country, still being strong as CDMers, helping as much as they can," she said. "They are so much better than me. So from time to time, even if I am outside, being physically free, I feel so guilty to leave the country."
Her frustrations only increased when, after waiting for two months, her visa application was rejected. The reasons included being unable to demonstrate that she had enough money to cover the cost of her visit, that she intended to leave the UK at the end of her visa term, or was "genuinely seeking entry as a visitor".
Months later, she said rereading the letter still upsets her. "I feel like shit for being called insincere even though I have my own professional reasons [for applying]," she told Frontier.
Zin Zin rebooked her exam for early 2022, in a South Asian country that had reopened its borders. However, the exam was three months away and she could only apply for a one-month single-entry visa. When her visa expired two months later, she moved to another country in the South Caucasus for a month.
Finally, she took the exam and then moved to yet another country in South Asia when that visa expired. She recently learned that she passed the exam, but the second exam she needs to take is only offered in Manchester. She needs to apply again for a UK visa, and in the meantime is not sure where she will go next when her current visa expires.
During her travels, Zin Zin has crossed paths with others whose plans also went awry after they left Myanmar. Some, she said, took jobs elsewhere, and some are moving from place to place like her.
"We all have some kind of goal, work or studies, but the path we have to take changes every day, every week, every month, depending on the countries' policies," she said. "Financially, it is very difficult, and psychologically, emotionally it is very difficult. We don't have the privilege of getting easy visas."
Because she is always on the move, she does not have the chance to develop these brief connections. "Living alone is sometimes peaceful, but it hurts your mental health so bad," she said.
Zin Zin is also burdened by guilt, having relied on her friends for her travel and living expenses for more than six months. She said she has been unable to find remote work, and has been reluctant to apply for medical positions in another country until learning whether her plan to study in the UK will work out.
"Sometimes I feel my life is very unproductive and useless," she said. "I don't want to trouble anyone anymore; I don't want to be financially supported by my friends."
Although she often thinks about returning to Myanmar, she said her family and friends have discouraged her because they are worried about her safety and the safety of her revolutionary contacts. "Whenever I start the conversation…they say no, tell us what you need, and we will try our best, but don't go back."
*Frontier has withheld the countries where Zin Zin stayed and her months of travel at her request, because she fears she could be identified and that it could affect visa applications of people in similar situations.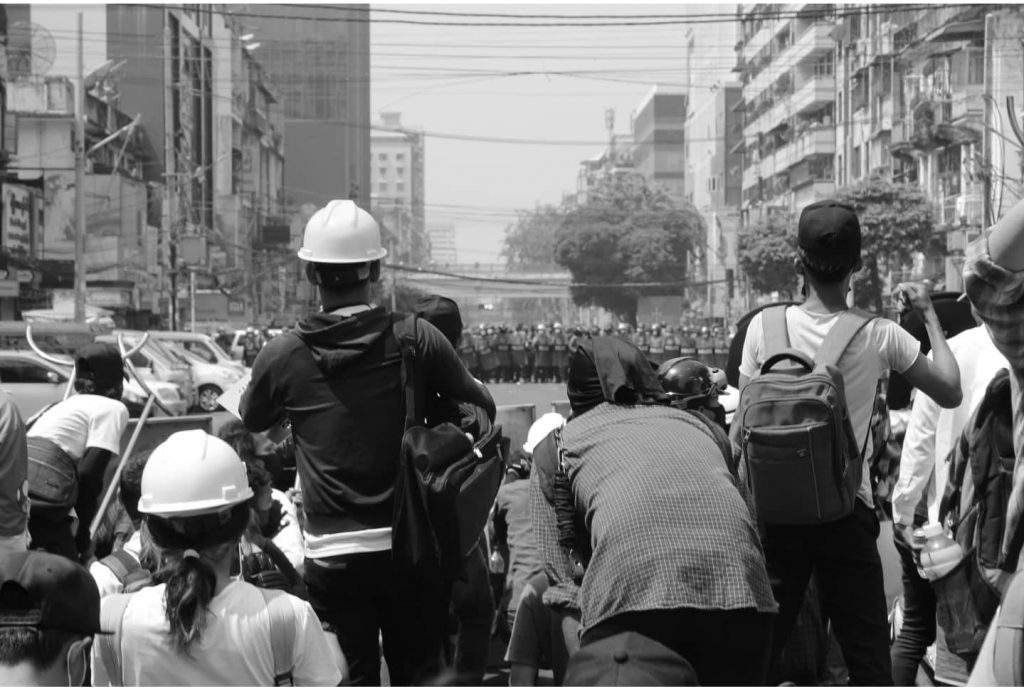 'If I have money, I will be able to support the revolution in a different way'
William*, 24
Before the pandemic, William's life was going well. He had moved to Yangon from his native city of Taunggyi, Shan State in 2019 to work as a receptionist at a five-star hotel, and was earning enough to send money home to support his mother and younger brother.
The hotel closed in 2020 after Myanmar shut its international borders, and William lost his job. He was just settling into a new one at a corporate office when the military seized power.
"After the coup, I wasn't able to go to work. The salary and employment reduction were horrible," he said. He joined anti-coup protests, where his experiences witnessing the military's lethal crackdowns convinced him and a friend to contact an ethnic armed organisation.
"I decided to join ethnic armed forces because I hate this evil dictator so much. I cannot stand and watch everything they are doing to our people," he said.
But before his planned departure, a recurring back pain began to worsen. By the time he got an appointment with a doctor, he could barely sit or walk. He was admitted for surgery the same day.
"Unfortunately… I missed the opportunity to join with my friend," he said. 
It took him more than two months to recover, during which time he felt increasingly unsafe, even in his apartment. "I was living with my friends. We are all guys in our 20s, and the military keeps an eye on young people because they think we are dangerous. Even our landlord warned us not to do anything suspicious," he said.
His savings also dwindled, and when his family got sick with COVID-19, he had to borrow money to rent oxygen concentrators.
With limited job prospects in Yangon, he began searching for hospitality work in the United Arab Emirates. "I didn't have money and was physically not strong enough to fight against the military," he said, "I thought, 'If I have money, I will be able to support the revolution in a different way.'"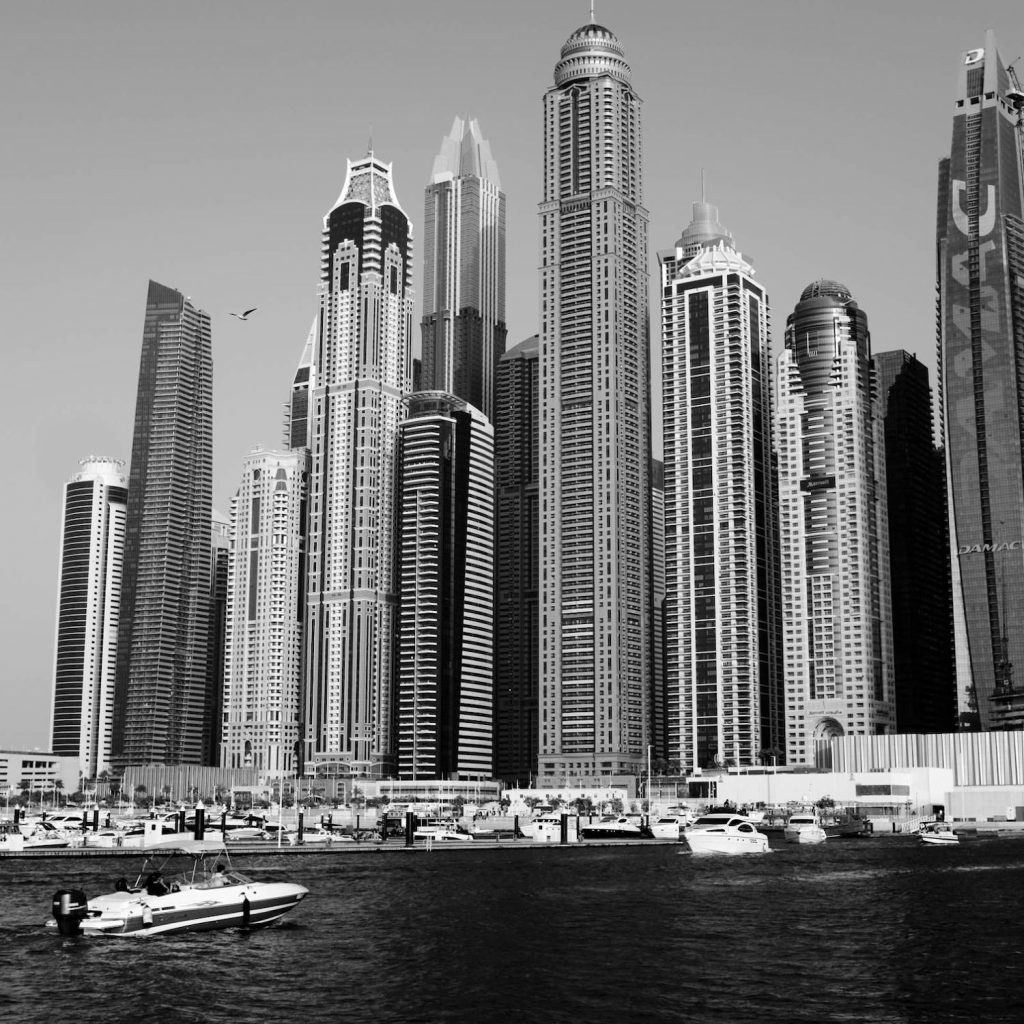 'When I left my country … I felt like 'I am free now''
Although he received an offer with an international hotel chain in Dubai, it was rescinded at the last minute. He decided to take his chances and go on a tourist visa.
"I just came alone, hoping to find a job," he said. "I heard many stories that if I had hospitality experience, it would be very easy."
For accommodation, he turned to Facebook. "I posted that I was looking for an apartment and someone contacted me that he had a place that I could rent," he said. The person was an agent from Myanmar who charged him 600 dirham (US$163) per month, although William later learned that the going rate was AED 400.
He borrowed around $1,100 from a friend for his visa, plane ticket, PCR test and first month's rent. After a brief trip to Taunggyi to say goodbye to his mother and brother, he flew out in October. "I remember the feeling when I left my country. I felt like 'I am free now,'" he said. "Until the airport, there were so many police with guns."
His room turned out to be just big enough for a bunk bed, which he shared with another tenant. "It was difficult, but I didn't have any other choice, because here in Dubai, things are really expensive," he said.
He immediately began searching for work, sending his CV to around 100 companies and hotels. After two months and three interviews, he was hired as a receptionist at a resort on a two-year contract.
His employer arranged his visa and provides accommodation around 30 minutes from the resort, as well as transportation and food. He works 10 to 12 hours a day and gets four days off per month, which he sometimes uses to explore the city, but mostly to rest. "I usually sleep and watch movies because I feel really tired from working," he said.
William said his employers treat him well, and that being the only worker from Myanmar at the resort has encouraged him to make friends with colleagues from Indonesia, Pakistan, Ukraine and other countries. But homesickness and concern for the situation in Myanmar, on top of the long hours, sometimes wear him down.
"I feel safe from the military, but emotionally, I worry for my family and friends," he said. "Sometimes, I even wonder if I made the correct decision."
During these times, he reminds himself of his reasons to be grateful. "At least I am here now and working and earning money so I don't have to worry that much compared to same-age people in my country," he said. "Some don't even have jobs and can't even go out safely."
He is now earning around 2,300 AED (US$626) per month, has paid back most of the money he borrowed, is supporting his mother and younger brother, and donating to the anti-coup movement.
He is also saving up for the time when the regime ends, so that he can start a small business back in Taunggyi with his family. "I am thinking hopefully someday in the very near future we will win and I can go back home," he said. "These kinds of things motivate me to keep going."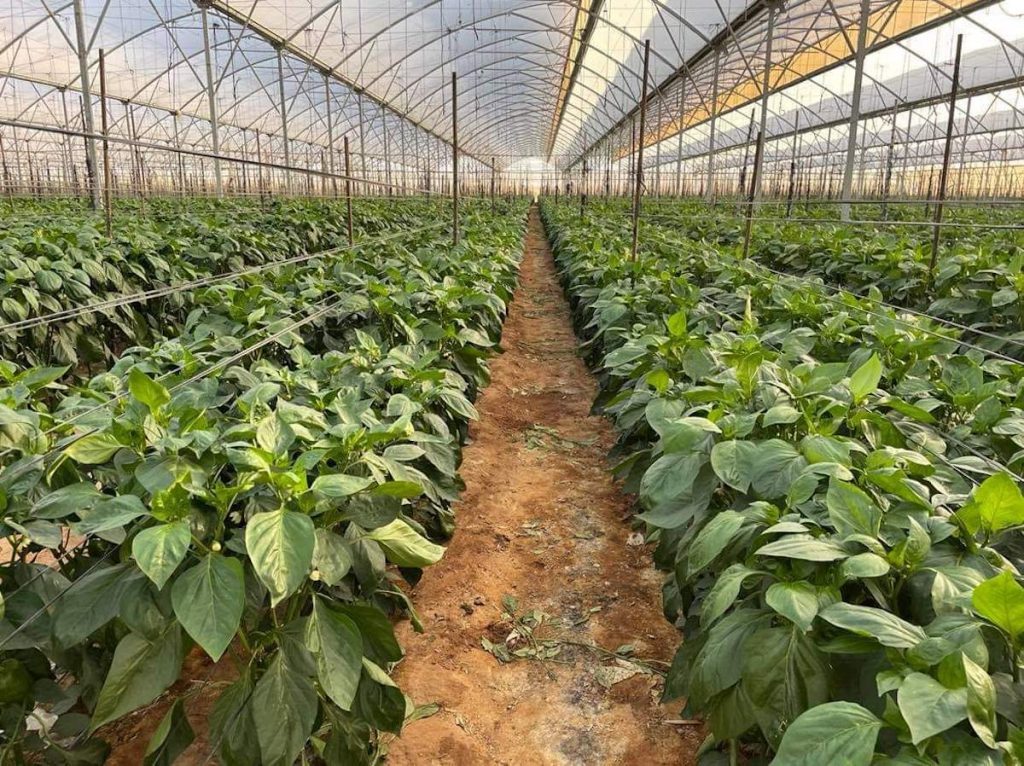 'I will go back immediately when the military returns the authority to its rightful owners'
Awng Latt*, 28
When the military seized power, Awng Latt was in Israel's Arava Desert, attending classes on agriculture and entrepreneurship and farming dates, peppers, melons and grapes alongside migrant workers at the Arava International Center for Agriculture Training.
He is part of a cohort of a few hundred students from across several agriculture schools in Myanmar who, following their coursework in-country, travelled to Israel in June 2019 for the ten-month study abroad programme, which also welcomes students from other Asian and African countries.
Due to the pandemic, the programme was extended by a year, and he was months away from finishing at the time of the coup. He travelled to Tel Aviv and protested with some of his classmates, and then went back to his school, which allowed Myanmar students to stay on through January of this year due to the coup. "They drew a special schedule for us and gave us another programme to learn again. The school helped us a lot," said Awng Latt.
Awng Latt thrived in the programme and was one of a handful of students awarded a small business grant, which he had planned to use toward making bamboo bicycles back in his native Kachin State.
These plans fell through, however, when the school extension ended in January, and the situation in Myanmar had not improved. Realising that the coup had diminished their prospects of running successful businesses as well as living in safety, most participants in the programme decided to search for jobs in the food and hospitality sectors in Israel.
For Awng Latt, the decision meant returning the business grant.
"All my plans have been disturbed by the coup," he said. "Even If I go back, I cannot do what I want. I cannot start my project."
He and some classmates hired an agent to arrange their visas, which they have to renew every three months. They hired another agent to search for jobs. "Finding a job is not that difficult. There are many vacancies and few workers," he said.
Now, instead of making bicycles in Kachin, he is rolling sushi in Tel Aviv alongside migrant workers from countries including Ukraine, Russia and Thailand. He said it has been easy to make friends, with whom he often talks about the situation back home, and that he is slowly picking up Hebrew.
Compared with Myanmar, where he felt discriminated against by the majority Bamar as an ethnic Kachin, he said that in Israel, he feels more accepted by both locals and other foreigners. He also said he feels safer in Israel, even though Tel Aviv is just 71 kilometers from the Gaza Strip and last May, came under rocket and mortar fire amid an escalation in fighting between Israel and Palestinian armed groups.
Yet while Awng Latt is grateful for his safety and freedom, he hasn't been able to enjoy himself much because his mind is constantly focused on the situation back home. "I always worry and check the news, even while I am working. I feel sad whenever I see the news in Myanmar," he said.
He also described a strenuous schedule, working six days a week from 9am to 11pm and sleeping just six hours a day.
He receives 40 shekels (US$12.60) an hour through his agent, who does not give him overtime pay. "As foreigners, we need to hire agents. The employer gives our salary to the agent, and the agent gives us after he cuts his pay. We have to negotiate with the agent how much we want hourly," he said.
He shares a two-storey house with 10 classmates, for which he pays 1,250 shekels (US $388 a month). After his living costs, he sends the rest of his income home to his family.
"It is tiring, but everyone is thinking we are not going to stay here permanently; we are just here because of the situation in our country," he said. "I will go back immediately when the military returns the authority to its rightful owners."
Nu Nu Lusan contributed to this report