The Christmas spirit runs deep in the Kachin State capital, where December is alive with bright lights, cheerful greetings and roving groups of carollers.
By EMILY FISHBEIN | FRONTIER
NOVEMBER 30 started like every other winter morning, my teeth chattering as I showered. Bicycling through Myitkyina's Shatapru ward, I was thawed by bright smiles and calls of "Happy Sweet December!" "Happy Sweet December!" I replied, clueless as to what it meant.
Winter in the Kachin State capital comes with crisp weather, lots of sunshine, walnuts and grapefruit. Although it's my third Kachin winter, it's my first Sweet December. I vastly underestimated how deep the Christmas spirit runs in Kachin.
I entered Shatapru's Yin Kwin Café to another flurry of greetings. "We can feel Christmas coming and welcome it," said the café's owner, Peter Sut Nau. "December is the sweetest and happiest month and our minds become cheerful," he said, and then resumed hanging ornaments on an artificial Christmas tree while humming along to "Jingle Bell Rock".
At midnight, bundled under blankets, I was fading off to sleep when the fireworks started. Messages began to pour into my phone: six audio files of "Merry Christmas" to the tune of "Happy Birthday", and a YouTube cover of "Feliz Navidad".
December 1 was a Sunday and I accepted a friend's invitation to an evening church service. We sang along as lyrics in Jinghpaw and Burmese were projected onto a screen, while a young, ebullient church choir and rock band commanded the stage, Christmas tunes reverberating through the packed hall.
Next was a visit to the lights display in the Kachin National Manau Park, a twelve-day extravaganza attended by seemingly every couple and family in town. I got to enjoy six days of it, because security was the responsibility of the sports group of which I'm a member. I'm not a particularly intimidating figure so was allocated "cycle stand" duties, attaching numbered tags to motorbikes and collecting fees to use the parking lot.
Our work finished each night at 11 o'clock with servings of san byote (rice porridge) we had cooked over a fire. Inside the gates was a Disneyland of attractions and photo-ops, including heart-shaped tunnels, hanging stars, an Eiffel Tower and a full moon backdrop in front of which courting couples made coy silhouettes.
Carolling, I learned, is another important Sweet December activity. I asked around and secured a spot with the Lachid Culture and Literature Association, which represents one of Kachin's smaller ethnic communities.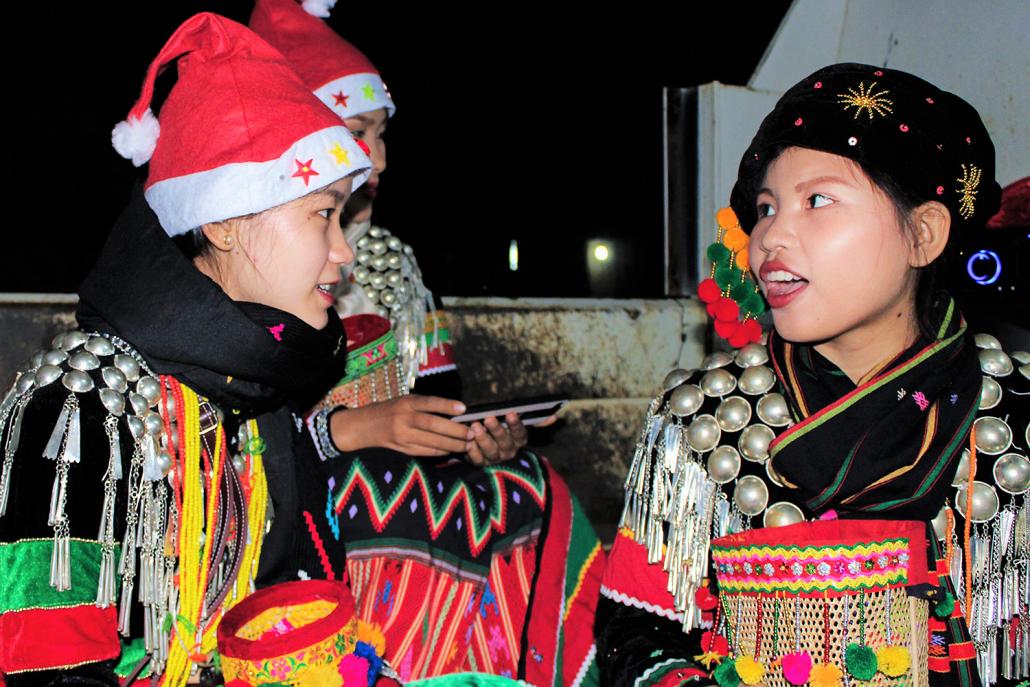 The evening started auspiciously when my friend and I arrived an hour past the proposed meeting time and were the first there. Nearly two hours later, songbooks in hand, we climbed a shaky wooden ladder into our transport for the evening, a repurposed building industry pick-up with a 20-pound generator powering a 40-pound boombox.
Looking around, I quickly felt inadequate, resembling a clumsy bundle of sweaters and scarves amid crisply-ironed, elegant Lachid dresses. Perhaps sensing my unease, a young woman whose movements were accompanied by the pleasant jingling of a blouse embroidered with silver ornaments handed me a light-up Santa hat.
Riding through town, our guitarist, a hip young man wearing tight jeans and an embroidered Lachid jacket, practised his repertoire of carols until overcome by motion sickness. His vomiting seemed imminent when we reached our destination, the first of what I was told were the 80 Lachid households on our list for the evening, which was the last of seven nights of carolling for the crew.
I stumbled my way through the lyrics, learning to my relief that Lachid, like Jinghpaw, is written in a Romanised alphabet. Our first visit complete, we moved to the next house.
At some homes, we were greeted by dancing children; at others, the families perhaps already asleep, we sang to closed gates. At 10pm, a mere dozen households finished, it was announced that to meet our target, we would need to continue until 2am.  
My friend and I opted to duck out and warm our stomachs with gyet-oo gazaw, a steaming, calorie-laden soup of sweet milk, fermented black rice and soft-boiled egg.
After that came a marathon of Christmas festivals, prayer sessions and late-night san byote. In Kachin, the month of December is sweet indeed.