The government's struggle to increase testing capacity amid shortages of equipment and staff is beginning to pay off and will leave Myanmar much better prepared for future pandemics.
By HEIN THAR | FRONTIER
On April 22, three container trucks carrying parts of a Swiss-made Cobas 6800 Analyser arrived at the National Health Laboratory in Yangon to much fanfare. Donated by a local company, AA Pharmaceutical, the machine was trumpeted as a gamechanger in Myanmar's response to COVID-19, because it would enable a significant scaling-up of testing.
Previously the NHL had been conducting just a few hundred tests a day, up to a maximum daily capacity of around 300. From early May, the Ministry of Health and Sports said, it would be able to conduct an additional 1,400 tests a day with the Cobas analyser.
Further steps were soon taken to boost testing capacity. The Department of Medical Research also began conducting COVID-19 tests on April 23, and the ministry revealed plans to establish new laboratories outside Yangon. Meanwhile, a few days after the donated machine arrived at the NHL, the military announced it had two more of the Cobas machines available, and offered to use them to test samples from civilians.
Yet, in spite of these initiatives, testing barely increased for almost a month. Only since mid-May has the number of tests regularly hit 500 a day. By June 9, only 38,123 tests had been performed overall in a country of 54 million.
The slow scale-up of testing suggests there is no silver bullet. A range of factors need to be in place to test on a wide scale – not just the machines to perform the tests, but also testing kits, chemical reagents, human resources, supply chains and policies.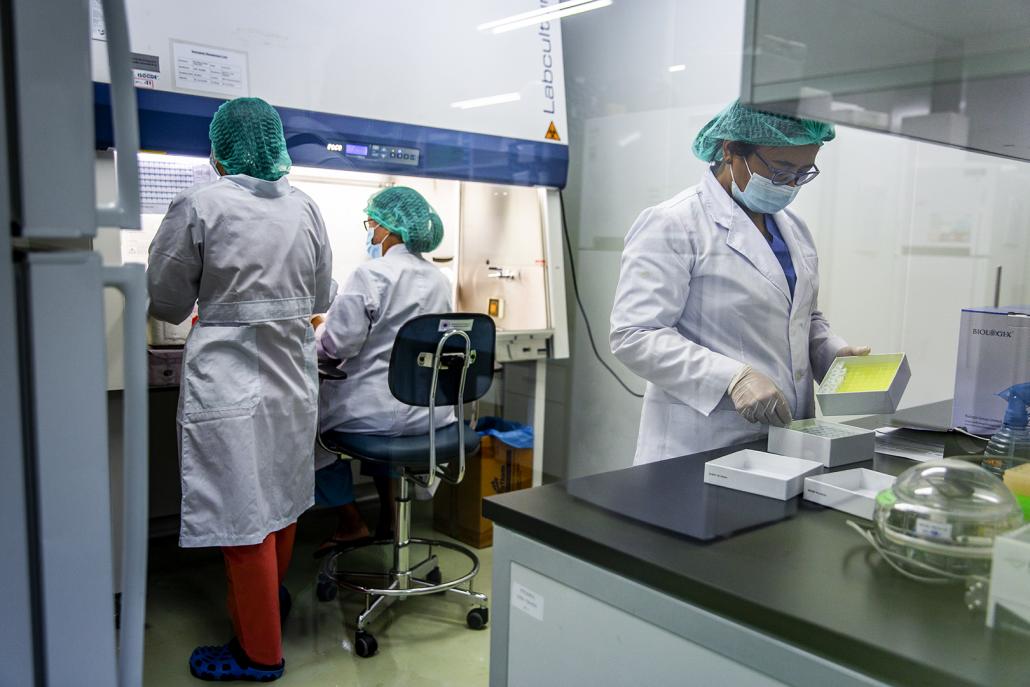 'It takes years to train a doctor'
The importance of widespread testing for controlling COVID-19 has been widely acknowledged. Countries that were slow to expand testing, such as the United States and United Kingdom, have seen case numbers spiral out of control. As the World Health Organization director general, Dr Tedros Adhanom Ghebreyesus, said back in March, "You can't fight a virus if you don't know where it is … find, isolate, test and treat every case, to break the chains of transmission." Some countries are expanding testing on a massive scale to include people without any symptoms as part of their strategy to safely emerge from lockdowns.
In Myanmar, the lack of testing for COVID-19 has been perhaps the most commonly voiced criticism of the government's response to the pandemic. Rather implausibly, Myanmar did not detect a case until March 23, well behind most other countries. Some critics even suggested the government was deliberately undertesting in order to downplay the extent of COVID-19, a charge it denied. That 12 patients died while under medical surveillance for COVID-19 before a case was officially registered only added to the scepticism.
But while government policies have indeed limited the extent of testing – for example, by restricting who is eligible to be tested – this has mostly been a function of the lack of testing capacity. The health ministry has repeatedly said that there are several reasons for the low testing rate, including a shortage of equipment and qualified personnel.
Myanmar was not well-placed to conduct mass testing when COVID-19 emerged in late 2019. When Frontier visited the NHL on March 20, a handful of worried-looking staff were carrying out a few dozen tests a day using RT-PCR machines. Just a month earlier they had been unable to test for the coronavirus at all, and had to send samples to a laboratory in Thailand. At the time of Frontier's visit, it had perhaps 10,000 test kits and was struggling to get more amid a global shortage, according to diplomatic sources.
Even with the limited kit on hand, the lack of staff was painfully clear. In the early days of the coronavirus in Myanmar, the number of medical personnel at the NHL testing for COVID-19 was less than that of a football team and they were responsible for testing samples from throughout the country.
"We need volunteers," Dr Htay Htay Tin, the pathology professor who directs the lab, told Frontier at the time. "Whoever is experienced in microbiology and medicine, please come and help us."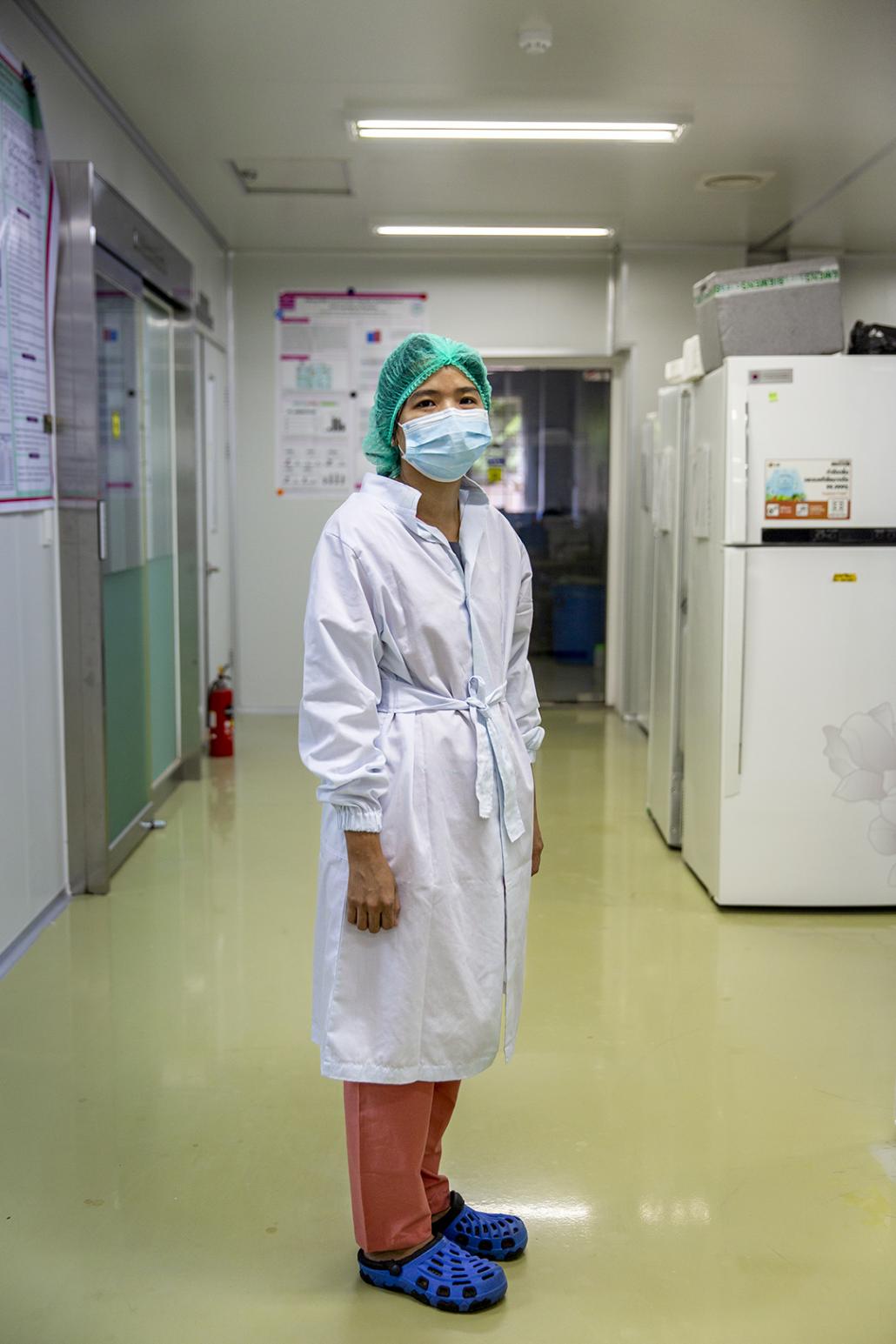 The number of personnel at the NHL has since risen to about 40 and includes medical specialists and microbiologists as well as laboratory technicians. The workforce at the NHL has also been bolstered by volunteer doctors and other personnel assigned from the World Health Organization, the United Nations Children's Fund, UNICEF, and international NGOs such as Care Myanmar.
Despite the increase in numbers, personnel at the NHL and DMR still need to work more than 12 hours a day in order to test all of the samples.
"Out of a sense of responsibility, we dare not ask for a single day's leave," said Dr Ohmar Swe Tin, the deputy director of the NHL.
Responding to questions on testing in the Pyidaungsu Hluttaw on May 22, Minister for Health and Sport Dr Myint Htwe also expressed concern about the long hours that NHL staff were working.
"They are exhausted, working until 3am or 4am every day," he said.
He said that while the ministry had already spent US$8.7 million and K49.9 million on testing, money alone would not be enough to expand testing capacity.
"You can build a building straight away if you have the money, but it takes many years to train someone in medicine," the minister said.
Myint Htwe said that along with human resources he was mainly concerned about securing adequate supplies of reagent.
As with testing kits, Myanmar initially struggled to get access to adequate amounts of the chemical reagent needed to process samples in a laboratory. It's not alone: unprecedented demand for reagents has created testing bottlenecks in many countries, from the UK and US to Indonesia and South Africa.
This was one of the factors behind the slow introduction of the donated Cobas testing machine, which had come with on a limited amount of reagent, Ohmar Swe Tin said.
Both Myint Htwe and Ohmar Swe Tin said Myanmar was relying on donations of reagent rather than buying it because of the difficulties in securing supplies from commercial sources, but now had enough supplies.
"Most of the reagent is being donated by UNICEF; Singapore, Thailand, and South Korea are also donating reagent," said Ohmar Swe Tin. "We have so many reagents now, we do not need to be worried."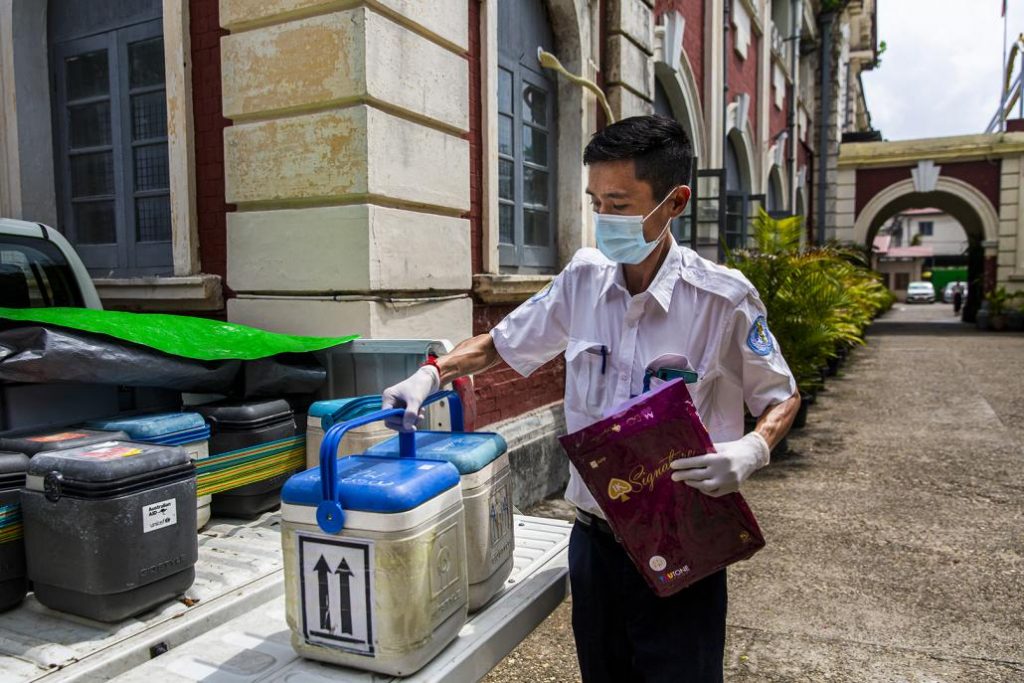 Building a network of labs
It's 6am at the National Health Laboratory and a team of nine volunteer workers armed with scissors and knives are busy unpacking the day's delivery of swabs that have been sent for testing from around the country.
Opening the boxes that enclose the tests is one of the most time-consuming tasks at the NHL.
The correct procedure for packing the boxes involves three steps: the swab is placed in what's known as the Viral Transport Medium and the VTM is put in a plastic box, which in turn is put in a plastic bag and placed inside an ice chest to keep the sample at the required temperature on its journey to the laboratory.
The swabs initially came only from hospitals but since last month they have also been sent from quarantine centres throughout the country; as of June 7, there were 48,255 people in facility quarantine.
The NHL receives up to 400 containers a day and many that did not originate from hospitals are not packed correctly; those from quarantine centres are often prepared by volunteers or people with little or no healthcare experience. Old glass bottles have been filled with VTM and used to transport samples.
Sometimes the containers are wrapped with so much tape they are difficult to open, said Ohmar Swe Tin.
"Many boxes arrive like that," she said, adding that the nine volunteers need to spend half a day opening the containers. "The person bringing the sample does their best to make sure it's safe. Some of the boxes come from far away and they know there is a risk they could be damaged, so they seal them tightly with tape."
After unpacking, the plastic container is taken to a room with negative pressure where the sample is removed from the VTM and mixed with reagent, prior to testing.
But the long journey to Yangon from hospitals and quarantine centres could soon be a thing of the past. The health ministry's response strategy for COVID-19, finalised on April 20, outlined plans "to make decentralised, reliable testing for COVID-19 more available" through the establishment of new laboratories around the country.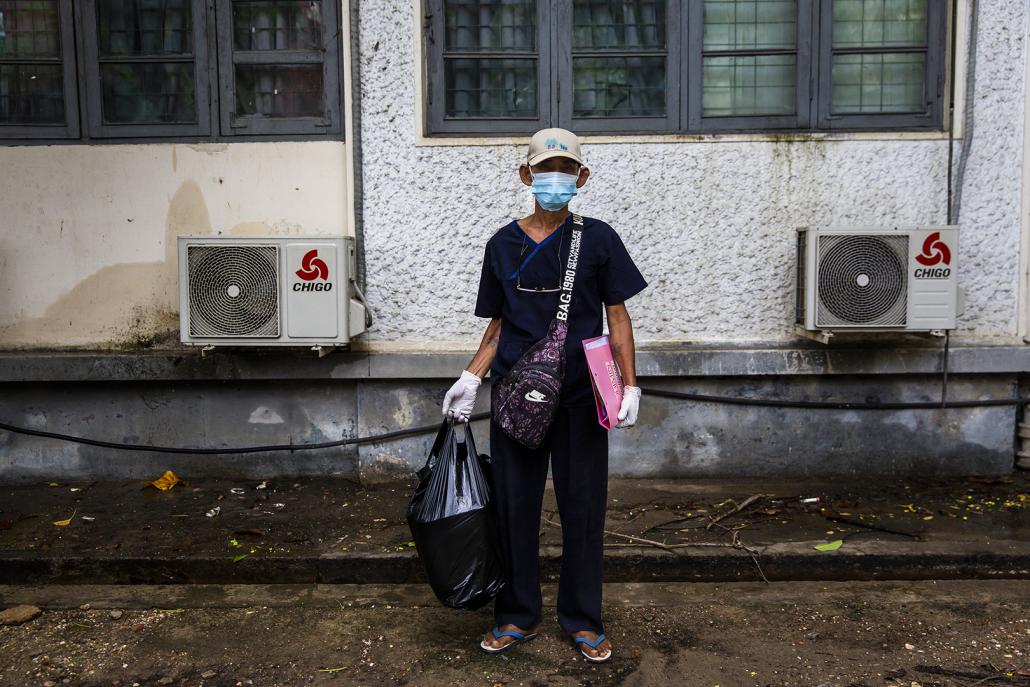 Myint Htwe told lawmakers on May 22 that China had offered to help established testing facilities at Mandalay, Mawlamyine in Mon State, and Lashio and Taunggyi in Shan State, and suggested that they could be ready by the middle of June.
Myint Htwe also said the ministry planned to install immunol analysers to test for COVID-19 in 16 other towns and cities, but provided no further details.
Already these initiatives are coming online; the Mandalay and Mawlamyine laboratories went online in the first week of June, and are capable of testing up to 200 and 150 people a day, respectively. However, the Mawlamyine laboratory is only operating four days a week.
The NHL welcomed the offer from China, said Ohmar Swe Tin. "It will reduce our burden," she said.
"China will provide all the equipment, not only testing machines, to help build the laboratories at Mandalay, Mawlamyine, Lashio and Taunggyi," she said.
The government is also drawing on other sources of international support to expand the capacity of existing laboratories and create new facilities.
Its COVID-19 Economic Relief Plan released in late April targets significant short and medium-term improvements to health system capacity, including upgrading existing laboratories and recruiting more medical staff and enhancing the skills of health workers and those volunteers who have been engaged on an emergency basis. It also proposes establishing mobile mass testing teams.
Senior government officials say the $2 billion plan will be funded through support from multilateral lenders and bilateral donors. The government has already taken more than $1 billion in loans from the International Monetary Fund, the World Bank and the Japan International Cooperation Agency, with more possibly to come. Meanwhile, the Central Bank will loan the equivalent of more than $900 million to help fund budget spending in anticipation of a significant decline in state revenues.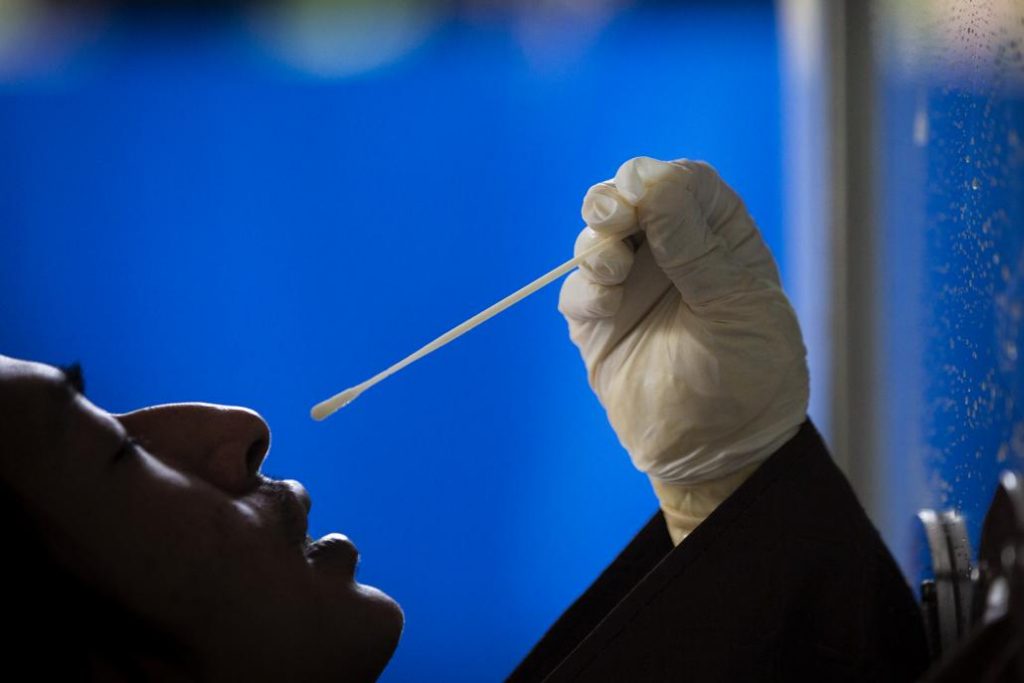 Testing breakthrough
Testing is, finally, beginning to accelerate. It's not at the scale of many other countries – Thailand, for example, expects to have conducted 500,000 tests by the end of June – but health ministry figures show that from mid-May the number of tests conducted each day began to increase significantly.
One important but often overlooked factor in the number of tests being conducted is policy; on May 17, the ministry changed the criteria for testing.
Myint Htwe said this policy change had been made possible because of the country's increased testing capacity.
Initially, the ministry's policy was to test a limited range of people. Ohmar Swe Tin said this include those who had severe symptoms, particularly respiratory problems; those who had close contact with a confirmed case; and 10 percent of people in quarantine.
Armed with new testing capacity, the health ministry on May 17 increased the eligibility criteria for testing to seven groups, including all medical personnel working with COVID-19 patients, all medical personnel and volunteers at quarantine centres, all people at quarantine centres, all volunteers who could potentially be exposed to the coronavirus, and, if necessary, people occupying places such as markets and prisons.
As Frontier reported, a Department of Medical Research mobile testing team has been visiting quarantine facilities and "quarantine hotels" in Yangon since late April, and is taking hundreds of samples for testing each day.
The additional criteria have resulted in a sharp increase in testing and busier times in the laboratories.
Outside of the National Health Laboratory and DMR facilities in Yangon, the Tatmadaw medical corps is doing its own testing at the 1,000-bed military hospital in Yangon.
Each day, the NHL runs three RT-PCR machines and the Cobas machine, and DMR operates two RT-PCR machines. "The Cobas 6800 machine can test about 1,400 people in 24 hours but we are running it just for eight hours a day to ensure it is not overused," said a laboratory technician at the NHL.
The role of the Tatmadaw in testing remains unclear. Although it has publicly offered to test civilian samples using its two Cobas machines, which it purchased last year, it does not yet appear to be doing so.
Health minister Myint Htwe told parliament that the government had asked the Tatmadaw to help with testing on May 4, but it was not yet doing so. However, Tatmadaw spokesperson Major-General Tun Tun Nyi contradicted the minister on May 26, saying that the offer to help with testing had not been taken up but it remained on the table.
Health ministry spokesperson Dr Than Naing Soe said he was unsure about the Tatmadaw's exact contribution, but it had included assisting the Department of Public Health collect samples for testing in some areas, such as the dense industrial suburb of Hlaing Tharyar in Yangon and Sagaing Region.
"The Ministry of Health and Sports can now test about 2,000 people in a day so it doesn't need help from the Tatmadaw yet. But our health minister has said we will ask for help from the Tatmadaw if we need it in future," Than Naing Soe said.
For now, at least, the Tatmadaw is using its Cobas and RT-PCR machines to test members of the military and their families. Data released by the Tatmadaw shows that from April to May 21 it tested 364 people on the RT-PCR machines, 754 on the COBAS machines, and checked 3,000 people using rapid test kits.
From a testing perspective, Myanmar was thoroughly unready when COVID-19 emerged in late 2019, but the investments it has made in expanding capacity in the past few months, and the further improvements it plans to make in the months ahead, should leave the country better prepared for a fresh wave of COVID-19 cases, or future outbreaks of respiratory diseases.
"The situation is totally different from when we started. We didn't even have laboratories outside Yangon before COVID-19," said Ohmar Swe Tin. "Now we have access to machines that we'd never used before."
"For me, it's like some good coming out of bad. This situation will mean we are prepared for future pandemics and other diseases … although we are exhausted, we can see what we are capable of achieving."
TOP PHOTO: Medical workers prepare to test samples on an RT-PCR machine for COVID-19 at the National Health Laboratory in Yangon on May 10. (Hkun Lat | Frontier)