Figures suggests no significant increase in mental health issues in Myanmar during the COVID-19 pandemic, but culture and a lack of resources may be masking the true scale of the problem.
By AUNG PHAY KYI SOE | FRONTIER
Primary school headmaster U Kyaw Soe Lwin was a much-loved and respected member of his community. More than 800 mourners attended his funeral at a village cemetery in Ayeyarwady Region's Lemyethna Township earlier this year.
Wreaths from pupils and friends festooned the coffin of a man who had given much to his community.
Kyaw Soe Lwin, 43, committed suicide on June 24 while apparently suffering from severe depression, a month after being assigned to the Kyar Kite Kwinn village primary school. He had been living alone after having an argument with his wife in June.
A Lemyethna Township native, he was associate secretary of its free funeral service, chair of its Mon Myat Myittar Blood Donors' Association and a member of its Basic Education Worker Union.
"Many people grieved over his death; they were crying and wondering what drove him to commit suicide," said U Min Min Htut, the headmaster of the township's Kyi Taw Su primary school and a close friend of Kyaw Soe Lwin for more than 15 years.
"Many people, especially the parents of his students, wish that Kyaw Soe Lwin had told them about his problems so they could have helped him to solve them."
It is not clear whether hardship or stress associated with COVID-19 was a factor in Kyaw Soe Lwin's decision to commit suicide, although Min Min Htut believes it may have contributed. He said Kyaw Soe Lwin's family had been facing financial difficulties because of the impact of COVID-19 on a shop they ran in Lemyethna.
But mental health specialists have expressed concern that stress and other mental health issues linked to the COVID-19 pandemic could increase the risk of suicide, and they've urged anyone concerned about their mental health to seek counselling and treatment.
"The condition of those with mental health problems can get worse if they do not receive effective treatment or support from understanding friends during this period of hardship, and they can choose to commit suicide," said psychiatrist Dr Tin Oo, a professor who heads both the Department of Mental Health at the University of Medicine 1 in Yangon and the Yangon Mental Health Hospital.
"It's possible that suicide cases are increasing during this period of hardship."
Tin Oo said the Myanmar Mental Health Society had received approval from the Ministry of Health and Sports to conduct a mental health survey in Yangon Region to determine the extent to which COVID-19 has contributed to stress, anxiety, depression and other mental problems.
He said the survey would begin once an ethics review committee has also signed off, and it would be extended to other regions and states, depending on the budget.
Healthcare specialists say the public has little awareness of the importance of counselling and treatment for mental health problems.
There are two main reasons for this, said Dr Khin Maung Lwin, a former director of the Health Literacy Promotion Union of the Public Health Department at the Ministry of Health and Sports.
"One is not knowing that there are services available that can help and the other is not knowing that they have a mental health problem," said Khin Maung Lwin, who is now an advisory member of the National Water Resources Committee. "Most people think getting depressed is normal and do not consider it to be an illness."
He said that it was difficult to say whether COVID-19 had caused an increase in depression or suicide in Myanmar, but it had likely increased stress levels among many people, which can increase the risk of depression.
"This is a problem across the whole world at the moment," he added.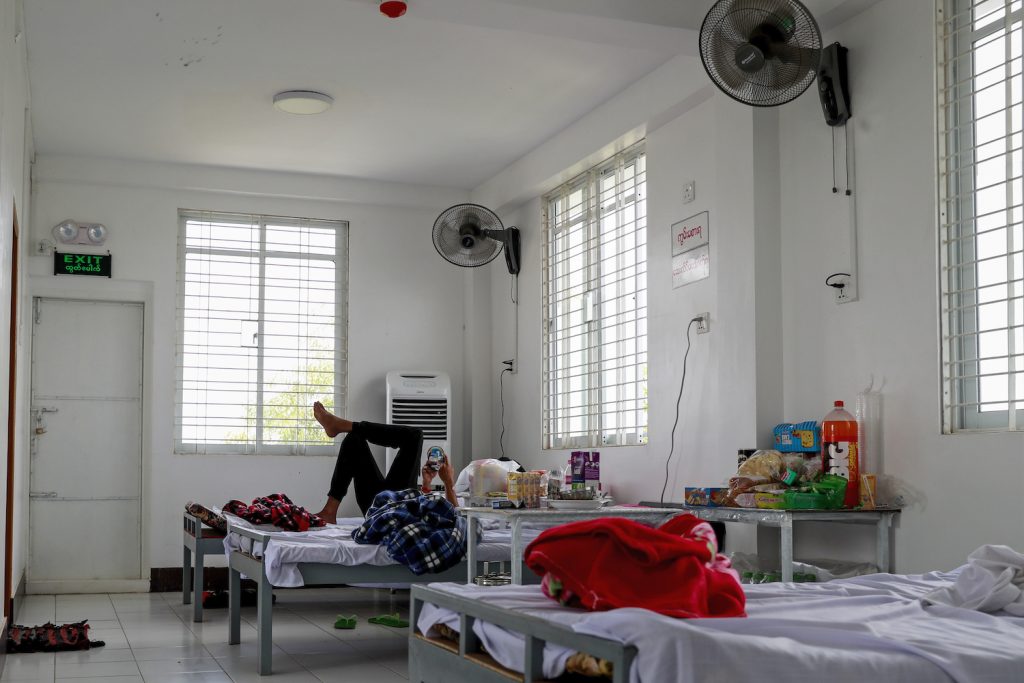 The coronavirus hits
The social and economic impacts of COVID-19 have been far-reaching, prompting concern among mental health experts about a looming mental health crisis.
"The impact of the pandemic on people's mental health is already extremely concerning," World Health Organization chief Dr Tedros Adhanom Ghebreyesus said in May. "Social isolation, fear of contagion, and loss of family members is compounded by the distress caused by loss of income and often employment."
Despite increased economic hardship, it is unclear whether COVID-19 has contributed to an increase in mental health problems or suicides.
There is little data on mental health rates, but figures for suicides actually show a decline from the same period last year.
From January 1 to June 30 this year, there were 884 suicides reported, according to Myanmar Police Force figures, down on the 905 reported in the same period last year.
Bago Region reported the highest number with 127 cases, followed by Mandalay Region (119 cases), Shan State (99), Yangon Region (93) and Sagaing Region (85). The most-cited cause was health problems, followed by social problems, financial pressure, stress, alcohol and depression.
However, at least three citizens who returned from abroad have killed themselves in quarantine centres, while media reports said 11 Myanmar in Malaysia, almost all of whom were undocumented workers who had lost their jobs, have committed suicide since May.
The Yangon Mental Health Hospital, in East Dagon Township's Ywar Thar Gyi ward – one of two government psychiatric hospitals – has also seen a decline in people coming to seek help for mental health issues.
Prior to COVID-19 the outpatient department saw about 120 patients a day, most of whom suffer from bipolar disorder, psychosis, or alcohol-related conditions, but that fell to around 60 a day between March and May and is now at about 100.
Most of the inpatients are being treated for alcohol-related problems.
"When COVID-19 travel restrictions were in place, only a few people came, but now the number has returned almost to normal," said Tin Oo, the government psychiatrist.
In contrast, the privately run Yadanarpone Mental Health Hospital in East Dagon said it is seeing about 40 outpatients a month, up from around 25 before COVID-19.
"After COVID-19 was reported in Myanmar we had more outpatients, most of whom were stressed because of work-related problems, and many people are suffering from depression. We provide counselling to outpatients and give them treatment, if necessary," said Dr Chan Nyein Oo, the hospital's head.
Improving the mental health response
The field of mental health has been badly neglected in Myanmar for decades, with some calling it a "hidden epidemic". The most recent law regarding mental health is the 1912 Lunacy Act, and only 0.3 percent of the health budget goes towards mental health.
Although Myanmar's three medical universities train 30 psychiatrists a year, most end up working in the private sector. Tin Oo said there were barely 100 psychiatrists working at government hospitals throughout the country.
Dr Than Tun Aung, deputy director general of Ayeyarwady Region's Public Health Department, said the region had only three psychiatrists and needed more.
The lack of resources for mental health prompted Ko Kyaw Zin to set up a free telephone counselling service, known as Call Me Today, in June 2018.
The hotline has had more than 150 calls since the start of the year, with Yangon Region accounting for about 90. "Most of the calls were about job losses, relationship problems and being quarantined," Kyaw Zin said.
Some returnees from abroad had suffered from depression after being rejected by their communities out of fear they might be carrying COVID-19.
Kyaw Zin said it was critical that people received psychological support as soon as possible after experiencing mental anguish, adding that some people who survived Cyclone Nargis in 2008 were still traumatized by their experience.
"We have to carry out rehabilitation work after a disaster, and that includes attention to mental health," he said. "It's the same for the COVID-19 pandemic."
On April 9 the Social Welfare Department set up its own telephone counselling services for people confined to quarantine who are experiencing mental health problems. To June 30 there had been 306 calls from throughout Myanmar, departmental records show.
"Most of the time, it is people who've been furloughed from work because of COVID-19. Some are worried about that, while others are working in the informal sector and are afraid that they won't be able to go out and sell anything again," said Daw Lay Lay Myint, assistant director of the Department of Social Welfare.
Meanwhile, the department and the National Volunteer Steering Unit have been working together to train more than 200 doctors from the Myanmar Medical Association to provide psychological support and counselling at quarantine centres in the states and regions. The department also intends to provide online training in providing psychological support and counselling for more than 70,000 volunteers throughout the country.
Kyaw Soe Lwin's grieving friend, Min Min Htut, lamented that Kyaw Soe Lwin did not discuss his mental anguish with others.
"If he had talked to friends or had sought counselling from psychological experts, he would not have killed himself. His death is a great loss to the township," Min Min Htut said. "Anyone who is troubled in their mind should calm down and talk to close friends."