A special program developed by Phandeeyar is set to help smart young tech entrepreneurs with viable ideas take advantage of rich opportunities for IT products and services.
By THOMAS KEAN | FRONTIER
When Ma Shwe Yee Mya Win, 22, started thinking about developing a tech product she drew on her experience as a freelance web designer. She was 18 when she started doing design work and, because she lacked a network of contacts, had to rely on a middleman to source projects.
The broker took 50 percent of all she earned. Later, as she developed her skills and contacts, it fell to 30 percent, but she still felt it was too much for simply linking her with clients.
Now she is aiming to collect that fee for herself – and in the process make the market more equitable for both sides.
With her sister, Ma Honey Mya Win, 24, Shwe Yee Mya Win has established "The Platform", a Myanmar-based online marketplace for IT freelancers and those who seek their services. They acknowledge that they're not reinventing the wheel; there are many similar sites and products, including freelancer and Fiverr. But they are rarely, if ever, used in Myanmar; the only real competitors are a handful of Facebook groups and pages.
So far, so good: there seems to be a market crying out for someone to make it more efficient. But not so fast! Listening to the sisters' pitch are Mr Jes Kaliebe Petersen, director of Phandeeyar Accelerator, a program that aims to nurture tech start-ups, and Ko Thar Htet, a start-up coach and entrepreneur. It's not long before the probing questions begin.
What market research have you done? Will you focus on all types of freelance projects, or just specific sectors? How much will you charge and how will you handle payments? What will you do to encourage businesses to post jobs that they need completed?
Some questions receive a clear response, others less so.
A few problems become clear. The sisters are waiting for further market research to finalise what is known as the minimum viable product (MVP) – the version of the product that requires the least effort to get it to a point where it can be market tested. But the market validation is proving difficult to complete without a product to show prospective users.
"It's a constant loop. Customers want to see the MVP first," Honey Mya Win tells Petersen and Thar Htet.
There's also the question of how they will divide responsibilities in the start-up.
"Who will pitch?" asks Thar Htet. "She will," says Shwe Yee Mya Win, pointing to her sister.
"But you talked 80 percent of the time!" responds Thar Htet immediately. "From the team side, you really need the clear separation of work starting from now."
"She'll have to go out and do the talking," Thar Htet adds, pointing at Honey Mya Win. "Because your business is not online you need to find the demand side. So you'll need to go out to speak to companies and convince them [to sign up]."
Despite the grilling, the meeting ends on a positive note. "The economy is moving more toward having fewer full-time jobs. Some people are becoming entrepreneurs, but more and more people are becoming freelancers," Petersen observes. "There is obviously a big market here, and you just need to find a way to bring that market to your platform. A lot of start-ups are trying to create demand, and they're not sure it exists."
Incubating innovation
Shwe Yee Mya Win and Honey Mya Win have been involved in the tech scene for several years. They set up their company, Technoholic, in 2014 after winning a Business Solutions Hackathon by designing a web and mobile app to streamline food deliveries for Fresco, a vegetables supplier. Their interest in IT dates to high school, when Honey Mya Win started taking classes in hardware and networks, while her sister focused on design.
They approached Phandeeyar for advice on preparing an application for the centre's Accelerator program, which aims to encourage innovation in the sector.
Launched in June, Phandeeyar Accelerator plans to accept between 15 and 20 start-ups over the next three years. They will enter a six-month program, during which they each receive US$25,000 (about K29.4 million) in cash, a work space, mentoring and a wide range of free services valued at more than $200,000.
At the end, there will be a demonstration day at which they can pitch their products to potential investors. In exchange for its support, Phandeeyar will take a 12 percent stake if the venture is able to raise further funding.
Phandeeyar founder and chief executive Mr David Madden said the Accelerator program was designed to overcome the challenges that budding tech entrepreneurs face in Myanmar. They range from difficulties accessing capital – local businesses have so far mostly shied away from funding tech start-ups, and bank loans are off limits unless you can put up collateral – to a lack of mentors, those with the learned experience to guide newcomers to success.
"A major challenge is getting that first cheque – that first bit of risk capital that lets you focus on your product," Madden told Frontier. "We see really talented teams but they're doing service work to pay the bills. You're always chasing your tail; it's very hard to ever get the space to focus on building a product or service that could scale exponentially.
"Our answer was we should launch a tech start-up accelerator – one explicitly designed to solve all of those problems and a few more."
The methodology at the heart of the Phandeeyar Accelerator is known as that of the "lean start-up". This is also where the concept of the minimum viable product comes from: you identify a potential market (or a problem to be solved), build a product with the minimum necessary features to achieve its aim, test it and then refine it, as necessary.
This approach makes it okay to fail: because relatively little time and money has been invested, the consequences are not catastrophic. Quite the opposite, in fact: it enables tech entrepreneurs to quickly change course until they hit on a product that resonates.
"It's very hypothesis driven … You don't sit in a corner and build a massive product for six months," Madden said. "When you build tech products you can measure everything. You can immediately see what's going wrong and what people like about it."
Applications for the Accelerator close at the end of July, after which a team of judges will select the most promising proposals for inclusion in the first batch. Madden said they'll be looking not only at the proposed product, but also the dynamics of the team behind the application.
"If we have a really strong team, we're less concerned about the quality of the idea," he said. "Having a team that works really well together and have the passion and drive to get through long nights and the hard work – that's crucial."
Monetising Myanmar's mobile revolution
In 2010, a SIM card cost up to $1500 in Myanmar. Mobile phone density was just 1 percent, according to the World Bank – about the lowest in the world. By the second half of 2014, when Telenor and Ooredoo launched their networks, SIM cards were $1.50. There are now more than 45 million active SIMs, of which more than half are using data. Facebook reports having more than 10 million users and Viber 18 million.
For tech entrepreneurs with the skills, ideas and application, the potential payoff is huge. But so far just a handful of start-ups have been able to secure what Madden from Phandeeyar calls "the next cheque" – the $200,000 or $500,000 needed to keep growing from the lean start-up phase. Virtually all of the money has come from overseas.
Among the most successful so far has been Oway Group. Founded by a former Google manager, U Nay Aung, it recently sought $10 million in new investment to fund an expansion of its operations, including OwayRide, a taxi-booking app launched in March. In May, the International Finance Corporation, a member of the World Bank Group, proposed taking a $3 million equity stake in the firm.
In January, the company behind Myanmar-language news application Bindez Tha Din, said it had raised more than $500,000 over three rounds of funding, reported the Myanmar Times. The most recent investment came from Silicon Valley-based venture capital firm 500 Startups, which has taken a minority stake in Bindez.
Another tech company to receive funding in January was Revo Tech, a creative digital agency. Investment group Anthem Asia said it had invested a "six-figure" sum in Revo Tech's parent company, making it the largest minority shareholder in the firm. Employing more than 50 staff, Revo Tech offers a range of services, from app and website development to video production and social media strategy.
A long road to the top
For chief executive Ko Myo Myint Kyaw, who started the company in 2012, it has been a long, hard road. His story is indicative of the challenges that start-ups face in Myanmar, many of them unique to the country.
While working in Singapore, Myo Myint Kyaw and a friend hatched a plan to return to Myanmar and set up a job portal. At the last minute the friend pulled out; Myo Myint Kyaw came home, but was forced to abandon the portal idea. He spent the next few months hanging out in Yangon, struggling for inspiration.
Finally, a friend asked him to design a website for his travel agency. Through word of mouth he quickly gained more work, and Revo Tech was born (his first choice of name was already taken; he chose Revo Tech instead because he was watching Vevo when the agent called and asked for his backup).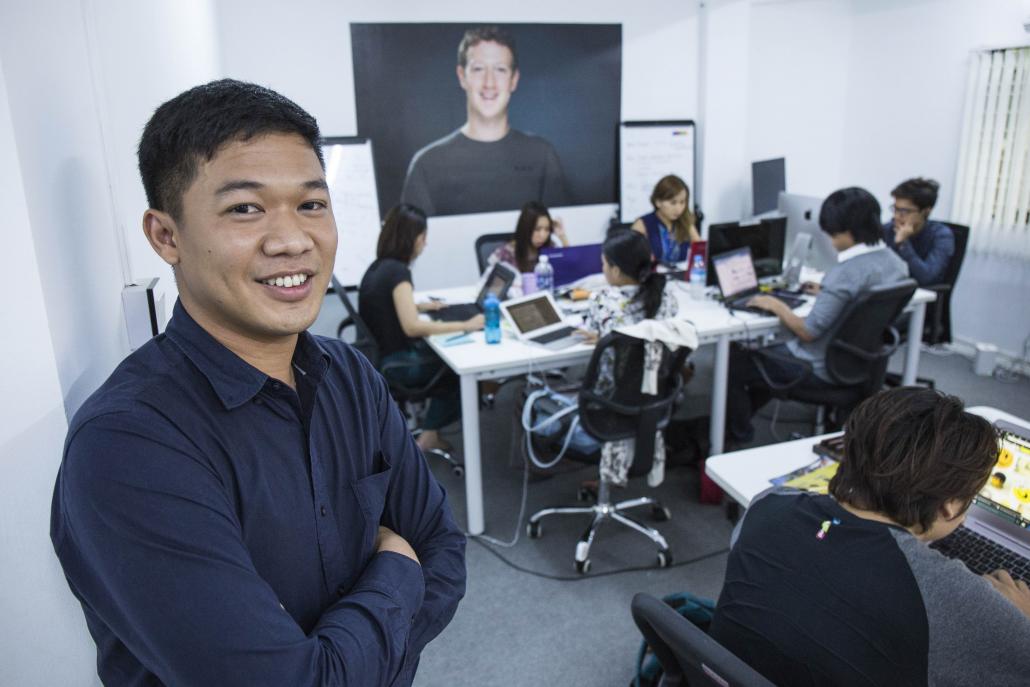 While the work flowed in, the business barely survived due to high setup costs and overheads, including paying for rent up-front, buying a generator and fast internet connection, and hiring experienced staff. Convinced the business wouldn't succeed, his first business partner quit and returned to Singapore after a year.
Friends and family regularly told Myo Myint Kyaw he had been crazy to give up his well-paying corporate job in Singapore to run his own business. His parents urged him to go back there.
And with no access to finance, money was always tight.
"We would have to pay salaries on the 27th of the month and until like the 22nd we didn't have enough money," he told Frontier. "I was thinking to myself that I am taking a reckless risk. Even though we didn't have the cash, we kept hiring more people, trying to get bigger clients, charging more and more … We didn't really have money but we managed to survive."
Myo Myint Kyaw cites a number of turning points for Revo Tech, particularly the hiring of an expatriate to work in the design team. This was a risk due to the relatively high salary, but helped to set Revo Tech apart from its competition. Mentions in international and local media, including the New York Times and the Myanmar Times, also helped.
He began to get calls from big companies: Nissan, City Mart, KBZ Group. One-off jobs became ongoing contracts. And then came Anthem Asia. The cash injection has given Revo Tech the financial breathing space to seek contracts that pay only on completion, which tend to have higher margins.
Why did the investment come from abroad, rather than Myanmar? Myo Myint Kyaw is convinced it will be some time before local businesses see the value in high-risk, high-reward tech firms.
"I'm Myanmar, so I know the country. Local investors want a quick return on investment, a concrete return. But if you invest in a tech company, you might lose the money," he said.
He laughed, perhaps considering all the times he barely managed to pay his staff at the end of the month. "If I was them, I'd probably invest in land, too!"
With the backing of Anthem Asia, Myo Myint Kyaw's ambition is to take on some of the country's long-established marketing firms – those with a background more in traditional media – and turn Revo Tech into the biggest digital agency in Myanmar within two years.
"That's our goal – we want to be the best and biggest," he said. "When big brands come into Myanmar, we want to be the first agency they consider."
Top photo: Honey Mya Win, second from left, and sister Shwe Yee Mya Win, centre, discuss their plans for "The Platform" with Ko Thar Htet, right, and Jes Kaliebe Petersen at Phandeeyar's office in downtown Yangon. (Ann Wang / Frontier)