For many at the rally in downtown Yangon on December 10, showing support for Daw Aung San Suu Kyi on the opening day of hearings at the International Court of Justice was a matter of fulfilling their national duty.
By NAW BETTY HAN | FRONTIER
The long columns of chanting marchers from different parts of Yangon converged at City Hall early on the afternoon of December 10, gathering in another show of support for State Counsellor Daw Aung San Suu Kyi's decision to defend her country against genocide allegations at the International Court of Justice in The Hague.
Many in the crowd expressed their support for the state counsellor by wearing t-shirts bearing the slogan, "We stand with you". Others displayed vinyl posters with expressions of support and images of their adored leader. Many at the rally, which attracted tens of thousands of people, seemed motivated by faith and hope.
When organisers announced that the rally was due to begin, the crowd sang the national anthem and then chanted in unison, "We stand with Mother Suu".
The rally, and another in Mandalay the same day that attracted a much bigger crowd, was the latest in a series of gatherings that began after the state counsellor's office announced on November 20 that she would be travelling to The Hague in her capacity as Minister of Foreign Affairs "to defend the national interest of Myanmar" against the case filed by The Gambia.
The first of the support rallies was held in Sagaing on December 7 and among those in attendance was the Sagaing Region Chief Minister U Myint Naing. Many of those who rallied in Sagaing were monks and nuns, who brandished national flags and posters cheering the state counsellor. On December 9, there was a similar event at Bago attended by Bago Region government cabinet ministers and the regional hluttaw speaker, U Khin Maung Yin, who told the crowd it was hoped the state counsellor would use facts at the ICJ to uphold the dignity of the nation.
The rallies held in Yangon, Mandalay and elsewhere throughout the country have had three main objectives. They were outlined on a banner unfurled in Yangon's Maha Bandoola Park and read: "To seek justice and truth to protect the interest of Myanmar, to fully and unanimously support and appreciate the accountable mindset and courage of State Leader Daw Aung San Suu Kyi, to pass on to the posterity a civilised society which abides by the humanity standards as a dignified state."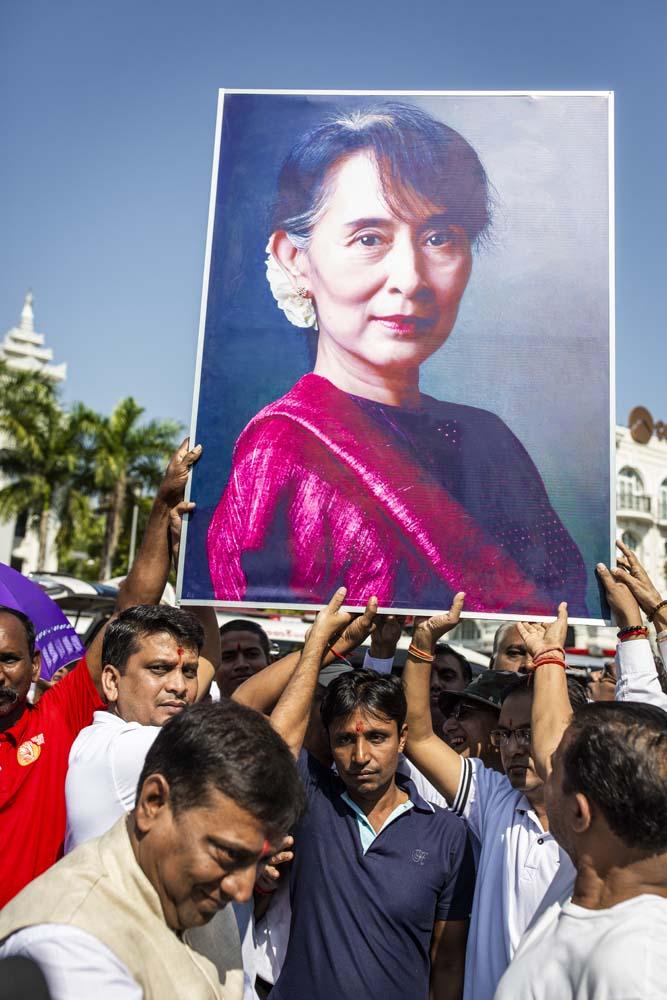 The campaign of support has also included the erection in the Yangon municipal area of billboards of varying sizes funded by local support committees of MPs and residents, and declaring that the people stand with the state counsellor.
U Sit Min Han, deputy head of Yangon City Development Committee's Administration Department, said the committee levied a fee of K2.1 million (US$1,387) a month, or K25.2 million ($16,650) a year, on large billboards measuring 45 feet by 15 feet (13.7 metres by 4.57m).
Sit Min Han said he did not know who was paying for the large billboards.
The spokesperson for the YCDC's Engineering Department, U Soe Naing, said that since December 1 a total of 18 big billboards had been erected along Pyay and Kabar Aye Pagoda roads with YCDC's approval. Based on the standard fee for large billboards, the total cost of the 18 billboards has been calculated by Frontier at K37.8 million ($24,976) for a month.
The organising committee formed to show support for Aung San Suu Kyi in Yangon Region emerged spontaneously from an online chat group, member Ma Su Mar, 34, told Frontier. The committee discussed its plans on the chat group and met formally for the first time in the last week of November, she said.
Su Mar, who is a resident of Kyauktada Township, said the group was supported by eight sub-committees, which had responsibility for a range of activities, including information and campaigning and arranging rallies.
There is also a finance and audit sub-committee, which is responsible for raising funds for rallies and covering the cost of the billboards and other expenses.
"The funds for the rallies come from individual donations, and special letters of appreciation will be given to people who have donated between K5,000 and K1.5 million," Su Mar told Frontier. "We have enough funds to support the movement throughout Myanmar."
She said committee members were motivated by a desire to show that citizens stand with Aung San Suu Kyi as she defends the nation at the ICJ.
The Yangon Region committee was also liaising through online chat groups with similar groups in other regions and states, she added.
NLD spokesperson Dr Myo Nyunt said that the party was not involved in organising any of the support rallies and it also had not contributed funds for the events.
"But party members may participate as individuals, as I have done," he told Frontier. He said NLD members needed to ensure that all activities involved in showing support for Aung San Suu Kyi were in line with the law.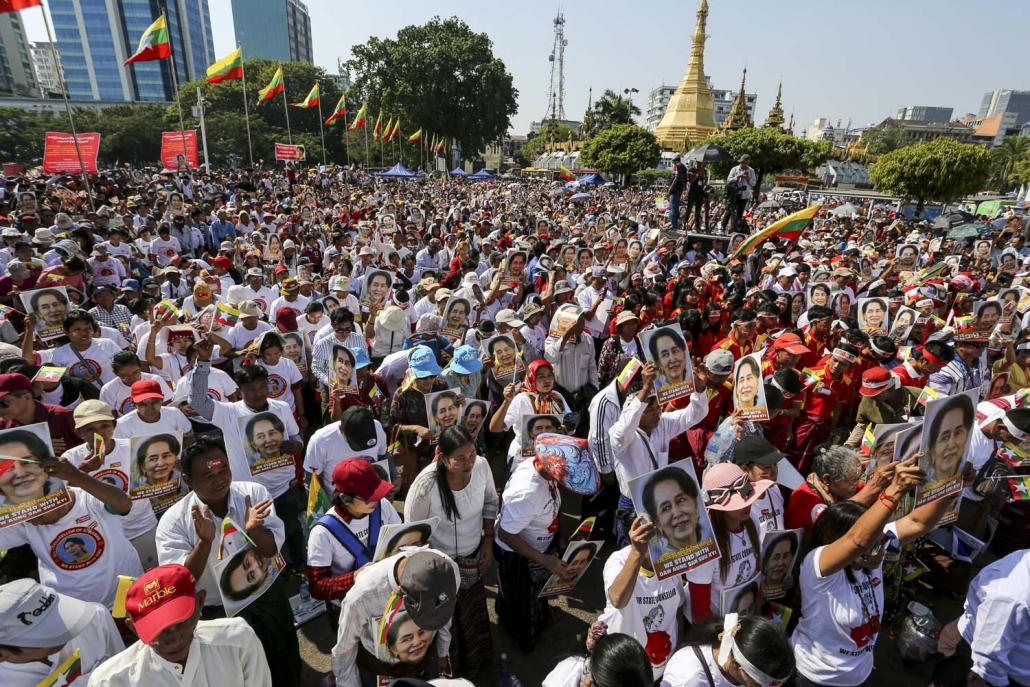 Outside City Hall on December 10, a prayer session at 1pm led by leaders from the Buddhist, Christian, Muslim, Hindu and Baha'i communities was followed by a performance featuring reggae singer Saw Phoe Khwar.
Among the crowd was U Aung Tun Tint, 45, from Yangon Region's outer southeastern Thanlyin Township, who said he had travelled to the rally in a convoy of cars that carried more than 400 people. He said they had begun planning to attend the event two days earlier when they saw it promoted on Facebook and had pooled funds to arrange the transport. The group had no affiliation with any political party or other organisation, he said.
"In my opinion, Amay [mother] Suu is the future of our country and she always stands for our nation," Aung Tun Tint told Frontier.
"I don't understand what the ICJ is, or where Gambia is, or how the hearings will be conducted, and I won't understand the live streaming of the proceedings," he said. "However, I trust her and I stand with her because she is our only leader."
The rally also included members of Yangon road cycling groups and among them was U Khin Maung Kyi, 62, from Hlaing Township. He joined a group that had cycled to City Hall from Mingalar Taung Nyunt Township. Others cycled from Thakin Mya Park in the west of downtown, North Dagon Township and Botahtaung Township.
"I heard from my cycling friends that they would join the rally and I decided to join them. There are about 200 cyclists at this event," Khin Maung Kyi told Frontier. "I hope for the best result for my leader, Amay Suu."
He said he did not clearly understand the procedure at the ICJ but wanted to join the rally because Aung San Suu Kyi was standing for the nation and facing the court as the representative of the people of Myanmar. "Therefore we have to stand with her and support her, regardless of the outcome of the case at the ICJ."
When the end of the rally was announced, members of the crowd began singing songs in praise of national unity as others danced in accompaniment. As the crowd dispersed, many seemed to exude a sense of satisfaction that participating in the rally had fulfilled their national duty.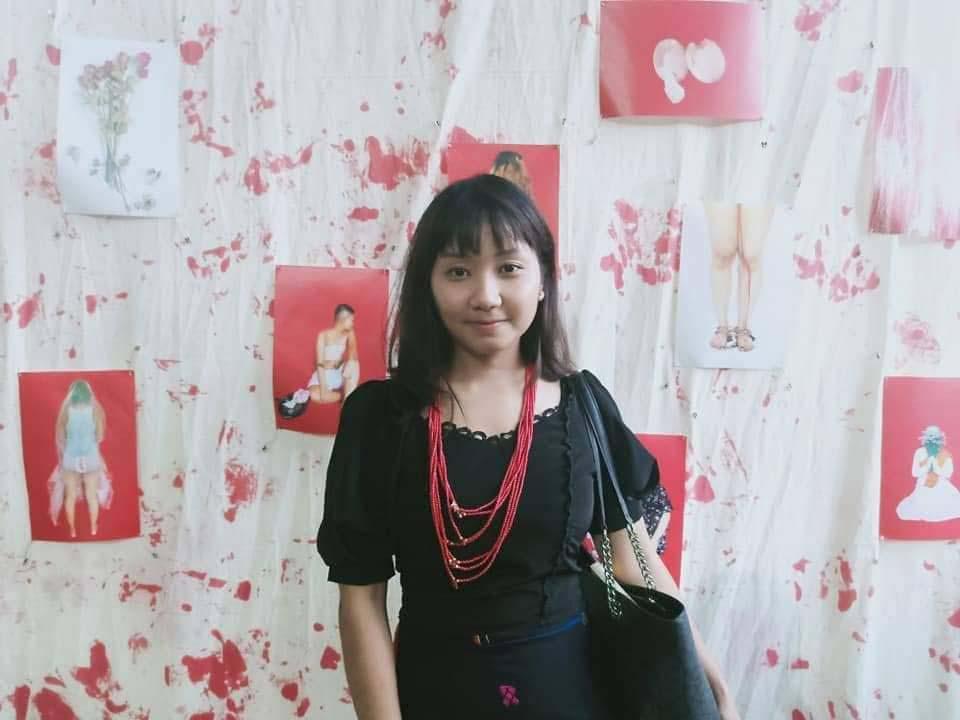 'The crowd didn't really understand what they were standing for'
Not all of those who gathered in downtown Yangon were effusive in their support for Aung San Suu Kyi defending Myanmar's "national interest". Three young activists made headlines when they sat among the crowd with a sign that read, "We oppose genocide. Change our mind". Frontier's Lun Min Mang spoke to one of the activists, B Esther Ze Naw, after the rally.
Why you decided to join the protest when you clearly had a different view to most of the participants?
I did it because I'd regret it my whole life if I didn't stand against genocide denial while thousands of people were supporting it. I didn't want to be part of it. My moral values stand against genocide and I wanted to stand firm on the side of the victims, no matter what.
People think they are accused together with the Tatmadaw and current government. We just wanted to show them that people are not criminals like those military leaders and government if they are not supporting them.
How did most people respond to you?
What we saw was that the crowd didn't really understand what they were standing for, how their stand appeared to contradict the values they said they [followed]. They were just there because they love Daw Aung San Suu Kyi. What we expected was that at least we'd be treated aggressively or rudely, but they didn't even understand what genocide was and what Daw Aung San Suu Kyi was defending. So, they were just there because they thought the rally was to defend the national interest. 
One of the organisers of the rally said we could be [charged] if we kept spreading the leaflets in their rally. Some secret police are [now] tracking us. 
Do you think you managed to change anyone's mind? 
The crowd was so curious when we spread the leaflets about the "10 stages of genocide". Everyone around us took the leaflets and most people said they had never seen it before and they would read it when they got back home. 
How did the police respond to you?
The police tried to take our last leaflets and tried to break up [our demonstration but] we were already planning to leave since our leaflets had already run out. They asked us where we got them from; it seemed like they had never seen such an explanation of genocide. 
What's your reaction to Daw Aung San Suu Kyi's defence during the hearings in The Hague?
Today I was so depressed because Daw Aung San Suu Kyi openly denied genocide, defending Myanmar's military by scapegoating the Arakan Army and the Arakan Rohingya Salvation Army, and neglecting the genocidal actions of the Tatmadaw over the decades. 
TOP PHOTO: Demonstrators from across Yangon converged before City Hall on December 10. (Hkun Lat | Frontier)