In the third and final episode in Frontier's election talk show series, party leaders and civil society leaders discuss development, the power of the youth vote and prospects for ethnic parties on November 8.
By AUNG PHAY KYI SOE | FRONTIER
Political party leaders discussed the importance of ensuring basic human rights across all parts of the country in the final episode of Election & Our Future, a talk show series that aims to create a platform for political parties and their candidates to connect with voters.
The third episode featured Chin National League for Democracy leader Pu David Ngai Sak, Democratic Party for a New Society chair U Aung Moe Zaw, award-winning youth advocate and activist Daw Thinzar Shunlei Yi, and Dr Min Ko Ko, project manager for WASH and health at WaterAid Myanmar.
Aung Moe Zaw said his party was only contesting 16 of the more than 1,100 seats up for election but wanted to be a voice in parliament for the "oppressed classes – the workers, discriminated minorities and ethnic groups".
"The majority are being suppressed – there's injustice both in terms of ethnicity and class. Human rights are being violated. We are trying to speak up for these people in the hluttaw," he said.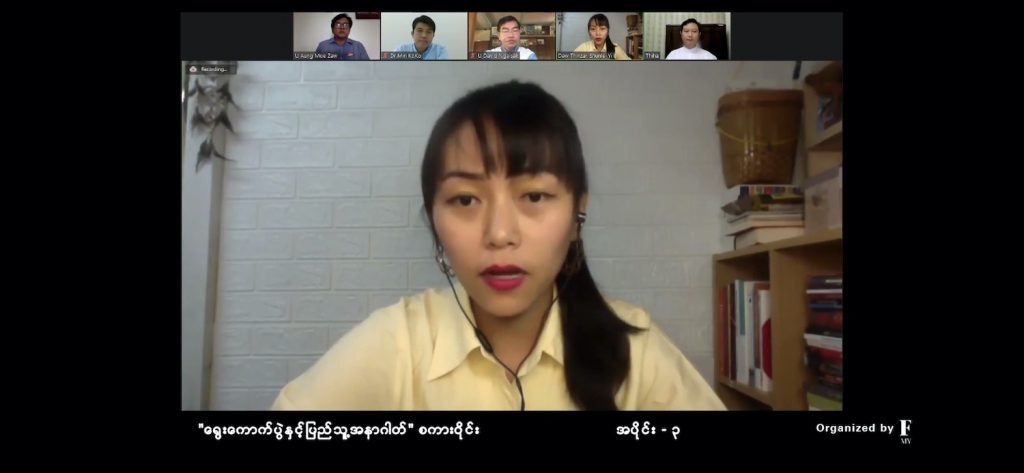 Thinzar Shunlei Yi drew attention to the lack of representation for young people, suggesting that the country should have a ministry to focus on representing its youth and ensuring their basic rights.
"Rather than material development – bridges, roads and electricity – we want to improve the basic rights of young people," she said.
She also drew attention to the power of the youth vote and the potential for it to shape the election. "According to the [2014] census, people under 35 make up 60 percent of our population. Their votes can create political change."
Min Ko Ko from WaterAid Myanmar, an international NGO that focuses on improving water, sanitation and hygiene (WASH), agreed that development should be seen as more than just jobs.
"Every household's income may be different but the right to clean water and a toilet is a basic human right," he said. "As Saya U Aung Moe Zaw said, there are wide differences from place to place in our country – some states and regions do not have basic human rights such as clean water. We want MPs to address these issues by cooperating with us."
He also urged lawmakers and the government to increase their focus on protecting the environment from pollution. "Clean water is related to a clean environment … If many people get sick due to an unclean environment, families will incur extra health expenditure. Our country's resources will be squandered. If we address this basic human right, we can save money to spend on other things instead."
David Ngai Sak said his party expected to perform strongly on November 8 because more voters in Chin State are looking to ethnic-based parties to represent them.
"We voted for the Union Solidarity and Development Party in 2010 and the National League for Democracy in 2015 but nothing changed," he said.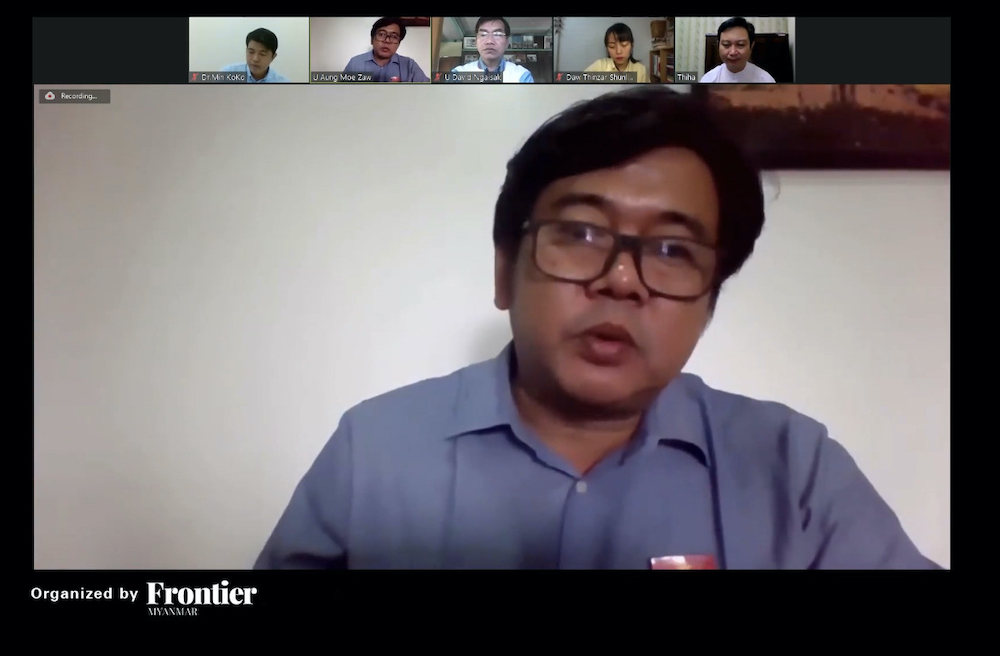 Although his party will not be able to choose the Chin State chief minister – the constitution controversially gives that power to the president in Nay Pyi Taw – it can still have a strong influence on the state if it controls the Chin State Hluttaw, David Ngai Sak said.
"We can choose the speaker and vice speaker … we will also be able to analyse the budget proposal submitted by the chief minister," he said. "The hluttaw will also be able to enact good laws for Chin State … issues about village traditions and the rights of Chin women can be resolved by enacting laws."
Frontier launched the Election & Our Future series in October to give representatives from a range of political parties, including ethnic-based parties, a chance to discuss the challenges citizens are experiencing in their daily lives and the areas they plan to prioritise if elected. The talk shows, which were supported by WaterAid Myanmar, an international NGO that focuses on improving water, sanitation and hygiene (WASH), also featured development sector and civil society leaders.
As well as the top political issues, the shows highlighted the current situation of WASH in Myanmar, where 9.6 million people are still living without clean water and 19.2 million people don't have access to decent toilets. WASH-related issues vary from region to region in Myanmar, and this talk show aimed to raise the awareness about the challenges around improved drinking water supply, access to improved sanitation and education on hygiene practices.
The first episode featured Daw Thet Thet Khine of the People's Pioneer Party, U Jan Hkung of the Kachin State People's Party and U Stephen Tun Tun from the Kayah State Democratic Party, as well as U Alex Aung Khant, executive director of Urbanize, and Dr Than Htut, a senior adviser for WASH and health at WaterAid Myanmar.
The second episode featured U Ko Ko Gyi from the People's Party, Nai Tala Nyi, a candidate from the Mon Unity Party and U Maw Htun Aung, a candidate for the Shan Nationalities League for Democracy. They were joined by U Kyaw Min Swe, executive director of the Myanmar Journalism Institute, and Daw Khin Win Kyi, the manager of urban WASH at WaterAid Myanmar. All episodes were moderated by U Thiha, a trainer at Yangon Journalism School.