Authorities in Ayeyarwady Region have been accused of obstructing efforts to reintroduce mangrove forests that could have saved thousands of lives during Cyclone Nargis.
By KYAW YE LYNN | FRONTIER
"Those trees saved our lives," said U Myint Soe, pointing to the mangrove forest hugging the coast near his village in Ayeyarwady Region.
Alelgone village, and two others of seven villages in Dedaye Township, suffered only minor damage when Cyclone Nargis left an awesome trail of death and devastation across the delta in early May 2008.
The other four villages in the township, unprotected by a barrier of mangroves between them and the sea, were not so lucky. "They were flattened by Nargis," recalled U Myint Soe. About 100 people died.
"The cyclone did not kill our friends, but people did," he said, referring to the clearing of the mangrove barrier along the coast that exacerbated the destruction wrought by the cyclone.
Nargis was the worst known natural disaster in Myanmar's history. It left about 140,000 people dead or missing, most of them in the delta, and affected about 2.4 million people. The deadly storm surge created by the cyclone, which generated wind speeds of up to 200 kilometres an hour (about 124 mph), pushed sea water up to 40 kilometres inland.
It was the absence of a natural protective wall in areas where mangroves had been cleared that enabled the storm surge to penetrate far inland, claiming lives, destroying homes and inundating farmland.
The casualty toll from Nargis would have been much lower had not vast tracts of mangroves been converted into paddy fields during the previous military government.
The mangroves included a forest covering 844 hectares (2,084 acres) on government land in Ayeyarwady's Dedaye Township that was converted into paddy fields in the 1990s despite the objections of nearby villagers.
U Myint Soe and other villagers fought to preserve as much of the forest as they could because they knew its removal would leave them more vulnerable to natural disasters from the sea.
"These forests give us everything. Food and firewood as well as protection from disasters for generations," he said.
"We didn't want to lose it, because we didn't want to live with insecurity; so we fought to save it."
After township authorities ignored their petitions, the villagers wrote to the junta leader, Senior General Than Shwe, and the head of Military Intelligence, General Khin Nyunt.
U Myint Soe said MI responded by detaining him and the others who sent the letters for weeks.
"They did not torture us, but they asked the same questions day and night," he said, adding that they were fed once a day while in detention.
After being released, they were told that about 20ha (50 acres) of mangroves near their villages would be preserved.
"Others thought we were stupid to fight the authorities for such a small area of mangrove forest," U Myint Soe said.
"Nargis proved our fight was worthy," he said. "But it doesn't make me happy because I lost friends and relatives in other villages to Nargis."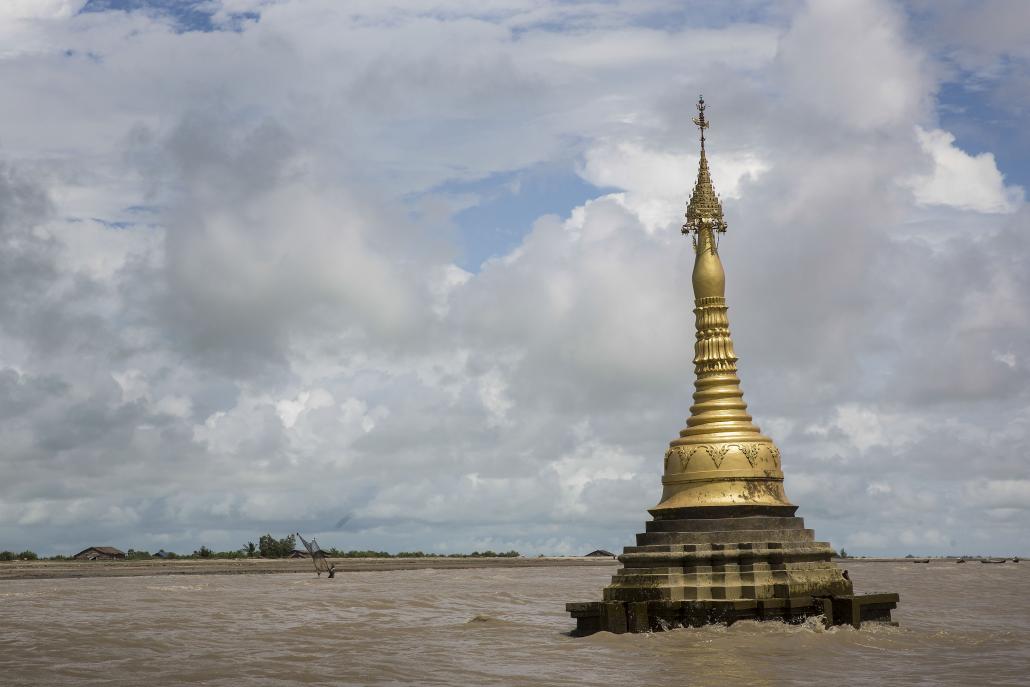 Incomplete commitment
Figures provided by the Ministry of Environmental Conservation and Forestry highlight the massive scale of mangrove destruction during the past 30 years, notably in Ayeyarwady.
The MOECAF estimates that mangroves covered 659,032ha (about 1.62 million acres) in 1980, but by 2012 had declined by more than half, to 312,442ha.
In 1980, mangrove cover in Ayeyarwady was estimated at 303,155ha (or 46 percent of the total), 243,842ha (37 percent) in Tanintharyi Region, and 112,035ha (17 percent) in Rakhine State.
By 2012, the MOECAF data shows, mangrove forests had shrunk in Ayeyarwady to 24,847ha (eight percent of the total), with 190,077ha (61 percent) in Tanintharyi, and 97,518ha (31 percent) in Rakhine.
---

"We had believed that U Thein Sein and Chief Minister U Thein Aung were committed to mangrove rehabilitation and replantation. But the authorities put me and some villagers in jail for it."

---

 
President U Thein Sein highlighted the importance of preserving the region's mangrove forests in his opening address at the Association of Southeast Asian Nations' summit, in Nay Pyi Taw in May 2014.
"Mangrove forests not only reduce the greenhouse gases but also reduce the impact of storms and floods in low-lying coastal areas," U Thein Sein said in the speech, the first such summit to be hosted by Myanmar, in which he called for the systematic rehabilitation of mangrove forests in ASEAN.
U Thein Sein said Myanmar had about 8.8 percent of the mangrove forests in Southeast Asia and had developed a conservation and management strategy that involved establishing protected areas, as well as restoration and rehabilitation.
Despite the strategy, and the attention focused on the issue by President U Thein Sein, residents of Ayeyarwady Region say the authorities there have not supported reforestation activities.
"We wanted to replant this area after Nargis because we realised we were vulnerable to disasters without these forests," said Ko Zaw Win, a resident of Nyaunglanegone, one of the three villages protected by the mangrove forest in Dedaye Township. It is called the "U Soe Forest" after its champion, U Myint Soe.
Ko Zaw Win said the villagers wanted to establish more "U Soe forests" on pastureland that had been covered with mangroves before it was cleared to grow rice.
With the help of members of the Human Rights Activity Network, based in the Ayeyarwady capital, Pathein, villagers planned to re-establish mangroves on the land.
HRAN member Ko Tun Tun Oo said that at a meeting in April 2014, Ayeyarwady Chief Minister U Thein Aung gave permission for mangroves to be replanted on the pastureland.
Ko Tun Tun Oo said HRAN, with the help of villagers, in July 2014 planted about 90,000 mangrove seedlings on the pastureland but local authorities destroyed the plantation two days later.
"Then they charged me under six different laws for destroying public property, trespassing and inciting villagers," he told Frontier.
"I was detained for 14 months and 28 days," said Ko Tun Tun Oo, who was released from jail last October after the final charge against him was dropped by the Dedaye district court.
"We had believed that U Thein Sein and Chief Minister U Thein Aung were committed to mangrove rehabilitation and replantation. But the authorities put me and some villagers in jail for it," he said.
New hope for land of mangroves
The scale of mangrove destruction is "terrible", said Dr Kyaw Tint, chairman of the Myanmar Environment Rehabilitation-conservation Network, an alliance of 21 environmental groups.
"Excessive cutting for firewood, agricultural expansion and the construction of fish and shrimp ponds are the main reasons for mangrove deforestation," he told Frontier.
MOECAF is working with MERN on environmental rehabilitation and conservation activities that contribute to community development by supporting livelihoods and strengthening food security, he said.
"But the effort to restore mangroves is not enough yet," Dr Kyaw Tint said.
"Most coastal areas are still vulnerable," he said.
The central environment committee of the National League for Democracy held talks with specialists earlier this month as a first step towards fulfilling an election platform pledge by the party to undertake a range a measures to protect the environment.
"I think environmental conservation will get better support under an NLD government," said Ko Tun Tun Oo. "The NLD knows the situation on the ground better than the current government," he said.