Successes and setbacks have marked a challenging first year in office for the NLD as it strives to implement a comprehensive reform agenda.
By OLIVER SLOW | FRONTIER
IT HAS been a challenging first year for the National League for Democracy government as it launched its busy agenda for social and economic reform amid high expectations for positive results.
There has been some progress with legislative reform but the government has had to grapple with an unexpected crisis in Rakhine and oversee a troubled peace process as it navigated a delicate and sometimes tense relationship with the Tatmadaw.
Join Frontier as we review some of the most important developments of the past 12 months.
March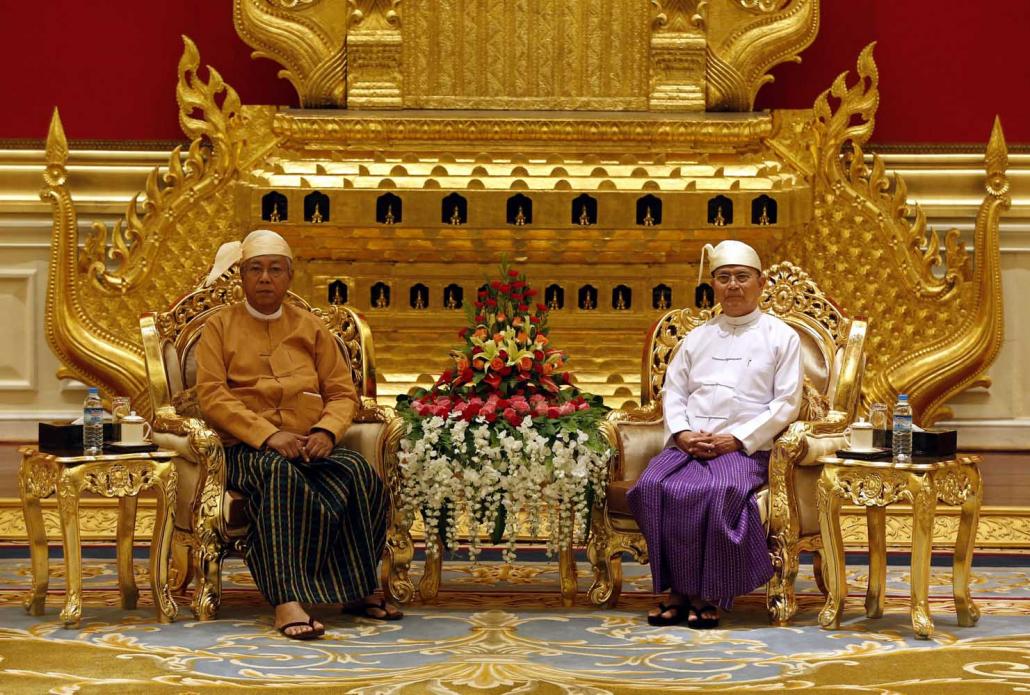 March 30 – Htin Kyaw sworn in as President
Until a few weeks before his appointment few people had heard of U Htin Kyaw, but less than four months after the public voted resoundingly for the NLD to lead the country, he was installed as Myanmar's first civilian president in more than 50 years.
A close friend of Daw Aung San Suu Kyi, who is constitutionally barred from the presidency, Htin Kyaw is the son of the late U Min Thu Wun, who was one of the country's most celebrated poets.
It would be a largely ceremonial role though, as within weeks Aung San Suu Kyi would create the State Counsellor role for herself, which would see her act "above the President", fulfilling a promise she made before the 2015 election.
April
April 17 – Dozens of political prisoners released
Htin Kyaw announces a presidential pardon for dozens of political prisoners to mark the Thingyan traditional New Year holiday.
He said the decision to pardon the prisoners was to "make people feel happy and peaceful, and [promote] national reconciliation during the New Year".
The release contributed to the feel-good atmosphere in the early weeks of NLD rule, but political prisoners remain an issue in transitional Myanmar. At the end of February there were 292 people "oppressed in Burma due to political activities," said the Assistance Association for Political Prisoners (Burma).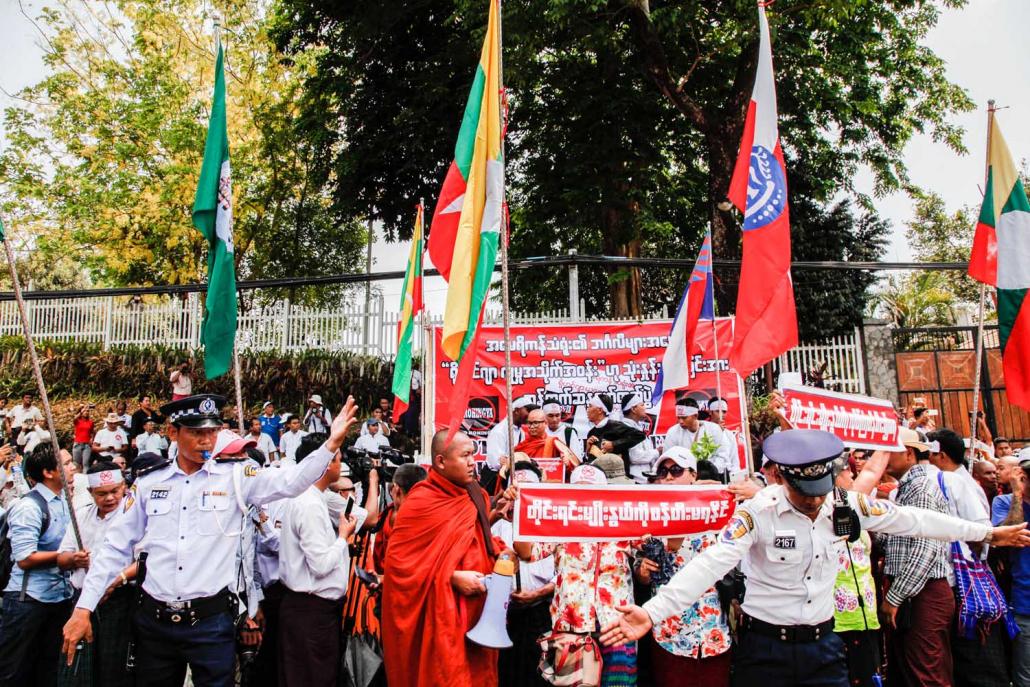 April 28 – Protests at US embassy over use of "Rohingya"
The situation in Rakhine State has dominated the international narrative about Myanmar for much of the past year. One of the first controversies erupted after the US embassy in Yangon used "Rohingya" in a statement expressing condolences for victims of a boating accident in Rakhine.
Buddhist nationalist protesters gathered outside the embassy, insisting that no such group existed in Myanmar. At a news conference weeks later, the US ambassador to Myanmar, Mr Scot Marciel, said communities "everywhere get to choose what they want to be called", but he avoided any mention of the people who call themselves Rohingya.
May
May 19 – Myanmar climbers summit Everest
The nation beamed with pride at the news that mountaineers Ko Pyae Phyo Aung and Ko Win Ko Ko had become the first Myanmar to climb the world's highest peak.
In an interview with Frontier after their return to Yangon, the pair said they hoped their feat would inspire more young Myanmar to become mountaineers.
May 22 – US Secretary of State meets State Counsellor
US Secretary of State Mr John Kerry makes one of the year's most high-profile visits, praising the transition to democracy as a "remarkable statement" to the world.
The visit coincided with Washington lifting some financial and trade sanctions, but there were moments of tension too. Speaking weeks after the protests outside the US embassy, Kerry said it was important to recognise "that there is a group here in Myanmar that calls itself Rohingya", though he acknowledged the complexities of the issue. Seated beside Kerry at a news conference, Aung San Suu Kyi said Myanmar needed "space" to deal with the situation in Rakhine State.
June
June 10 – Five years of fighting in Kachin State
Civil society groups hold a series of events to mark the fifth anniversary of the resumption of fighting in Kachin State between the Tatmadaw and the Kachin Independence Army following the collapse in 2011 of a ceasefire they signed in 1994.
In Yangon, rights activists highlighted the suffering of the tens of thousands of displaced civilians and said it was the responsibility of the Tatmadaw to end the fighting.
The conflict shows little sign of abating. There has been fresh fighting around the KIA's headquarters at Laiza on the border with China. Some KIA troops have joined the four-member Northern Alliance, which launched surprise attacks in and around Muse in November, disrupting border trade with China and adding a new layer of complexity to the hostilities in the region.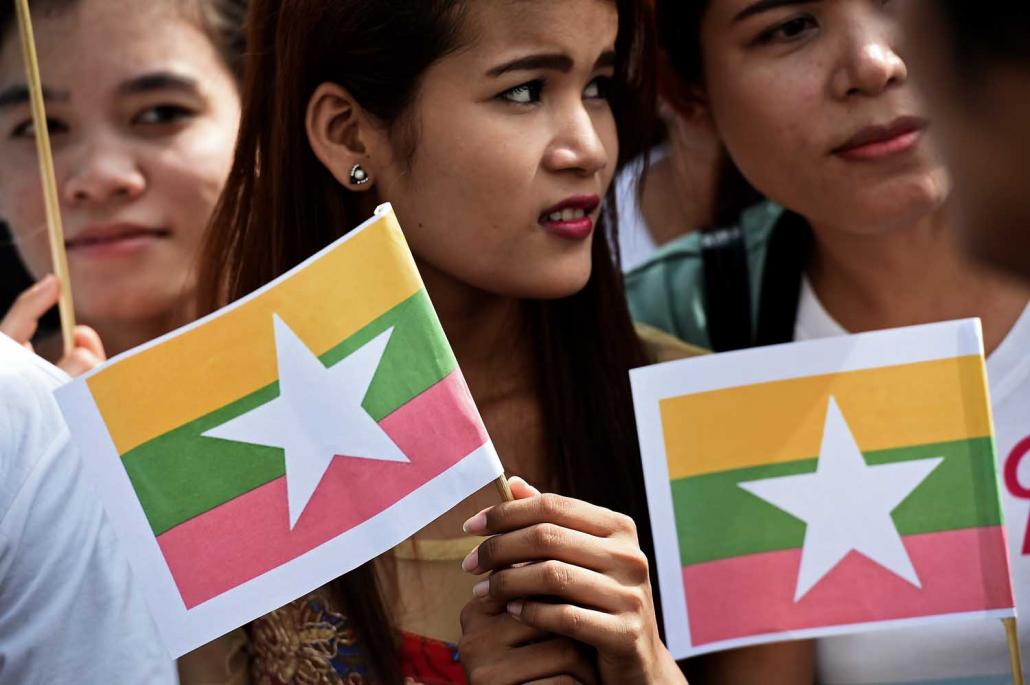 June 23 – Daw Suu visits Thailand
Aung San Suu Kyi visits Thailand for the first time as State Counsellor and Minister of Foreign Affairs, addressing an adoring crowd of Myanmar migrant workers at a seafood processing port town near Bangkok. She promises to do all she can to enable the return of migrant workers and about 100,000 refugees from conflict living in camps in Thailand along the border.
"What we want is that all people displaced from our country should come back to us and should come back to the kind of conditions which they will never want to move again," Aung San Suu Kyi told a news conference in Bangkok.
July
July 2 – Mosque razed at Hpakant
A mosque in the jade-mining town of Hpakant in Kachin State is ransacked by villagers before being burned down, in one of the worst such incidents outside Rakhine since communal unrest in Mandalay in July 2014 left two people dead.
July 3 – Phyo Min Thein criticises Ma Ba Tha
During a visit to Singapore, Yangon Chief Minister U Phyo Min Thein describes the nationalist monk-led movement known as Ma Ba Tha as unnecessary and redundant.
His return to Myanmar days later is met by small protests by Buddhist nationalists and demands for an apology, which are ignored.
The incident is an indication of an increasing willingness of the NLD to speak out against Ma Ba Tha, which had seemed to enjoy a comfortable relationship with the previous government.
July 19 – Tatmadaw chief joins Daw Suu on Martyrs' Day
Tatmadaw Commander-in-Chief Senior General Min Aung Hlaing joins Aung San Suu Kyi at a ceremony at the Martyrs' Mausoleum in Yangon to honour those killed at the Secretariat in 1947, including the State Counsellor's father, Bogyoke Aung San.
It is the first time in years that a Tatmadaw chief has attended the Martyrs' Day ceremony.
In another first, Min Aung Hlaing travels after the ceremony to Aung San Suu Kyi's lakeside residence to attend a reception, becoming the first Tatmadaw chief to enter the home where she spent 15 years under house arrest during junta rule.
July 20 – Tatmadaw admits killing civilians
The day after Martyrs' Day, the Tatmadaw says its troops were responsible for the deaths of five villagers in northern Shan State the previous month, in what is described as an unprecedented admission by an institution long accused of acting with impunity.
Military intelligence chief Lieutenant-General Mya Tun Oo told a Yangon news conference that seven soldiers would face a military tribunal and in another first, said relatives of those killed would be permitted to attend hearings.
In September, the seven soldiers, who included four officers, were each sentenced by the military court to five years in prison with hard labour for killing the villagers.
July 21 – Census religion data released
After delays due to fears about communal tensions, the government releases religious data from the 2014 census that challenges claims by Buddhist nationalists about the size of the Muslim population.
The data reveals that Muslims comprise just over four percent of a population that is 87.9 percent Buddhist.
It also shows that Christians comprise the largest religious minority, with 6.2 percent of the population. Muslims accounted for 4.3 percent of the population, followed by Hindus (0.5 percent) and animists (0.8 percent).
The breakdown for the previous census in 1983 was, Buddhists 89.4 percent, Christians 4.9 percent, Muslims 3.9 percent, Hindus 0.5 percent and animists, 1.2 percent.
July 29 – Government releases economic policy
Disappointment over a lack of detail greets the launch of the government's long-awaited economic policy, a three-page document listing 12 general points.
The policy prioritised national reconciliation and the equal development of the states and regions. It confirmed the government's commitment to a "market policy system", and included broad plans to reform the financial sector and state-owned enterprises, cut red tape and expand access to credit.
Business leaders were frustrated by the lack of detail in the document, saying it was too general and lacked clarity. There was also controversy over restrictions on media access at the launch, with only two journalists permitted to attend.
August
August 18 – Daw Suu visits China
In one of her most important overseas missions of the year, Aung San Suu Kyi travels to China for a visit dominated by talks on economic cooperation and the peace process, and overshadowed by the fate of the Beijing-backed US$3.6 billion Myitsone Dam project, which was suspended by the previous government.
Maintaining cordial relations with China is a major diplomatic challenge for the State Counsellor and Minister of Foreign Affairs, whose government appointed a commission to review plans for all dams on the Ayeyarwady a week before she left for Beijing.
In a speech during her visit, Aung San Suu Kyi said she believed China was a "good neighbour" that wanted to promote the peace process, an observation with which not all analysts would agree.
August 24 – Kofi Annan named to head Rakhine commission
In an unexpected move, the Office of the State Counsellor announces the appointment of a commission headed by former United Nations secretary-general Mr Kofi Annan to propose solutions to the situation in Rakhine State.
It says the nine-member commission was formed to find a sustainable solution to the "complicated issues" in Rakhine and will focus on conflict prevention, aid, reconciliation, human rights and development.
The appointment of the commission was widely praised as a positive move towards resolving communal tensions in Rakhine, but events just over a month later were to create the biggest crisis in the troubled state in decades.
August 24 – USDP holds party conference
At the first conference since its crushing defeat at the ballot box the previous year, the military-linked Union Solidarity and Development Party chooses a new leadership team and pledges to win the 2020 election.
U Than Htay is chosen to lead the party following the unexpected decision by former President U Thein Sein to relinquish the chairmanship.
Than Htay tells journalists at the end of the conference that the USDP has no need to change its policies before the next election because they are "already the best".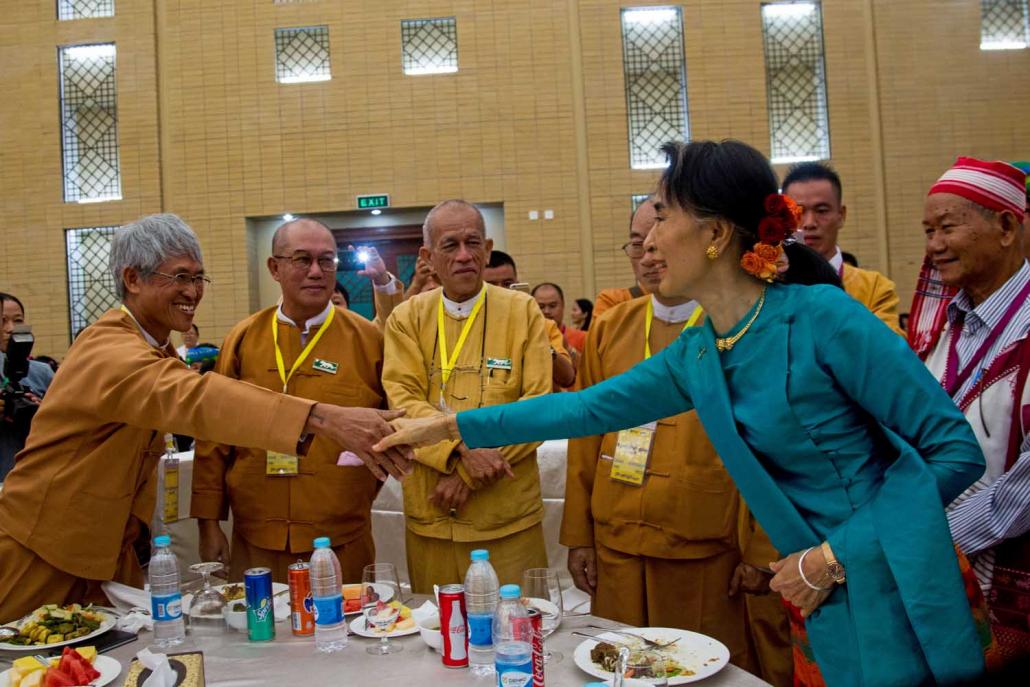 August 31 – Government hosts first 21st Century Panglong Union Peace Conference
The first major peace process event to be hosted by the NLD government, the landmark 21st Century Panglong Union Peace Conference in Nay Pyi Taw, achieves no major breakthroughs but is widely praised as a positive step towards ending decades of armed conflict.
Almost all of the nation's many ethnic armed groups participated in the conference, at which they had an opportunity to present brief policy statements that were broadcast live on television, a move that won praise for transparency. Three groups involved in fighting with the Tatmadaw – the Myanmar National Democratic Alliance Army, also known as the Kokang group, and the Ta'ang National Liberation Army and Arakan Army – were not invited to the event, and a delegation from the United Wa State Army walked out of the conference amid a misunderstanding over its status.
The keynote address at the largely symbolic event was delivered by Aung San Suu Kyi, who had declared in January 2016 that the peace process would be her government's first priority.
September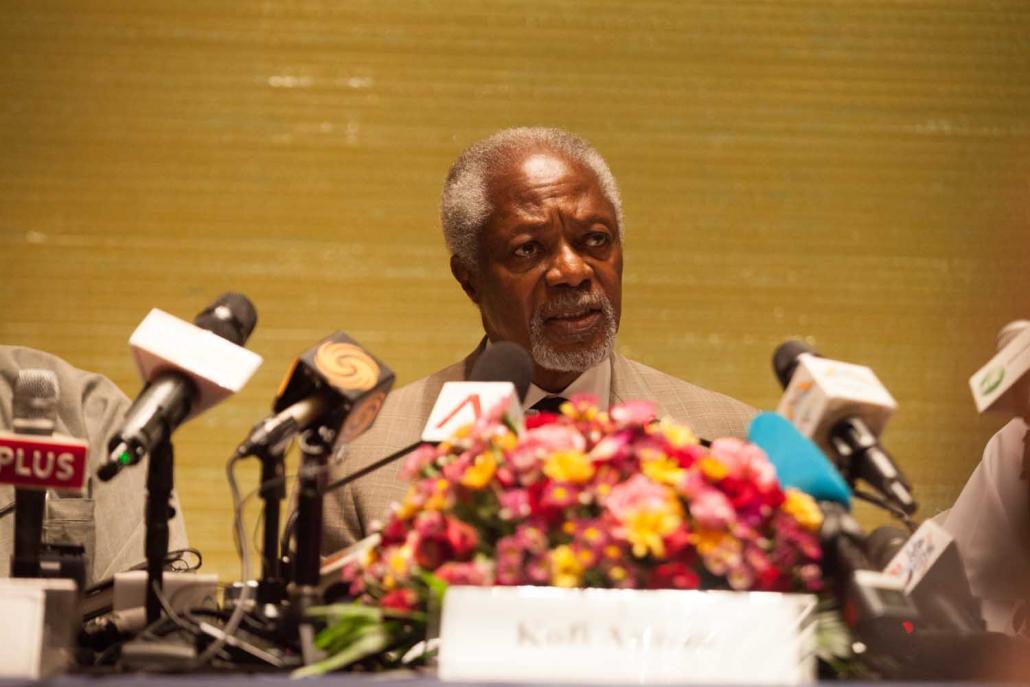 September 6 – Kofi Annan visits Rakhine
Kofi Annan begins his first visit to Rakhine as chair of the Advisory Commission on Rakhine State.
During the trip, Annan and the other commissioners met groups from the Rakhine and Muslim communities.
The commissioners were greeted on arrival in the Rakhine capital, Sittwe, by scores of Rakhine protesters who condemned what they regard as foreign interference.
Some protesters held signs saying, "No to foreigners' biased intervention in our Rakhine State's affairs".
September 14 – Daw Suu visits United States
The impact of economic sanctions is on Aung San Suu Kyi's mind as she heads to the US for her first visit as State Counsellor and President Barack Obama obliges by announcing plans to lift them.
Removing all remaining sanctions was the "right thing to do in order to ensure that the people of Burma see rewards from a new way of doing business and a new government," Obama told the State Counsellor at the White House.
Praising the decision, Aung San Suu Kyi said the time had come "to remove all the sanctions that hurt us economically".
There was more good news for Myanmar during the visit, with the White House saying it planned to restore trade privileges granted to Myanmar under its Generalised System of Preferences that benefit poor and developing countries.
Obama formally lifted the sanctions on October 7, in a move criticised by some human rights groups.
September 23 – Dutch tourist held
Police in Mandalay arrest a Dutch tourist for insulting religion after he enters a Buddhist prayer hall near his hotel at night and unplugs a speaker broadcasting a Dhamma sermon.
At a court hearing on September 29, Mr Klaas Haytema, 30, apologised for his behaviour and said he was extremely tired when the incident occurred.
He was sentenced on October 6 to three months' in prison with hard labour but was released and deported on December 21.
October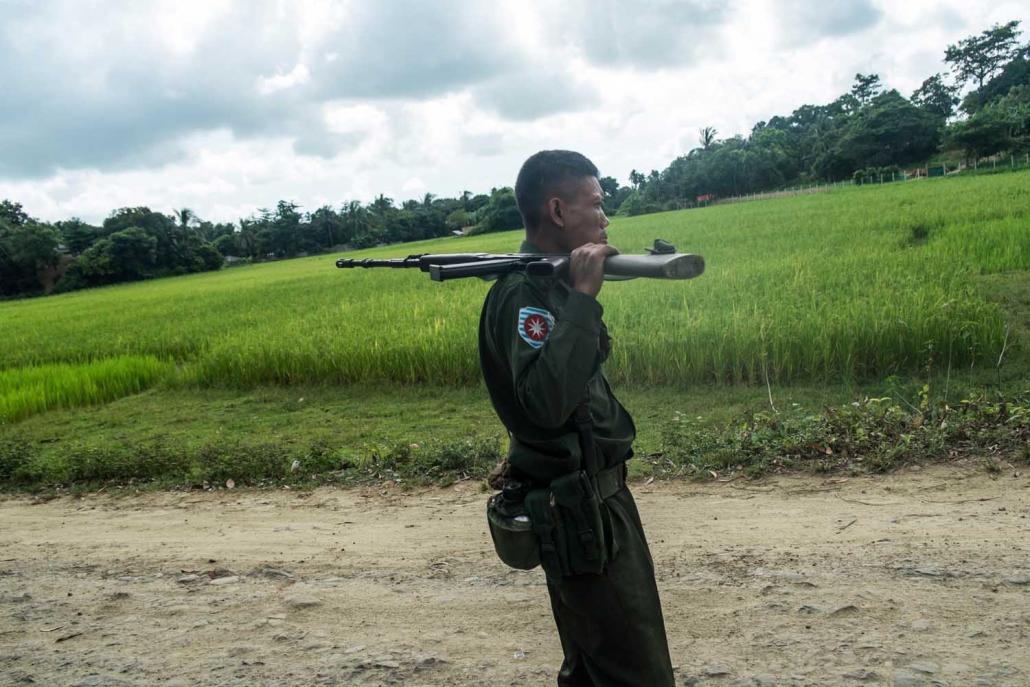 October 9 – Militants attack police posts in northern Rakhine
Six months after taking office the NLD government is confronted by its most serious crisis after Muslim militants attack Border Guard Police posts near Maungdaw in Rakhine State, killing nine officers.
The Tatmadaw responds by launching a massive "security clearance" operation that results in more than 75,000 Rohingya fleeing to neighbouring Bangladesh. The security forces are accused of extrajudicial killings, rape, torching homes and other human rights abuses.
The government and the Tatmadaw deny allegations of human rights abuses.
October 18 – Myanmar Investment Law enacted
The enactment of the Myanmar Investment Law, which merges the Foreign Investment Law and Myanmar Citizens Investment Law, receives a generally positive response from the business community.
The new law levels the playing field between foreign and domestic investors and includes tax incentives for projects in under-developed parts of the country.
November
November 2 – Japan pledges $8 billion in aid, loans
Japanese Prime Minister Shinzo Abe announces after meeting Aung San Suu Kyi in Tokyo that his government will provide nearly $8 million in aid, loans and investment to Myanmar.
"This is designed to help Myanmar's nation-building through its balanced development," Abe tells a joint news conference with the State Counsellor.
Japan has stepped up investment in infrastructure projects since the transition began in 2011. Its most high-profile project is the multi-billion dollar Thilawa Special Economic Zone on Yangon's outskirts.
November 12 – Fresh fighting in Rakhine
In a serious escalation of the violence in northern Rakhine, a Tatmadaw lieutenant-colonel and another soldier is killed in an attack by militants that leaves dozens dead in fighting over several days that includes the use of helicopter gunships.
A Tatmadaw statement says six insurgents were among the dead when the fighting began on November 12 and 22 attackers were killed the next day. The statement says six insurgents were killed in fighting elsewhere in the state on November 13.
November 20 – Northern Alliance launches attacks in Shan State
Myanmar's peace process suffers another setback after the Northern Alliance coalition of ethnic armed groups launches a series of surprise attacks on Tatmadaw positions and other targets in and around the border trading town of Muse in northern Shan State.
At least eight people are killed in the coordinated attacks by the coalition, which comprises the Myanmar National Democratic Alliance Army, Ta'ang National Liberation Army, Arakan Army and units from the Kachin Independence Army. The group says the attacks are a response to Tatmadaw pressure.
November 17 – Yangon bomb attacks
The first of a series of explosions in Yangon involving small chemical devices occurs at a supermarket in Mayangone Township. There are three similar incidents at shopping centres and government offices over the following days, causing minor damage but no injuries.
Police arrest three suspects on the evening of November 25 after two of the crude devices explode in the compound of the Yangon Region Hluttaw in Dagon Township.
November 18 – Deputy agriculture minister sacked
U Htun Win, deputy minister for agriculture, livestock and irrigation, is sacked after clashing with his minister, Dr Aung Thu.
Htun Win said they had argued over irrigation projects near Nay Pyi Taw and a proposal to pump water from the Ayeyarwady River for farming.
Htun Win, the first member of the NLD government to be dismissed since it took power, said leading party member, U Win Htein, had asked him in September to transfer to another position, but he had refused because he believed he had done nothing wrong.
Htun Win said the letter from the President's Office announcing his dismissal gave no reason for the decision.
December
December 2 – Daw Suu hits out at international community over Rakhine
In an interview in Singapore with Channel NewsAsia, Aung San Suu Kyi accuses the international community of exacerbating communal tensions in Rakhine State.
The State Counsellor made the accusation while referring to the Buddhist and Muslim communities in Rakhine.
In a rare media interview at the end of a visit to the city-state, the State Counsellor urged the international community to help Myanmar "to maintain peace and stability, and to make progress in building better relations between the two communities, instead of always drumming up cause for bigger fires of resentment".
December 4 – Malaysian PM criticises Rakhine crackdown
Malaysian Prime Minister Mr Najib Razak condemns the security crackdown in Rakhine in a speech at a rally in Kuala Lumpur organised by his ruling United Malays National Organisation.
"The world cannot sit and watch genocide taking place," Najib tells the rally amid rising diplomatic tensions with Myanmar over the crackdown.
His comments, which breach a tradition by members of the Association of Southeast Asian Nations not to interfere in another member's domestic affairs, are criticised by Muslim civil society groups in Yangon, who say Najib spoke out to bolster political support for UMNO.
In a sign of the tensions, Myanmar on December 6 announces a ban on sending workers to Malaysia that remain in place.
In another unusual move on December 16, Aung San Suu Kyi unveils plans to give ASEAN foreign ministers an informal briefing on the situation in Rakhine on December 19.
The decision to hold the briefing follows a meeting with the Indonesia's foreign minister Mr Retno Marsudi.
December 13 – Eleven reporter found dead
Ko Soe Moe Tun, a journalist for Eleven Media Group, is found dead by the side of a road in Monywa after being beaten by a blunt instrument.
An experienced journalist, Soe Moe Tun had been investigating illegal karaoke parlours and the logging trade. Police arrest three suspects in December and January.
December 15 – International Crisis Group names Rakhine militant group
A report by the International Crisis Group reveals that a previously unknown insurgent group calling itself Harakah al-Yaqin, or Faith Movement, was responsible for the October 9 attacks in Rakhine.
Citing interviews with group members, the Brussels-based think-tank says the emergence of the HaY is a "game-changer" in the government's efforts to address the complex challenges in Rakhine.
The report said HaY is overseen by about 20 Rohingya emigres living in Saudi Arabia and named its leader as Ata Ullah, who was born in Pakistan to a father from northern Rakhine. It said Ata Ullah grew up in Saudi Arabia and had received training in guerrilla warfare.
January
January 16 – Yangon Bus System launched
Yangon regional government launches a new bus service in the commercial capital but its gets off to a bad start with delays and a deluge of complaints by frustrated commuters.
The Yangon Bus System streamlines 335 bus lines into 70 routes. A ban on driver commission payments is introduced to dissuade speeding and reckless driving and the service involves a mandated upgrade of old vehicles to improve safety and passenger comfort.
Commuters have complained that the new routes are confusing and their travel times are longer.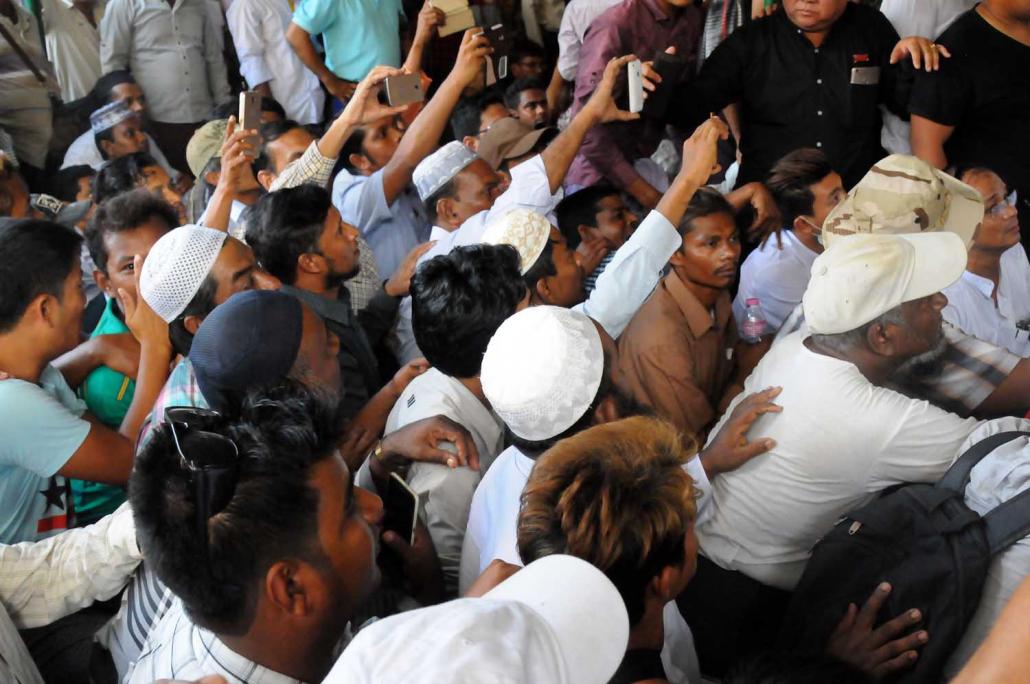 January 29 – U Ko Ni shot dead
One of the year's most sinister incidents occurs outside Yangon International Airport when NLD legal adviser and prominent lawyer U Ko Ni is shot in the back of the head while waiting for a taxi with his young grandson in his arms.
There has been much speculation about the motivation for killing the 63-year-old lawyer, whose knowledge of the constitution was credited with enabling the appointment of Aung San Suu Kyi as State Counsellor. Ko Ni, one of Myanmar's most prominent Muslims, was also known to be working on amendments to the military-drafted constitution.
The trial of four suspects began in late March and another remains at large.
February
February 3 – UNOHCHR releases report on Rakhine
A report by the United Nations Office of the High Commissioner for Human Rights says the security operation in Rakhine "very likely" amounts to crimes against humanity.
The report was based on interviews with about 200 Muslims who fled Rakhine to Bangladesh and told harrowing accounts of mass rape and extrajudicial killing.
Releasing the report in Geneva, Mr Zeid Ra'ad al-Hussein, the UN high commissioner for human rights, said he had discussed it with Aung San Suu Kyi who seemed to be "genuinely moved by what she had read".
February 9 – Protests greet arrival of Malaysian aid for Rakhine
A Malaysian ship carrying aid for communities affected by the security operation in northern Rakhine docks at Thilawa Port near Yangon and is greeted by a small group of Buddhist nationalist protesters.
About 60 protesters stood outside the port holding signs denying the existence of the Rohingya. Some of the relief supplies were transported overland from Yangon and the ship delivered the rest to Teknaf in Bangladesh where tens of thousands of Rohingya have sought refuge since the crackdown began.
February 27 – Panghsang statement released
A group of ethnic armed organisations urges the government to take a new approach to the peace process in a statement released after a summit hosted by the United Wa State Army at its headquarters in Panghsang, northeastern Shan State.
Most of the groups are resisting pressure from the government and the Tatmadaw to sign the so-called Nationwide Ceasefire Agreement as a pre-condition to participation in political dialogue events such as the 21st Century Panglong Union Peace conferences.
The USWA and some other groups in the United Nationalities Federal Council say they have no need to sign the NCA because they have already agreed to bilateral ceasefires.
However, the UNFC, which represents seven groups that have not signed the NCA, including the Kachin Independence Army and the Shan State Army-North, is split over the issue.
The divisions became apparent a few days after the summit, when UNFC secretary U Khu Oo Reh said its members were committed to signing the NCA and participating in peace conferences.
On March 30, the State Counsellor's Office announced that five members of the UNFC, including the Karenni National Progressive Party of which Khu Oo Reh is a leading member, had decided to sign the NCA.
The five groups include the New Mon State Party, whose vice-chairman, Nai Hong Sar, was quoted as saying on March 31 that their decision to sign the NCA was yet to be confirmed.
March
March 3 – Dr Aye Zan appointed Mon Chief Minister
The NLD announces that party veteran Dr Aye Zan will become chief minister of Mon State following the resignation days earlier of U Min Min Oo.
Within weeks of the appointment, Aye Zan, a Mon, was embroiled in the controversy over a decision by the Pyithu Hluttaw to name a bridge from Mawlamyine to the island township of Chaungzon after independence hero, Bogyoke Aung San.
Mon protesters condemned the decision but Aye Zan said they should be proud to have the bridge named after Aung San.
March 6 – Fighting erupts in Kokang
The Myanmar National Democratic Alliance Army and Ta'ang National Liberation Army attack Laukkai, capital of the Kokang Self-Administered Zone, in the heaviest fighting in the ethnic Chinese region in two years.
About 30 people are reported killed in the attack, which saw tens of thousands of Kokang seek refuge in neighbouring China. Reports say the Tatmadaw suffered its heaviest losses in Kokang since the MNDAA launched a failed offensive to capture Laukkai in February 2015, triggering months of fighting.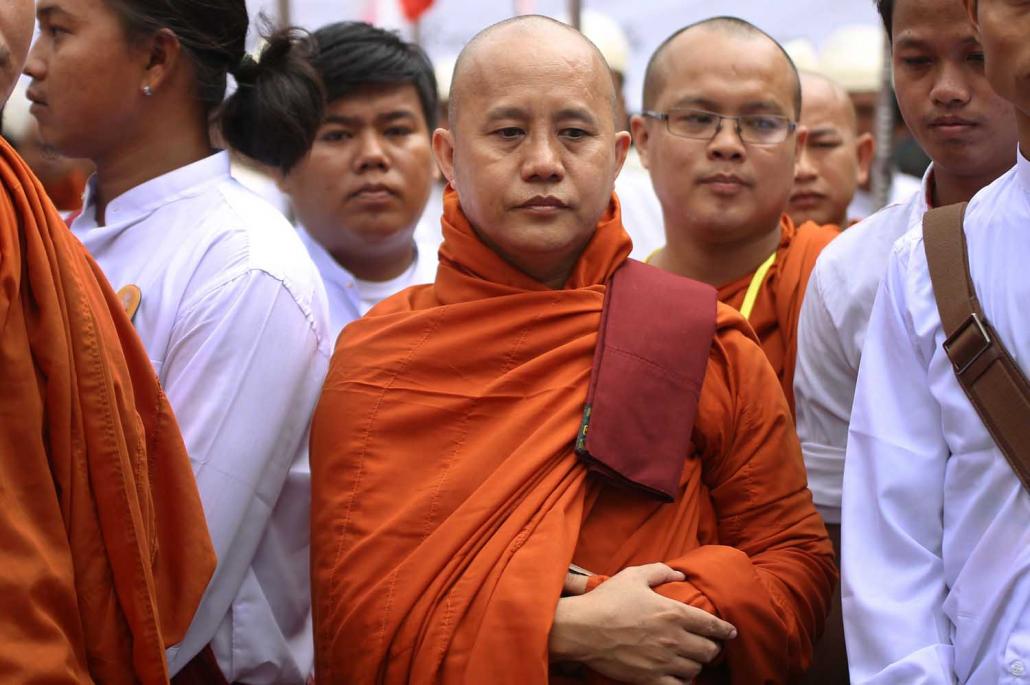 March 11 – Wirathu banned from giving sermons
Controversial nationalist monk, U Wirathu, is banned from giving sermons for a year after praising the killers of Ko Ni.
The ban is ordered by the State Sangha Maha Nayaka Committee, the supreme body representing the monkhood in Myanmar, which says it imposed the gag order because Wirathu had "repeatedly" used hate speech against other religions to cause communal strife.
Wirathu, who once said Buddhist women were better off marrying dogs than Muslims, has reacted to the ban by appearing at events with his mouth taped shut in silent protest while playing recordings of his sermons.
One of the silent protests occurred in Ayeyarwady Region, where government officials were quoted as saying they would pursue punitive action against Wirathu.
March 16 – Annan Commission releases interim report
The Advisory Commission on Rakhine State releases an interim report in which it calls on the government to develop a comprehensive plan for closing displacement camps in Rakhine holding about 120,000 people.
The 13 interim recommendations also called for an independent and impartial investigation into allegations of human rights abuses in northern Rakhine on or since October 9. Other recommendations called for protection of rights, freedom of movement, enhanced economic and social development and the "edification" of the state's cultural heritage.
There was also a "renewed" call for for humanitarian agencies and journalists to be given unimpeded access to affected areas in northern Rakhine.
The commission is expected to submit its final report in August.
March 17 – Trial begins for Ko Ni murder suspects
Four men accused of plotting the murder of lawyer Ko Ni appear in a Yangon court for the first time.
Two of the suspects are former members of the Tatmadaw and a fifth suspect, who remains at large, is also said to have links with the military.
At a news conference on February 28, Chief of the General Staff, General Mya Htun Oo said the Tatmadaw was not involved in the crime and was providing technical assistance to those investigating the killing.
March 24 – UN launches investigation into Rakhine violence
The United Nations Human Rights Council votes to establish an international fact-finding mission to investigate alleged human rights abuses by the security forces in Rakhine State.
The resolution also calls on Myanmar to address what is described as systematic and institutionalised discrimination against the Rohingya and other ethnic and religious minorities in the country.
The Myanmar delegation at the Geneva-based council disassociates itself from the resolution, describing it as "not acceptable", Reuters reported.
In Nay Pyi Taw, President's Office spokesperson U Zaw Htay says the move to send a fact-finding mission shows a lack of respect because the Annan commission and another headed by Vice President U Myint Swe were yet to complete their investigations.