Gruesome injuries, dangling eyeballs and dripping blood are among the creative repertoire of a small but growing number of special effects make-up artists working in the movie industry.
By THI RI HAN | FRONTIER
"What shall I create today?" murmured Ma Ei Me Me Ko, 27, a special effects make-up artist, as she removed materials from her box of supplies and placed them on the table in front of her.
Unlike other make-up artists, Ei Me Me Ko is not trying to create a thing of beauty. As a special effects make-up artist, she specialises in the gruesome, and today is perfecting an old technique she taught herself as she creates a large blister on her hand.
"When I started working on it, my mum scolded me. She did not like it," she told Frontier.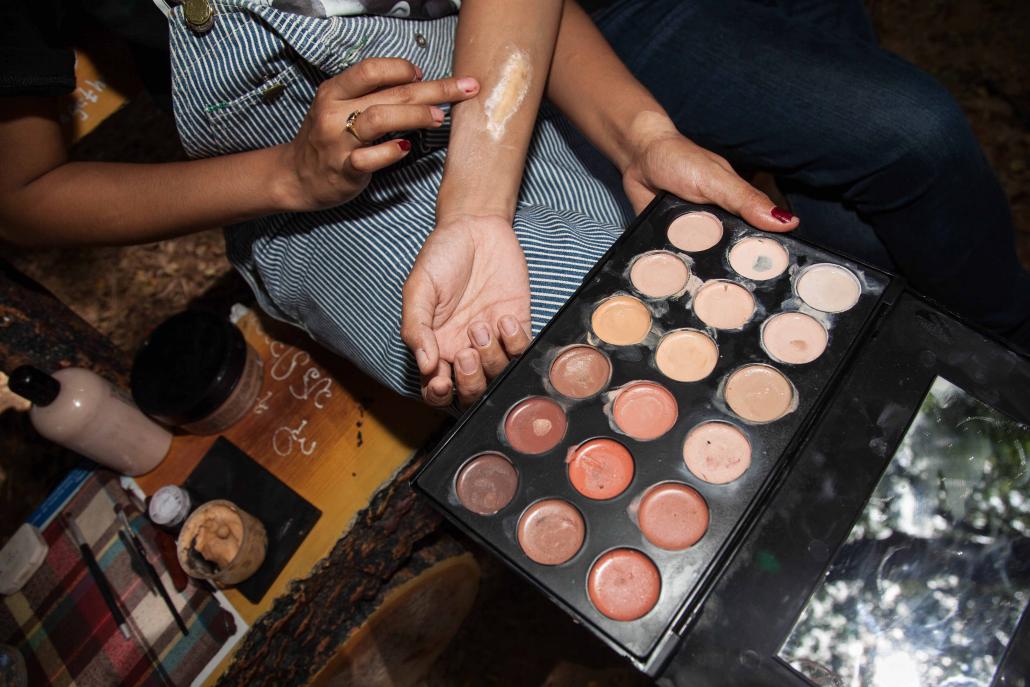 Special effects make-up, also known as prosthetic make-up and FX prosthesis, has been used in foreign movies for decades, but is new to Myanmar.
Ei Me Me Ko began learning how to apply special effects make-up by watching videos on YouTube and other websites. In 2011, she left her job at a telecoms company and began devoting herself full-time to special effects make-up, working as a freelancer.
She began by practising on herself, using materials such as jelly and flour to learn the basics. Today she learns application techniques from a renowned sculptor, U Aung Kyaw Htun, who she met on the set of the Myanmar movie That Kwin. Ei Me Me Ko quickly realised there was much she could learn from a man she describes as one of the country's most famous and well-respected artists.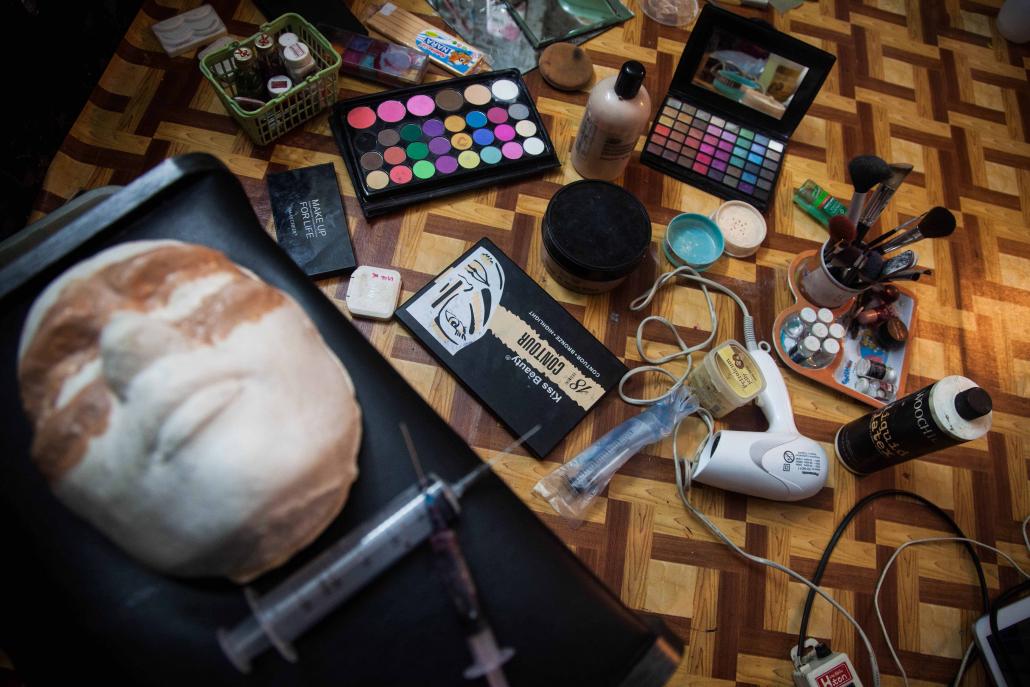 Aung Kyaw Tun, 48, who studied at the Yangon University of Art and Culture, has hosted many exhibitions as a painter but is better known as a sculptor. He is making 10 life-sized copper statues of independence hero Bogyoke Aung San to be erected in townships around the country.
Aung Kyaw Tun also makes statues using silicon, a process that involves extensive painting, colouring and other elaborate techniques to make the sculptures more lifelike. Ei Me Me Ko uses the techniques for her work in the movie industry. She has also started learning how to make sculptures.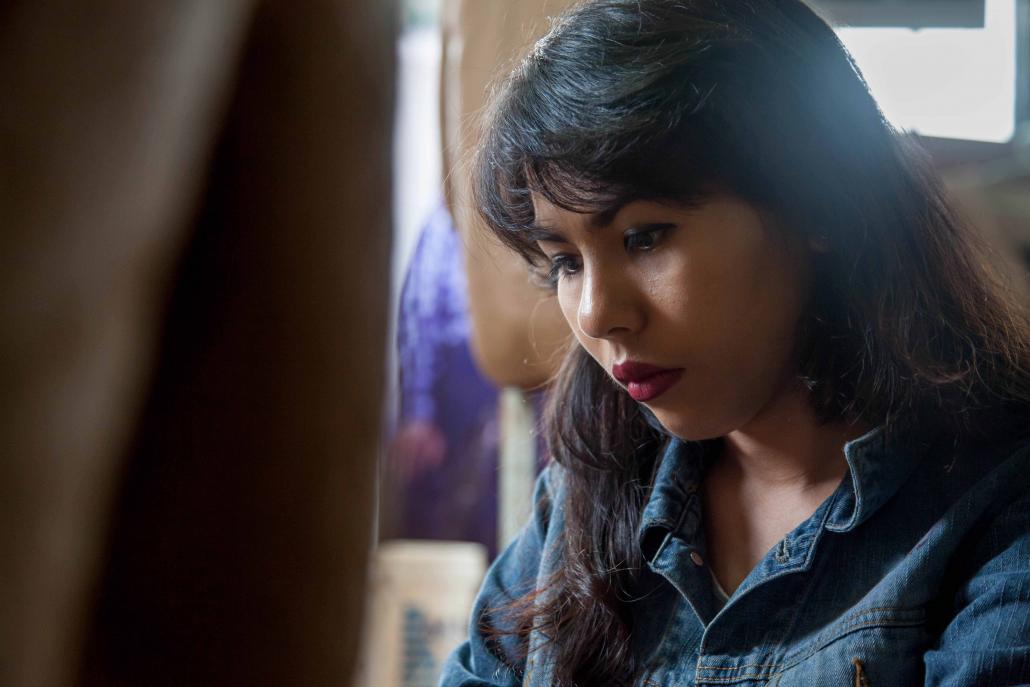 After Ma Saw Yu Nanda, 24, became interested in special effects make-up about two years ago she also used flour to practice. Once she created a cut on her hand and posted it on Facebook. It was so realistic she received calls from friends urging her not to commit suicide.
Her Facebook posts also attracted the attention of film writers and directors who began giving her assignments.
"For a budding make-up artist, it is difficult to get good quality materials for a reasonable price in this country," Saw Yu Nanda told Frontier. "Special effects make-up can be made with locally-make products but generally the quality is not as good and the end result is less believable," she said.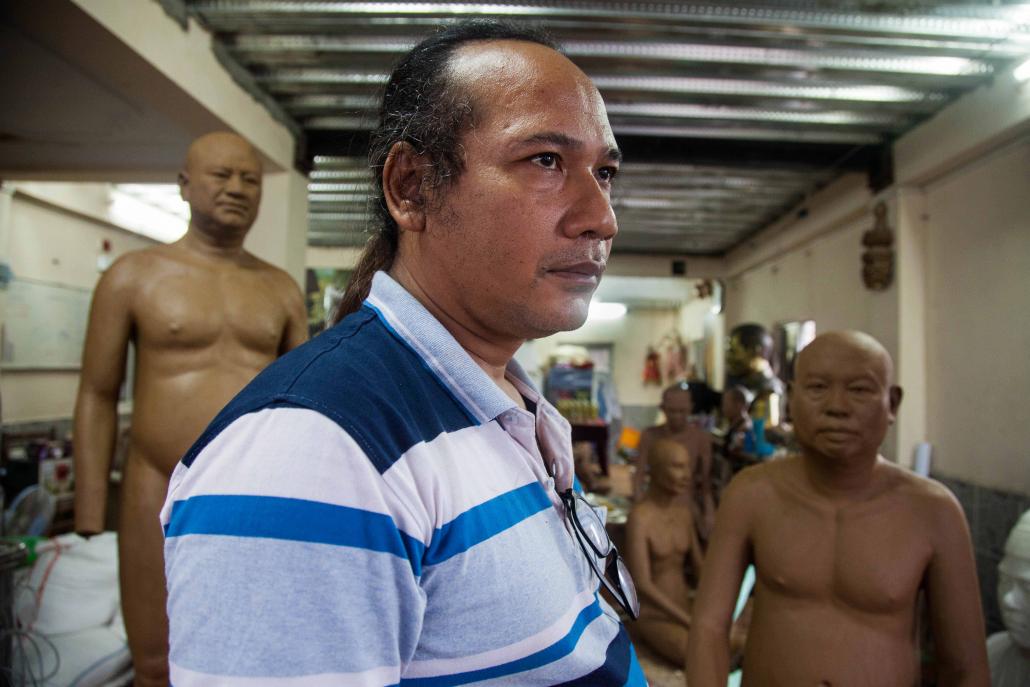 Materials that might cost about K5,000 overseas can cost about K20,000 in Myanmar due to transport costs and tax, she said.
"You need quality materials to be a good make-up artist," she said.
Saw Yu Nanda said it could be difficult for special effects make-up artists to get work in the movie industry because many productions were made on low budgets. However, she said the situation was changing and more directors were recognising the importance of high quality special effects.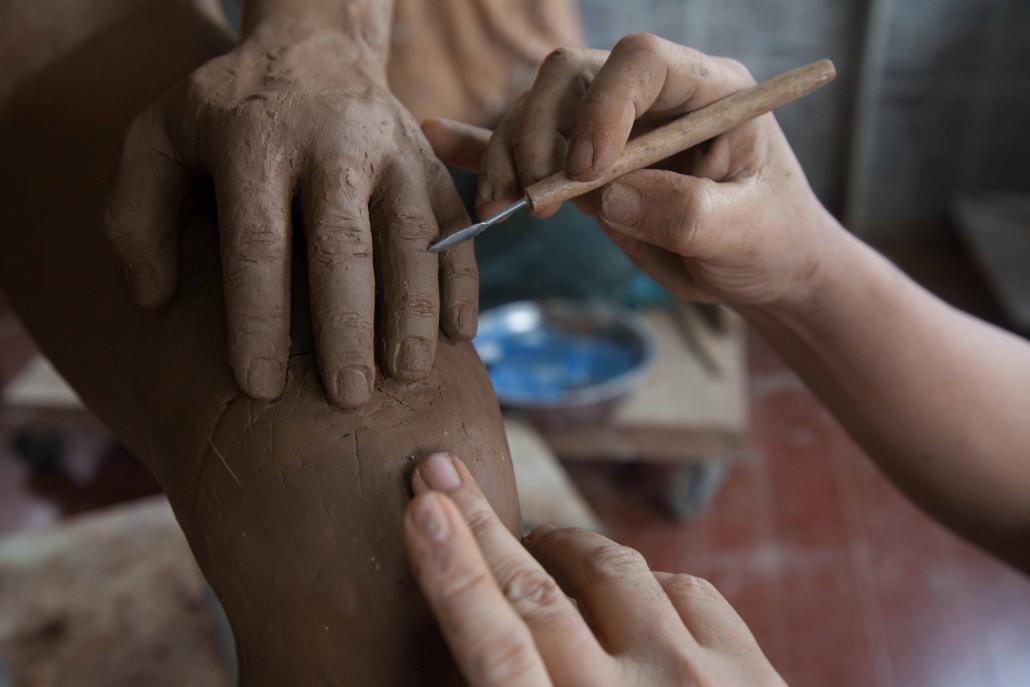 "Sometimes the fees paid [by directors] are not compatible with the materials and the efforts that the artists use," said Saw Yu Nanda. "The artist wants her work to be the best it can be, so sometimes she needs to use high quality material at her own expense," she said.
"We negotiate the fees before we accept the assignment, but when we get to the shoot the instructions are sometimes different from what was agreed previously," she said, adding that each "injury" takes between 30 minutes and 45 minutes to create.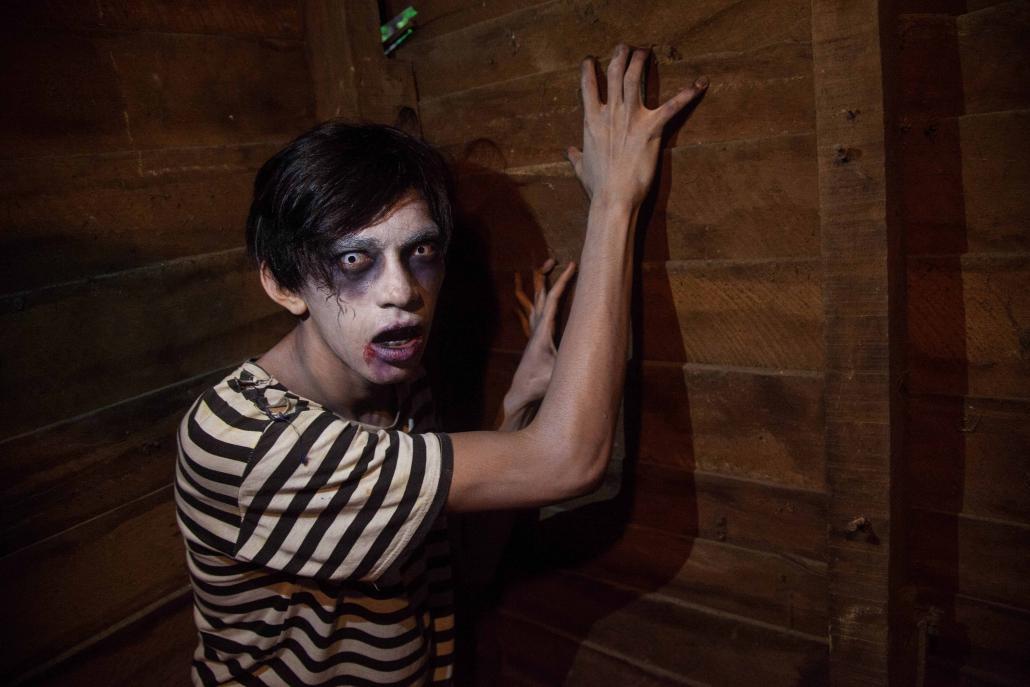 "I'm happy in my work. I feel freedom, not like when I was working for a company. I get a lot of satisfaction from my creations," said Saw Yu Nanda.
Ei Me Me Ko said that although she enjoyed her work, there were times when she considered quitting.
"At film shoots, the pressure from directors is very strong. Live shooting is very different from still photography," she said, citing a movie scene showing dripping blood as an example. Creating the effect of dripping blood in a movie is not easy, Ei Me Me Ko said.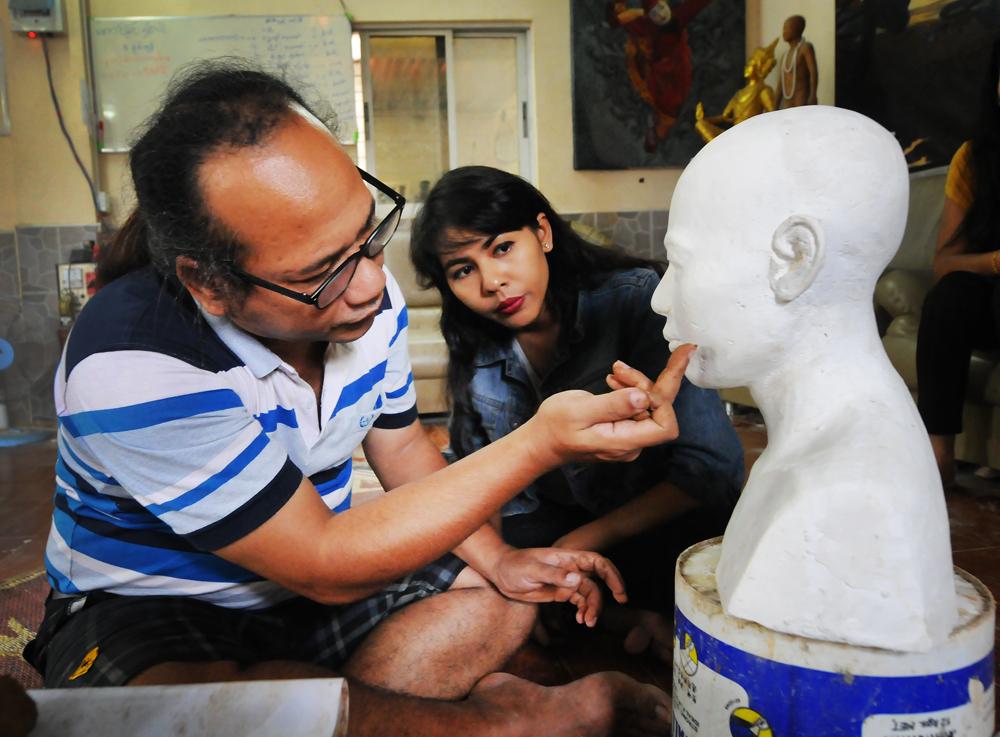 "In other countries, special effects make-up can be made with silicon inside a studio. But here, sometimes we have to hide under trees from the sun to do our job. It depends on the situation," she said.
"We are at the beginning stage and have to struggle a lot so we have to work twice as hard."
Top photo: Theint Mon Soe aka J / Frontier