Sex workers are prohibited from leaving a quiet community in central Myanmar where pimps are not friendly to strangers asking questions.
By HEIN KO SOE | FRONTIER
THE DAYS pass quietly at Myaing Tharyar, a ward on the outskirts of the Magway Region town of Pakokku, where a large proportion of the residents are involved in the sex trade.
There are nearly 100 houses in the ward. While only about a fifth of them accommodate sex workers or their pimps, each of these houses is home to about 10 or 15 sex workers.
Other members of the community do labouring work in the surrounding area or in Pakokku, a town on the Ayeyarwady about five kilometres (three miles) away.
"The number of sex workers has increased in recent years [at Myaing Tharyar]," said Ko Nyo, who works at the Pakokku Township Administration Department. "They come from Yangon and other places around the country."
The consolidation of sex workers into a single, visible community is highly unusual in Myanmar, where prostitution is both outlawed and considered culturally unacceptable.
"If you go to Myaing Tharyar, everybody will
know about it and why you went there."
It is unclear when the community first came together. Previously it was located in Kyaukkone, an area closer to downtown. However, about five years ago it shifted further out of town to Myaing Tharyar. In part, this move was driven by a desire among residents to evict sex workers from more residential neighbourhoods, and appears to have been facilitated by local authorities.
When Frontier visited the community, some women and men were relaxing outside their homes, enjoying a sunny break in the monsoon weather. Some of the women were playing cards.
Although some customers visit the community during the day, most of the activity takes place at night. The customers are mainly from Pakokku and nearby towns.
Pakokku residents say the only people who go to Myaing Tharyar are looking to pay for sex.
"If you go to Myaing Tharyar, everybody will know about it and why you went there," said U Aung Min, whose home on Pakokku-Myaing road is near Myaing Tharyar.
The existence of the community suggests a level of tolerance from the authorities toward sex workers. However, local officials told Frontier that they prohibit the sex workers, most of whom are aged between 20 and 35, from leaving Myaing Tharyar.
"We don't allow [sex workers] to go outside the [ward] because we are worried it will cause problems," said a ward official, who asked not to be named. "We tell them that if they leave the compound they could be arrested."
As well as the fear of arrest, many of the sex workers experience discrimination from police and landlords and suffer abuse at the hands of their pimps.
Requests from Frontier to pimps to interview sex workers were rejected. Women who were approached directly said they did not want to talk about their lives at Myaing Tharyar.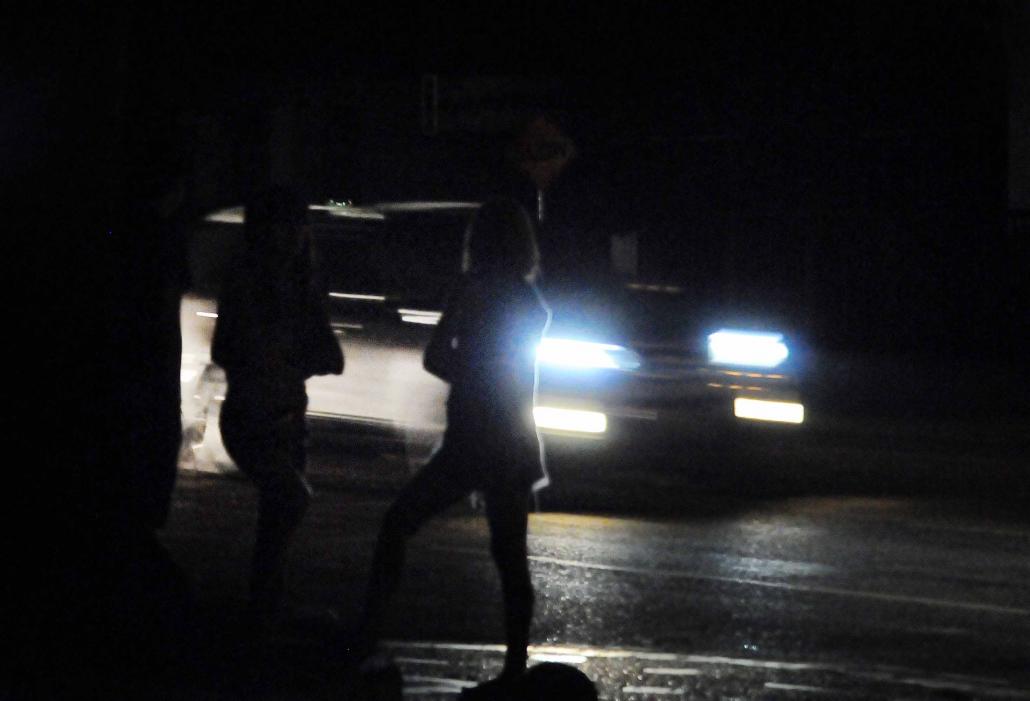 The reluctance to be interviewed was understandable. One of the women said a journalist had once visited the community to interview sex workers and after the report was published the police had come and made some arrests.
Ko Win Zaw, who lives near the community, said the women usually pay police a K30,000 bribe every two weeks.
However, this payment does not guarantee protection. When officers need to make arrests to meet case targets or are instructed by superiors to crack down on prostitution, they raid the Myaing Tharyar Ward and detain the sex workers.
Win Zaw said the women try to flee to nearby forests when there's a police raid. The maximum penalty for a first offence is one year in prison; those with prior offences face up to three years in jail.
The women also have to pay money to landlords and hand over a share of their earnings to their pimps.
A regular customer at Myaing Tharyar, who asked not to be named, said the standard fee is K5,000 for an hour, of which K1,000 goes to the woman. The pimp takes K2,500 for each transaction and the landlord, K1,500.
The pimps say that taking the biggest share of the transaction is justified because they often have to scout around to find customers in Pakokku and elsewhere.
Pimps also arrange the supply of sex workers to the community, with some coming from as far as Yangon. The women most in demand, the youngest and prettiest, are recruited with a one-off payment of between K200,000 and K500,000, while others are only provided with free accommodation.
There have been cases where fearful sex workers have fled Myaing Tharyar because they had broken agreements with pimps.
"Last month, two sex workers ran away from of Myaing Tharyar," said the ward official. "When they reached the highway, they phoned police to say they had escaped … but didn't say why they had escaped Myaing Tharyar," he said.
Frontier was unable to gather information about the women's living conditions because of the refusal of pimps to allow them to be interviewed.
Some organisations have begun visiting Myaing Tharyar to provide support to the women, including education on topics such as sexual heath.
Daw Win Win Maw, the administrator of the ward in which Myaing Tharyar is located, said it was challenging to work with many of the women because of the sense of shame they felt.
"I think we need this education because it is important that these women understand their rights," Daw Win Win Maw said. "I think we should train and better educate these women about safety in the field to try and stop the abuse of sex workers."
Top photo: Steve Tickner / Frontier