Residents of a small village in Mon State were victims of a scam that went nationwide. One man involved in the scheme is showing a distinct lack of remorse.
By HEIN KO SOE & THOMAS KEAN | FRONTIER
(This is the second instalment of our three part investigation into the SCL Myanmar scam. Read the first part here.)
DESPITE ITS location on the Yangon-Mawlamyine Highway, Zin Kyaik retains the atmosphere of a village. It's Mon heartland: people speak with a thick accent that can be hard for a native Burmese speaker to understand (some say that there are no "real" Mon north of Zin Kyaik).
Signs in town bear three languages: English, Burmese and Mon. At the end of many of the streets facing the highway there's a teak gateway where residents congregate to share the latest gossip. The homes are neat, the roads tidy; there's an air of civic pride.
The quiet prosperity is tempered by the fact that, like many Mon communities, Zin Kyaik has suffered the slow drain of able-bodied adults to Thailand – or "Shan pyi", as they call the Kingdom. Every month, these workers send back whatever they can save to their relatives – a small amount, certainly, but over time it can add up. And sometimes, once the bills are paid, there's a little bit left over. So what does one do with this extra cash? Buy gold? Set up a small shop? Go into the moneylending game? Put it in the bank? Join a multi-level marketing network? Each option has its own set of risks and potential payoffs.
In January, a local named Ko Nyan Tun, together with some friends and relatives, began spreading word about another option: invest in SCL Myanmar. The attraction was obvious – a guaranteed return for no additional work – and many took the plunge. At first they invested the equivalent of a few hundred dollars, but when the first few weekly cash "returns" arrived, some went all in. And then, just like that, the flow of money dried up, and their investment was gone. They had lost K300,000, K700,000; some even more than K2 million.
They told Frontier that more than 60 people in Zin Kyaik lost money in the Ponzi scheme; maybe K120 million or more in total. But measuring the true cost is impossible, because after speaking to residents it becomes clear that the emotional toll is as steep as the financial one.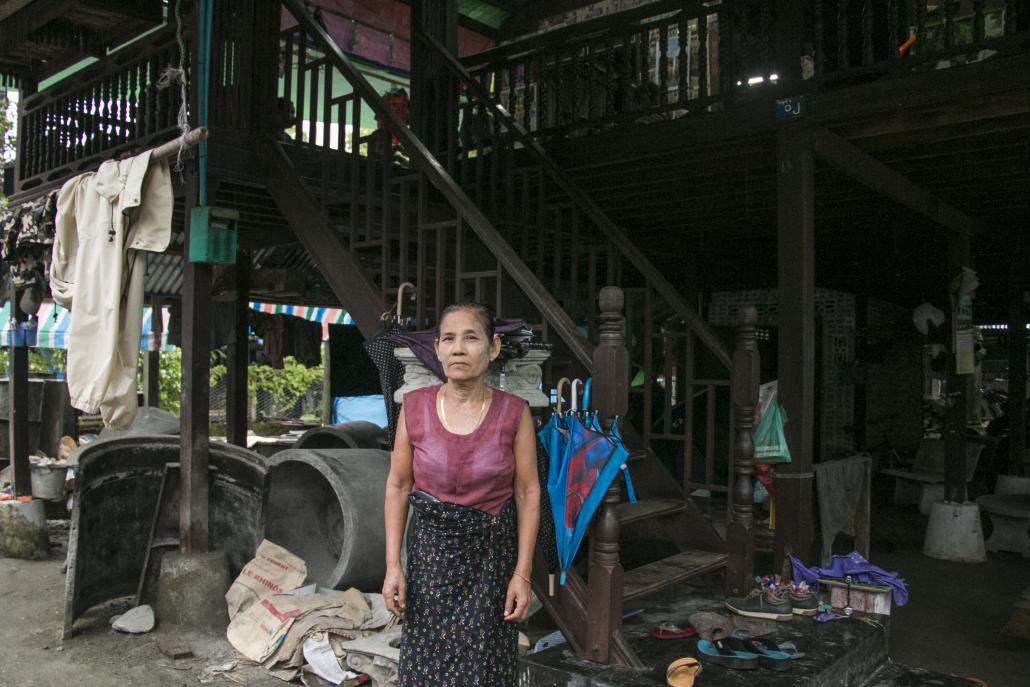 Ma Khine Zar Lin invested more than K800,000. She said her husband had warned her that SCL was a scam and she shouldn't trust Nyan Tun, but she ignored him. "Now my husband doesn't speak to me anymore," she said. "All he says is that if we don't get back the money from Nyan Tun, he will divorce me."
Ma Shwe Khine, who invested K2.7 million in total, said her husband was still in Thailand, and didn't know the money was gone. "I'm afraid that when he comes home to Zin Kyaik this will create a fight between us," she said. "I want get back what I can before he returns."
It's not just families that are feeling the strain. Because they encouraged their neighbours to invest, the trust that held the community together has been damaged.
"When SCL shut down and took our money we began fighting each other – particularly those who lost a little money, and those who lost a lot," Shwe Khine said.
Zin Kyaik is just a small microcosm of what is a much larger scam: one that, as Frontier revealed last week, is thought to have bilked thousands across the country out of at least several million dollars in just a few months. Nobody knows quite how much has been lost.
(This is the second instalment in Frontier's three-part investigation into the Saxon Capital scam. Next week we'll examine an earlier fraud perpetrated through Southeast Asia in 2015-16 that appears to have inspired the SCL Myanmar scheme.)
For the most part, those who lost money have not bothered to inform the authorities – after all, what good could it do, with the perpetrators likely outside the country? But in Zin Kyaik, residents have a person – a villain – towards whom they can direct their anger and frustration. Nyan Tun still lives in their ward, shopping in the same market, sending his children to the same school. And so, in May, they filed a formal complaint to police against him, accusing him of cheating.
Their anger towards Nyan Tun is visceral. Listening to the victims talk about him, it's hard not to conjure up the image of a smooth-talking gangster. One woman claimed that he threatened to harm her if she spoke to the media or the police; she asked not to be photographed by Frontier, "because I worry what he might do to my children".
To them, the collapse of the Ponzi is immaterial. It's all happened so far away – they still think it's a company with a headquarters in London. And, anyway, they believe Nyan Tun knew all along it was a scam, and squirrelled away their money rather than send it to the SCL headquarters in Yangon. "He's gone to Yangon and bought apartments with our money. He's bought rubber plantations, too. He's even hiding a new car in a monastery compound – we've seen it," they say.
The police have done nothing, they add, before suggesting that Nyan Tun is likely paying them off.
As we descend the stairs from one of the villager's traditional teak home, the rain pounding on the rusted corrugated iron roof, we're left in no doubt as to who are the good guys and the bad guys. Armed with the conviction that we have uncovered an injustice, we exit the small, neat laneway – passing the Yama betel nut stand from where Nyan Tun was said to have conducted much of his business – and made for the police station.
The investigation
When Police Captain Htoo Zaw Oo was transferred from nearby Kyaikmayaw to head the Paung Township police station in May, the SCL case was waiting on his new desk.
It immediately struck him as unusual. In his more than 10 years' experience on the force, allegations of cheating typically involve loans from one party to another, or small group investment schemes. A nationwide scam was unheard of.
"[SCL Myanmar was] smarter than the other cases I've seen. They legally registered a company and pretended they were working in many other countries," he said. "Because of that, people trusted them and invested a lot of money."
Two months later, the initial complaints had grown into a thick investigation file – the results of a seemingly comprehensive examination of how a nationwide scam had played out in one small community in Mon State.
Htoo Zaw Oo seemed proud of his work; when Frontier arrived at the police station at 7:30pm on July 17, he came from his house to brief us on his findings. Earlier that day, he said, he had sent the case to the law office, where an official would decide whether there was enough evidence to go to a trial. If the case got the green light, Nyan Tun and seven accomplices would be facing a charge of cheating under section 420 of the Penal Code, which carries a potential seven-year prison term.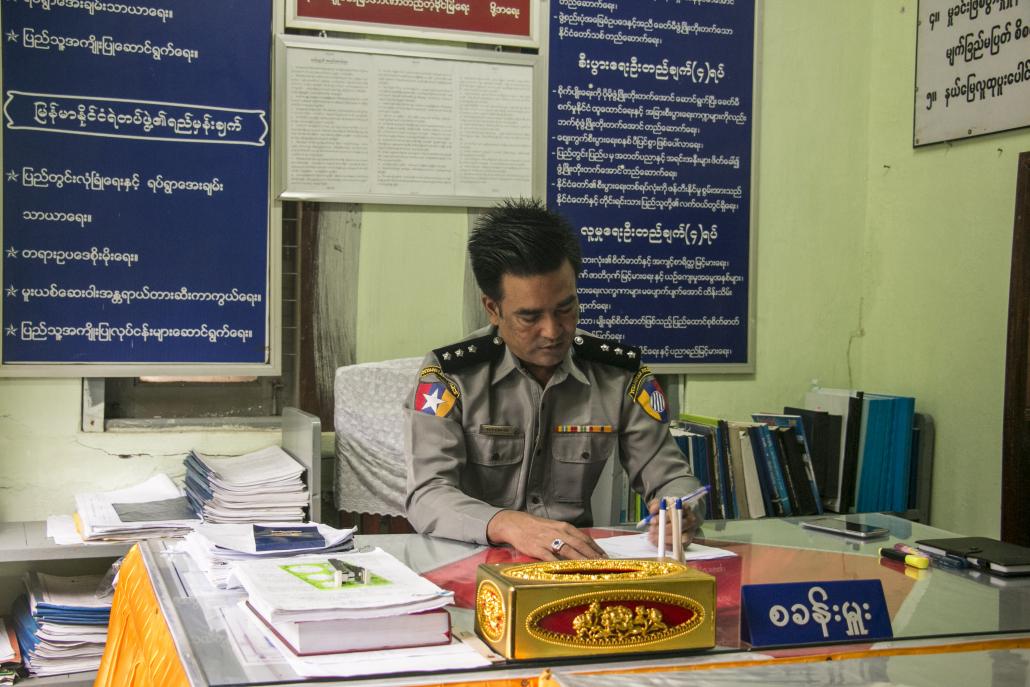 (As of last week, the township law office was still deliberating. Htoo Zaw Oo said he believed that because of its complexity, the case may be transferred to the district or state law office for a decision.)
As we asked questions, Htoo Zaw Oo flicked through the case file, showing us photos of Nyan Tun sitting at a low table inside a monastery compound, accepting thick piles of cash from Zin Kyaik residents eager to take advantage of the high returns SCL Myanmar was offering. The station even dispatched an officer to Yangon to try and find the directors of SCL Myanmar, Htoo Zaw Oo said.
This was disarming; weren't the police apparently ignoring the case? And if not, why hadn't they told the Zin Kyaik residents that it may soon go to court?
Htoo Zaw Oo said it was likely a misunderstanding. Because the accusations from the 60-plus SCL victims were of a similar nature, police only accepted 16 formal complaints. The official complainants had been contacted, but word probably hadn't got around yet, he said. The defendants had not been arrested but instead asked to give a guarantee that they would come to the station or court when called.
One key piece of information uncovered by the police may have given the Zin Kyaik residents reason to pause. Htoo Zaw Oo and his team had checked the records at the local KBZ Bank branch, and found Nyan Tun had transferred around K100 million to a woman named Ma Hnin Ei Phyu at the SCL Myanmar head office in Yangon. Another K20 million or so had been sent to a man named U Aung Zaw Htet in Mawlamyine – one of the eight co-defendants in the cheating case.
The transfers from Nyan Tun stopped on February 14, around the time it became clear to investors elsewhere that SCL Myanmar was a scam.
So if Nyan Tun transferred the money to Yangon, did he cheat the people of Zin Kyaik – or did SCL Myanmar?
Htoo Zaw Oo said that at this point he couldn't say who was responsible, but that it would be decided in court.
'It's no problem'
When we called Nyan Tun, he said he was approaching the outskirts of the Kayin State capital Hpa-an on his motorbike. Citing his poor Burmese skills – like the other Zin Kyaik residents, he spoke with a Mon accent – he refused to answer questions on the phone.
Eventually we agreed to meet roughly halfway between Hpa-an and Zin Kyaik, in a teashop on the main street of Thaton.
The man who greeted us – together with his nephew and his nephew's wife, who apparently had followed us up from Zin Kyaik – seemed cautious, nervous and possibly a little scared.
At times, Nyan Tun appeared on the verge of tears – he rubbed his eyes, stared off into the distance, ran his hands through his hair. Was he fearful about the looming court case, or upset that the rest of Zin Kyaik viewed him as a conman? Or was it simply an act designed to win sympathy?
He didn't deny that he sold SCL Myanmar shares to many people in Zin Kyaik. He explained that he had been introduced to the scheme by Aung Zaw Htet in Mawlamyine, who suggested that they invest a small amount – the equivalent of a few hundred dollars – and see whether the company was legitimate. When SCL paid them their promised returns, they began to promote it in their communities, Nyan Tun said, earning a 10 percent commission on sales.
A director from SCL Myanmar, U San Lin Tun, even visited Zin Kyaik to explain about the company's operations. Nyan Tun said he first met San Lin Tun in 2015, when the latter was working as a "line leader" at The Best International Network Company, a multi-level marketing firm linked to SCL.
"I didn't trust SCL at first," he said. "But I got [a payment] from them the first time so I wanted to share this good business with my relatives and neighbours. But after one to two weeks, the company was gone."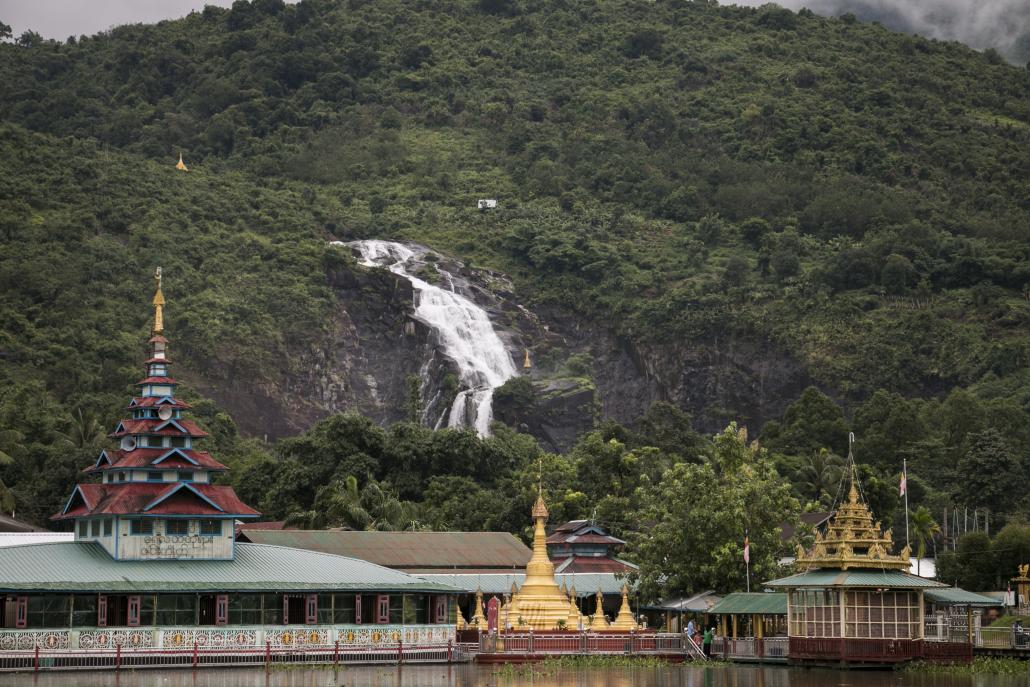 He claims to have lost more than US$4,000 of his own money. He has little sympathy for those he recruited to invest in SCL.
"They decided to invest," he said. "We explained that there was no guarantee or evidence [that the company was genuine] but they didn't care.
"At first of course everyone was very happy because they were making money but later when they lost money they were angry.
"This happened in other areas [of Myanmar] but there were no complaints because people know about the nature of investing – in Zin Kyaik, they don't understand, so they went to police."
Asked about the accusation that he had used the share proceeds to buy apartments, cars and rubber plantations, he laughed. "I own a plantation but I've had it for 10 years. It's just behind Zin Kyaik, on the other side of the mountain."
Is it hard for him to live in Zin Kyaik, when so many people blame him for their losses? "I just live normally. It's no problem. We didn't do anything wrong – it just depends on the directors of SCL."
We ended the interview shortly after and left the teashop. Although Nyan Tun was not what we had expected, the Frontier team who interviewed him agreed that something didn't feel right. There was his blaming of the victims and lack of remorse, but his last response, in particular – "I just live normally. It's no problem" – seemed odd. Then again, maybe he was just in denial.
I Smart
Before travelling to Mon State, we'd read that after SCL disappeared, some people associated with the company had approached victims and encouraged them to get their money back by investing in a new venture, I Smart.
The two seemed connected; Frontier found a website that combined the SCL Myanmar branding with an I Smart login, where members could check the value of their investment.
On July 3, the Securities Exchange Commission of Myanmar issued a public warning against investing in I Smart.
When we asked Nyan Tun, he seemed a little surprised that we'd heard of it. "I Smart is very new. I'm not sure where it is but I heard in Myaingtharyar [Ward]," he said. "I Smart is different from SCL though; instead of shares, it's a multi-level marketing company that sells organic fertiliser and health products."
We could find few traces of I Smart in Mawlamyine. An old office in Myaingtharyar Ward had been closed for months. We questioned local journalists and teashop owners, who we figured would have a fairly good knowledge of local gossip, but they had never heard of it. The police similarly knew nothing about it.
It turned out I Smart was right underneath our noses. Upon returning to Yangon, we received a call from Ma Zin Mar Tun from Thanbyuzayat Township in southern Mon State. She had invested US$11,000 in SCL Myanmar and been encouraged by Aung Zaw Htet to recover her money by investing in I Smart at its new office in Myaingtharyar Ward. She had paid him K125,000 on June 28, she said, but since heard nothing. (Aung Zaw Htet refused to discuss I Smart when contacted by Frontier.)
Before travelling to Mon State, we had checked the Directorate of Investment and Company Administration registry for any record of I Smart. The company registration record had, apparently, not yet been uploaded, but now it is there: I Smart Golden Myanmar, registered on May 9. Managing director: Aung Zaw Htet. Director: Nyan Tun. A website was created on July 13.
When Frontier contacted Nyan Tun again last week, he declined to comment further.
TOP PHOTO: A motorised trishaw is driven through the streets of Zin Kyaik village. (Nyein Su Wai Kyaw Soe | Frontier)