Outdated infrastructure and increased urbanisation are placing a huge burden on water supplies for the commercial capital.
By HEIN KO SOE | FRONTIER
THERE WAS widespread concern in the commercial capital in late February when the Yangon City Development Committee announced that two-thirds of Yangon Region's townships would be without water for six days.
The YCDC's Engineering Department (Water and Sanitation) said the measure was being taken because drains that pump water into Yangon from the Ngamoeyeik Reservoir, in Hlegu Township, the city's largest, required fixing and cleaning.
Despite the panic, the move had little impact on the city, and most of its residents had a regular supply of water for the period. However, the announcement highlighted the enormous issues Yangon's municipal body has in providing water to all the city's resident.
When the British made Yangon its capital after capturing Lower Burma following the Second Anglo-Burmese ended in 1853, they constructed Kandawgyi Lake (which they named Royal Lake) and Inya Lake (then known as Lake Victoria) to supply water to the city, but the two lakes no longer act as reservoirs today.
As the city grew, more water reserves were constructed, and Yangon is now served by four major reservoirs: Hlawga Reservoir, which has a daily water supply capacity of 14 million gallons, according to YCDC figures; Gyobyu Reservoir in Taikkyi Township, with a capacity of 27 million gallons; Phugyi Reservoir in Taikkyi with 54 million gallons; and Ngamoeyeik, which has a capacity of 90 million gallons.
With an additional 20 million gallons from groundwater, Yangon's total water supply is 205 million gallons per day. A 2013 study by the YCDC, when the city's population was estimated to be 5.14 million, estimated that the demand was 514 million gallons per day. With the census showing the city's population to be 7.3 million, and increased and an expected increased in urbanisation in the coming years is likely to put more strain on the city's water supplies.
With a lack of reliable supply from the municipal body, many Yangon residents are forced to get their water from groundwater, or from lakes and ponds.
"When the water supply is cut off by the YCDC, we have to buy water [in shops] but it is very expensive," said Ma Wai Wai, a resident in Yuzana Garden City, which is located in Dagon Seikkan Township, one of the township's cutoff in March.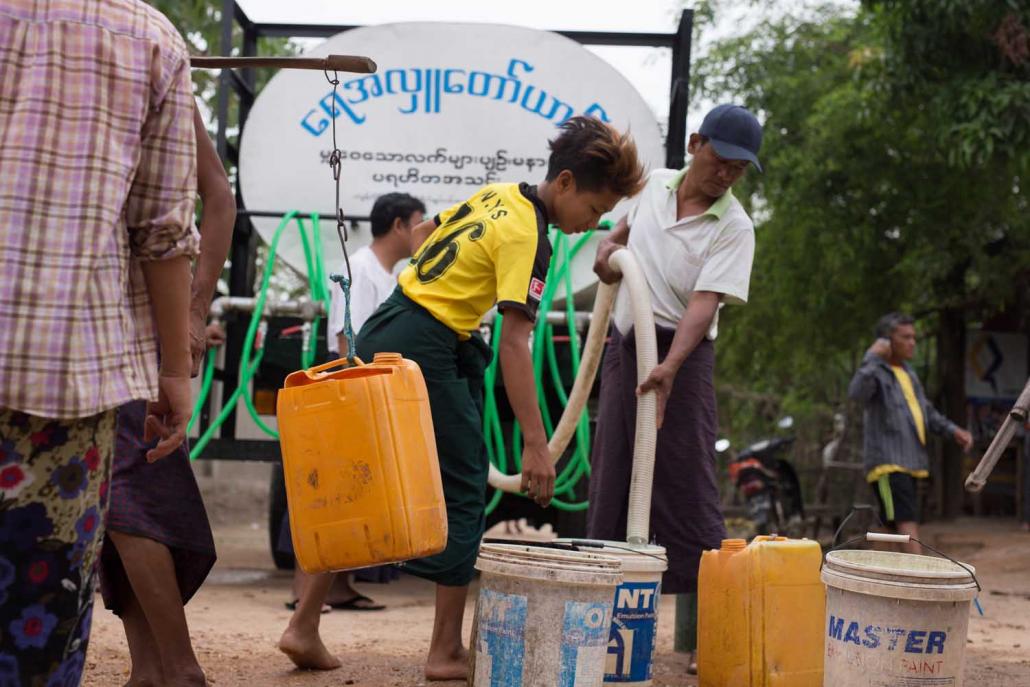 During water shortages, Wai Wai said water costs about US$3 (K4,000) for 60 gallons (about 227 litres), and that there is often not enough to supply the community.
Similar challenges are faced by residents in other townships in Yangon. In South Dagon, villagers said most people rely on groundwater, because the YCDC supply is too unreliable.
"We get our water from the ground by using a pump," said Daw Htay Htay, who lives in South Dagon's 140 ward. "People use it because they can get water every day. It is better than the water supply from YCDC because we are worried that the water will be cut off."
Htay Htay said the YCDC supply is particularly problematic during the hot season, when the supply is low and demand increases substantially due to the weather.
The government has announced plans to dramatically increase the city's water supply. It is currently constructing the Lagunpyin Reservoir, in South Dagon Township, which will supply Dagon Seikkan, as well as the East, North and South Dagon townships when it is completed in 2021. There are also plans to construct the Kokkawa Reservoir, in Hlaing Tharyar Township, which will serve western Yangon, said U Myint Oo, head of YCDC's water and sanitation department.
There are small-scale projects being developed too. Due to the unreliable water supply in Kyauktada Township, lawmaker Daw Myat Hla San (Yangon Regional Assembly, Kyauktada-2, NLD), is working with local residents to build a groundwater supply in the township's No.8 ward. Two-thirds of the funding for the $600 (K815,000) will be provided by the state hluttaw budget, and the rest will be raised by local residents.
"We cannot only rely on the YCDC water supply because the flow of water is very weak, so we have introduced a new plan," Myat Hla San told Frontier.
The lack of a reliable water supply may be an annoyance for many of Yangon's residents, but it has also provided opportunities for those with an entrepreneurial spirit. In 1994 U Win Myint established the Gyobyo Well-Drilling Company in Insein Township, building wells in communities who do not want to rely on the YCDC supply for their water needs.
Win Myint, who company is currently constructing a well in Hlegu Township, said he is confident that his business will continue performing well, as demand for water increases in Yangon.
Ko Tun Tun, an employee of the company, said the highest demand for new wells is in the northern suburbs of Yangon, where communities do not trust the YCDC service to supply them with a constant water supply.
TOP PHOTO: Teza Hlaing | Frontier