By OLIVER SLOW & NYAN HLAING LYNN | FRONTIER
Photos ANN WANG
Roland Kobia became the first resident Ambassador of the European Union to Myanmar in September 2013, having previously served in the Democratic Republic of Congo, Kenya and Azerbaijan among others. In a wide ranging interview, he spoke to Frontier about the EU's role in Myanmar, the issues in Rakhine State and what role the international community should play in the peace process.
What are some of the major priority areas for the EU in Myanmar?
We engage in high impact and transformative areas. We soon have a mission from colleagues of EU Member States based in Europe and working on Myanmar issues – the so-called "COASI" – and they are coming to look at the facts and help determine what is best in terms of EU engagement.
The EU engagement in high impact areas is illustrated in various areas such as the peace process, where we have a high profile both politically and financially; institutional reforms and capacity building, such as our support to the reform of the Myanmar Police Force; in Rakhine State, where we have paid very strong attention with other partners in the international community; and the elections, where the EU provided significant support through capacity building and deployed the largest international observation mission.
We have very much welcomed the way the elections were prepared, and the way they have been accepted, which was very important. We are continuing election training, because one election is not the end of the democratic process, and we are following up on the recommendations of the election observation mission.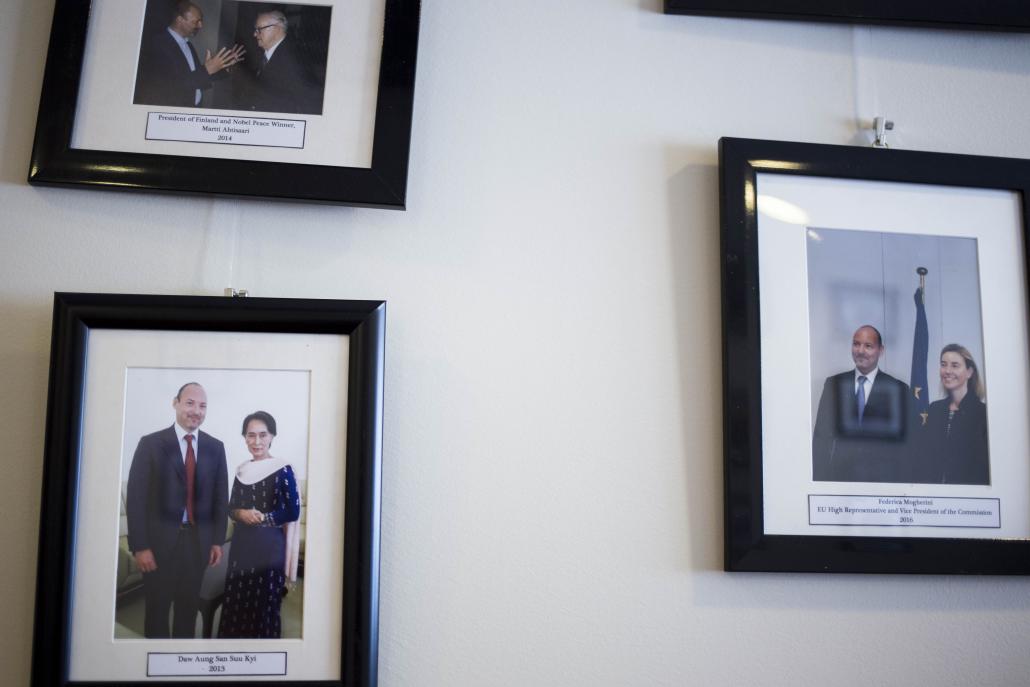 What is some of the work you are doing in Rakhine State?
We have been following very closely what's happening Rakhine because this is one area, beside the good progress that has been made in many areas in the last few years, where more could have been done and more should be done. There's a lot of suffering there, there is segregation; and lack of respect for fundamental rights. This is something the EU would like to see progress on in line with international law.
We recognise it is a very sensitive and difficult problem and may need time to resettle, but it is important we see a continuation of the efforts that have been made in the past year or so. There have been some steps taken that go in the right direction and we trust that with the new administration these steps will be taken even further because of the credentials of human rights and democracy that this new administration stands for.
It would be very useful to see an action plan or strategy on this important issue, so that we can find our place therein. Myanmar is now normalising its position in the concert of nations and it would be logical – and I would say in Myanmar's own interest – that international principles are more forcefully implemented in the future.
The international community has paid considerable attention to the situation regarding the Rohingya community. What is the EU's stance on the situation?
Yes, it is a fact that the Rakhine issue has drawn a lot of attention worldwide and has made the international headlines. I believe that this issue will not go away as it touches upon fundamental issues. The EU has been following this closely with our partners, and with all stakeholders in Myanmar. There is a lot of suffering in all communities, because the groups in Rakhine are very poor and this is precisely the reason why there is tension.
I think many people in Myanmar understand that the stability, security and international image of Myanmar are at stake. In full respect for the sovereignty of the country, the EU stands ready to support Myanmar in overcoming this crisis. It is primarily a political crisis with humanitarian consequences, and this solution needs to be devised politically by Myanmar.
We respect the sovereignty of the country, so we want to see what the new administration is going to come out with in terms of strategy for Rakhine and we will certainly help as much as we can.
In the meantime, what we can do is eliminate the suffering. The EU provides needs-based humanitarian aid and structural development projects in Rakhine. We endeavour to do this in a balanced way benefiting all communities. This is an intermediate strategy, but I would say the situation in Rakhine needs to be addressed politically.
It needs a political solution that needs to be taken by the Myanmar people, by the government, by parliament, civil society, everyone together. But as an international community we have a duty to recall a certain number of international principles that we would like to see applied.
And what role are you taking with regards to the peace process?
The peace process should be a priority in a country where there is one of the oldest ongoing conflicts in the world, and if democracy and socio-economic development are to be given a chance. Across the globe, the EU actively promotes peace and we did so also early on in Myanmar, even if the issue was sensitive.
We have acted in two ways. The first is political support, through public statements and working on the ground to accompany the efforts that have been made over the years on the peace process.
We have tried to share a number of experiences we ourselves have had in Europe. Europe has been built on the ashes of war and Myanmar is still in conflict, so Europeans can maybe understand a bit better what is happening in Myanmar than other countries because we have lived through war on our own territory not that long ago.
The second level of support is financial. We have supported all peace-related efforts, including the work of the Myanmar Peace Centre. We don't know what is going to happen but we hear at least a certain successor to the MPC might be kept, whether that's under a different name or different form.
There has been some criticism of our support there, but looking at the emphasis the new administration puts on peace as a top priority, it seems that we have made the right decisions in the past to engage in this area.
Will the EU continue to fund this new manifestation?
We are in dialogue with the new administration and we told them that if they think financial help from the EU is help in the process, we stand ready to support that.
There has been a lot of reporting, and some criticism, about the EU supporting the MPC. While we respect diverging opinions, what people never say is that this was only five percent of the peace-related activities of the EU. Ninety-five percent of our money related to peace was going to the ethnic regions in terms of capacity building, training, and promoting peace.
As Myanmar has shown both a strong recognition of past EU support and a signal of trust in the future in inviting the EU to be a formal international witness and signatory to the Nationwide Ceasefire Agreement, we feel we have a further duty to offer concrete support.
Thus, the EU has initiated the set-up of a new "Joint Peace Fund". This initiative to propose a coordination mechanism to which all countries are welcome to contribute, at the service of Myanmar's efforts and according to their own and owned strategy.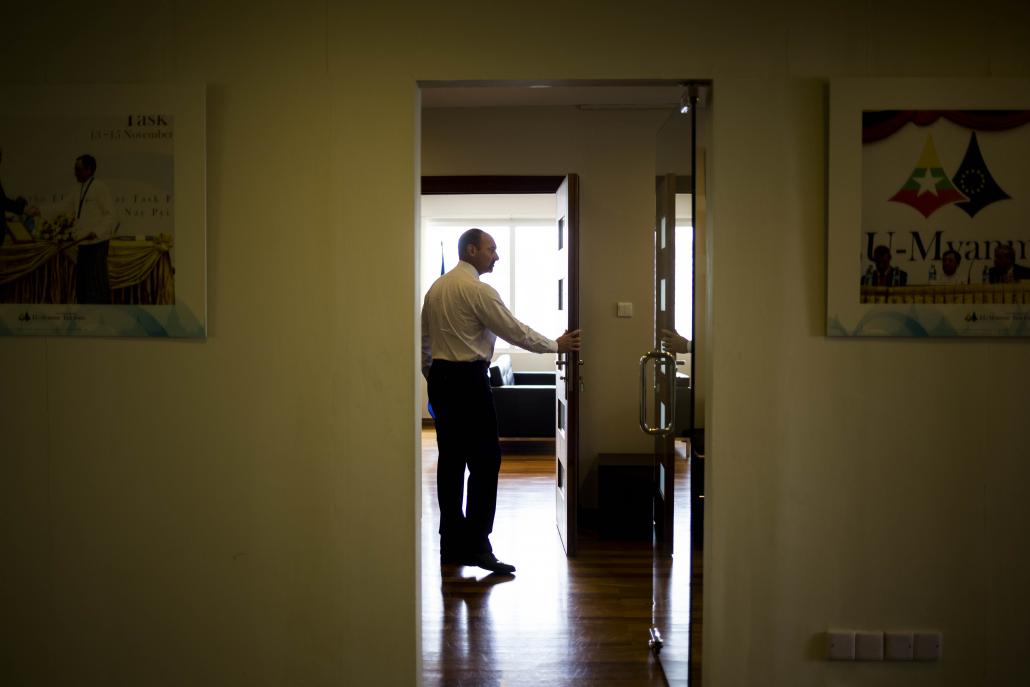 The overall peace process has attracted criticism for not being all inclusive and for taking place while fighting continues. Is this criticism justified?
It depends if you look at things in a "still and pause" manner or through a dynamic analysis. If you take daily snapshots of the situation, you will obviously see many problems; if you look at the direction of the journey, you will see improvements. This country has so many issues to address, I would like to see more support than criticism.
It is a country that is facing huge complex challenges and of course people want things to happen quickly. We are here with a positive agenda, we are here to support Myanmar and work for success, not for failure.
Of course the situation is not perfect, but a peace process of this complexity needs time. We were disappointed that the NCA [Nationwide Ceasefire Agreement] was not fully inclusive, we would love all ethnic armed groups to sign, but it was still a step in the right direction and what we have seen over the past year is a step in the right direction.
What we would like to see now is a continuation of these efforts and I'm very happy to see that the government is already discussing this issue.
We would like to see more recognition of Myanmar's gradual achievements rather than pervasive scepticism and criticism every time something falls short of perfection. Commentators can also bring ideas on how to solve issues. There are not so many good stories to tell in today's world, so let's give a chance to this one.
Your police training has come to an end. That came with its own issues, particularly with regards to Letpadan. With that in mind, would you consider the training a success?
For the time being an initial phase of the project ended, that was a pilot and testing phase following a joint request by the government, under U Thein Sein and by Daw Aung San Suu Kyi. On the EU side, we are ready at political and financial levels; we are just waiting for a signal. The whole idea is to ensure the MPF becomes a modern police force with working practices respectful of human rights; a police at the service of the people.
Letpadan was a regrettable incident and the EU has made a public statement condemning what happened there. Myanmar is undergoing a complex transition and incidents will happen. Not only with the police but in any area in which you try to engage in deep structural reform, and when you try to instil a mentality shift.
It would be naïve to think everything will be smooth and the progress will be linear throughout the transition, that's not going to happen.
So of course what happened at Letpadan should not have happened. This is certainly not what we trained the police forces to do.
[The training] produced encouraging results. For example, the MPF has been very receptive and keen to learn, they should be commended for that; also the fact that police has opened itself up to civil society, to the media. There has been an emergence of dialogue for the first time; there has been a new way the police has done its job through community policing.
The EU project also started a process of reform of the legislative framework of the police. That is, where you put the police force, under which control and how do you organise your police force to ensure it is controlled by democratic laws of the country.
Linked to that is the military's continued involvement in politics. What is your view on that?
This a situation that stems directly from the constitution, which is the highest piece of legislation in the country. However, as everywhere in the world, constitutions – which are highly political instruments and should reflect the will of the people and the vision of a country – must also evolve at a certain stage. A constitution is not set in stone.
It is a piece of legislation that needs to accompany the evolution of a country. Constitutions need to be revised when they do not reflect the new aspirations of a country and its people any longer. So at a certain stage the constitution will probably need to be re-visited with all relevant stakeholders to give a new vision for the future.
The EU extended its arms sanctions recently, why was that?
There is a very simple reason. The EU has legislation and practices of not selling weapons and ammunition to countries that are in conflict, and this country still has conflict in parts of its territory.
The EU has lifted all economic sanctions in favour of Myanmar back in 2013 already, except for arms. We have this principle of not selling weapons to countries in conflict, in order not to fuel the conflict.
Where would you like to see Myanmar in five years' time?
Where Myanmar will be in 5 years will depend on the decisions made by Myanmar according to its own vision and in its own interest. We hope Myanmar will continue its path towards democracy and peace.
Most sectors and areas of life need to be modernised. You can read a lot about infrastructure and hardware needs, which is certainly true, but to me the human capital, the "software" of people if you wish, is what will make the real difference and the quantum leap. The rest stems from education, training and opportunities.
The new administration needs to make its decisions. Issues such as federalism and the relations between the army and the civilian government will be key issues to address. The international community offers a lot of support. We can propose and bring in ideas, but we must respect a recipient-driven agenda.
As far as the EU is concerned, we want to advise, to share opinions and to share experiences, but we are here to respect their sovereignty and independence. We must let Myanmar make its own decisions, its own interests and according to its own priorities.
I want to ensure Myanmar people know that the EU is here with a positive agenda. We are here to support the country's ambitions and to help the change Myanmar voted for. We are working for success in Myanmar.