Myanmar's most vulnerable minority group has been caught in the crossfire of a brutal conflict and say they are pressured to collaborate by both sides, pushing many to risk death or arrest to escape abroad.
By FRONTIER
When, in July, an informal ceasefire between the Myanmar military and Arakan Army broke down in Rakhine State after 20 months, fighting between the two groups spread to new battlegrounds. This includes the far northern township of Maungdaw, where the vulnerable Rohingya Muslim community form the majority.
"We have been suffering for a long time, but it is getting worse with fighting resuming," said a 30-year-old Rohingya resident of Maungdaw Township. "We Rohingya people have been shot dead and arrested by both the military and the AA, but we have no right to make complaints to either side."
In 2016 and 2017, the Myanmar military launched a brutal series of "clearance operations" in Rakhine, sending 700,000 Rohingya fleeing into neighbouring Bangladesh amid widespread allegations of massacres, mass rapes and arson. During this bloody crackdown, soldiers were allegedly assisted by armed Rakhine Buddhist vigilantes. Some 600,000 Rohingya remain in Rakhine, most of whom are stateless.
In the years following that mass exodus, the Rakhine nationalist AA emerged as one of the nation's most powerful ethnic armed groups, waging a fierce insurgency against the Tatmadaw until a ceasefire in November 2020, shortly before the military seized power in the February 2021 coup.
With the return of war, Rohingya civilians have found themselves caught in the middle. They have allegedly been killed and arrested by both sides, who have also pressured them to cooperate with their rival administrative systems.
Rohingya in Rakhine told Frontier the military was behind most of the killings and injuries, via random artillery shelling, airstrikes, landmine explosions and gunfire. Among recent victims was Abu Nasir, a Rohingya civilian allegedly killed by Tatmadaw artillery in Thet Yet Kin Manu village in Buthidaung Township on November 5.
"We know who did it because we have been living in that village for many years," said a 40-year-old Rohingya resident of Buthidaung who asked to remain anonymous due to security concerns.
Some activists have accused both the AA and military of recklessly using Rohingya villages as battlegrounds, and others have directly accused the AA of abusing Rohingya civilians.
On October 8, 48-year-old volunteer teacher Shekul Islam was shot dead in Buthidaung's Gudar Pyin village, the site of one of the most brutal massacres of Rohingya in 2017. In November, a relative of Shekul Islam told Frontier that after his death, family members had come under pressure from both the military and the AA not to pursue justice.
"We cannot file a case to anybody for the death of our family member. No one cares about us," said the relative, who moved to another town after the killing for his safety.
While the AA blamed the military for the killing, accusing it of trying to cause intercommunal conflict, U Aung Kyaw Moe, a Rohingya activist based in the United States, said he has evidence confirming the AA killed Shekul Islam.
"We already have information sent by more than a hundred Gudar Pyin villagers. So this is not a case that should easily be closed just because AA said they did not do it," said Aung Kyaw Moe, although he did not share this evidence with Frontier.
Aung Kyaw Moe is an advisor to the National Unity Government, a parallel administration appointed by elected lawmakers after the coup. He said activists are recording human rights violations committed by both sides against civilians, including the Rohingya, and informing international organisations.
"But people are more afraid to speak publicly about [human rights violations by] the AA than the military because people across the country are talking about the military's acts," he said.
While the AA has largely remained aloof from the broader pro-democracy movement, many in the Myanmar public see it as a potential ally, or at least hope its fight against the military could help topple the regime. They therefore may hesitate to criticise the group.
Aung Kyaw Moe said the AA has treated Rohingya well in some respects, but human rights violations persist, particularly at a local level.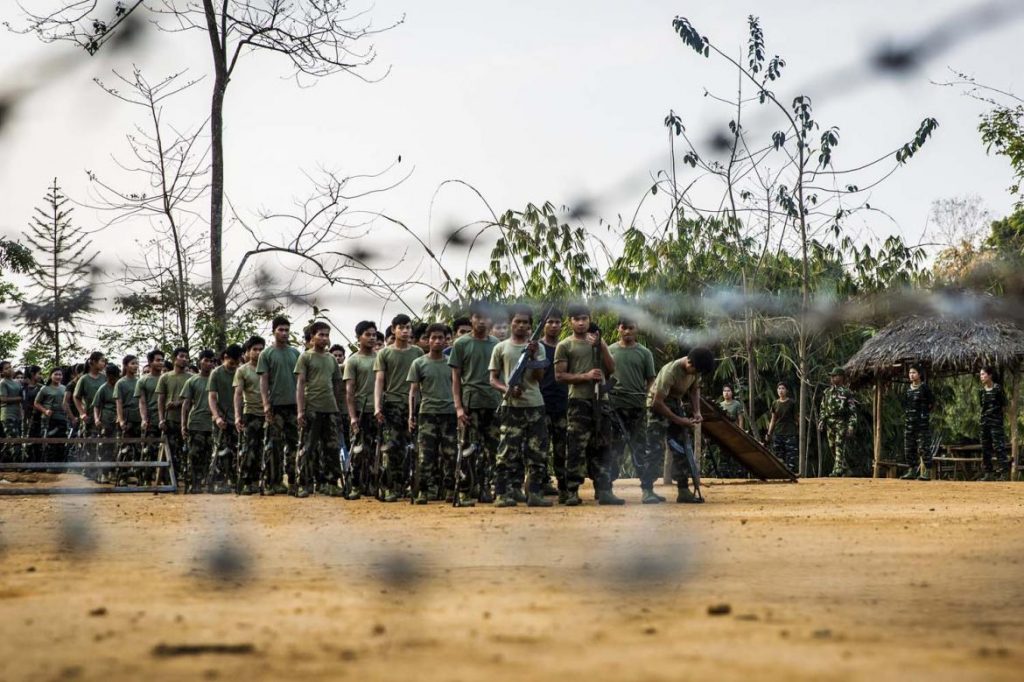 New ceasefire and political pressure
In a shock move last week, the AA announced that another informal ceasefire had been reached with the military, after five months of renewed fighting. But even if the armistice holds, which is not guaranteed, Rohingya civilians will likely still face pressure on both sides to collaborate, putting them in a dangerous position.
While the coup plunged much of the country into a violent political crisis, Rakhine remained relatively stable thanks to the 2020 ceasefire. Taking advantage of this truce and the military's distraction in dealing with the post-coup nationwide uprising, the AA and its political wing, the United League of Arakan, focused on expanding its civilian administration and judiciary in Rakhine, which came to operate in parallel with the junta's local structures. The junta tried to disrupt this process by arresting scores of people – including Rohingya – suspected of working for or associating with the AA, and these tensions remain unresolved.
"We are under pressure from both groups," said a Rohingya resident of Sittwe Township, which contains the state capital. "In the villages, there are two governing bodies, so we don't know who to report to. If one side finds out that we went to the other side, it is dangerous for us."
In August, the AA announced that residents could submit cases, including criminal complaints and land disputes, to its own courts, promising justice for all people, regardless of race and religion. The AA also instructed Rohingya villages to form administrative committees under AA management. But in practice, Rohingya told Frontier the AA has final say over who sits on the committees, and members are sometimes targeted for arrest by the junta.
Rural Sittwe residents said a Rohingya village committee member was arrested in August after a clash close to the state capital, prompting other members to go into hiding.
"I heard the leader of the committee is [now] living under the protection of the AA," said one Rohingya resident.
A Rohingya teacher in Maungdaw said the primary purpose of the committees is to report junta activities to the AA, something they are reluctant to do because of possible retribution, and villagers only accept such a position under pressure from the AA.
"Shortly after the formation of the committee, soldiers came into our village and made an investigation and warned us to cut off relations with AA," said the teacher.
In some northern villages where the junta's administration no longer operates at all, residents are more comfortable openly working with the AA's administration. But Rohingya say they want to appoint committee members with the consensus of villagers, rather than only those close to the AA/ULA. This is particularly because Rohingya can only file a complaint to the ULA with permission from their village committee, a process that also involves bribes.
"They will not issue the [permission] letter if we do not give money. Giving money to make a complaint is not a good way of doing things. They are no different from the military government," said a Rohingya resident of Maungdaw.
The 2017 violent crackdowns on the Rohingya were broadly supported by Rakhine Buddhists, and the country at large, including members of the pro-democracy movement. Human rights icon Daw Aung San Suu Kyi, then Myanmar's state counsellor and de-facto head of government, tarnished her international credibility by defending the military, but in doing so, only seemed to grow more popular at home.
The military's violence against Rakhine civilians during the 2018-2020 conflict, and brutal crackdowns on peaceful protests following the 2021 coup, appear to have shifted perceptions somewhat, with many now seeing the military as a common enemy and empathising more with Rohingya suffering. But to what extent anti-Rohingya sentiment has been curbed remains unclear.
While the NUG has pledged to recognise Rohingya citizenship, the administration includes cabinet members accused of spreading hate speech and encouraging violence against the Rohingya, and implementing controversial policies like bulldozing torched Rohingya villages.
During a press conference this month, AA spokesperson Khine Thu Kha insisted that the group is working to bring justice and development to all citizens of Rakhine, without discrimination. Earlier, in October, the AA announced that it had sentenced two of its soldiers to 20 years in prison for the rape of a woman that local media identified as Rohingya. But the NUG's pledge to grant Rohingya citizenship sparked widespread backlash in Rakhine.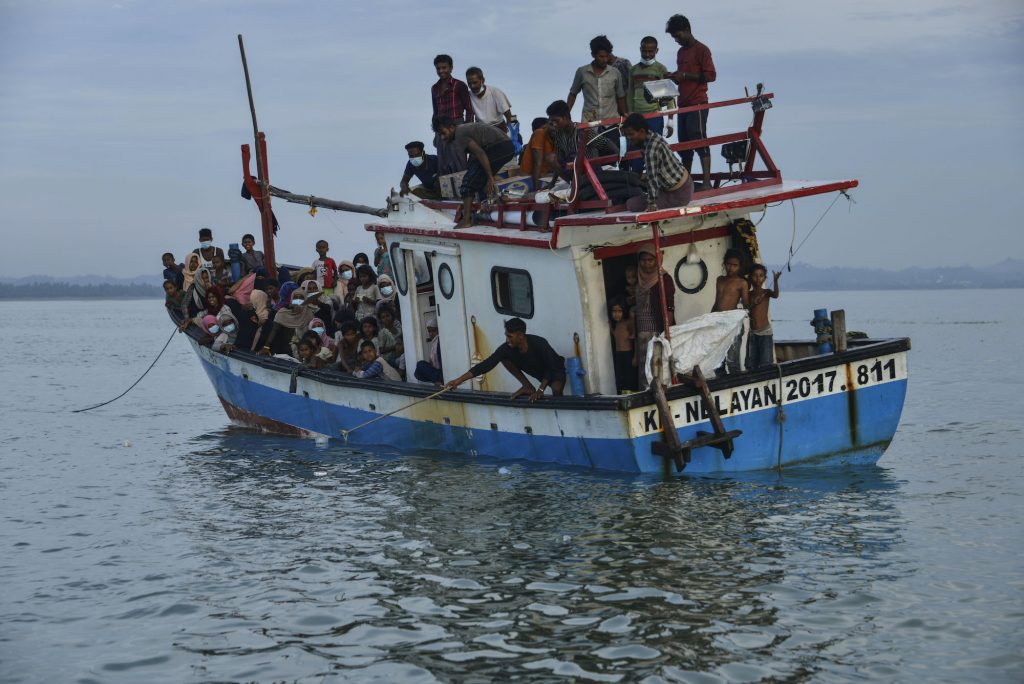 Restrictions push Rohingya out
Given the increasingly precarious position of Rohingya in Rakhine, it's no surprise that many are again seeking to leave the country. However, harsh restrictions on their freedom of movement mean they often end up in Myanmar prison cells, rather than the preferred destinations of Malaysia or Indonesia.
In November, junta authorities in Buthidaung issued an order saying "Muslims" who wish to travel outside their township must apply for a document known as Form 4 from their local immigration office, with a recommendation letter from the ward or village tract administrator, police station and township administration.
The process is rife with opportunities for extortion, with Rohingya needing to bribe the various authorities, and even when a Form 4 is obtained, more money is typically demanded to pass through military checkpoints.
"We cannot travel without having money," said a 33-year-old Rohingya resident of Buthidaung who asked to remain anonymous. "If we don't pay money at the checkpoint, we would be harassed or arrested."
These travel restrictions limit the Rohingya's access to healthcare and education and harm their local businesses. In May the junta allowed Rohingya students to study at Sittwe University for the first time in a decade, but now students living outside the capital say they may have to drop out due to the travel constraints.
"We are thinking of discontinuing my studies at Sittwe University because my parents can't afford to pay money to get a Form 4, which is needed wherever we pass checkpoints," said one student from Buthidaung. A member of the Rohingya Student Union said it can cost as much as K100,000 to obtain a Form 4, around US$50 at the official exchange rate.
Even residents of rural Sittwe Township said they have difficulty accessing the main hospital in the city.
"Our village only has a small health care centre. If we need to go to Sittwe General Hospital for an emergency case, we can't get the recommendation letter without paying," said a resident of Thet Kel Pyin village, who added that even on being admitted to the hospital, "We have to pay for everything." This even includes paying K5,000 to use the hospital telephone because Rohingya are not allowed to take mobile phones inside.
With war raging and restrictions worsening, many Rohingya have decided the only option was to try to leave the country via people smugglers, risking arrest or even death in the process. At least 14 Rohingya, including children, died when their boat sank off the coast of Ayeyarwady Region in May, and the survivors were arrested.
Aung Kyaw Moe said that based on the information he has received, around 100 Rohingya have died trying to flee Myanmar since the coup as of October this year, and more than 3,200 have been arrested.
"Living in Rakhine carries a high risk every day. People are dying [while caught] in the middle of the battle. That's why I got out of my village," said a 23-year-old Rohingya youth who fled from Gudar Pyin village to Yangon in late October. "I do any job to get money. When I have enough, I will go to Malaysia."